"Uchino Ichioshi (Our Best Recommendation)!" offers an exclusive interview with a representative of store, restaurant, or company introducing their item, history, people, and so on. The second interview was conducted with Ms. Yoshimi Doi who is the ninth-generation proprietress of IZUEI Honten, an Unagi restaurant established in the mid-Edo period.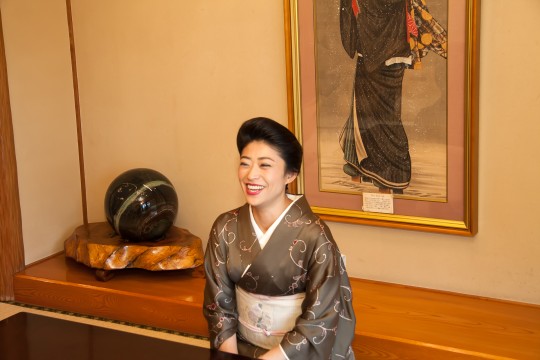 ⇒ First of all, could you please tell me about your restaurant?
Unagi Kappo IZUEI was established in Ueno in the mid-Edo period. It has been more than 290 years since then. I am the ninth-generation proprietress.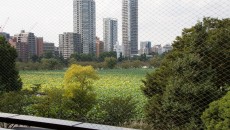 A long time ago, there used to be a river running along current Kototoi Dori Street in Nezu-Sendagi area, and there was an inlet in Shiomicho located beyond Kototoi Dori Street. Seawater was flowing into the river and Shinobazu Pond since the elevation of this area and the surroundings is close to the sea level.
Therefore, Shinobazu Pond, which is currently an artificial pond, was naturally offering a variety of fish including Unagi (seawater eel), and our founder started Unagi restaurant here in the same place.
At the time of the establishment, business names start with "い(ee)" sound were regarded as stylish, so he named his business IZUEI (ee-zoo-eh). I think it is not difficult to find such business names start with the sound if you look for.
Currently we have three restaurants in Ueno, one restaurant in Nagatacho and Sadogashima respectively, and one shop located in Tokyu Department Store in Kichijoji.
---
---
⇒ Thank you very much. Could I ask you what IZUEI's "Ichioshi" is?
Our Ichioshi is Una-don (eel bowl). Una-ju (eel box) may sound familiar to most people; however, we recommend Una-don here.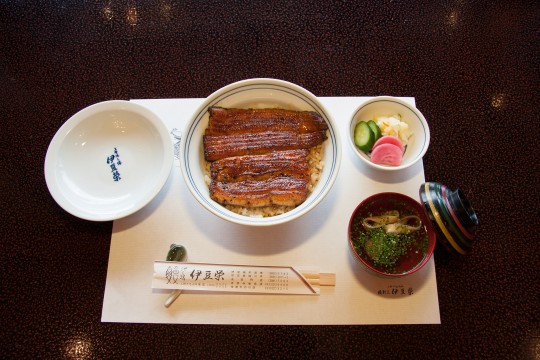 ⇒ What is the difference between them, donburi (bowl) and oju (box)?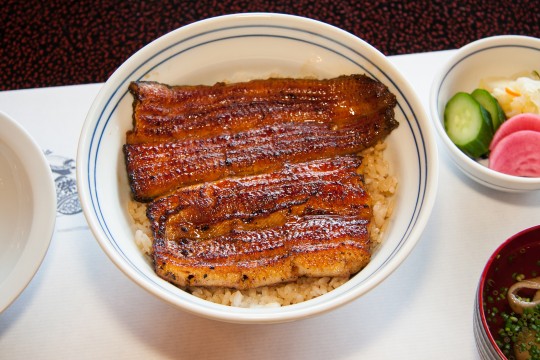 Customers frequently ask us the same question, but the difference is only the container, really, but it is a big difference. Box looks elegant and authentic, and it requires us to use chopstick technique especially when it comes to the corners of the box. On the other hand, Japanese people are more familiar with bowl for the same round shape as a small rice bowl everyone uses at home. A bowl can be lifted up by one hand, so please put food directly into mouth using chopsticks. It can be very manly way to enjoy food, but this is actually the best way to enjoy donburi meal. Don't you think donburi is unique to Japanese food culture? We would like our customers to enjoy that point as well.
⇒ How do you recommend your Unagi dish?
I guess the first thing comes to mind when people think of Unagi dish must be "expensive," and there must be some people who are not fond of Unagi for its appearance. I would like to recommend these people to try our professionally made Unagi dish, and I hope they understand how flavorful and delicious it is. Also, Unagi is not only very tasty but also nutrient-rich, so I recommend our Unagi to those who want to recharge energy as well.
There are mainly family customers and those with the elderly during lunch hours. In evening, we see family customers, young customers, and businessmen who use our restaurant as a part of their business entertainment. In addition, we have many customers from overseas countries. We have not done any international advertising, so I guess our information have been spread by word of mouth.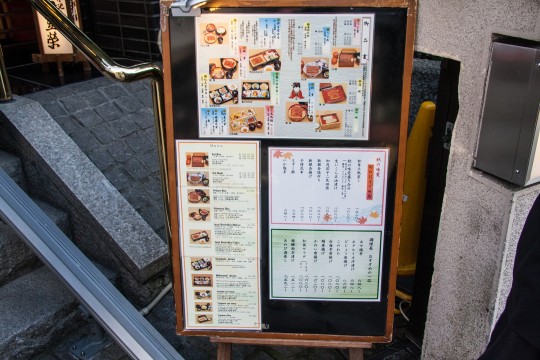 We assume that the number of customers from overseas countries will keep increasing toward the Olympic Games 2020, and Japanese cuisine will have more attentions. We would like tourists to recognize the fact that Unagi dish is as important as Sushi and Tempura in Japanese cuisine.
Unagi-no-kabayaki (charbroiled Unagi for Una-don and Una-ju) is a great dish Japanese should be proud of. To make a real good Kayabaki requires elaborate preparations and experience. I sincerely recommend our Unagi bowl to all people in all generations.
⇒ IZUEI has been doing the business for more than 290 years in Ueno. Could you tell me about Ueno from your point of view?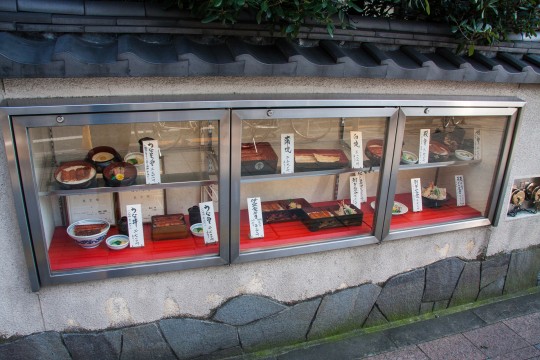 Ueno is full of many different cultural facilities such as museum, art museums, science museum, theaters, etc., and most of them are concentrated in an area called "Ueno Cultural Zone" in Ueno Park. When you have a chance to come to Ueno, please enjoy both of Ueno Park area and town area where many different types of shops and restaurants available.
Ueno Park and town of Ueno have been collaboratively growing since long time ago. This fact actually appears in many novels written by great writers. After enjoying cultural and historic aspects of Ueno in Ueno Park, take a stroll in town area and go up to Hongo area. This is one of the traditional, sophisticated ways to enjoy Ueno and the surroundings.
Ueno has gradually been changing up to today; however, I believe this area is always heartwarming, cozy place for everyone. There still are some interesting spots remind you of the olden days just a block away from the main streets. Ueno has been one of the most important historic, cultural towns in Japan, and I believe it will be the same in future as well. As an old-established restaurant in Ueno, IZUEI keeps trying to be a place that tells history and cultures of Ueno to future generations. Of course, we keep offering the best, truly authentic Unagi dishes.
⇒ I have heard that IZUEI is enthusiastically participate in local events.
Yes, because we think a lot of Ueno. I believe everyone doing business in Ueno must work hard to vitalize the area, with a lot of love :).
I do not specialize in anything other than restaurant business, so I work hard for vitalization of the area by participating in "Tabenaito-Nomanaito" event held in Yushima, Okachimachi, and Ueno.
⇒ I guess it is rare to see old-established restaurants participate in this sort of events.
It is 8th event this time, and we have participated in all the events.
To vitalize a town, the power of young people is the most important factor. We hope young people spontaneously participate in this event to try restaurants they have not yet been to. Friends can share one item together to save money and enjoy as many different items as possible. This event enables them to enjoy great foods and drinks in such a way usually not possible. We expect that they talk about what they enjoyed with other friends later on and share their stories in SNS. Such information exchange will be a big help for vitalizing the area.
⇒ I can tell how much you love Ueno and the community.
I want everyone to know how great Ueno and its surroundings are. While keeping the traditions, we try something new like this event for future prosperity of our business and the area. My goal is to hand over all of our traditions and history to next generation.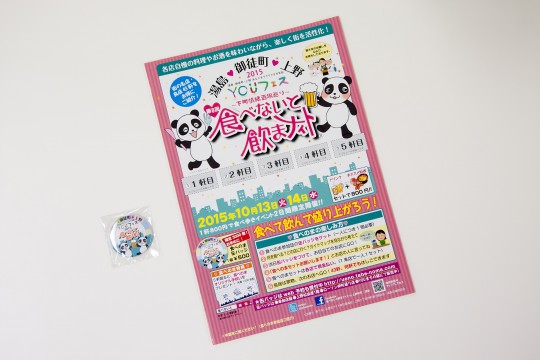 ⇒ Thank you very much. That was a truly great interview.
————-
Looking around the restaurant, I found a part of their heartfelt hospitality for customers. There is a lift on the stairs in front of the entrance, and another IZUEI restaurant "IZUEI Shinobazu-tei" has the barrier-free structure for elderly customers and physically challenged customers. That tells there always are many families with the elderly who have enjoyed IZUEI for generations. I recognized the greatness of the old-established restaurant.
I am honored to have interviewed her. I respect her strong will and pride in the business, love for Ueno, and passion to vitalize the community. If you have a chance to visit Ueno area, I strongly recommend you to try the authentic Una-don at IZUEI.
————-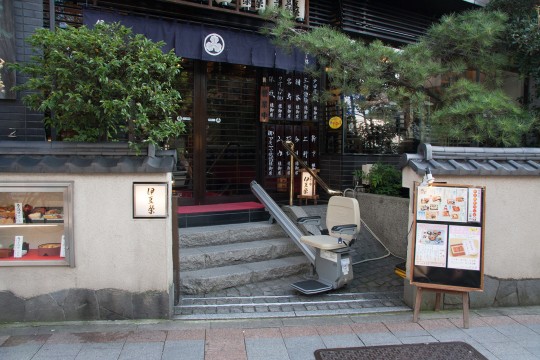 【kokosil Information】
"Tabenaito-Nomanaito": Barhop & restaurant tour event in Yushima, Okachimachi, and Ueno
Dates: Tue. October 13 & Wed. October 14, 2015
Time: 17:00-23:00
URL: http://ueno.tabe-noma.com/