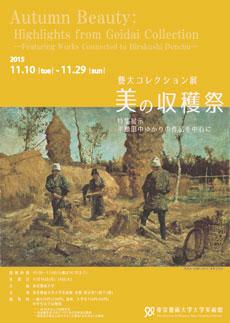 Tokyo University of the Arts (TUA) possesses works of art of many different art forms such as painting, sculpture, and crafts of all times and places. TUA has collected works of art for more than 120 years, and the collection that includes approximately 29,000 pieces has been known as one of the most notable art collection in this country. This exhibition titled "Bi-no-shukakusai" that literally stands for "the harvest festival of beauty" features excellent art pieces express various aspects of autumn using amazing techniques and colors. In the deepening autumn in the town of Ueno, we hope you enjoy finding how the artists were feeling changing seasons looking at changes in plants, flowers, and animals.
---
---
【Featured Artist: Denchu Hirakushi (1872-1979】
Denchu Hirakushi was one of the representative Japanese woodcarvers, and he was active even after his 100th birthday. Since he taught at TUA from 1944, he donated modern sculptures from his own works and collection to TUA for several times. Now TUA possesses 149 of them, and this exhibition introduces masterpieces of modern sculpture from the collection.
Dates: Tuesday November 10 – Sunday November 29, 2015
(Closed on Nov. 16 (Mon.) and Nov. 24 (Tue.))
Hours: 10:00-17:00 (Last Entry: 16:30)
Venue: Main Gallery 1 (The University Art Museum, Tokyo University of the Arts)
【Admission】
Adult: 430 (320) yen
Students (high school, post secondary school): 110 (60) yen
Junior high school student or younger: Free
Physically challenged person and one accompanying person: Free
Note: Prices in ( ) is for each person of group of 20 or more people (one attendant for each group is admitted with no charge).
Inquiry: 03-5777-8600 (NTT Hello Dial, Japanese Only)
Official Webpage: http://www.geidai.ac.jp/museum/exhibit/2015/geikore2015/geikore2015_en.htm