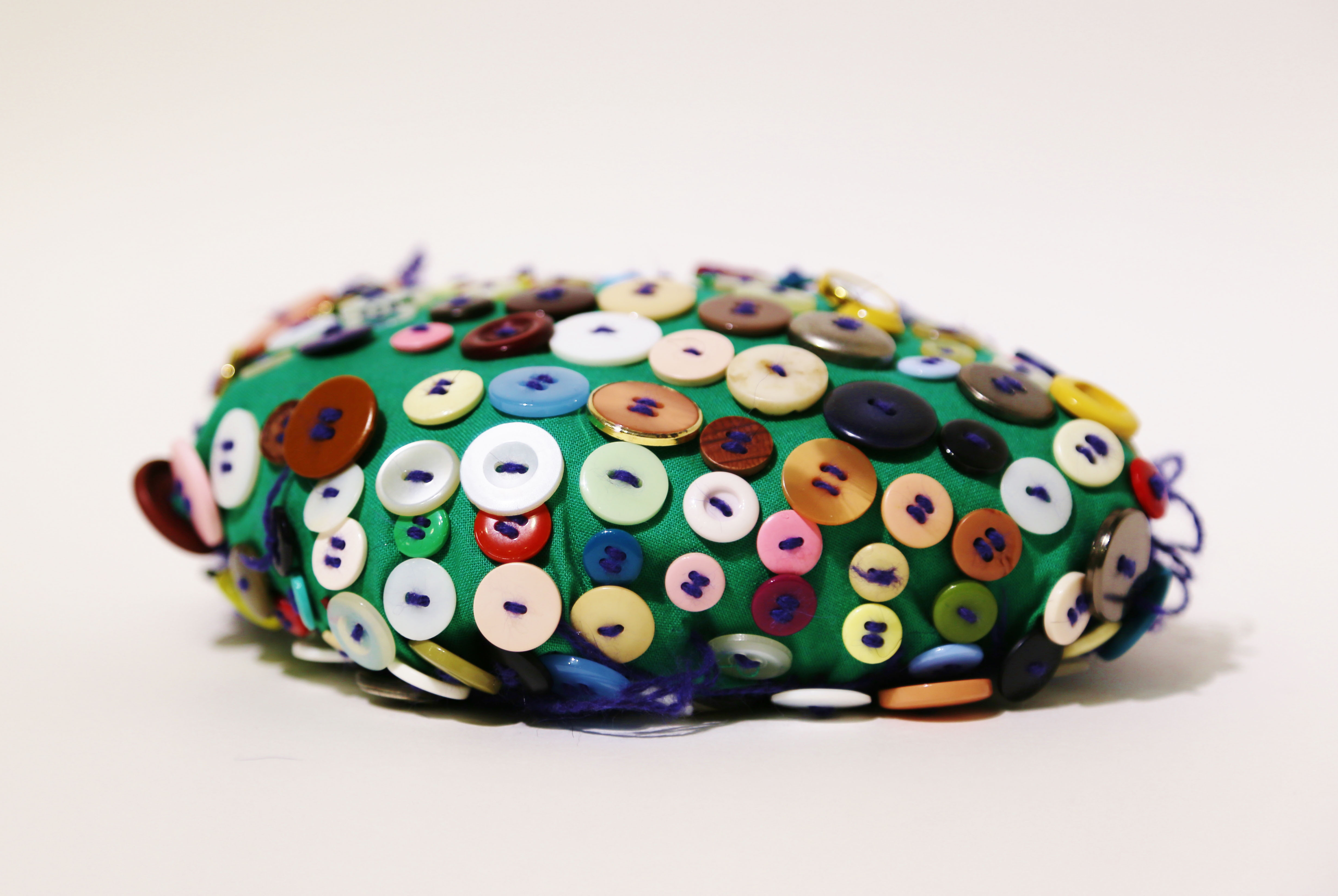 Imura Momoka 《Green Ball》2014
The Tokyo University of the Arts, NHK, the Agency for Cultural Affairs, and the Japan Society for the Promotion of Arts and Culture, are a special exhibition at the Tokyo University of the Arts Museum (Taito-ku, Ueno Park) as part of the "Japan Expo" Those who continue to express themselves-" [Session: July 23, 2020 (Thurs./holiday)-September 6 (Sun.) / Reiwa 2nd year Japan Expo sponsored and co-sponsored project] will be held.
In this exhibition, we will carry out expression activities that are faithful to our own artistic impulses and are free to create our own world without being influenced by any particular culture, existing art, fashion, or specialized education. Focus on the work of existing artists.
In Japan, many self-study artists have their own unique expression activities, and many of them are intellectually or mentally disabled, so their works do not appear in the world, but it is overwhelming. Full of dynamic power.
They not only teach us the richness and freedom of mind of humans, but also stimulate their creativity and the opportunity to think about new human images.
Through about 200 works by 25 artists who have been attracting attention in Japan and abroad in recent years, the world of "art as it is" that is attractive and diverse, and the lives of artists who can see a glimpse of the works from NHK E-tele, BS4K8K, "no art, no life" currently being broadcast on international broadcasts, and a video of the "People who continue to express without knowing" series, which has been featured in ETV since 2017.
[What is "Japan Expo"]
The Japan Expo is a project to develop art exhibitions, performing arts performances, art festivals, etc. throughout the year, where you can experience the beauty of Japan from the Jomon period to the present day, with the general theme of "Japanese and nature". is.
The Agency for Cultural Affairs, Japan Arts and Culture Promotion Association, relevant ministries and agencies, cultural facilities nationwide, local governments, private companies and organizations, etc. work together to promote various cultural arts that each region is proud of. We aim to create a future in the future by transmitting the appeal both domestically and internationally to the next generation.
Japan Expo official website: https://japanculturalexpo.bunka.go.jp/
---
---
■ Highlights of this exhibition
■Paris, New York, Asia, Japan's "Arugamama" art works, which became a hot topic, gathered together!
■Prickly thorns, fallen leaves origami, 10 meters! Approximately 200 works, including masterpieces of contemporary picture scrolls
■The moment when various expressions are created Introducing the creative landscape of artists in 4K video
■A total of 25 people who are impressed by what human wealth is and what it means to live together.
[Exhibitor]
Hanako Imamura / Momoka Imura / Fumiko Okura / Shoji Kanazaki / Kenji Kawakami / Notes Tomihisa / Moriya Kishaba / CANKTLE
Norimitsu Kokubo/Akira Komoritani/Ikuyo Sakamoto/Reiko Sawai/Shinichi Sawada/Takashi Masuji/Atsushi Sugiura/Marie Owase/Yukie Takada
Megumi Naga / Minoru Hayashida / Makoto Fukui / Yuuki Fujioka / Takanori Toki / Hironori Matsumoto / Masami Yamagiwa / Yoshihiro Watanabe (in alphabetical order)
*Exhibitors and works posted may change due to circumstances.
■ Artist introduction
Shinichi Sawada
Sawada creates symbolic ceramic art objects that look like fictional animals and humans. Although strange in form, they are strange creatures that look somewhat humorous.
The innumerable thorns that cover the surface create a unique world, and the work has a charm that you cannot forget once you see it.
Depending on how you look, the spine-like protrusions look like sensors that sense the world, and they also appear to be covered by body hair that protects you.
Initially, it started with the creation of a small animal-like object that could be grasped, but eventually it grew in size and developed into a sculptural work in a fantasy form that recalled primitive humans and animals. I went.
Sawada quietly continues to produce in a kiln in the mountains of Ritto City, Shiga Prefecture.
Kishaba Moriya
Kishaba Moriya has created a dot series that focuses on the bleeding of ink, after producing works in which the letters and letters are written on one side of the paper and works in which shapes such as bells and squares are drawn in series.
This series always starts by hitting the blue circle in the lower left corner.
This circle is slightly larger than the others because the pen tip is in contact with the paper for a long time.
After the first spot, it seems that he is improvising on the color selection of the dots, but it is unavoidable that he has his own production system because there is no color bias on the screen.
In the new "Dot Series" drawn with colored pencils, the swell of colors creates a mysterious landscape.
Imura Momoka (Imura Momoka)
Creates a round object made of cloth. There are various sizes, from the size to be put on the hand to the size suitable for holding.
It does not have a concrete image, but it is reminiscent of a pet animal or a stuffed animal.
We don't make big ones from the beginning, but we make small ones to big ones as we grow the objects one by one.
I like pink, so when I arrive at the studio, I wear a pink wig first, and when I'm done with my wig, take off the wig and go home.
Sometimes, I make it by singing, dancing and moving.
Hironori Matsumoto
There are works of all sizes, from large ones over 3 meters to sketchbook-sized ones, all of which are rich in color, and the details are composed by clear images, and every corner is filled with them to create a story. I am configuring. As you approach the work, you can enjoy the fun of reading it.
The subjects to be dealt with range from large-scale ones such as space and historical battles to minute ones such as fog and bacteria and white blood cells. Regardless of the scale of the subject matter, they all form a kind of world. It can be said that they are introduced through the work, and it became a motivation for the production that the interest in "riddle" such as what kind of law and rule formed and systematized the world was established. There is.
■Overview of the exhibition
Special exhibition "Art as it is-people who continue to express without knowing-"
Introducing the works of artists who are directly involved in their artistic urges, without being influenced by specific cultures or art trends.
The world of "art as it is" attracting worldwide attention has been explored for a wide range of "views of humanity" through about 200 works by 25 artists who have been attracting attention both in Japan and overseas in recent years. Think about what is "richness".
Venue: Tokyo University of the Arts University Art Museum 12-8 Ueno Park, Taito-ku, Tokyo 110-8714
Dates: July 23, 2020 (Thursday/holiday) to September 6 (Sun)
Closed days: Every Monday, Tuesday, August 11th
*However, on August 10th (Monday/Holiday), the museum is open from 10:00 to 17:00
*Last admission 30 minutes before closing
Organized by: Tokyo University of the Arts, NHK, Agency for Cultural Affairs, Japan Society for the Promotion of Arts and Culture, Reiwa 2nd Japan Expo sponsored/co-sponsored project
Exhibition official website: https://www.nhk.or.jp/event/art2020/
Exhibition official SNS
Instagram: https://www.instagram.com/arumama20/
Facebook: https://www.facebook.com/arumama20
twitter: https://twitter.com/arumama20
[Introduction to the admission reservation system in order to prevent 3 dense (closed, crowded, close) inside the exhibition room]
The exhibition is free to enter, but all guests must pre-book online. (No reservation required for children under elementary school age)
・Opening hours are from 10:00 to 17:00, with admission every 30 minutes. The final reservation acceptance time is 16:00 reservation times (last entry 16:30).
・You can make a reservation only from the reservation site. We will start accepting applications one week before your desired date of visit. We can not accept it by phone etc.
・On the day of your visit, please show the screen of the designated time ticket or a printed screen to the staff at the entrance of the exhibition room. If you do not show it, you cannot enter the building.
Reservation page URL https://art as it is.jp/reservation/ [Reception starts from 10:00 am on Thursday, July 16]