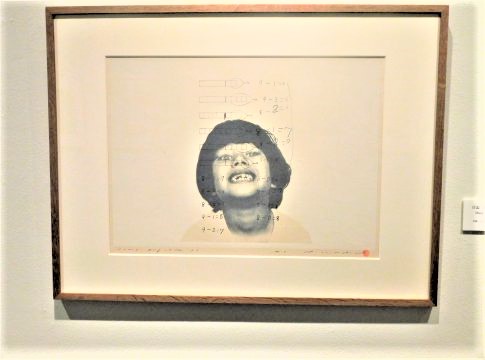 Tetsuya Noda "Diary August 10, 1979" Woodcut, silkscreen, Japanese paper 49.0×63.7cm 1979 Ueno Royal Museum
From July 23, 2020 (Thursday/holiday), the exhibition "Urban Mori no Hanzai!" will be held at the Ueno no Mori Art Museum . (Until Sunday, August 30)
There was a press preview of this exhibition the other day.
In this article, we will introduce the exhibition, its composition and the editorial department's featured works.
See it!
---
About "A day without anything!"
The Ueno no Mori Art Museum holds many winning works from the Ueno no Mori Art Museum Grand Prize Exhibition, which has been held 38 times since 1983.
With the theme of "nothing, everyday life that is everywhere", this exhibition "Nanything Day Banzai!" is a time of coronal evil and various restrictions are imposed on our actions. About 80 works will be exhibited.
In addition, about 40 works from the 1970s to the 1980s of the <diary> series, in which the woodblock artist Tetsuya Noda recorded his family and everyday life, were also exhibited from the collections of the Ueno Mori Art Museum, divided into the first and second halves. In addition, the works created with Sayaka Akiyama as the subject of Ueno Park will also be on display.
( Official website "Nothing's a day!": http://www.ueno-mori.org/specials/2020/nandemonaihi/ )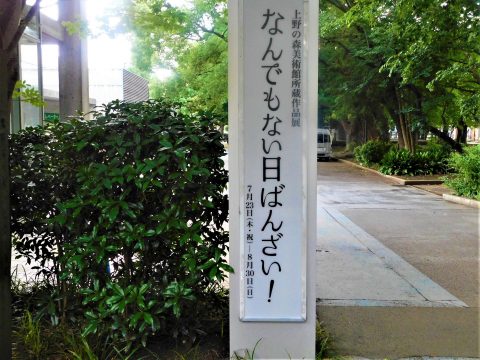 The exhibition structure and the editorial department's featured works are introduced.
The exhibition is composed of five chapters, and the theme and perspective of the work gradually expand from the inner side to the outer side, from familiar objects to more distant objects.
Chapter 1 "In everyday life"
The theme of the exhibition, "Nothing, everyday life everywhere", such as everyday "core, the house and the room, scenes around us, works depicting ourselves and close people" It is a representative image group.
☆Yuritaka Fujii "Bouquet"
A woman who looks straight at her with a strong look.
You will be drawn to that expression in an instant.
The bright blue color of the dress and shoes seems to symbolize the strength of the woman's core.
* Yohei Yashima "Plastic Girl"
---
---
A pink girl doll leaning against the wall.
It looks like you're in deep trouble.
If you look closely, the wall has a picture of a man holding a dog or cat.
In fact, do you express your desire to love your father?
Chapter 2 "From everyday to painting"
Everyday is also the entrance to the world of painting.
Rather than just drawing things that are familiar to us everyday, we refer to various styles of paintings from ancient and modern times and the methods of our predecessors, or stylized by demonstrating our own imagination. The chapters are complete.
☆ Kuma Harada "The Whereabouts of Japan II"
A man wearing a cloth on his face.
The feet are shattered.
Are you worried about Japan's future?
The title "The Whereabouts of Japan" makes me surprised.
☆ Takeshi Inoue "Kizashi"
A large fish jumping out of a snail shell and a shrimp-like creature sucked into the shell.
The surface of the water is swirling.
Where will the whirlpool grow bigger and bigger?
Chapter 3 "Animal"
What do animals in modern society mean to humans?
For city dwellers, there are pets kept at home or animals surrounded by zoos.
Chapter 3 introduces animals that have been expressed as important entities that reflect people's emotions.
☆ Mirei Omura "Ma"
A big tree and a bird standing near it.
It looks as if the mythical tree is shining brightly, and the bird is spreading its wings like a peacock.
I would like to see what it looks like when viewed in the dim light.
Chapter 4 "Landscape"
In Chapter 4, the exhibition will focus on distant landscapes and bird's-eye views, which are wider than the reachable landscapes such as indoors introduced in Chapter 1.
From the symbolic buildings of the city to the flow of water, the movement of clouds, and the landscapes that are essential to our lives are depicted here.
☆ Risa Kure "Asakusa"
Everybody knows the scenery of Asakusa along with flowers that symbolize the changing seasons.
In the refreshing colors, it seems that there is also fragility.
☆ Motegi Mana "Constellation-Scenery from the window-"
A work depicting a night view that spreads out of the window.
A variety of lights intersect to give off a dazzling light and speak lively.
When you look at each light, it is strange that the brightness is slightly different.
Chapter 5 "Expanding Imagination"
No matter how small or limited our daily lives are, we can use our imagination to supplement our physical constraints.
In the fifth chapter, the painters will exhibit works that try to connect different things in the painting, introduce different time and space, and create a world far wider and deeper than the reality in front of us.
☆ Moe Aoki "Emotional Awakening"
Flowers, like butterflies, are born of flowers planted in vases.
Is it because you can feel the rich colors even though it is almost a monochrome work?
Red, which is placed here and there, is also effective.
[Special Exhibition] Tetsuya Noda Prints <diary> series
☆ Tetsuya Noda "Diary August 10, 1979"
A work by Tetsuya Noda, whose subject was his young son.
The expression that opens this wide open mouth and faces this is very humorous.
If you look closely, the calculation formula is written on the face.
This formula makes the work even more pop.
*Special feature exhibits may be replaced.
First semester: July 23 (Thurs./holiday) to August 10 (Mon./holiday)
Second semester: Wednesday, August 12-Sunday, August 30
Summary
I have been informed about the exhibition "Urban Day!" held at the Ueno Royal Museum.
All the works under the theme of "everyday, everyday life" that were exhibited were all worrisome.
In addition to the works introduced here, wonderful works are on display, so why don't you visit the Ueno Royal Museum and check it out?
And after touching the work, you will be able to appreciate the importance of everyday life.
Enjoying works at the museum, taking a walk in Ueno Park, and laughing with family and friends.
What is nothing special is that it is shining so brightly.
* At the venue, as a measure against the new coronavirus, we are requesting temperature measurement and finger disinfection.
Thoroughly disinfect your hands, wear a mask, and keep your social distance to avoid crowds.
Event outline
Title: Ueno no Mori Art Museum Collection Exhibition
Meeting place: Ueno no Mori Art Museum 1-2 Ueno Park, Taito-ku, Tokyo 110-0007
Date : July 23, 2020 (Thurs./holiday)-August 30 (Sun)
Closed: Monday (but open on August 10th), Tuesday, August 11th
Time: 10am-5pm (Last admission 30 minutes before closing)
Sponsored by: Japan Art Association Ueno no Mori Art Museum, Fuji Television Network
Supported by: Fuji Sankei Group
Ticket information
*This exhibition requires reservation by date and time
① 10:00 to 10:59 ② 11:00 to 11:59 ③ 12:00 to 12:59 ④ 13:00 to 13:59
⑤ 14:00 to 14:59 ⑥ 15:00 to 16:30
Prior to your visit, please purchase the time-specified ticket in advance at the following (e+ e-plus, FamilyMart stores)
Please come to the venue. There will be admission restrictions during the exhibition period to ease congestion in the museum.
For those who do not have an internet environment
For those who come directly on the day without making a reservation with a designated date and time, we will inquire about the available time slot of the time zone you came at [the same day window].
Those who have reserved the date and time will have priority, so you may have to wait until you enter. Please note.
*There is no replacement system. *Please enter within the designated time.
Admission: 1,000 yen for general students, 500 yen for university students, free for high school students and younger
*Persons with disabilities and one accompanying person are free of charge. Please show your disability certificate when entering the building.
Sales period
① From 10th July 2020 (Friday) 10:00~
[7月23 日( 木・祝)~8 月10 日(月・祝) の期間のチケットを販売します。]
(2) July 22, 2020 (Wednesday) midnight
[8 月12 日( 水)~8 月30 日( 日) まで の期間のチケットを販売します。]
Sale place e+ / QR ticket [WEB sale] https://eplus.jp/ueno-mori/
[Convenience store sales] Fami port inside FamilyMart store
*How to purchase over the counter at FamilyMart https://www.family.co.jp/services/famiport.html
*Ueno Forest Museum window (opening days only)
・If a person infected with the new coronavirus is found in the museum, the information will be posted on the Ueno no Mori Art Museum website.
・If there are any changes during the exhibition period, we will inform you on the Ueno Mori Art Museum website.
*About the title
The word "Nanban Hibanzai!" originated from the word "un-birthday present" that originally appeared in Lewis Carroll's "Alice in the Mirror Land." In Disney's "Alice in Wonderland," there is a song "A Very Merry Unbirthday To You" in "Songs for a day that is not your birthday".