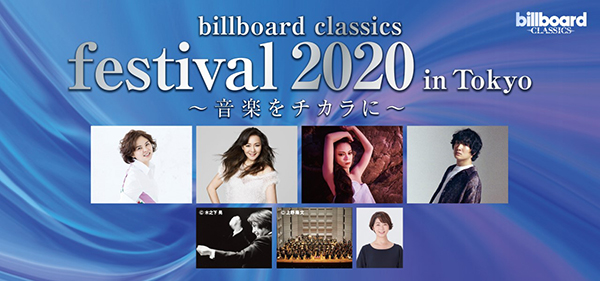 Delivery tickets and advance play guide will be accepted from 8/15 (Sat.) tomorrow!
Billboard Japan (Hanshin Content Link [Hankyu Hanshin Holdings Group Headquarters, Fukushima-ku, Osaka City]) will be held on October 17th (Sat) in a charity performance by a pops orchestra competition "billboard classics festival 2020 in Tokyo Simultaneous live distribution of "Power" is decided. Tickets will be available for sale and advance tickets for theater tickets will be accepted from 8/15 (Sat.) tomorrow.
In this performance, all the musicians, including the performers, will work together to send a cheering message to the music, in order to keep the lights of live entertainment on the brink of crisis in Corona. From that strong thought, even if a physical distance is born between people, music should overcome all things and make everyone's heart one, medical personnel who gather the power and fight at the front line I want to deliver it to music workers who are at risk of survival! We planned based on that intention.
He has performed many billboard classics festivals and has agreed with this principle, including NOKKO, ANRI, Yuki Koyanagi, Hyuira Ishizaki Pops, rock's leading artists, and the world-famous conductor Yanagi (*1). Tokyo Philharmonic Orchestra led by Hisao Sawa. Together with Miho Nakai, a freelance announcer, we will bring together the power of music on the stage of the Tokyo Bunka Kaikan Hall, a hall of classical and opera.
Tickets for viewing the theater will start tomorrow starting from 15th with each play guide. When performing, the theater will thoroughly implement infection prevention measures based on government guidelines. Also, for those who can not come to the venue, we will also release a ticket for viewing live simultaneous delivery. You can enjoy the powerful sound and images of the orchestra performance on your smartphone, computer, tablet, etc.
■Performance: billboard classics festival 2020 in Tokyo ~Powering music~
■Date and time: October 17, 2020 (Sat) 15:00 open / 16:00 start
■Venue: Tokyo Bunka Kaikan Great Hall (in front of JR Ueno Station Park Exit)
■ Cast: NOKKO, ANRI, Yuki Koyanagi, Hui Ishizaki and more.. (in no particular order)
Conductor: Yanagi (*1) Hisao Sawa
---
---
Orchestra: Tokyo Philharmonic Orchestra
■ Moderator: Miho Nakai (free announcer)
■Ticket
◎Theater viewing ticket : 7,800 yen (all seats specified, tax included)
(Donation 1000) 8,800 yen / (Donation 2000) 9,800 yen / (Donation 3000) 10,800 yen
◎Theater viewing pair ticket : 15,000 yen (all seats specified, tax included)
(Donation 1000) 16,000 yen / (Donation 2000) 17,000 yen / (Donation 3000) 18,000 yen
*To secure a social distance, the number of seats will be reduced by 50% compared to usual, and all seats including pair tickets will be sold every other seat in front, rear, left and right. However, this does not apply if the government guidelines change and the accommodation rate is eased. In that case, the seat purchased first will have priority.
*Please note that seats may be separated even if purchased with a pair ticket.
*No admission for preschoolers
*Please be sure to check the precautions posted on the official website before purchasing a ticket.
■Sales schedule
◎Play guide lottery advance Saturday, August 15 to Sunday, August 23
Lawson Ticket https://l-tike.com/
Eplus http://eplus.jp/bbcf2020_tokyo/
Ticket Pia https://w.pia.jp/t/
Rakuten Ticket http://rt.jp/
Kyodo Tokyo http://kyodotokyo.com/
*Since the reception start time, the type of tickets handled, and the maximum number of tickets sold vary depending on the play guide, please check on each website.
◎General sale 9/5 (Sat) ~
◎ Delivery viewing ticket
Sale period: Saturday, August 15 12:00 to Saturday, October 17 17:30
Ticket purchase site (eplus streaming+): https://eplus.jp/bbcf2020-st/
Delivery start: Saturday, October 17, 16:00
Viewing period (including 24-hour missed delivery): October 17 (Sat) 16:00 to October 18 (Sun) 16:00
Price: 3,000 yen (all tax included)
(Donation 1000) 4,000 yen / (Donation 2000) 5,000 yen / (Donation 3000) 6,000 yen
[About Donation Donation]
All donations donated by everyone (not subject to consumption tax) are supported by the "Music Cross Aid" fund, which supports live entertainment workers, and support for 38 orchestra groups and medical staff through the "Japan Orchestra Federation". Therefore, we will donate to 3 groups of "Japan Medical Association".
1) "Music Cross Aid" Fund HP http://www.musiccrossaid.jp/
2) "Japan Orchestra Federation" HP https://www.orchestra.or.jp/information/2020/post-27/
3) Japan Medical Association Specified Donation "Support for medical staff and medical staff in dealing with new coronavirus infectious diseases" HP https://www.med.or.jp/jma/009331.html
*If you purchase a donation ticket, there is no priority on the seating position and there is no difference in delivery content.
■Organizer/Planning: Billboard Japan ■Support: Billboard, TOKYO FM, Nippon Broadcasting System
■ Performance HP http://billboard-cc.com/classics/bbcf2020_tokyo/
■ Inquiries regarding performances: Kyodo Tokyo 0570-550-799 (Weekdays 11:00-18:00 / Saturdays, Sundays, and holidays 10:00-18:00)
(*1) Willow is a "wood" and a "u"
Billboard Japan http://www.billboard-japan.com/
Release https://www.hankyu-hanshin.co.jp/release/docs/c74d4af030e03fa5c2960698277b61eb8b1d07c7.pdf
Publisher: Hankyu Hanshin Holdings
1-16-1 Shibata, Kita-ku, Osaka