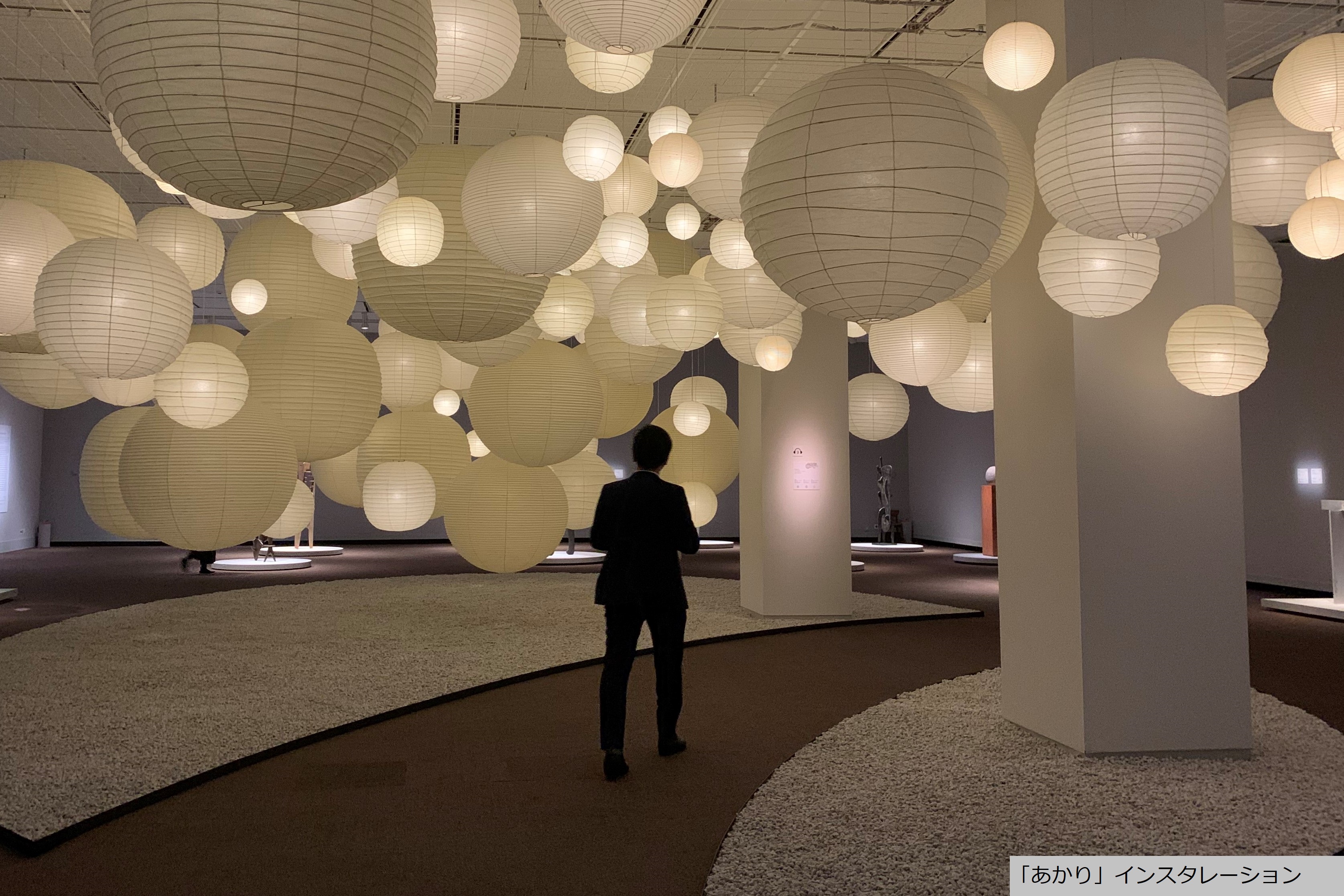 At the Tokyo Metropolitan Art Museum in Ueno, Tokyo, a special exhibition "Isamu Noguchi's Discovery Road" is being held from April 24th to August 29th, 2021.
This exhibition traces the "path of discovery" that Isamu Noguchi took while searching for "what is sculpture" throughout his life with about 90 works. We will report on the state of the venue and the exhibited works.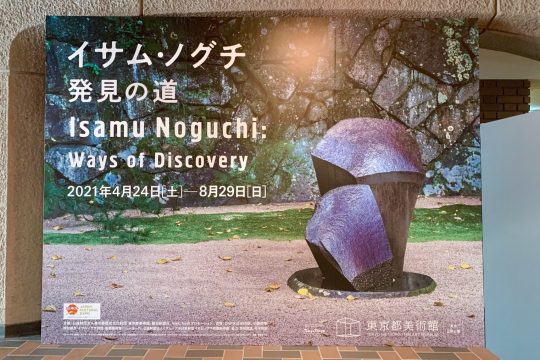 About the sculptor Isamu Noguchi
Isamu Noguchi (1904-1988), a leading sculptor of the 20th century, has demonstrated exceptional talent in various fields such as stage art, product design, and landscape design.
Despite being a well-known master, Noguchi was not good at sticking to one form or material due to his unique sculptural philosophy, as you can see at a glance at the works of sculpture.
Not even one base, he is a person who "does not settle down" in many ways, having continued his creative activities while going back and forth between New York and Japan, and sometimes Italy.
Noguchi used to feed on the loneliness and strong desire to belong to his father as a Japanese and his mother as an American, but the work expressed from his creative attitude of avoiding peace is surprising. It is colorful and rich in expression.
This exhibition, entitled "The Road to Discover Isamu Noguchi," is an encounter that Noguchi gained from the culmination of the stone carvings of his later years, including various aspects of Japanese tradition and culture that continued to give important inspiration. A panoramic view of 90 works. The idea is to experience the possibilities of sculpture and the boundaries of art that Noguchi has pioneered.
A scene from the special exhibition "Isamu Noguchi's Road to Discovery"
The venue for this exhibition consists of three chapters of exhibition space based on Noguchi's idea that "sculpture and space are one", but the first thing you notice when you look at the whole is the small number of walls. The works were scattered on a large floor.
As it is a so-called strolling exhibition, you can immerse yourself in the world of Noguchi's works as you go.
Another feature is that the works are exhibited without being put in a glass case, except for some parts.
"Without the purpose of public enjoyment, the meaning of sculpture itself would be questioned." "I have never seen sculpture as something that should be separated and sacred." (Note 1)
Noguchi who once said that. His work, which focuses on the usefulness of sculpture in daily life, not just as an appreciation, may shine more lively when exhibited in a form that is not separated from people like this exhibition. Hmm.
Chapter 1 "The Universe of Sculpture"
On the floor of Chapter 1, "The Universe of Sculpture," there are various works from the 1940s to the last 80s, which are studded like stars.
There are many notable works such as "Black Sun" that makes you feel as if the unevenness is moving when you change the angle, and "Void" that reminds you of infinite space-time, but the biggest highlight is still in the center of the exhibition room. It will be a large-scale installation with 150 lights that give off a feeling.
"Akari", which was likened to the light of the sun and moon, started production after Noguchi met Gifu lanterns in 1951. It is a special series that should be called life work, which is rare for Noguchi who avoids sticking to a certain material and form, and has continued to make more than 200 variations over 30 years.
Noguchi is not just a lighting fixture, but a "light sculpture" that engraves the light itself through Japanese paper, and "provides quality to life and fills any world with light" (Note 2). I was thinking.
This is a complete form of Noguchi, who continued to ask "what is sculpture" by expanding the conventional concept of sculpture.
There is a passage under the installation of "Akari" that blinks slowly, and you can walk in it. I felt the comfort of being gently wrapped in the soft light that illuminates the world without distinction.
Chapter 2 "The World of Karomi"
In Chapter 2, you can experience the world of "Karomi (lightness)" challenged by Noguchi who tried to incorporate the element of "lightness" contained in the state of Japanese culture into his work.
There are various types of metal plate sculptures, such as "Zazen", created based on ideas from origami and kirigami, such as bent aluminum plates and cut steel plates. However, the impression I get is just like paper.
It embodies the "denial of the weight and materiality of sculpture" that Noguchi aimed at, which is flat but has volume and depth.
Noguchi, who had an amusement park construction plan, has also started making large playsets, one of which is the playset sculpture "Place Culture" that stands out on the floor. The characteristic form of a ring of pipes that undulate like waves is full of dynamism and bouncy lightness that tickles children's hearts.
Chapter 3 "Stone Garden"
In Mure-cho, Kagawa Prefecture, there is the Isamu Noguchi Garden Museum, which is a museum of Noguchi's outdoor atelier and residence, but on the Chapter 3 "Stone Garden" floor, the stone carvings that remain in the museum are on special display. It is said that this exhibition will be the first to be exhibited together except for Murei since the museum opened in 1999!
Under the abundant nature of the ritual, with the help of mason Masatoshi Izumi, he faced the essence of stone and began to hear the "voice of stone" by connecting his senses and the world in an atelier where everything anaphorically interacts. Noguchi who said that.
We created a group of stone carving works, which is also called the culmination of Noguchi, with a completely new expression method of adding only the minimum necessary work while leaving the appearance of the stone as it is.
Approximately 3 meters, the largest sculpture in this exhibition, "Twisted Pillar," is a masterpiece with bold shavings while skillfully utilizing the original essence of megaliths. You will be overwhelmed by the mysteriously balanced majesty.
"Floor lock" is a work in which two rocks are cut in a straight line from multiple angles, and the contrast between the polished stone surface and the background and the pattern that floats like a sword are sharp. It was as if Noguchi's spirit of facing the work was still in the beauty of the sculpture.
---
The world of Isamu Noguchi's work, which saw sculpture as "something that should be completely experienced, not just staring at it" (Note 3). Please visit this exhibition and experience the <Noguchi Space> with your whole body.
<Overview of the special exhibition "Isamu Noguchi's Path of Discovery"> * Reservation recommended by date and time
Session
April 24th (Sat) -August 29th (Sun), 2021


* The session may change depending on the spread of the new coronavirus infection, so please check the official website for the latest information.

Venue
Tokyo Metropolitan Art Museum Planning Exhibition Room
Opening hours
9: 30-17: 30 (Enter until 30 minutes before closing)
closing day
Monday (However, the room is scheduled to open on July 26th, August 2nd, and August 9th)
Admission fee
[Recommended date and time reservation]
General 1,900 yen, college / vocational school students 1,300 yen, 65 years old and over 1,100 yen, high school students and under free
・ Persons with a physical disability certificate, love certificate, nursing certificate, mental disability certificate, health certificate for the atomic bomb survivor, and their attendants (up to 1 person) are free of charge.
* High school students, college students, vocational school students, people aged 65 and over, and those who have various notebooks must bring something that can be proved.
Click here for details ⇒ https://isamunoguchi.exhibit.jp/ticket.html
Organizer
Tokyo Metropolitan Art Museum, Asahi Shimbun, NHK, NHK Promotion, Agency for Cultural Affairs, Japan Arts Council
Contact
03-5777-8600 (Hello dial)
Official page
https://isamunoguchi.exhibit.jp/
(Note 1) Isamu Noguchi / Translated by Miwako Kitadai "Isamu Noguchi Essay", Misuzu Shobo, 2018, P23, P96
(Note 2) Masayo Duus, "Isam Noguchi, Fateful Cross-border", Kodansha, 2000, P318
(Note 3) Isamu Noguchi / Translated by Miwako Kitadai "Isamu Noguchi Essay", Misuzu Shobo, 2018, P197
References:
"Official Catalog of'Isamu Noguchi's Discovery Road'" (Asahi Shimbun, NHK, NHK Promotion)
Masayo Duus "Isam Noguchi Fateful Cross-Border" (Kodansha)
Translated by Miwako Kitadai "Isamu Noguchi Essay" (Misuzu Shobo)