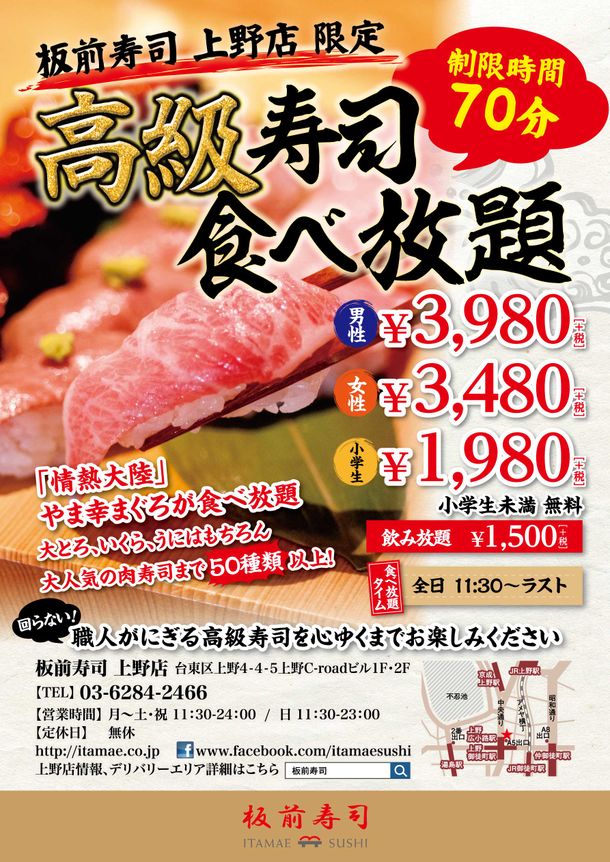 "Imazen Sushi" (Head office: Chuo-ku, Tokyo, Representative director: Katsura Nakamura), who is particular about tuna, plans to expand its lunchtime at Ueno Store "Upscale all-you-can-eat all-you-can-eat" planning, and lunchtime and dinnertime are held daily Doing. (Also planned to be implemented after September)
Summer vacation soon! All-you-can-eat lunchtime!
It is being held every day from opening 11:30 to the last, so why not visit there?
Among the Toyosu market tuna wholesalers, the large stock from "Yamayuki", the most popular stock material such as Udon, as well as the huge stock of Uno, as well as popular meat sushi and more than 50 types of all-you-can-eat meals.
There are also a wide variety of dishes, such as tuna yukke and oyster fries.
"Don't turn!" Please enjoy the high-quality sushi made by artisans to your heart's content.
The order is a tablet order and singles and women can be ordered without worrying about their surroundings.
It is an all-you-can-eat sushi you can enjoy in the group or by yourself.
In addition, the tablet also supports inbound and ALL-YOU-CAN-EAT-SUSHI (all-you-can-eat) menu is also multilingualized.
In addition to Japanese, "English", "Chinese (Simplified)" and "Korean" notations will be supported.
---
---
【All-you-can-eat time】
Monday-Sunday / Public holidays / 11:30-Last
Number of seats: 18
※ Reservable (GourNavi, food log, phone call to store)
※ When calling, please say "reservation for all-you-can-eat"
【time limit】
70 minutes (last order is 50 minutes)
【Fee】
Male: 3,980 yen + tax
Woman: 3,480 yen + tax
Primary schoolchild: 1,980 yen + tax (less than primary schoolchild is free)
※ There is also an additional option "All-you-can-drink super" 1,500 yen + tax that you can enjoy the all-you-can-eat sushi and banquet.
Itamae Sushi All-you-can-eat rule
・ You can order up to 10 people per person in one order.
・ If left uneaten, you will be charged the price of the sale price (if you leave only Shari 50 yen / penetration)
・ You can not change the plan on the way
・ We have refused to take home
※ There may be no arrival due to the weather
※ It may be sold out on the way
<Store information>
・ Store name: Itamae Sushi Ueno Store
・ Open hours: Mon-Sat, Holiday: 11: 30-24: 00
11: 30-23: 00 days
・ Closed day: None
・ Location: 4-4-5 Ueno, Taito-ku, Tokyo Ueno C-road Building 1F ・ 2F
・ TEL: 03-6284-2466
・ HP: https://itamae.co.jp