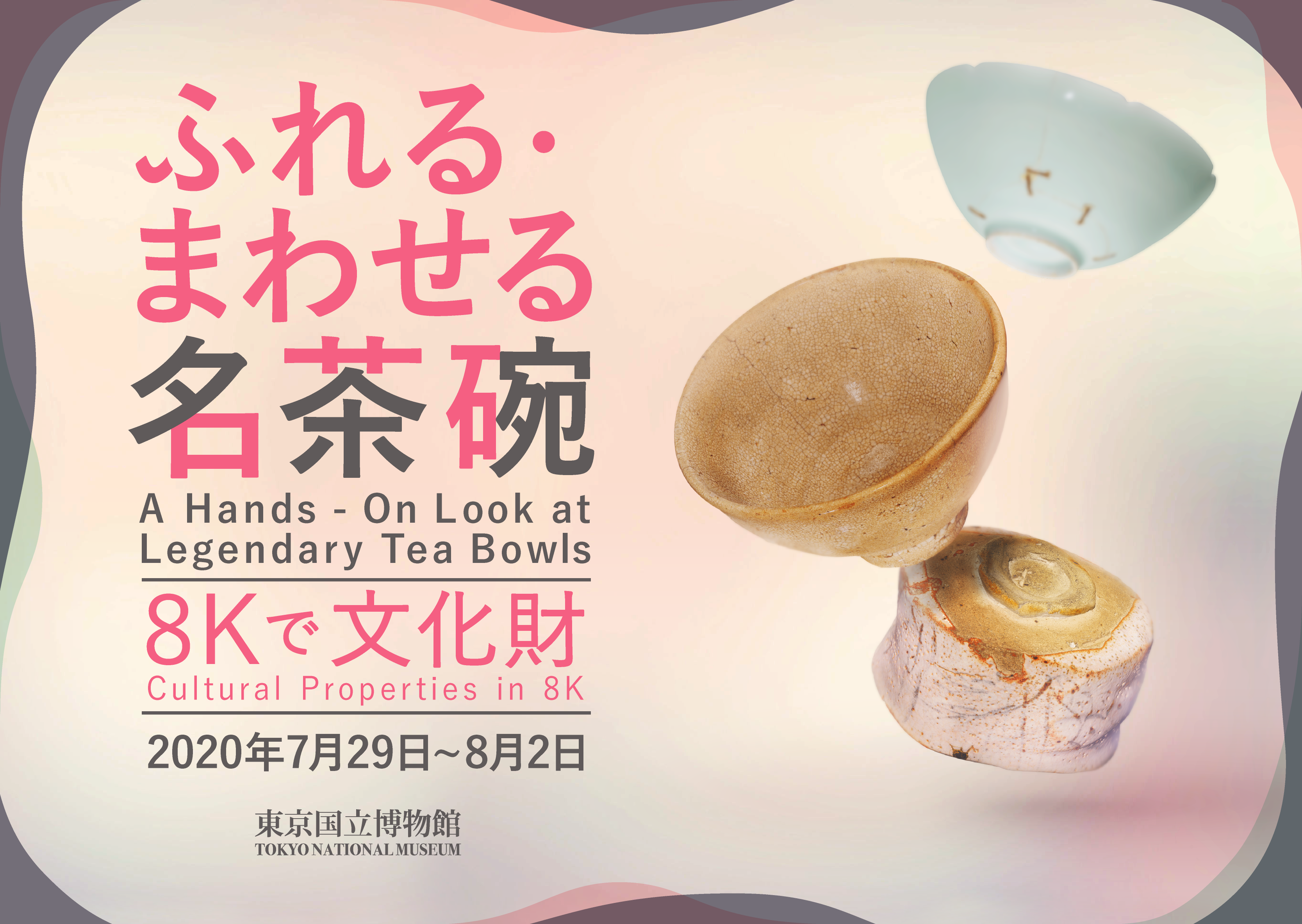 Bunkatsu, a cultural property utilization center of the National Organization for Cultural Properties, is collaborating with the Tokyo National Museum and Sharp Co., Ltd. to develop content that enables users to experience new cultural assets by utilizing 8K images.
A demonstration test will be held from July 29th (Wednesday) to August 2nd (Sunday) at the Tokyo National Museum Toyokan.
■Attention here! Newly developed appreciation experience*
・High-definition 3D image for realistic viewing
Displays 8K 3D images on a large 70-inch monitor. In this content, the famous Oohido bowl Yurakuwell, "Celadon bowl, Bakohan", "Shino bowl and Furisode" are collected in the Tohoku collection. You can experience the program.
[Owell well Yuraku well (important art work)]
Korea 16th century
It is characterized by a soft reddish marlin color. It was acquired by the famous tea master Yurakusai.
---
---
[Celadon Tea Bowl Meijutsu Kizuna (Important Cultural Property)]
Longquan kiln, China 13th century
The most attractive feature is the beautiful transparent glaze of powder blue. A bowl that Shogun Ashikaga Yoshimasa possessed during the Muromachi period.
[Shino bowl name kimono]
Mino (Gifu Prefecture) 16th-17th century
The pattern of Susuki looks thin through the white skin, and Shino's charm is well represented.
・Newly developed controller enables intuitive operation**
We have newly developed a bowl-shaped hands-on controller that looks and feels like a real cultural property. By moving the controller, you can view high-definition images on an 8K monitor from any angle at 360 degrees. It's as if you're looking at a bowl of rice.
・Being a beginner is okay! Easy commentary on the highlights
If you point the bowl-shaped controller to the "Highlight marker" position, the highlight points of the work will be displayed. You can deepen your understanding of the work while having fun with your hands and eyes.
* Developed based on the "Sharp 8K Interactive Museum".
** Only "Oido well bowl Yurakuwell" is used as a bowl type controller.
■ Thoughts of the researcher in charge
When you pick up the bowl, you can enjoy the texture that is rough and slippery. Large, small, heavy, and light on both hands are deeply touching to the mind through tactile sensations. In addition to various types of ceramics that have crossed the sea such as China and the Korean Peninsula, the Japanese have combined pottery baked in various parts of the country to add color to the food scene throughout the four seasons. We hope that through this content, you will be able to relive the eyes of your ancestors and get a clue about the rich culture of Japanese pottery. (Keiko Mikasa, Researcher, Tokyo National Museum)
■Outline of implementation
[Cultural assets "touch and turn famous tea bowls" in 8K]
Venue: Tokyo National Museum Toyokan 1st floor lounge ***
(13-9 Ueno Park, Taito-ku, Tokyo)
Period: From Wednesday, July 29, 2020 to Sunday, August 2
*Advance reservation is required by specifying the date and time.
Price: Free
Application: Advance reservation from Bunkatsu website
https://cpcp.nich.go.jp/modules/r_exhibition/index.php?controller=dtl&id=15
*** We will implement infection control measures in accordance with the guidelines of the Tokyo National Museum
■ Cultural assets in 8K
Bunkatsu is proposing a new way to enjoy cultural assets using high-definition data.
・8K cultural property "National Treasure Shotoku Prince Eden"
This is a video application that allows you to enjoy high-definition images of "National Treasure Shotoku Prince Eden" on a large 8K monitor while freely operating them with a tablet, and to enjoy them with easy-to-understand explanations. We shoot with an ultra-high-definition camera, create 18 megapixels of data on one side of the picture, and project it on an 8K monitor with super-high image quality. Prince Shotoku's life was brought back to life with a thorough explanation of the scene, and many visitors highly evaluated it. The Japanese version will be released from November 27th to December 25th, 2018, and the Japanese/English bilingual version will be released from October 29th to November 24th, 2019 at Tohoku.
▼Customer's voice
"I was very surprised to see the expression of the Prince and the pattern of the kimono that I could not see in the real thing." "The contents and explanations that I could not understand just by looking at the real thing could be used with the tablet or expanded. was fun"
・Sharp 8K Interactive Museum "National Treasure Rakuchu Rakugai Screen (Funokimoto)"
Rakuchu-Rakugai folding screen depicting the cityscape of central Kyoto. Among them, the "Funokimoto" drawn by Iwasa Matabei depicts the vibrant townscape and people's lives vividly. The ultra-high resolution data is displayed on the 8K monitor, allowing you to clearly enjoy the detailed gestures and expressions of the person drawn. By touching the screen, you can freely enlarge or move the scene you want to see and display the scene commentary. Introduced at international exhibitions of cutting-edge technologies such as CEATEC and ICOM Kyoto Convention in September 2019.
■News release by Sharp Corporation
https://corporate.jp.sharp/news/200701-a.html
Bunkatsu official website: https://cpcp.nich.go.jp/
Twitter(@cpcp_nich): https://twitter.com/cpcp_nich
Instagram(@cpcp_nich): https://www.instagram.com/cpcp_nich/