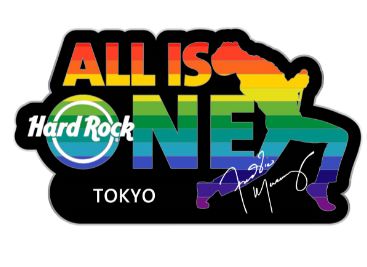 A charity collection featuring Freddie Mercury's silhouette design!
---
---
At the rock shop attached to the American restaurant "Hard Rock Cafe", based on "All is One" which is one of the mottos of "Hard Rock Cafe", a design that is not bound by gender will help all people in the LGBTQ community. We are developing a new series "Pride Collection" made to give.
For this 2020 series, a collection of the silhouette of the late Freddie Mercury, a legendary vocalist of the British rock band QUEEN expressed in rainbow colors, with the logo mark of "Hard Rock Cafe" will be sold from Saturday, August 22nd start.
A portion of the sales of these goods will be donated to "The Mercury Phoenix Trust", a charity organization launched by QUEEN members to eradicate AIDS.
■Hard Rock Cafe Rock Shop "2020 Pride Collection" Sales Overview
Stores: Tokyo store / Asakusa store / Ueno station Tokyo store / Yokohama store / Kyoto store / Osaka store / Universal Citywalk Osaka™ store
[Sales start on Saturday, August 22, 2020]
★ 2020 Pride Pin 1,800 yen *Limited number: 100 each store, the location name of each store is designed.
★ 2020 Pride Hat 3,000 yen
★ 2020 Pride Hoodie 6,200 yen
[Start of sale in early September 2020]
★ 2020 Pride T-shirt 3,600 yen
[The Mercury Phoenix Trust]
The Mercury Phoenix Trust is a charity foundation that fights AIDS worldwide. Founded by four members, including the rest of QUEEN and their manager, Jim Beach, after Freddie Mercury died in London in 1991 due to Pneumocystis pneumonia due to an HIV infection. The Freddie Mercury Tribute Concert for AIDS Awareness was held to raise awareness of AIDS, and the proceeds were used to fund the Mercury Phoenix Trust. I am doing.
[Outline of Hard Rock®]
With hotels, casinos, rock shops and cafes in 256 cities in 76 countries, Hard Rock International is one of the most recognized companies in the world. Starting with Eric Clapton's guitars, Hard Rock owns a valuable collection of more than 83,000 memorabilia (costumes and musical instruments of famous musicians) that are on display at stores around the world. In addition, Hard Rock International was praised by Forbes magazine in 2019 as "the company that employs the most employees in the United States" and "a company that makes a significant contribution to the success of women", and research company JDPOWER Earned "No. 1 in customer satisfaction" in North America. In 2020, it was also recognized by Forbes magazine as "a company that maximizes the diversity of its employees." Each of Hard Rock's facilities is represented by two of the most successful flagship stores in Florida and the world's first guitar hotel 🄬 (guitar-shaped hotel) opened in South Florida, where the headquarters is located. We are expanding into a famous international city. The Hard Rock brand is operated by the parent company, The Seminole Tribe of Florida.
Click here for details
https://www.hardrock.com/
or
https://shop.hardrock.com/en-us
[Official website]
・Tokyo store
5-4-20 Roppongi, Minato-ku, Tokyo
TEL.03-3408-7018
・Asakusa store (rock shop)
Peacock building, 1-16-11 Asakusa, Taito-ku, Tokyo
TEL.03-6231-7303
・Ueno Station Tokyo Store
Atre Ueno 1st floor, 7-1-1 Ueno, Taito-ku, Tokyo
TEL.03-5826-5821
・Yokohama store
Queens Tower A 1st floor 2-3-1 Minatomirai, Nagano-ku, Yokohama, Kanagawa Prefecture
TEL.045-682-5626
・Kyoto store
67 Shintobashi Yamato-oji Higashiirimotoyoshimachi, Higashiyama-ku, Kyoto-shi, Kyoto Prefecture
TEL.075-533-7771
・Osaka store
Itou Building 1F, 3-6-14 Minamihonmachi, Chuo-ku, Osaka-shi, Osaka Prefecture
TEL.06-6120-5711
・Universal City Walk Osaka™ store
Universal City Walk OsakaTM 3rd and 4th floor 6-2-61 Shimaya, Konohana-ku, Osaka City, Osaka Prefecture
TEL.06-4804-3870