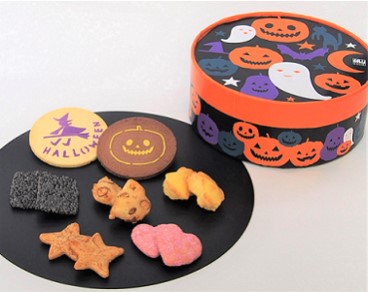 Until Saturday, October 31 / Matsuzakaya Ueno Store Main Building 1st Floor Cheek Town
The Halloween season has come again this year. Why don't you enjoy "House Halloween" with the taste of autumn and ghost sweets while refraining from seasonal events due to the corona disaster? Also, for the "petit gift" for those who meet after a long time, we recommend Halloween sweets that make you feel the season! At the Japanese and Western confectionery section of the Matsuzakaya Ueno store, about 100 types of "Halloween sweets" are gathered together. Individual wrapping and limited packaging are so cute that you will want to give them to someone. The special sweets such as rich pumpkin and purple potatoes will be tasted only now, and will liven up the Halloween party at home. (Because it is a seasonal product, it will end as soon as it runs out.)
Liven up "House Halloween"!

I want to take home with seasonal pumpkins and ghosts

Discerning ghost sweets are seasonal only now!
The popular soft tart has been changed to a special Halloween version!
<Ginza waist> Soft tart (1 piece) 216 yen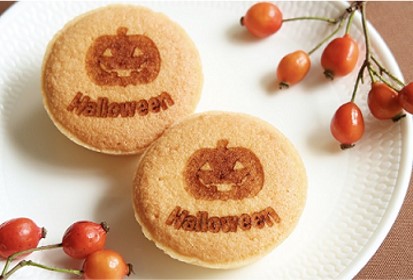 A bittersweet caramel brulee is added to the rich Hokkaido Ebisu pumpkin cream!
<Vitamail> Jack (1 piece) 669 yen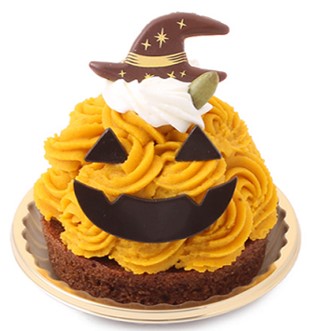 A cute ghost with rare cheese mousse made from Hokkaido cream cheese and sweet and sour strawberry mousse wrapped in fertilizer.
Autumn shortcake with Hokkaido Ebisu pumpkin cream and astringent chestnuts.
<Antenor> Halloween rare cheese (1 piece) 615 yen
---
---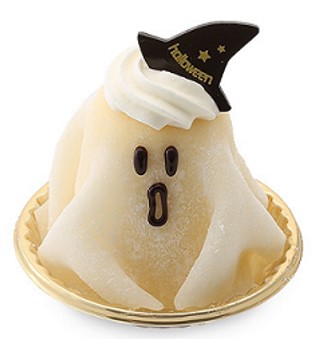 <Antenor> Pumpkin and chestnut shortcake (1 piece) 626 yen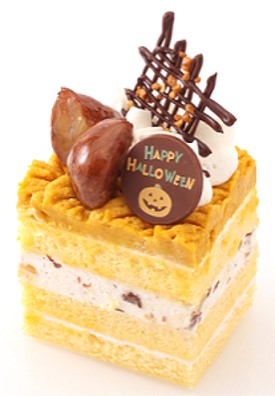 When you open the box, a cute ghost appears! Decorate the fluffy waffles with 3 types of cream and toppings.
<Ale L> Halloween Waffle Dolce (5 pieces) 1,728 yen * 10/17 ~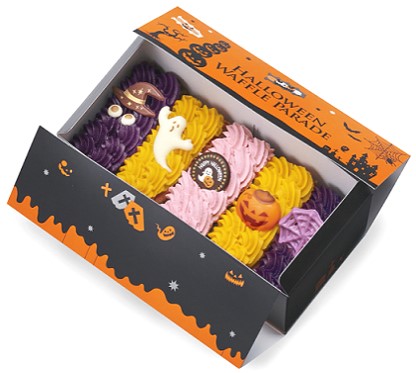 Add milk, eggs and fresh cream to the Hokkaido Ebisu pumpkin paste.
It features a rich pumpkin flavor with a cinnamon flavor.
<Morozoff> Pumpkin pudding (1 piece) 378 yen
A fragrantly baked tart made from Hokkaido Ebisu pumpkin.
<Fouche> Tart Halloween (1 piece) 270 yen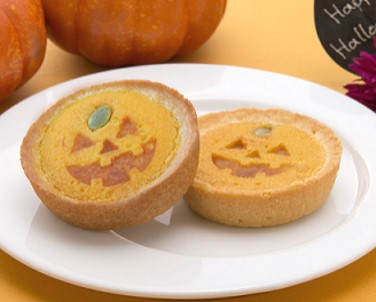 Seasonal sweetened sugar finished using only domestic pumpkin and sugar has the original gentle sweetness of pumpkin.
Smooth tongue!
<Ginza Suzuya> Pumpkin Amanatto Halloween (1 bag) 486 yen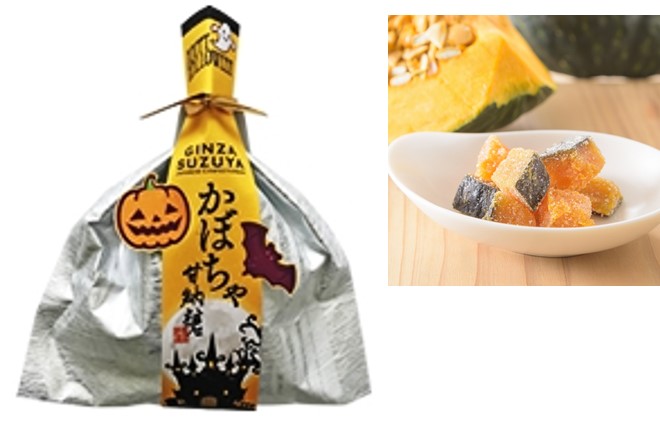 Versatile for "petit gifts"!

That's why I want to give it to people I meet after a long time.

Absolutely recommended flavors and limited packages only for now!
The bat motif package is also fashionable!
Gateau Festa Harada's proud "Tigres", chestnuts and pumpkins,
Halloween-only sweets arranged using the taste of autumn such as maple.
<Gateau Festa Harada> Tigres Halloween / Simple box (3 pieces) 648 yen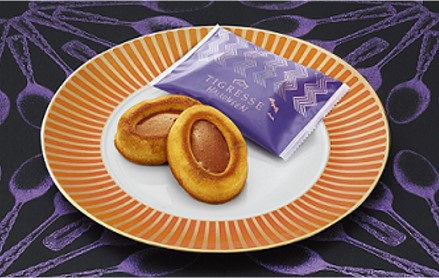 The moon on the package and the eyes of Jack O Lantern glow in the dark!
Assortment of limited chocolate and limited curry with cute illustrations of cats and pumpkins.
<Godiva> Collection Magic Assortment (4 capsules) 1,188 yen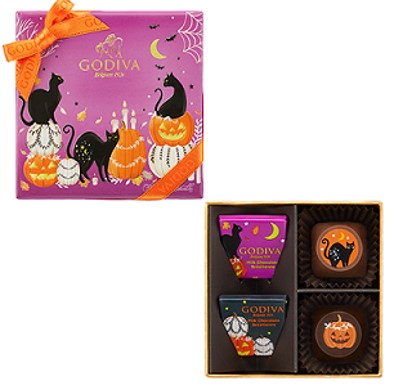 A stylish package of the magical world of witches and friends!
Yoku Moku's long-selling "Cigale" baked with plenty of butter is cute for adults
With Halloween package!
<Yoku Moku> Cigar (14 pieces) 1,080 yen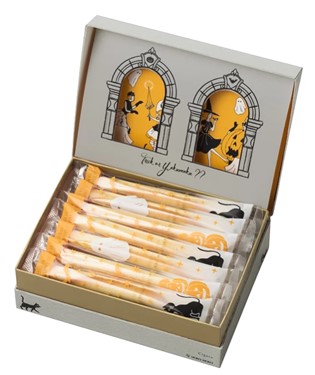 The popular special cookies are now in the Halloween version with original design cans.
<Izumiya> Halloween Special Cookies (1 can) 1,296 yen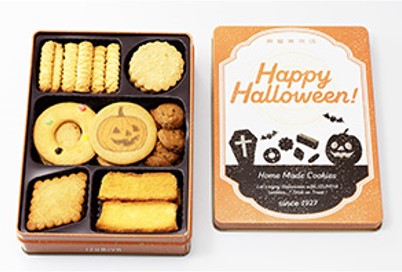 Pumpkin pudding taste only at this time!
A Halloween-only mini can with pumpkin pudding-flavored cream sandwiched on a refreshing wafer.
<Ueno Ryogetsudo> Petit Gofuru Pumpkin Pudding Flavor (1 can, 2 pieces, 3 bags) 495 yen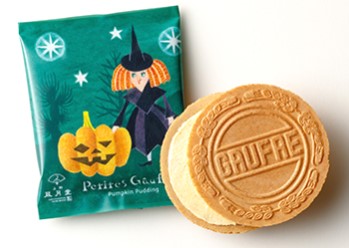 Pumpkin flavor and black okaki!
The popular egg rice cracker has a Halloween-only cocoa flavor. All the stars and heart-shaped cute bite-sized okaki are individually wrapped.
<Akasaka Kakiyama> Halloween a la carte (1 box, 17 pieces) 1,080 yen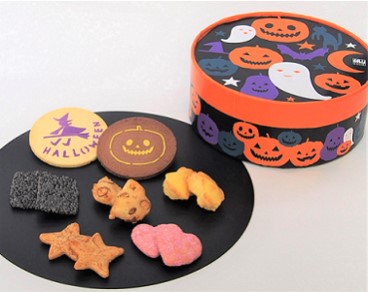 Only now is the panda dressed as a ghost!
A cute ghost panda die-cut baum. The dough has a fragrant maple flavor.
<Ueno Information Center> Ghost Panda Baum (1 piece) 540 yen / B1F PARCO_ya side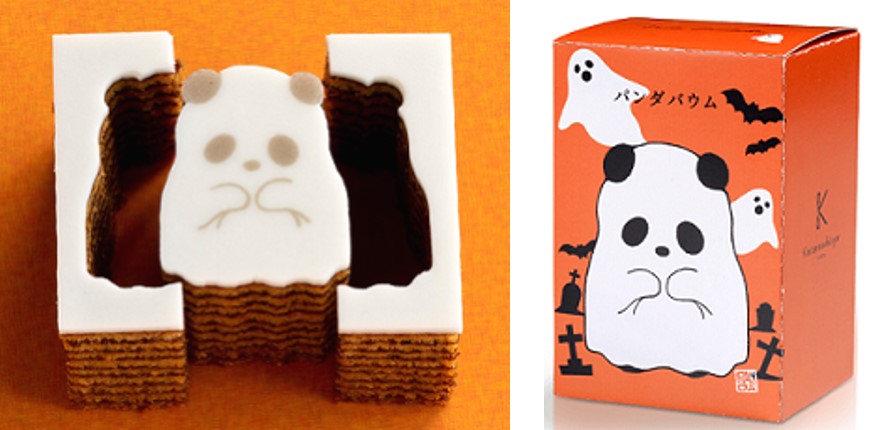 Assorted seasonal and popular products in a pumpkin-shaped box.
<Aoi no Kura> Halloween box (5 types, 12 bags) 864 yen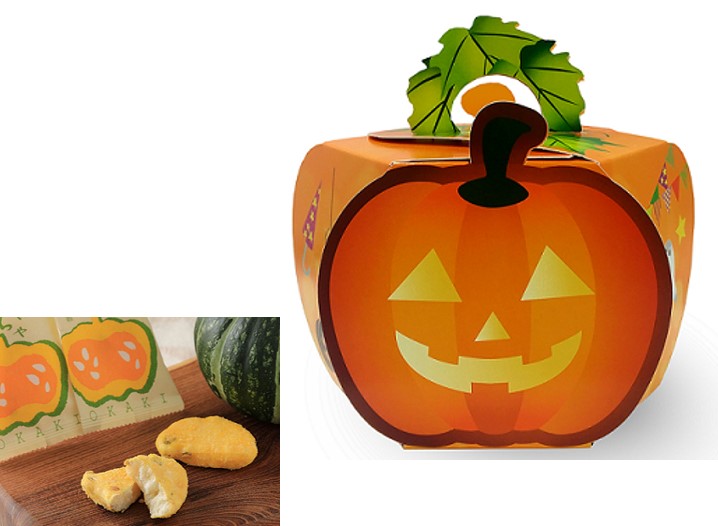 The popular connection is now only for Halloween.
<Bankaku Sohonpo> Halloween limited design Yukari assortment box (8 pieces x 2 bags) 1,382 yen