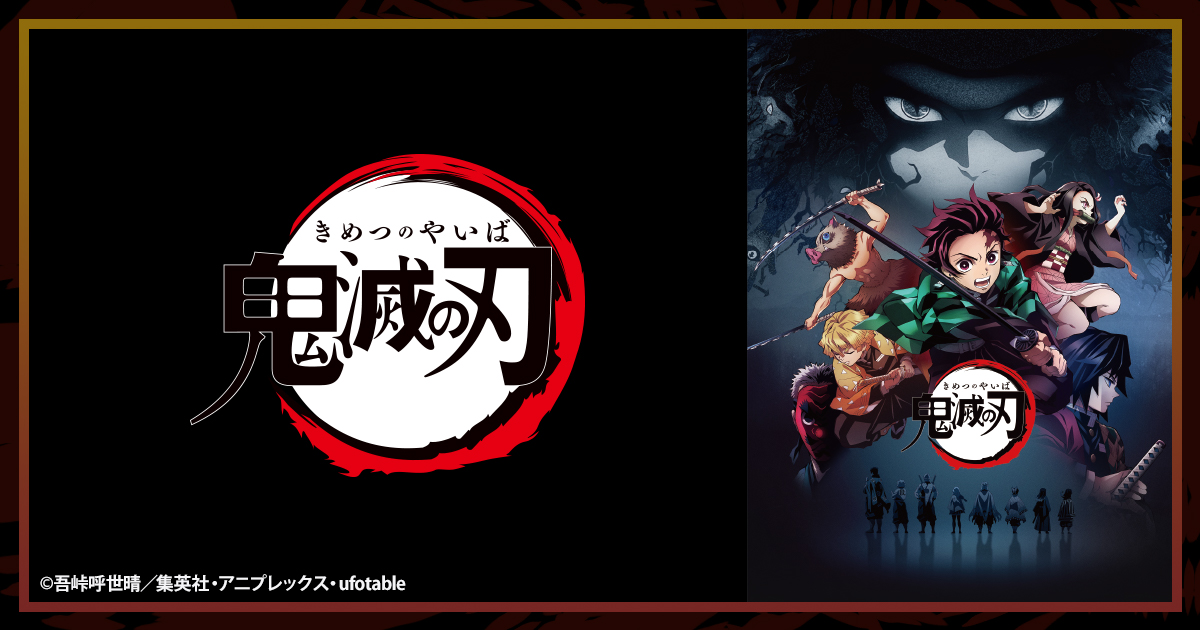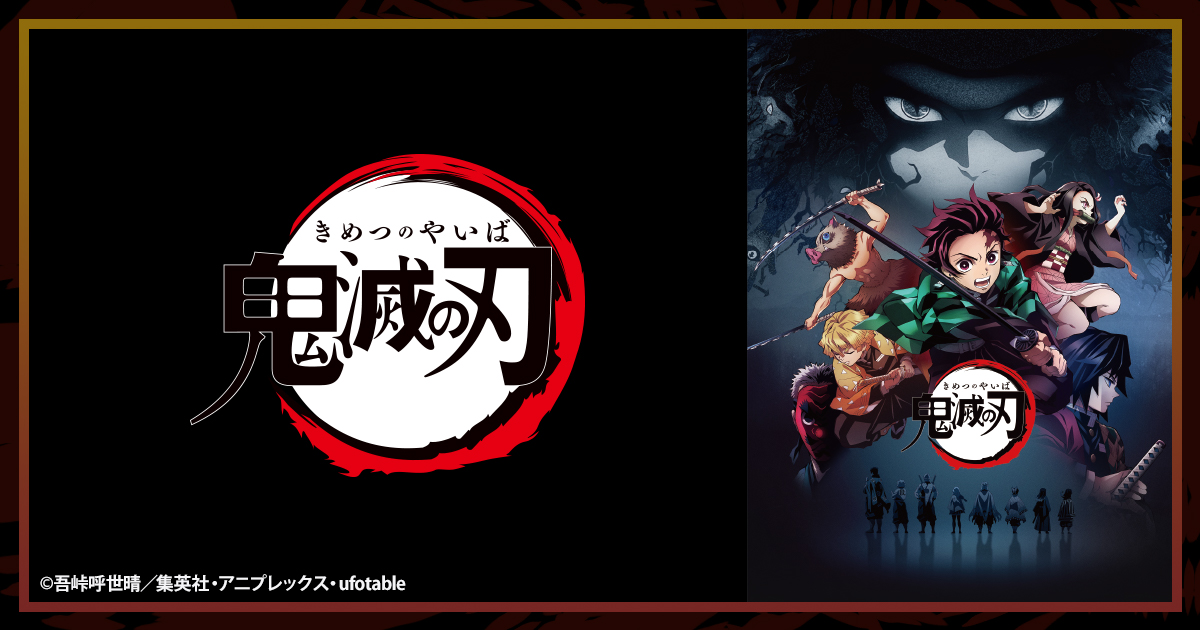 Right-on Co., Ltd., a jeans select shop, will start selling items from the TV anime "Kimetsu no Yaiba" at Right-on stores and online shops from December 23 (Wednesday).
The items to be developed are 8 types of tops for adults, 6 types of tops for children, and 2 types of goods.
The tops, which are based on the images of Tanjiro Kamado, Tanjiro Kamado, Yoshiyasu Gazuma, Inosuke Bakuhei, Yoshiyuki Tomioka, and Shinobu Kocho, are designed with character color lines and scene cuts from TV anime as motifs. It is a long T-shirt made of cut and sewn material.
As for goods, we will develop socks and handkerchiefs that are easy to use daily.
Please check it out.
<Product page>
https://right-on.co.jp/feature-pages/2012kimetsunoyaiba * Sales start on December 23 (Wednesday)
■ Product information
Sales location: Right-on store (store only), ONLINE SHOP ( https://right-on.co.jp )
Launch: December 23, 2020 (Wednesday) ~
---
---
<Development store>
Hokkaido
Wing Bay Otaru store, AEON MALL Tomakomaki store, AEON Kitami store, AEON MALL Asahikawa station square store, Sapporo Esta store
Tohoku region
Hiromae Sakurano store, AEON MALL Tsugaru Kashiwa store, AEON MALL Shimoda store, Kitakami Sakurano store, AEON MALL Natori store, AEON MALL Ishimaki store, AEON MALL Tomiya store, The Mall Sendai Nagamachi part2 store, AEON MALL Tendo store, AEON Mall Omagari store, AEON MALL Akita store
Kanto region
Aeon Mall Ota Store, Maebashi Keyaki Walk Store, Smark Isezaki Store, Aeon Mall Takasaki Store, Utsunomiya Interpark Village Store, Oyama Yuen Harvest Walk Store, Aeon Mall Mitouchihara Store, Hitachinaka Fashion Cruise Store, Aeon Mall Shimozuma Store, Aeon Mall Tsuchiura store, AEON MALL Tsukuba store, Eas Tsukuba store, Unicus Uesato store, Shintokorozawa Parco store, AEON MALL Urawa Misono store, Morage iris store, AEON MALL Hanyu store, Cocoon City store, AEON Laketown store, LaLaport Fujimi store, AEON MALL Kasugabe store, AEON MALL Narita store, Ario Ichihara store, AEON MALL Choshi store, AEON Town Yukarigaoka store, AEON Ichikawa Myonori store, Unimo Chiharadai store, Ichikawa Nikke Colton Plaza store, AEON MALL Makuhari Shintoshin store, LaLaport TOKYO-BAY Store, AEON MALL Kisarazu store, AEON MALL Chiba New Town store, Seven Park Ario Kashiwa store, HARAJUKU TOKYO store, Ikebukuro store, Ueno store, Ario Kameari store, Ario Nishiarai store, AEON MALL Hinode store, Akishima Moritown store, Fuchu Kururu Store, Trie Keio Chofu store, LaLaport Tachikawa Tachihi store, AEON MALL Musashi Murayama store, mioka list store, LaLaport Yokohama Yokado store, Collet Mare store, Minato Tohokukyu store, Ebina Vinawalk store, Ario Hashimoto store, Courseca Bayside Stores store, AEON MALL Zama store
Chubu / Kinki region
Riverside Chiaki store, AEON MALL Niigata Minami store, Fukui Owada Apita store, AEON MALL Shinkomatsu store, AEON Mitsutsuka store, AEON MALL Matsumoto store, AEON MALL Kofu Showa store, Santo Moon Kakitagawa store, LaLaport Iwata store, AEON MALL Fujimiya store , LaLaport Numazu store, AEON MALL Otaka store, AEON MALL Nagoya Chaya store, Airport Walk Nagoya store, mozo Wonder City store, AEON MALL Tokisuri store, AEON MALL Nagakute store, Prime Tree Akaike store, AEON MALL Higashiura store, Apita Inazawa store , AEON MALL Kisogawa store, AEON MALL Okazaki store, AEON MALL Takaoka store, Fabole store, AEON MALL Meiwa store, AEON MALL Toko store, Gifu Morera store, Gifu Margo store, AEON MALL Kagamihara store, Gifu colorful town store, AEON MALL Suzuka store , AEON MALL Kuwana Anku specialty store, AEON MALL Tsunan store, AEON Omi Hachiman store, AEON MALL Kusatsu store, AEON MALL Kumiyama store, AEON MALL Kyoto Katsuragawa store, AEON MALL Takahara store, AEON MALL KYOTO store, AEON MALL Kamahara store , AEON MALL Yamato Koriyama store, AEON MALL Rinku Sennan store, AEON MALL Dainichi store, Abeno Q's Mall store, LINKS UMEDA store, First Label Kuzuha Mall store, AEON MALL Ibaraki store, AEON MALL Shijoba store, Kishiwada Kankan Bayside Mall store, Ario Otori store, Blumer HAT Kobe store, AEON Akashi store, Kobe Harborland umie store, AEON MALL Itami store, AEON MALL Wakayama store,
Chugoku / Shikoku region
AEON MALL Hiroshima Fuchu store, Fuji Grand Kamibe store, Fuji Gran Higashi Hiroshima store, AEON MALL Kurashiki store, BACK NUMBER AEON MALL Okayama store, Cinema Town Okanan store, AEON MALL Hiyoshitsu store, Yumetown Izumo store, Fuji Gran Ube store, AEON MALL Kochi store , Emiful MASAKI store, AEON MALL Araihama store, AEON MALL Imabari Shintoshi store, EX Fuji Gran Shigenobu store, AEON MALL Tokushima store, AEON MALL Ayakawa store
Kyushu region
Hisayama Trias store, AEON MALL straight store, AEON Tobata store, AEON MALL Fukutsu store, AEON MALL Fukuoka store, AEON MALL Chikushino store, Canal City Hakata store, Yumetown Kurume store, AEON MALL Omuta store, AEON MALL Saga Yamato store, Tokiha Wasada Store, AEON MALL Sanko store, AEON Park Place Oita store, AEON MALL Miyazaki store, AEON MALL Kumamoto store, Yumetown Hanai store, AEON MALL Hikarinomori store, AEON MALL Ujo store, AEON MALL Ura store
Okinawa
Aeon Mall Okinawa Raikamu Store, Urasoe Parco City Store
■ Development products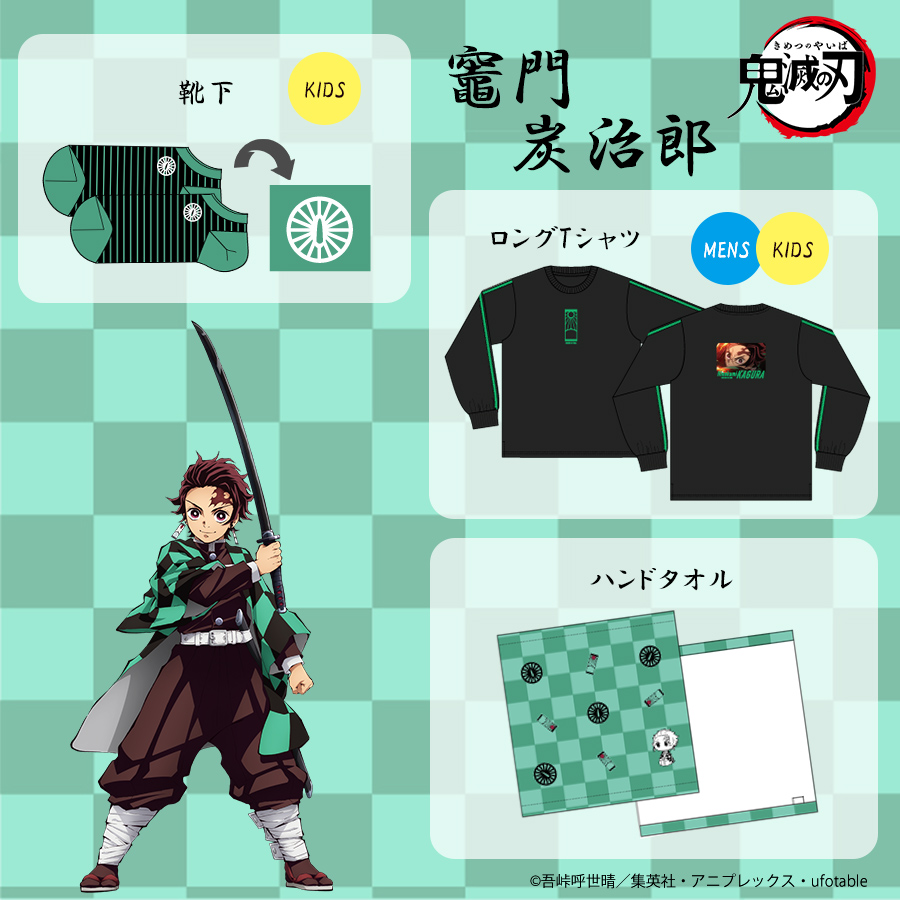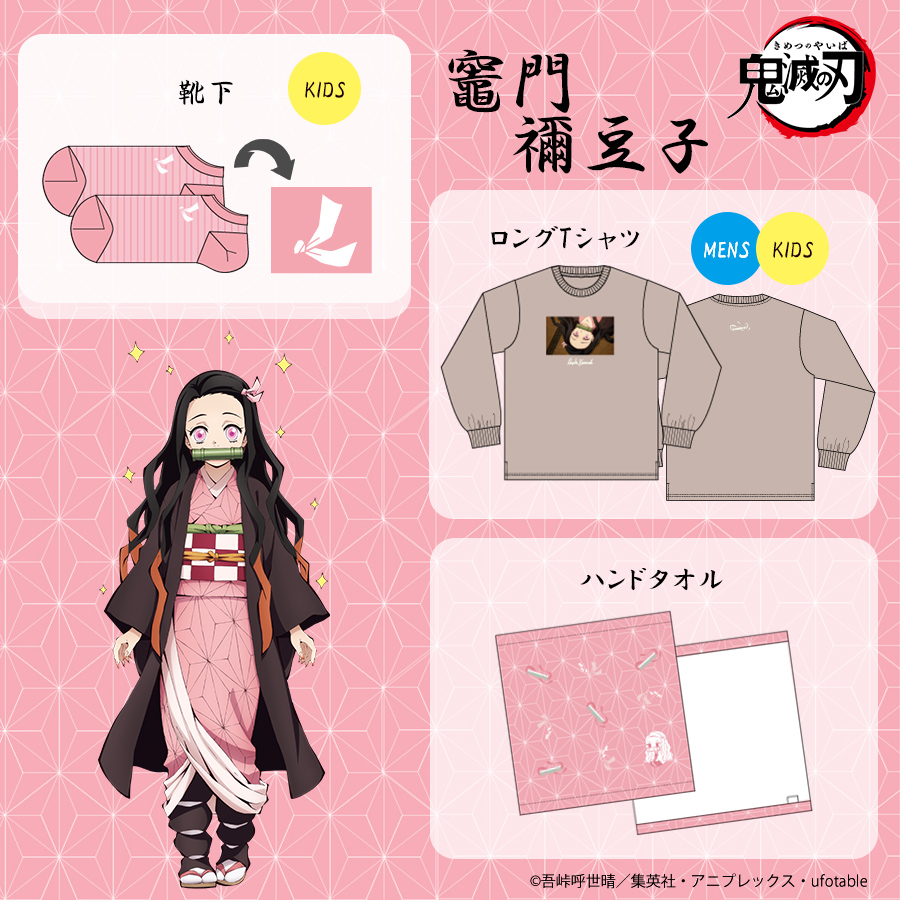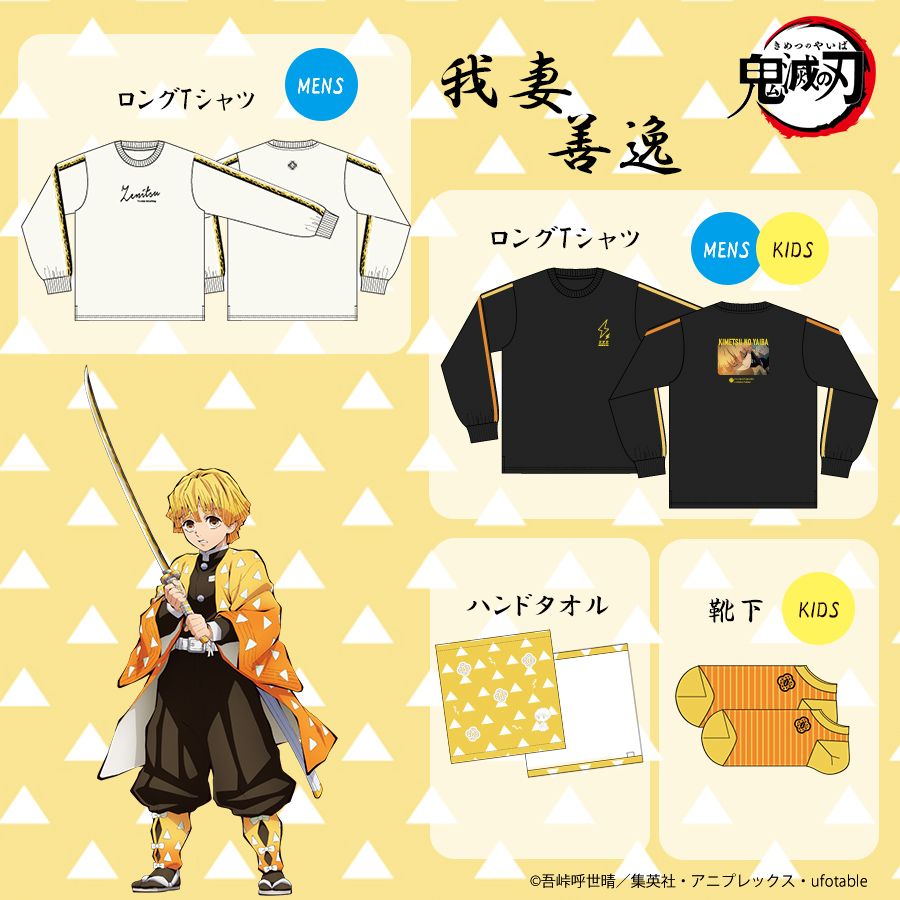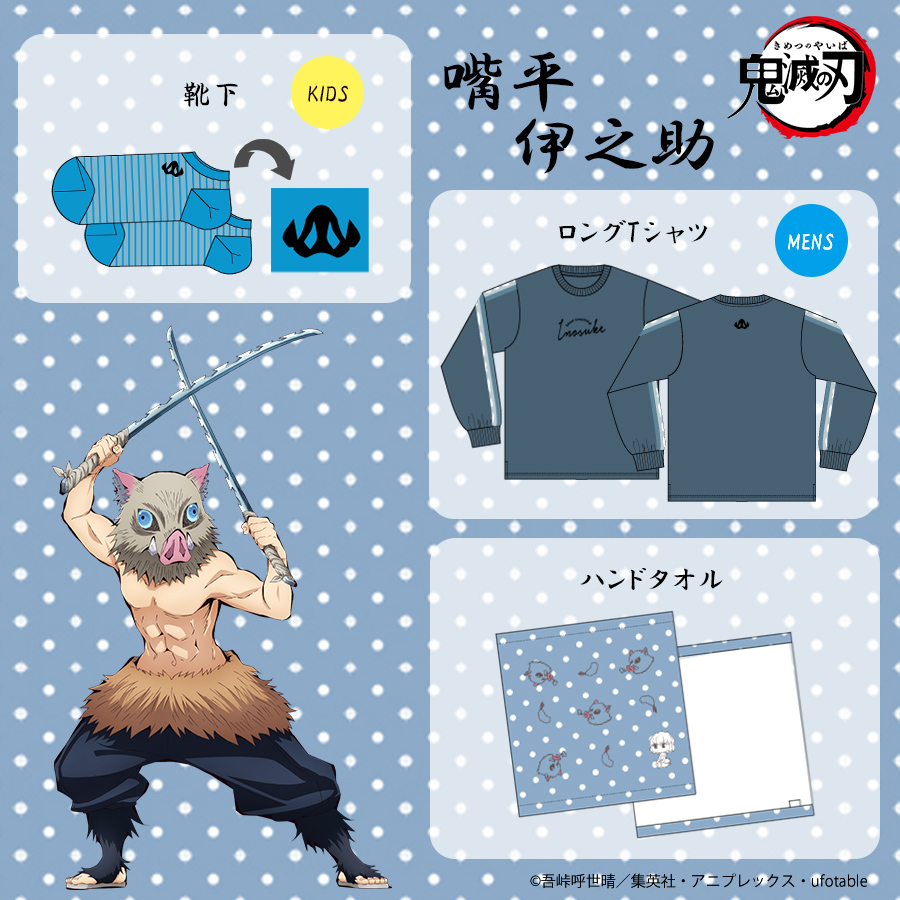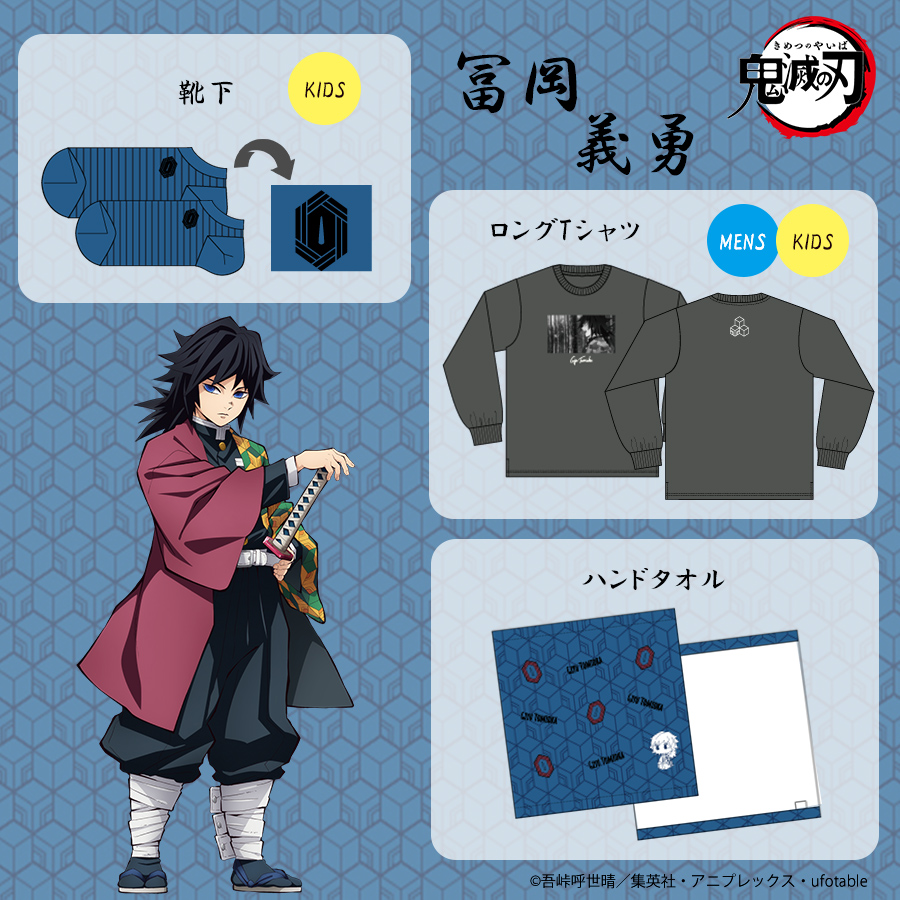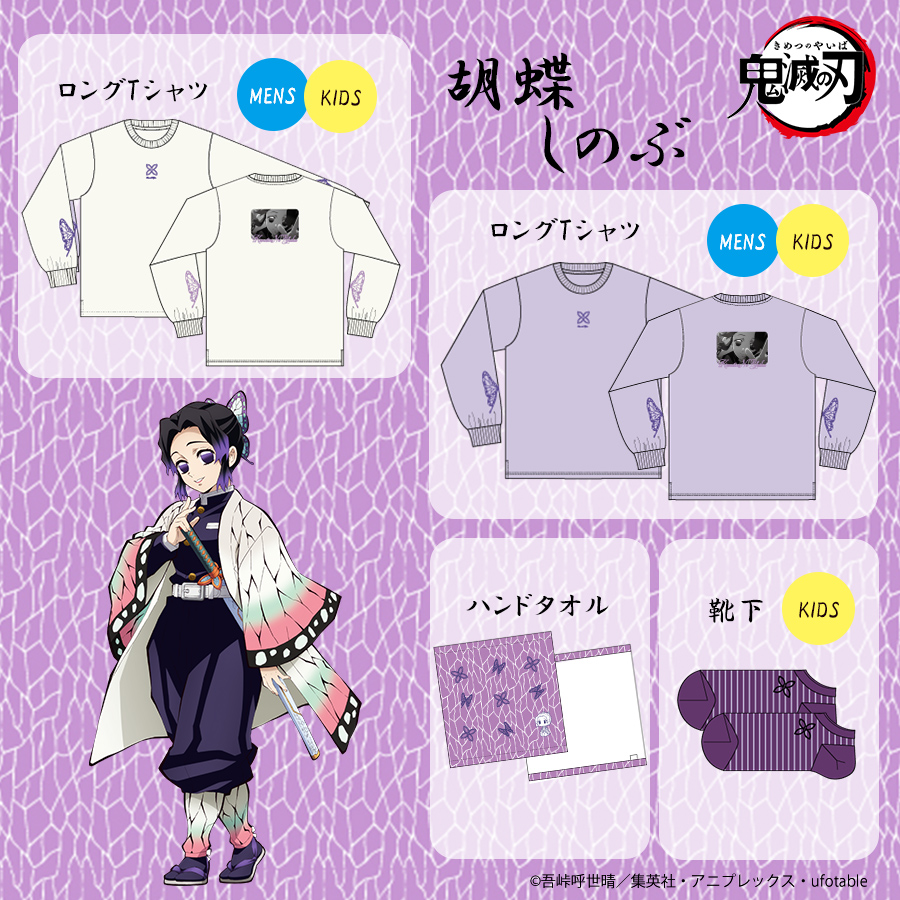 ■ Long T-shirt for adults
All 6 species (Tanjiro Kamado, Tanjiro Kamado, Yoshiyasu Gazuma, Inosuke Kahei, Yoshiyuki Tomioka, Shinobu Kocho)
Price: 3,000 yen (excluding tax)
Size: S / M / L
■ Long T-shirts for children
All 6 species (Tanjiro Kamado, Tanjiro Kamado, Yoshiyasu Gazuma, Yoshiyuki Tomioka, Shinobu Kocho ①, Shinobu Kocho ②)
Price: 2,000 yen (excluding tax)
Size: 120 cm / 130 cm / 140 cm / 155 cm
■ Socks
All 6 species (Tanjiro Kamado, Tanjiro Kamado, Yoshiyasu Gazuma, Inosuke Kahei, Yoshiyuki Tomioka, Shinobu Kocho)
Price: 350 yen (excluding tax)
■ Handkerchief
All 6 species (Tanjiro Kamado, Tanjiro Kamado, Yoshiyasu Gazuma, Inosuke Kahei, Yoshiyuki Tomioka, Shinobu Kocho)
Price: 580 yen (excluding tax)
* The correct notation for "禰" in Sadako is "ne + 爾".
© Koyoharu Gotouge / Shueisha / Aniplex / ufotable
■ About Right-on
A jeans select shop that sells casual wear with jeans as its core item to a wide range of customers regardless of age and gender. We develop a wide range from American casual to trends and propose life-sized fashion.
<WEB> https://biz.right-on.co.jp <ONLINE SHOP> https://right-on.co.jp
<LINE> @ right-on <Facebook> https://www.facebook.com/righton.co.jp
<Twitter> @righton_pr <Instagram> @righton_pr / @right_on_kids