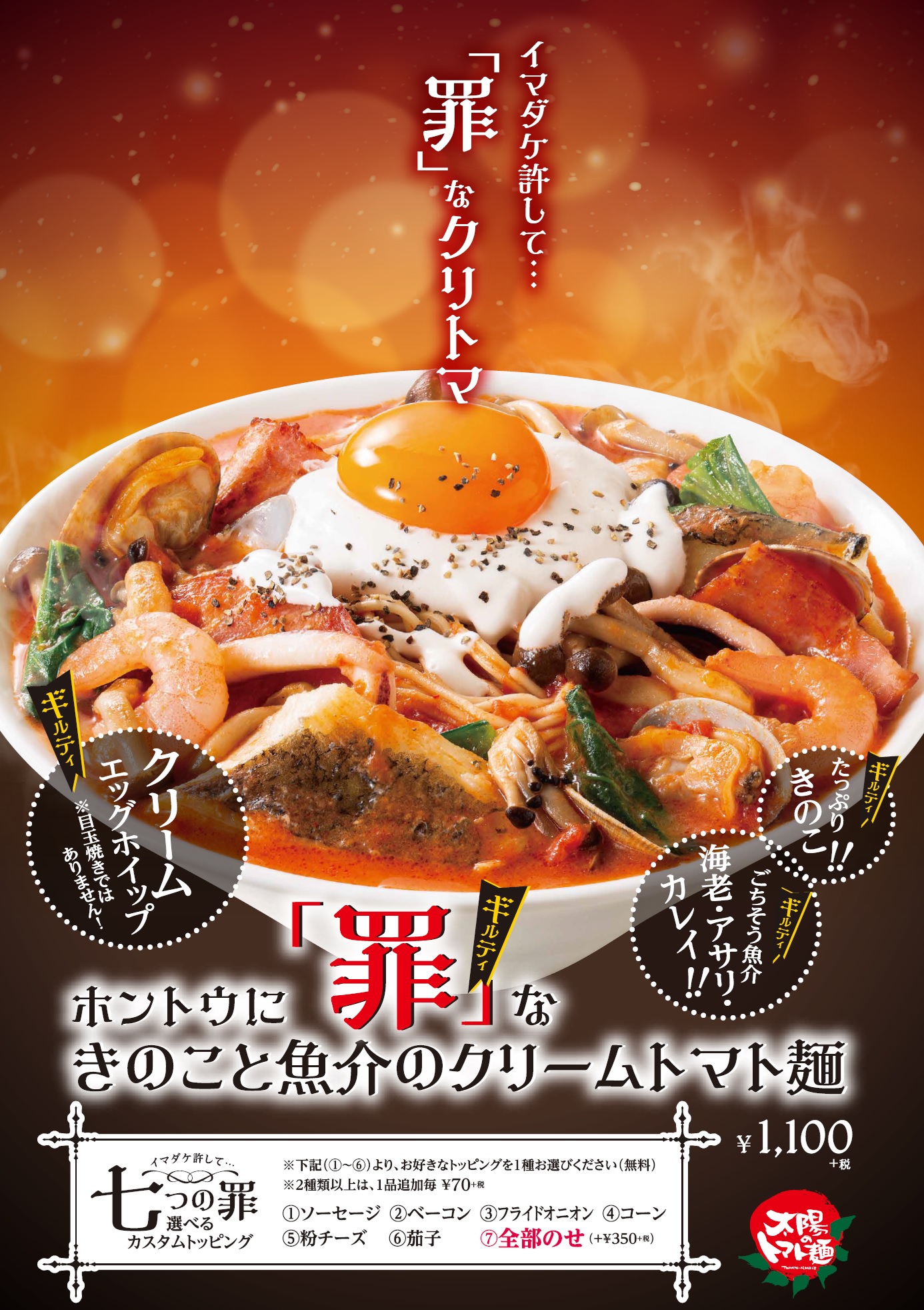 Osaka Osho Co., Ltd., which develops a variety of Chinese and ramen formats nationwide, has forgiven Imadake from Saturday, December 26th at the tomato ramen specialty store "Taiyo no Tomato Noodles". We sell "seafood cream tomato noodles". It comes with a luxurious tomato noodle that uses plenty of mushrooms and seafood, and a sinful privilege that you can choose one type of custom topping for free. Please enjoy the winter limited cream tomato noodles that release your appetite.
■ Product overview
・ Product name: "Cream tomato noodles with seafood and innocent mushrooms"
・ Sales price: 1,100 yen + tax
・ Sales period: Scheduled from Saturday, December 26, 2020 to the end of February 2021 (* Ends as soon as it runs out)
・ Product features: Plenty of mushrooms and feast This product is based on the image of seafood cream Napolitan.
Shrimp, squid, and clams are made from white fish, and bacon is also included in the seafood.
In addition, it comes with a sinful privilege that you can choose one type for free from the custom toppings you can choose.
When the cream egg, which has the image of a fried egg, begins to melt, it has a very rich taste.
This winter-only sinful tomato noodle that I really want to eat, I want you to forgive me only this winter.
---
---
<Choice of custom toppings>
Please choose one of your favorite toppings from the following. (free)
* For 2 or more types, 70 yen + tax will be charged for each additional item.
① Sausage ② Bacon ③ Fried onion ④ Corn ⑤ Grated cheese ⑥ Eggplant
* All charges 350 yen + tax
■ Stores
Tokyo: Kinshicho Main Store, Ogikubo Branch, Otsuka North Exit Branch, Gokokuji Branch, Honjo Azumabashi Sky Tree Branch,
Ueno Hirokoji Branch, Kiba Branch, Shinjuku Toho Building Branch, Shinjuku Washington Hotel Branch,
Next Sunshine City, with Cheese Shinjuku Mylord, with Cheese Harajuku Takeshita Dori
Kanagawa: Keikyu Kawasaki Branch, Tokaichiba Branch, Former Sumiyoshi Branch
Osaka: Fukushima station square branch, Namba Midosuji Grand Building branch
Hyogo: with cheese Sannomiya station square store
* Some stores have changed business hours. Please check the homepage for details.
http://taiyo-tomato.com/news/
■ "Sun tomato noodles" concept
"I like ramen, but it's bad for my health." "When I get older, I don't like soup." But, "Can you eat really delicious food with an awareness of health and health?" "Healthy at the expense of deliciousness? Doesn't it last?" After all, "food" is delicious and fun as it says "to improve people". Isn't it useless? Is it possible to do something good for your health while eating what you want to eat? From this idea, we created a completely new "tomato ramen" to change the conventional wisdom of ramen shops. An unprecedented fusion of Italian and ramen. Not only is it new, but its deliciousness and innovative ideas make it an outstanding focus. A new genre of tomato ramen that is overwhelmingly differentiated!
Taiyo Tomato Noodles Home Page: http://www.taiyo-tomato.com

■ Tomato noodles at home!
For Taiyo Tomato Noodles, we have developed a frozen ramen that allows you to enjoy the taste of the restaurant as it is, and have been selling it since August 2020.
We make it with great care so that we can deliver the same taste as the shop.
You can easily enjoy the sun's tomato noodles at home.
Taiyo no Tomato Noodles Online Shop: https://taiyo-tomato.shop/