Yakiniku-like, which is operated by Yakiniku-like Co., Ltd. and is based on the concept of yakiniku fast food, is currently conducting "morning yakiniku" at the Shinbashi main store and Tamachi Shibaura store. From January 12th (Tuesday), we will accelerate the business hours of 7 stores and start introducing the new menu "Morning Yakiniku Set 500 yen" (excluding tax).
Background of the introduction of "Morning Yakiniku"
Shimbashi main store from August 2020, Tamachi from September in order to alleviate congestion by morning activity, early lunch, late breakfast due to increased morning activities and staggered work in Corona At the Shibaura store, we have accelerated the business hours and started "Morning Yakiniku".
Even now, it has been well received by office workers before going to work and customers after night shifts, such as "I am saved because there is no store open at this time" and "I can avoid the congestion at noon".
In response to the reissue of the state of emergency, we will further expand the number of stores.
Because there are many dark topics, I would like you to eat yakiniku from the morning and get well.
---
---
Yakiniku-like will carry out thorough hygiene management so that customers can enjoy yakiniku to their heart's content with peace of mind. And we will fill your stomach and heart with hot grilled meat.
Overview
Product name:
"Morning meat" (100g of rose calvi, rice (refill service), soup, seasoned seaweed)
You can choose raw egg or kimchi 500 yen (excluding tax)
* Regular menu is also sold
Date and time: From Tuesday, January 12 (Business hours: 10:00 to 20:00)
Holding store:
Akasaka Mitsuke Store / Shibuya Udagawacho Store / Shinjuku West Exit Store / Ueno Store / Koenji Store / Akihabara Electric Town Store / Yokohama Eda Store
▼ The following two stores are already underway. Business hours and menus are different.
・ Shinbashi Main Store (Business Hours Mon-Sat 7: 00- / Sun 8: 00-20: 00)
・ Tamachi Shibaura store (business hours 9:00 to 20:00)
* Stores in other cities and three prefectures will be gradually expanded
Regarding business hours
With the announcement of the state of emergency on January 7th (Thursday), stores in the Tokyo, Chiba, Saitama, and Kanagawa prefecture areas will be open until 20:00 from January 8th (Friday), and alcoholic beverages will be served 19 It will be until time.
In addition, when there is a change in the policy announced by the government, it may be changed at any time depending on the infection situation. We apologize for any inconvenience, and thank you for your understanding and cooperation.
Efforts to prevent new coronavirus infection

・ Acrylic board partitions are installed at the seats to prevent splashing.
・ Thorough temperature measurement and hand washing of employees, mandatory wearing of masks
・ Thorough ventilation and disinfection in the store ・ Disinfect and sterilize equipment such as touch panel menus and sauces
・ Use disposable shutout chopsticks ・ Thorough use of cash tray when making payment
・ Installation of alcohol disinfectant in the store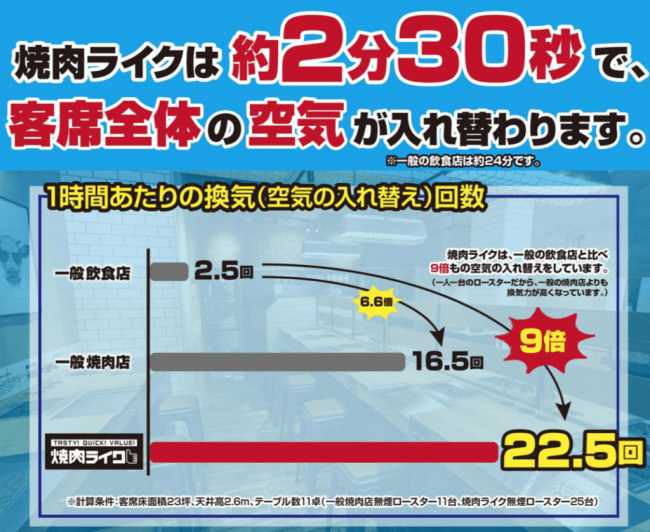 [The air in the entire audience seats is replaced in 2 minutes and 30 seconds like grilled meat]
Yakiniku-like has one smokeless roaster for each person. Not only smoke and odor, but also the air inside the store is strongly sucked. As a result, the air in the entire audience seats is replaced in about 2 minutes and 30 seconds (*), leading to the avoidance of a closed environment.
* Calculation conditions: Audience seat floor area 23 tsubo, ceiling height 2.6 m, when 25 smokeless roasters are in operation. It may change depending on the store location conditions.
About grilled meat-like
URL: https://yakiniku-like.com
"Yakiniku-like" is a yakiniku fast food restaurant where you can freely enjoy your favorite parts at your own pace by introducing "one smokeless roaster for each person". A completely new yakiniku that overturns the common sense of yakiniku, such as "one person can order various parts", "one woman can easily enter the restaurant", and "the service is within 3 minutes so you can go even if you don't have time". We provide a way to enjoy. Opened 50 stores in Japan (January 8, 2021)
Company Profile
Yakiniku Like Co., Ltd.
Headquarters: 1-11-2 Ebisu Minami, Shibuya-ku, Tokyo
Established: April 2019
Representative: Soo Arimura, President and CEO
Business: Management of restaurants, recruitment of franchise chain member stores and management guidance of member stores