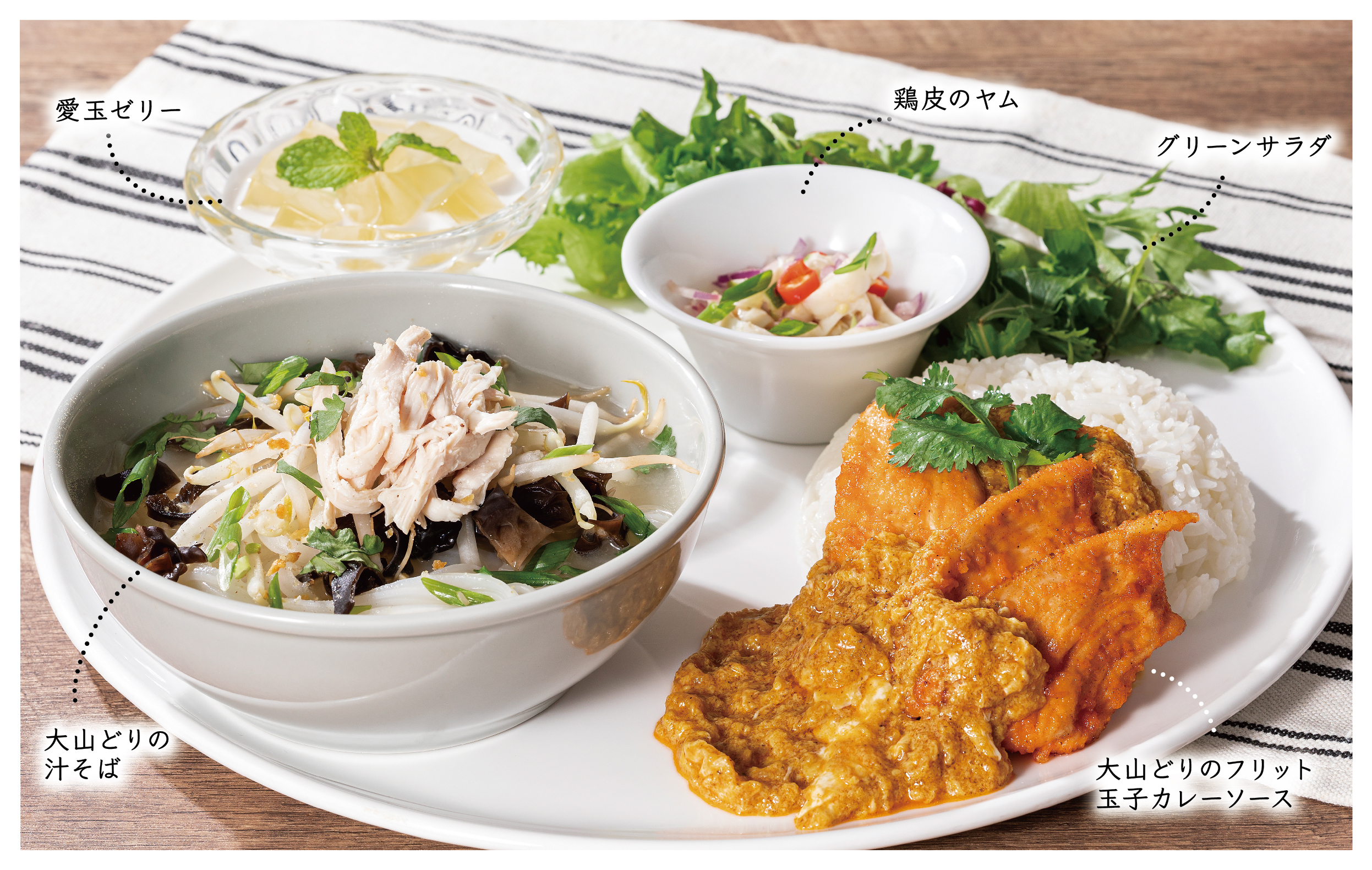 Sales start from February 1, 2021 (Monday)
Mirworks Co., Ltd., a subsidiary of Arkland Service Holdings Co., Ltd., which operates a tonkatsu specialty store "Katsuya", and Mirworks Co., Ltd., which develops authentic overseas flavors in Japan, is a sister store of "Mango Tree", which has its head office in Bangkok, Thailand. We will sell "Oyamadori Special Plate from Tottori Prefecture" as the 4th "Recommended Special Plate for a Limited Time" series of "Mango Tree Cafe" where you can enjoy authentic Thai food on a daily basis. This is a limited-time dish where you can enjoy Thai-style menus such as egg curry sauce, soba noodles, and Thai lime (manao) -flavored salad on one plate.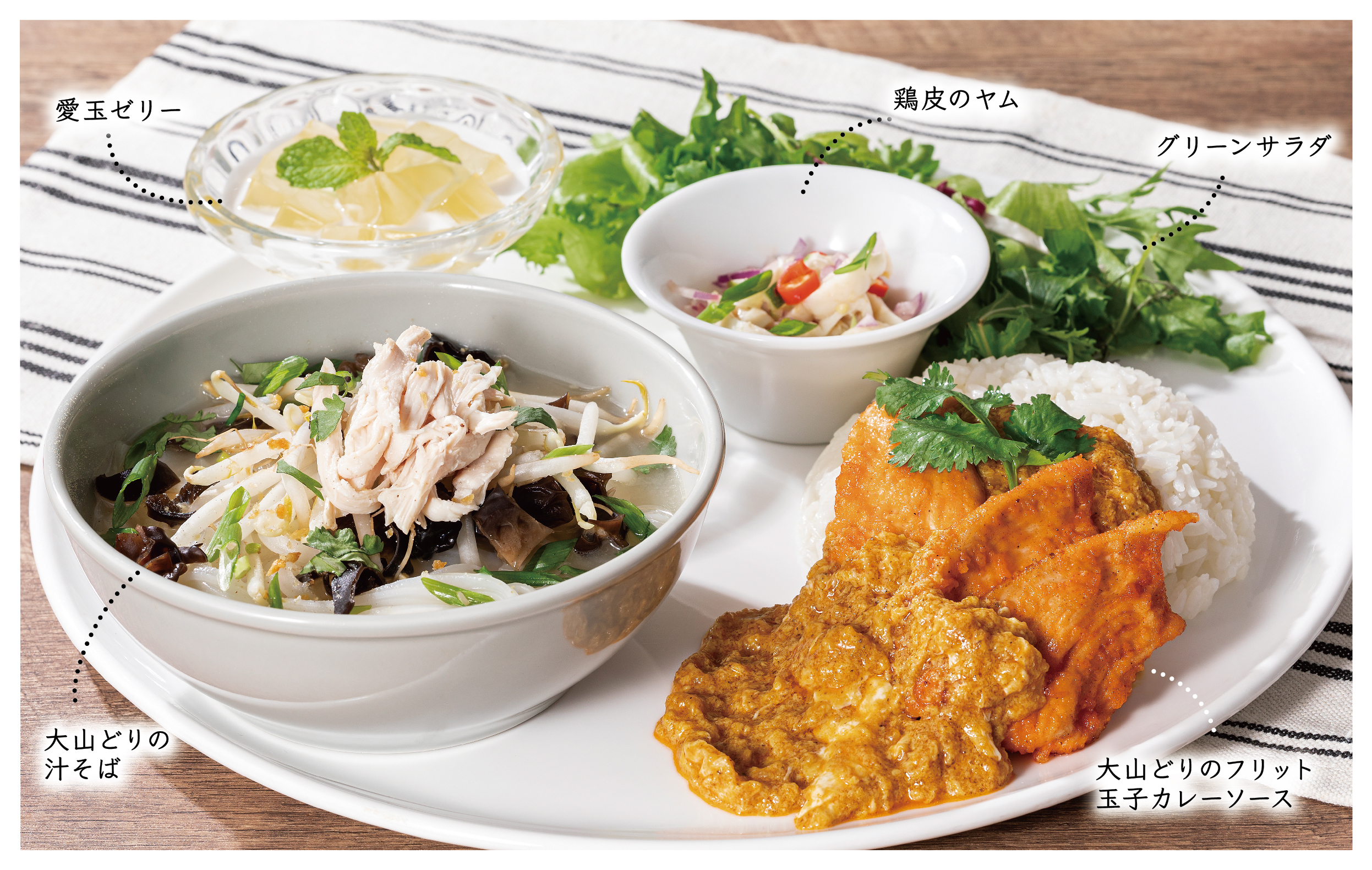 Special
plate of
"Oyamadori" from Tottori prefecture 1,750
yen
(
tax included)
---
---
The crispy fried chicken frit goes perfectly with the egg curry sauce! A special plate where you can fully enjoy Oyamadori with chicken skin manao (Thai lime) mixed with soba with plenty of chicken loosened meat.
Tottori Prefecture "Daisen Dori" soba noodles 1,100 yen (tax included)
What is "Oyamadori"?
Chickens raised in the clear air and fresh natural water of Daisen, the highest peak in the Chugoku Mountains. A "brand chicken" that has been fed a special diet and bred for longer than usual, and has a juicy meat quality with a well-balanced fat.
Store
Mango Tree Cafe Shinjuku / Ueno / Tokyo Dome City La Coeur / Toyosu / Kitasenju / Yokohama / Kawasaki / Omiya / Saitama Nishiomiya / Osaka
Mango Tree Cafe + Bar Takanawa
Mango Tree Bistro Hakata
Mango Tree Kitchen Ekie Hiroshima
Reference material
[What is mango tree]
Founded in 1994 in Bangkok, Thailand, "mango tree" is a Thai restaurant that operates in London, Japan, Dubai, Hong Kong and other countries around the world.
"Mango Tree" is a Thai restaurant built in 1994 by renovating a mansion over 100 years old behind Surawong Road in Bangkok, Thailand. Following London, the Tokyo store opened in 2002 as the third store in the world. Opened, under the theme of "Authentic Thai Cuisine", we offer dishes that combine carefully selected ingredients from Japan with Thai herbs and spices and traditional cooking methods, along with sophisticated spaces and services. As sister stores, "Mango Tree Bistro" (Hakata) where you can casually enjoy traditional Thai food with sake, and "Mango Tree Cafe" (Shinjuku / Ebisu (renewal construction)) which offers traditional Thai taste casually ) ・ Ueno ・ Tokyo Dome City Lakua ・ Toyosu ・ Kitasenju ・ Yokohama ・ Kawasaki ・ Omiya ・ Saitama Nishi Omiya ・ Osaka ・ EXPOCITY), "Mango Tree Cafe + Bar" (Takanawa), Enjoy traditional Thai food at home Take-out specialty store "Mango Tree Deli" (Isetan Shinjuku Main Store), "Mango Tree Kitchen" with eat-in space added to take-out (Tokyo Station Gransta Gransta Marunouchi, Toyoko Goodwill Street, Kinshicho Termina, Yokohama Joinus Grand Front Osaka, Daimaru Shinsaibashi store, Ekie Hiroshima), food court "Mango Tree Kitchen LaLaport Yokohama", and the world of "mango tree" continues to expand.
URL: https://mangotree.jp/
【Company Profile】
Company name: Meal Works Co., Ltd.
Representative: Issei Kojima, President and CEO
Headquarters location: Shin-Ochanomizu Building 14F, 4-3 Kanda Surugadai, Chiyoda-ku, Tokyo
Date of establishment: April 30, 1992
Business: Operates Mango Tree, Mango Tree Bistro, Mango Tree Cafe, Mango Tree Kitchen, Mango Tree Deli, Kao Man Gai Kitchen, Dancing Club, Toro, Tenyoshi, etc. in Japan
URL: https://www.mealworks.co.jp/