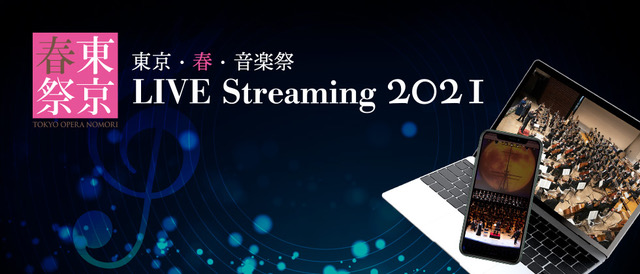 Live streaming distribution tickets will be on sale from noon on March 7, 2021 (Sun)
The Tokyo Spring Music Festival Executive Committee is the largest classical music festival in Japan, "Tokyo Spring Music Festival 2021" [Period: March 19-April 23, 2021 / Venue: Ueno Park facilities (Tokyo Bunka Kaikan, each museum, etc.)] live streaming distribution site "Tokyo Spring Music Festival LIVE Streaming 2021" has opened today.



This site, with the cooperation of Internet Initiative Japan Inc. (IIJ), utilizes the concert distribution system newly developed by the company by incorporating the latest video viewing technology, and is the first attempt in the history of music festivals, "Tokyo / Spring / Music". You can watch about 65 performances (* excluding academy lectures / paid) of all programs of "Festival 2021" by live streaming.



In the distribution of some performances, there is a multi-angle function that allows viewers to select and view various viewpoints by shooting from different angles with multiple cameras, 4K high-definition video and high-quality sound (* 1) distribution, and subtitles. It provides functions and delivers the real breath of musicians unique to live distribution from the venue.

* 1: Lossless audio (48kHz / 24bit)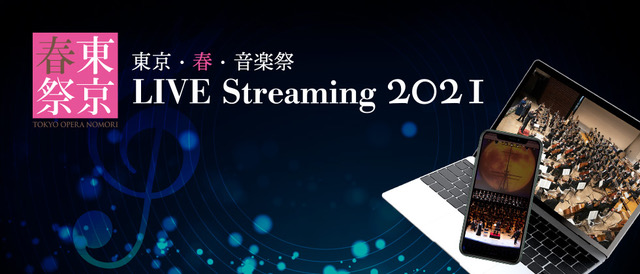 Distribution site
"Tokyo Spring Music Festival LIVE Streaming 2021"

(English: Spring Festival in Tokyo LIVE Streaming 2021)
https://2021.harusailive.jp/
---
---
Delivery contents
Approximately 65 performances of all programs to be held at the Tokyo Spring Music Festival 2021 (as of today) [* Excluding academy lectures / paid]
▼ For details on each concert at the music festival, please see the following site.
https://www.tokyo-harusai.com/program_list/
* Riccardo Muti performances will be distributed only in Japan.
How to watch
On PCs, smartphones, tablets, with the latest versions of Google Chrome, Mozilla Firefox, Safari, etc.
You can watch it.
▼ For details on viewing methods and viewing environments, see the usage guide on the following distribution site.
https://2021.harusailive.jp/guide/
Audition delivery (live)
Prior to the opening, from 20:00 to 21:00 on Sunday, March 7, 2021, the function of "Tokyo Spring Music Festival LIVE Streaming 2021" will be available to general customers in their own viewing environment. We will carry out a trial listening distribution (live).
■ Implementation date and time
March 7, 2021 (Sun) 20: 00-21: 00 [Live stream from Tokyo Bunka Kaikan Small Hall]
* Please refrain from visiting the venue.
■ Appearance
Violin: Kei Shirai, Kyoko Une
Viola: Yoshiko Kawamoto
Cello: Miho Naka
Contrabass: Hide Yoshida
Flute: Masayuki Kai
Oboe: Shoko Ikeda
Clarinet: Kei Ito
Bassoon: Kazusa Mizutani
Horn: Takeshi Hidaka, Yasushi Katsumata
Trumpet: Kenichi Tsujimoto
Soprano: Akie Amaha
Piano: Akira Eguchi
/other
■ Song
Wagner: Siegfried Idyll Op.103
Wagner (Moshkovski): Death of Love in Isolde (From the third act of the opera "Tristan und Isolde")
Wagner: Five Poems for Women's Voice "Wesendonck Lieder" Op.19
■ Viewing site
https://www.harusailive.jp/
Ueno's spring tradition, Tokyo Spring Music Festival
Beginning in mid-March, when the long winter is over and the news of the cherry blossom front begins to be heard, the city is dyed in cherry blossoms, and from the snowstorm to the fresh green, I want to celebrate the dynamism of the city's brilliant changes with classical music. It started in 2005, and this year marks the 17th time. From this time, based on the influence of the new coronavirus infection, we will carry out live streaming distribution of all programs as the first attempt at the music festival so that music can be delivered under all circumstances. It is also the mission of the music festival to provide musicians with a place of expression and to continue to provide music that touches everyone's hearts and encounters with memorable music.
We will carry out the measures while paying the utmost attention to measures against the new coronavirus infection.
We look forward to your participation in the 2021 music festival, which will color the arrival of spring in Tokyo with various tones.
Five features of Tokyo / Spring / Music Festival 2021

[1] For the first time in the history of the Tokyo Spring Festival, live streaming of all programs will be carried out (* excluding academy lectures / paid)

[2] High-quality classical music performed by leading domestic and foreign artists such as opera, orchestra, and chamber music.

[3] Full of unique concerts unique to the Tokyo Spring Festival

[4] "Museum Concert", a collaboration project with museums in Ueno

[5] "Tokyo Spring Festival for Kids" to enjoy with children during spring break and free mini concerts to color spring in Tokyo are held online
"Tokyo Spring Music Festival 2021" Outline
Period: March 19th (Friday) -April 23rd (Friday), 2021
Venue: Tokyo Bunka Kaikan, Tokyo University of the Arts Sogakudo (university campus), former Tokyo Music School Sogakudo
Ueno Gakuen Ishibashi Memorial Hall, National Science Museum, Tokyo National Museum, Tokyo Metropolitan Art Museum, Ueno Royal Museum, etc.
Organizer: Tokyo Spring Music Festival Executive Committee
Co-sponsored by: Tokyo Metropolitan Foundation for History and Culture Tokyo Bunka Kaikan
Sponsored by: Agency for Cultural Affairs, Tokyo, Taito Ward
Cooperation: General Incorporated Association Ueno Tourism Federation, Ueno Mountain Culture Zone Liaison Council, Ueno Culture Forest New Concept Executive Committee
Grant: Association for Corporate Support of the Mecenat 2021 Social Creation Fund by Arts and Culture
* Tokyo / Spring / Music Festival 2021 is certified as "beyond2020 program".
URL: https://www.tokyo-harusai.com
▼ Live streaming distribution tickets will be on sale from noon on March 7, 2021 (Sun)

Please refer to the Tokyo / Spring / Music Festival official website for details on each concert and how to apply.

https://www.tokyo-harusai.com/