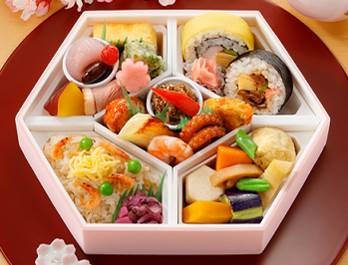 March 10th (Wednesday) -April 6th (Tuesday) / Matsuzakaya Ueno Store B1F Hoppe Town
Cherry-blossom viewing season is coming soon. Many people are still refraining from going out, and I think more people will enjoy the cherry blossom viewing mood while enjoying the gorgeous cherry blossom viewing lunch at home this year. At the Matsuzakaya Ueno store, under the theme of "cherry blossom viewing at home," we have about 50 types of lunch boxes that you can enjoy at home, "shining" one-handed food that is recommended as a snack for remote parties, and a panda menu that is typical of Ueno. As a reservation privilege for cherry blossom viewing lunch, you can also get a "Shangshan sticker" as a gift.
● Easy serving at home! Even more gorgeous!
Plenty of separate type ingredients such as tuna, red sea bream, and fried sakura shrimp. Turn the container over and serve it on your favorite plate at home. You can arrange the toppings freely!
<Hokushin Sushi> Seafood in full bloom Millefeuille 1,780 yen * Limited to 10 meals each day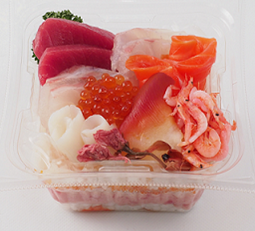 ↓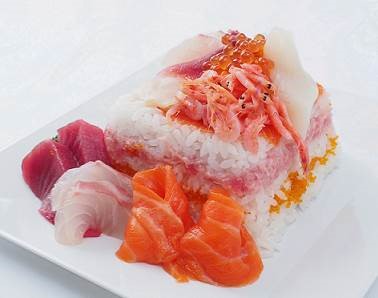 Luxury seafood sushi is completed!
An assortment of 4 types of Okowa, including standard Okowa and seasonal Okowa bamboo shoots. The flavor of Okowa matches the sweetness and spiciness of the rice. Serve at home and have spring on your plate! Sakura flowers are in full bloom.
<Tagosaku> Hana Okowa Mini Inari 10 pieces 800 yen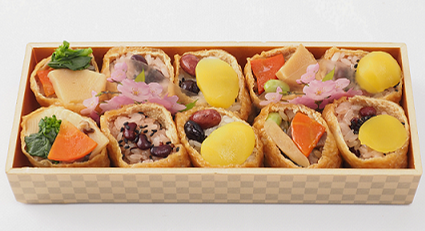 It's cute as it is, but …

↓
---
---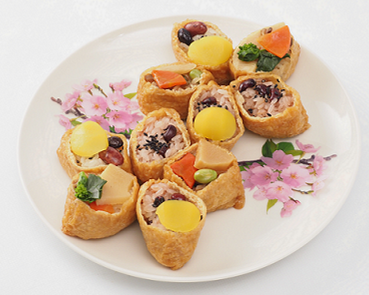 When you serve it, the cherry blossoms are in full bloom!
● For snacks at remote parties! Shining "one-handed food"
Sandwiched with cherry-colored potato salad and dashi-rolled egg that goes well with bread.
<Taro> Taro's Sakura Burger (1 piece) 400 yen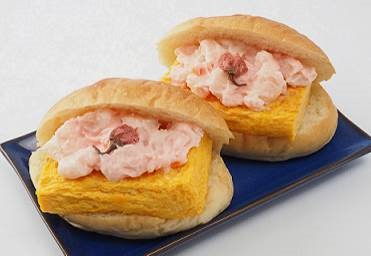 With plenty of ingredients sandwiched between them, the loin ham was likened to cherry blossom petals.
<Alsace Lorrain> Egg Koppe Sakura version (1 piece) 270 yen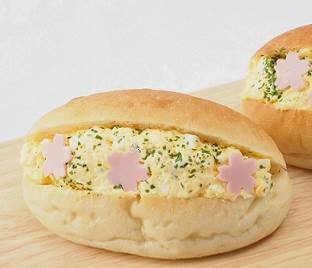 A gorgeous parfait with seasonal fruits, mainly strawberries, decopons, and pineapples.
<Kyushuya> Fruit parfait (1 piece) 648 yen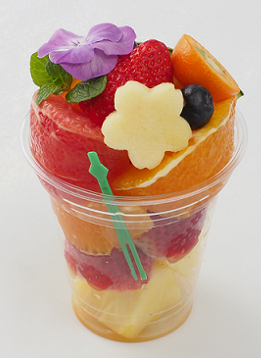 We made tempura that you can eat whole natural shrimp. It is the best salty paste for snacks.
<Esion> Natural shrimp snacks with shells 150g 599 yen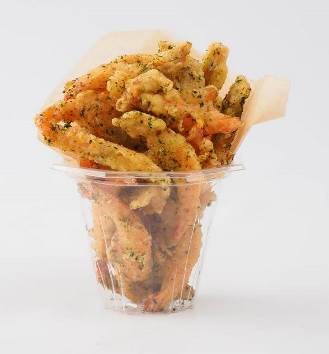 Sakura-shaped anpan filled with Tochiotome milk bean paste from Fukasawa Brewery in Tochigi Prefecture.
<Kanaya Hotel Bakery> Tochizakura (1 piece) 216 yen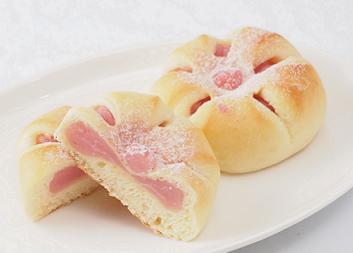 ● Ueno is definitely this! Too cute panda menu!
Cute panda bread wrapped in plenty of chocolate cream. Nailed to a colony form!
<Alsace Lorrain> 3D panda bread (1 piece) 420 yen * Limited to 10 pieces each day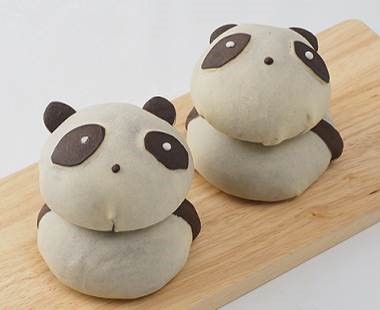 Two cute panda buns are cute! Stir-fried pork with miso sandwiched between cherry-patterned Chinese buns.
<Akasaka Hanten> Chinese cherry-blossom viewing panda lunch 1,580 yen * Limited to 10 meals each day * Reservation not possible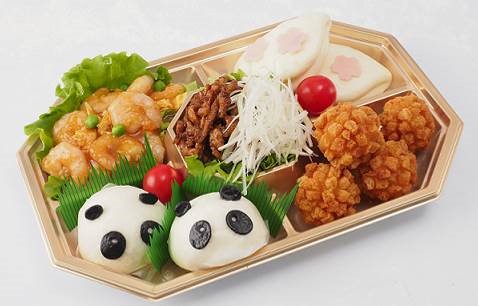 A panda-shaped bento box with a star-shaped hamburger steak that is popular with children.
<Tagosaku> Okowa Panda Bento 594 yen * Limited to 10 meals each day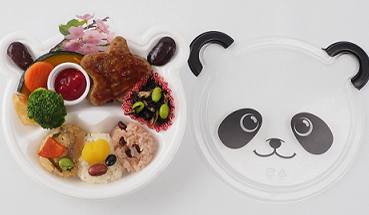 An assortment of popular roast beef, prosciutto, salmon, etc. that are great for drinking at home.
<Paul Bocuse> Petit hors d'oeuvre (1 meal) 1,620 yen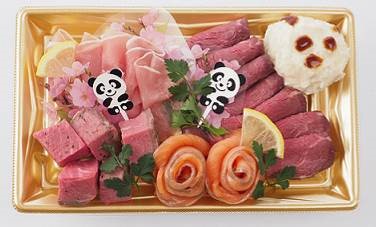 The sea bream made from Ehime prefecture is gorgeous! Express a cute panda with seaweed. I'm glad that there are a lot of ingredients!
<Esion> Spring Urara Panda's Colored Set-Ehime Prefecture Red Sea Bream Sea Bream- (1 meal) 1,398 yen
* 3/17 (Wednesday) -4/4 (Sunday)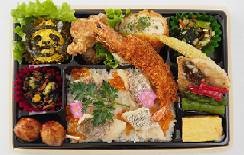 In addition to this, it's all coming! "Ueno specialty" cherry-blossom viewing lunch!
There are also sweets that make you feel the flavor of cherry blossoms in Chirashizushi, which uses plenty of ingredients that color spring such as bamboo shoots.
<Minokichi> Hana Kasumi (1 meal) 1,994 yen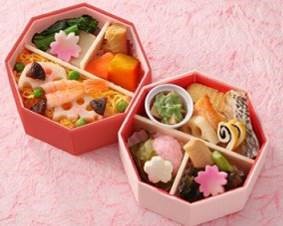 Assortment of sushi using spring-like ingredients such as cherry blossoms, rape blossoms and cherry blossoms.
<Furuichian> Hanagoyomi (1 meal) 1,080 yen * 3/23 (Wednesday) -4/6 (Tuesday)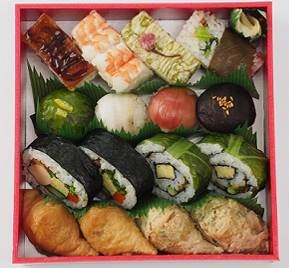 Luxurious with bamboo shoot rice, simmered shrimp turf, grilled fish, smoked duck, beef flavored rice, and sakura scrap rice cake.
<Nadaman> Flower news (1 meal) 2,484 yen * 3/31 (Wednesday) -4/6 (Tuesday)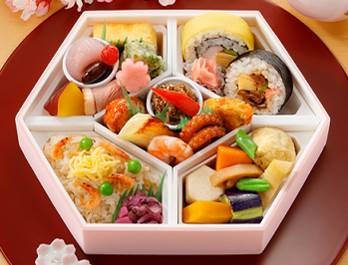 When you open the lid, the cherry blossoms are in full bloom!
<Miyabi Kanda Myojinshita> Sakurasaku. (1 meal) 1,080 yen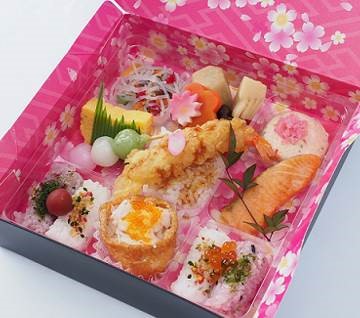 ● Get a "Shangshan sticker" when you make a reservation for a cherry-blossom lunch!
During the period, customers who reserve the target cherry-blossom viewing lunch and food for 500 yen or more including tax at the basement 1st floor cheek town will receive a Shanshan sticker with this design. We will give you one when you hand over the product.
* Limited to the first 1,000 people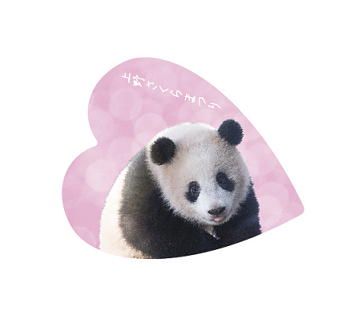 In addition to the food floor, Xiang Xiang stickers will be presented as gifts. Collect them all in the shape of a cherry blossom!
* Present conditions vary depending on the sales floor.