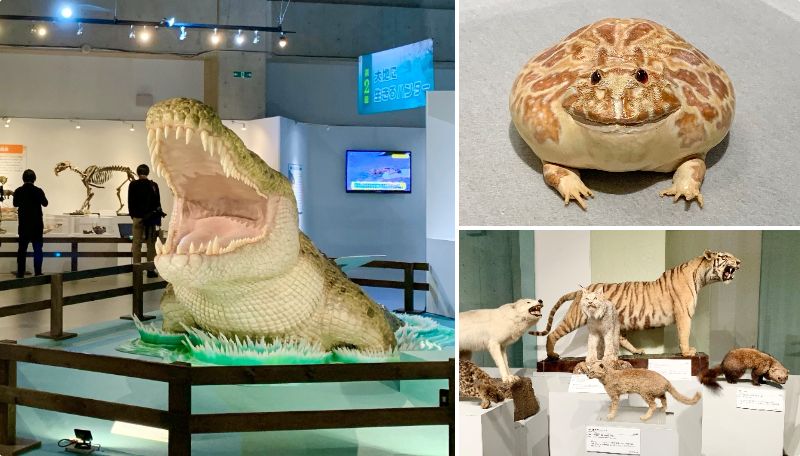 At the National Museum of Nature and Science in Ueno, Tokyo, a special exhibition "Hunter of the Earth-400 Million Years on Land" (hereinafter "Hunter of the Earth Exhibition") will be held from March 9th to June 13th, 2021. ") Is being held.
Since I participated in the press preview held prior to the event, I would like to introduce the venue and the contents of the exhibition.
Exciting "Hunter of the Earth Exhibition" venue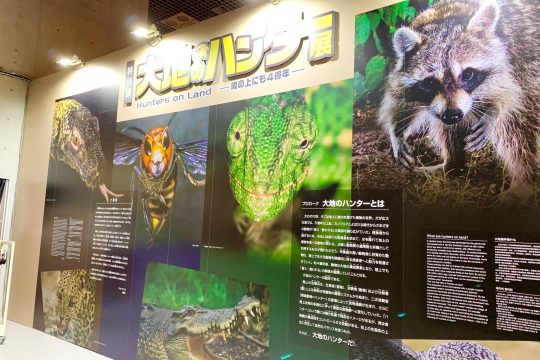 This exhibition focuses on the "predation" activities of diversified organisms during the 400 million years since they landed.
It is an exhibition that follows the ecology of land hunters (predators) who catch and eat prey and the spread of hunting techniques with more than 300 specimen exhibitions centered on the precious specimen collection that the National Museum of Nature and Science is proud of. I will.
From extinct to modern. The specimens of hunters are mammals, reptiles, amphibians, birds, insects, etc. Chapter 4 of "Ancient hunters", "Hunters living on the earth", "Hunting technology", "Forever and hunters of the earth" It was arranged in the composition.
Not only familiar hunters such as "lion", "tiger", and "falcon", but also many unknown hunters who use poison, parasitize, and play with such tricks are introduced, so both adults and children are intelligent. There is no doubt that your curiosity will be satisfied! is.
Collaboration with the popular manga "BEASTARS"!
One of the attractions of this exhibition is that it collaborates with Paru Itagaki's popular manga "BEASTARS" (published by Akita Shoten "Weekly Shonen Champion"), which depicts a group of anthropomorphic animals. .. Cartoon characters such as Legoshi and Louis will introduce you to the highlights around the venue.
There was also a corner where many duplicate original drawings were exhibited, so fans should not miss it. However, since the installation location was an aisle, I felt that it was necessary to be careful not to stop for too long when it was crowded. Limited goods with illustrations drawn by this exhibition are also on sale at the museum shop.
By the way, the audio guide navigator of this exhibition is Yuki Kaji, a popular voice actor. Manga fans and voice actor fans may enjoy it even more.
Introducing the exhibits of "Hunter of the Earth Exhibition"
From the more than 300 exhibits, we will pick up and introduce some interesting ones that you would like us to pay attention to.
◆ Deinosuchus
The exhibits vary in size, but the huge one is the full-scale restoration model of the Cretaceous crocodile Deinosuchus, which welcomes visitors by the entrance. !!
It was produced under the supervision of a researcher at the National Museum of Nature and Science based on the latest research results, and it is said that this exhibition will be unveiled for the first time. When you think of an ancient hunter, you may think of a dinosaur, but this "Deinosuchus" is a crocodile that is said to have preyed on dinosaurs of the Tyrannosaurid family (!).
It is said that the total length reached 12m, and the restored model was only the upper body, but it was quite powerful when standing in front of me. If something like this comes out of the water, I'm going to faint …
◆ Sparganum proliferator
A very small specimen is the parasite "Sparganum proliferator", which was described as a "silent hunter". When humans are infected, they gradually invade all organ tissues from subcutaneous products. More than half of the dozen cases discovered so far are dead, and it is scary that the infection route and ecology are still a mystery. It's about 1 cm in size, but it was a hunter with a different meaning from Deinosuchus.
◆ Pacific lamprey
What caught my eye in the "Ancient Hunter" area was this "Pacific lamprey" head model. It looks like a monster that seems to appear in an RPG game, and in short, it's too scary!
In the case of vertebrates without jaws that have survived to date, they are living by sticking to the surface of whales and sucking blood and body fluids. Most vertebrates now have jaws, but it seems that these jawless vertebrates were diverse in the Paleozoic era. "Pacific lamprey" is a precious survivor, isn't it?
◆ Alligator snapping turtle
The most basic strategy of hunting is "ambush", but some hunters have acquired the technique of lure ring, which not only waits but also actively lures prey by using artificial bait.
The largest freshwater turtle in the Americas, "Alligator Snapping Turtle," which has an instep length of 80 cm and weighs more than 80 kg, lurks at the bottom of the river, opens its mouth, and moves its pink tongue, which looks like an earthworm, to attract fish. I felt the history of evolution in the figure that was completed as a lure ring specialized type, with the overall astringent color and easy to blend in with the surrounding scenery, while only the tongue is very conspicuous.
◆ Striated heron
This is also a bird called "Striated Heron" that specializes in lure rings. The difference from "alligator snapping turtle" is that it uses another creature instead of its own body. It seems that decoy insects are floated on the surface of the water and the fish that approach it are caught. It's like fishing and it's fun! I was able to watch some of the techniques of the brain hunters who did not exhaust their physical strength unnecessarily in the video.
◆ Bertsuno frog
We will also introduce adorable-looking specimens.
This is a frog called "Berts no frog", which is distributed in South America and has a maximum length of about 16 cm. It has a very round body shape and seems to be popular as a pet. The round eyes and the forefoot that you can peek at from your body are so cute. Although it is an ambush type, it seems to be a fairly greedy hunter despite its laid-back appearance because it eats not only frogs and insects but also small birds and mammals if it gets in its mouth.
◆ Chisui Galapagos Finch
The bird "Chisui Galapagos Finch" is distributed only on Darwin Island and Wolf Island in the Galapagos Islands. When I approached and read the explanation, "There are cute birds," I was surprised that there are blood-sucking birds in the world because they are the only birds that eat blood regularly. He seems to drink the blood that has flowed out by poking the waist of a bird called "gannet" with a beak, and he has a cute face and is quite a scary hunter … In addition, it is introduced that cactus flowers, seeds, insects, etc. are also eaten, so it is strange why they started to eat blood.
◆ Japanese river otter
Humans are also introduced as hunters in this exhibition. Sometimes as a "regrettable hunter" who upsets the balance of the ecosystem and sometimes puts many wild animals in danger of extinction.
"Raccoons" and "Small Indian mongoose" are exhibited as hunters whose habitat has been expanded by human activities, and skeleton specimens of "Japanese river otters" and "Japanese wolves" are exhibited as examples of extinct hunters. It was an appreciation while grasping the weight of the epilogue's words, "Ecosystem puzzles take a long time to recover because only one piece is missing."
It is said that the number of "Japanese river otters" has decreased due to overfishing and development, and the record of Kochi prefecture in 1979 was finally extinct. This is a very valuable type specimen that was designated as the standard for scientific names.
Many original goods are available at the museum shop!
After seeing the exhibition, the special museum shop finally appears. Many items such as Japanese river otter stuffed animals, masking tape, and "BEASTARS" designed sheeting totes were on sale, including the original goods for this exhibition.
The official catalog of the "Hunter of the Earth Exhibition" can be purchased at the venue or at the online store. If you read the inside, there is also a Q & A corner for children called "Tell me! Kawada Sensei", and the contents are substantial as a supplementary reader of this exhibition, so please do not forget to check it if you are interested.
* Click here for online store ⇒ https://daichi-exhn.shop/
The special exhibition "Hunter of the Earth-400 Million Years on Land" will be held until June 13th (Sun). Please visit this exhibition to learn about the wonderfulness of nature and the importance of environmental conservation while touching the individuality and charm of hunters.
< Overview of the special exhibition "Hunter of the Earth-400 Million Years on Land">
Session
March 9th (Tuesday) -June 13th (Sunday), 2021
Venue
National Museum of Nature and Science Earth Pavilion
Opening hours
9:00 to 17:00 * Admission is 30 minutes before closing time
closing day
Monday
* Open on March 29th (Monday), April 26th (Monday), May 3rd (Monday / holiday), 24th (Monday), 31st (Monday), and June 7th (Monday)
Admission fee
2000 yen for general / university students, 600 yen for elementary, junior high and high school students

* Online advance reservation (date and time specified) is required for admission. Click here for details ⇒ http://daichi.exhn.jp/ticket/
* Free for preschoolers.
* Free for persons with a disability certificate and one caregiver.
* Those who have viewed this exhibition can also see the permanent exhibition (Earth Pavilion / Japan Pavilion) only on the same day.

Organizer
National Science Museum, Nihon Keizai Shimbun, BS TV Tokyo
Official page
http://daichi.exhn.jp/