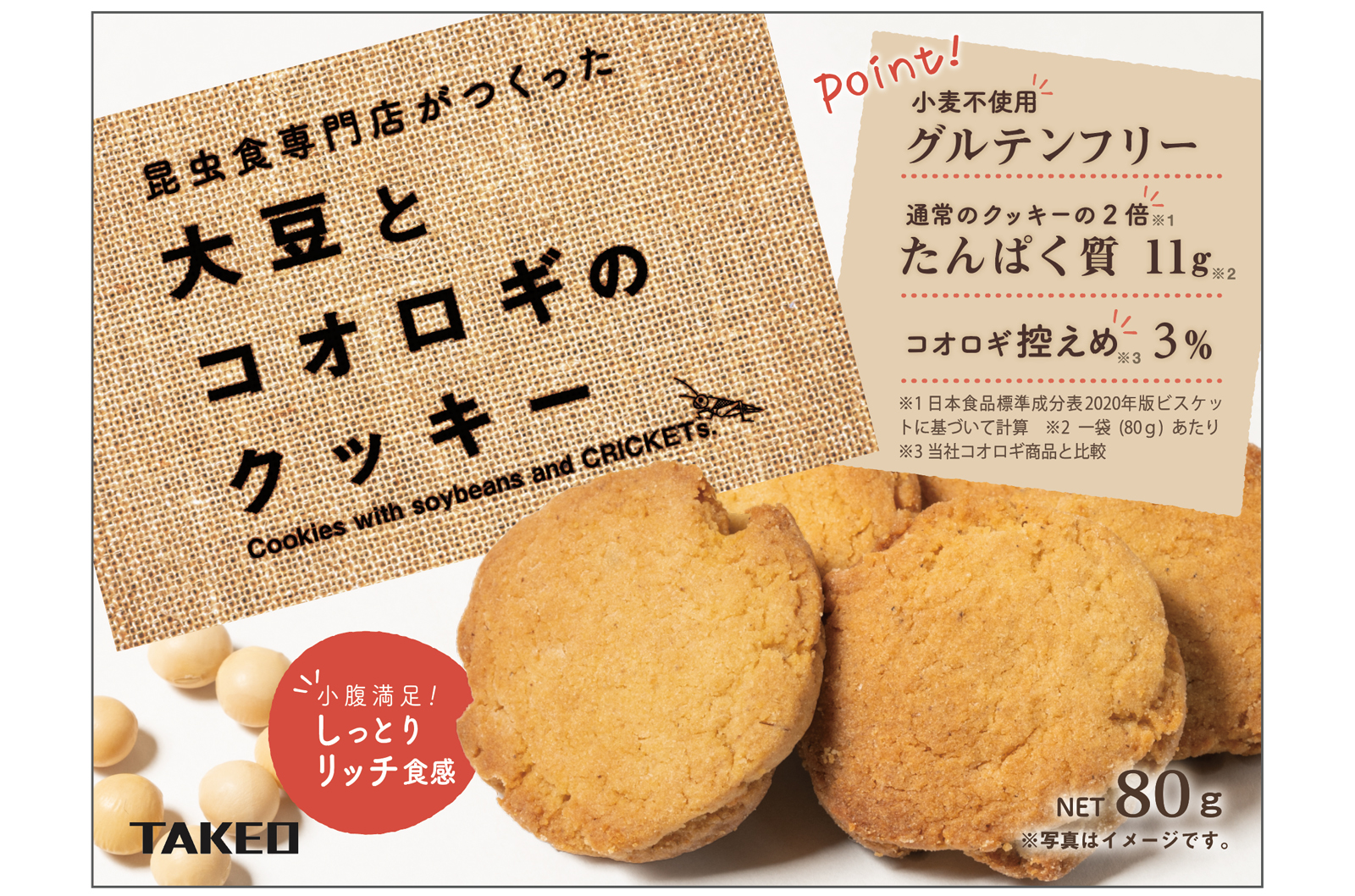 Moist and rich cricket cookies
TAKEO, a company specializing in insect food, released "Soybean and cricket cookies made by an insect food specialty store" on April 27, 2021.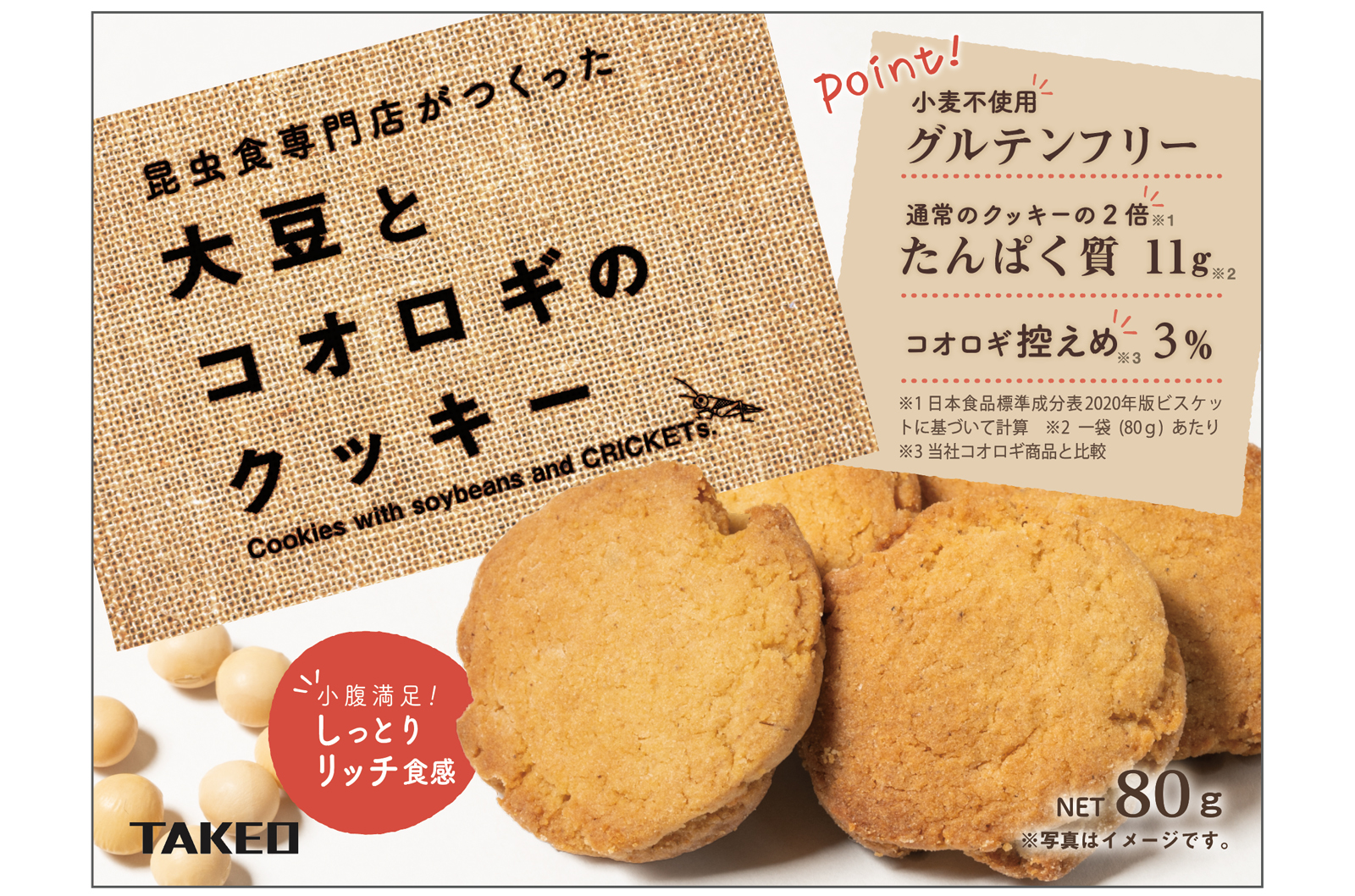 "Soybean and cricket cookies made by an insect food specialty store" that is kind to both the environment and people
The concept is " Easy to eat insects for women, more everyday ". This product was developed by Michiko Miura, the manager of the actual TAKEO store.
Since opening Japan's first real store specializing in insect food in the Ueno Asakusa area of Tokyo in 2018, we have listened to the voices of many customers. Under such circumstances, we have emphasized product development focusing on the "enjoyment of insect food" such as the impact and texture peculiar to insects. As a result, although intermediate to advanced insect food customers were often satisfied, it was a fact that even beginners were not able to get close enough. think.
---
---
This time, we decided to develop a delicious and body-friendly insect cookie to meet the needs of insect foods that are easy to introduce to friends and family and can be eaten more easily on a daily basis, especially from women who are new to insect food.
"Soybean and cricket cookies made by an insect food specialty store" was developed by Michiko Miura, a self-proclaimed store manager who has had direct dialogue with more customers than anyone else. The concept of the development is " Easy to eat insects for women, more everyday ". We aimed to make it delicious, easy to eat, and affordable so that it can be eaten every day so that it will be a part of the daily lives of many people.
By using soybean powder as the main ingredient, it is gluten-free and healthy, but has a moist, rich and satisfying flavor. Cricket powder contains 3% of crickets with a slight scent. It is a body-friendly cookie that allows you to eat delicious soybean-derived and cricket-derived proteins together.
Attention to insect food is increasing day by day. Opportunities to hear that insect food may be one of the means to save the protein crisis that will come in the future, and that insect production has a low environmental impact and may contribute to the deterrence of climate change. I think it has increased significantly. If you are more interested, let's talk about Michiko Miura while eating cricket cookies at the actual store!
Product Features
A gluten-free cookie that does not use flour and is a mixture of soybeans and crickets.
The amount of protein derived from soybeans and crickets is 11g (* 1) per bag, and you can eat more than twice as much protein (* 2) as ordinary cookies.
High-quality cricket powder contains 3%, which has a slight flavor, for a delicious taste without habit.
It's healthy, but the texture is moist and rich , and it's perfect for filling your stomach.
* 1 12.8g of protein per bag for the whole cookie
* 2 Based on the Standard Tables of Food Composition in Japan 2020 (8th edition)
【Product Summary】
Product name: "Soybean and cricket cookies made by an insect food specialty store"
Release Date: April 27, 2021
Capacity: 80g (about 10 sheets)
Suggested retail price: 500 yen (tax included)
We also support wholesale, so we are waiting for inquiries from retailers and restaurants nationwide.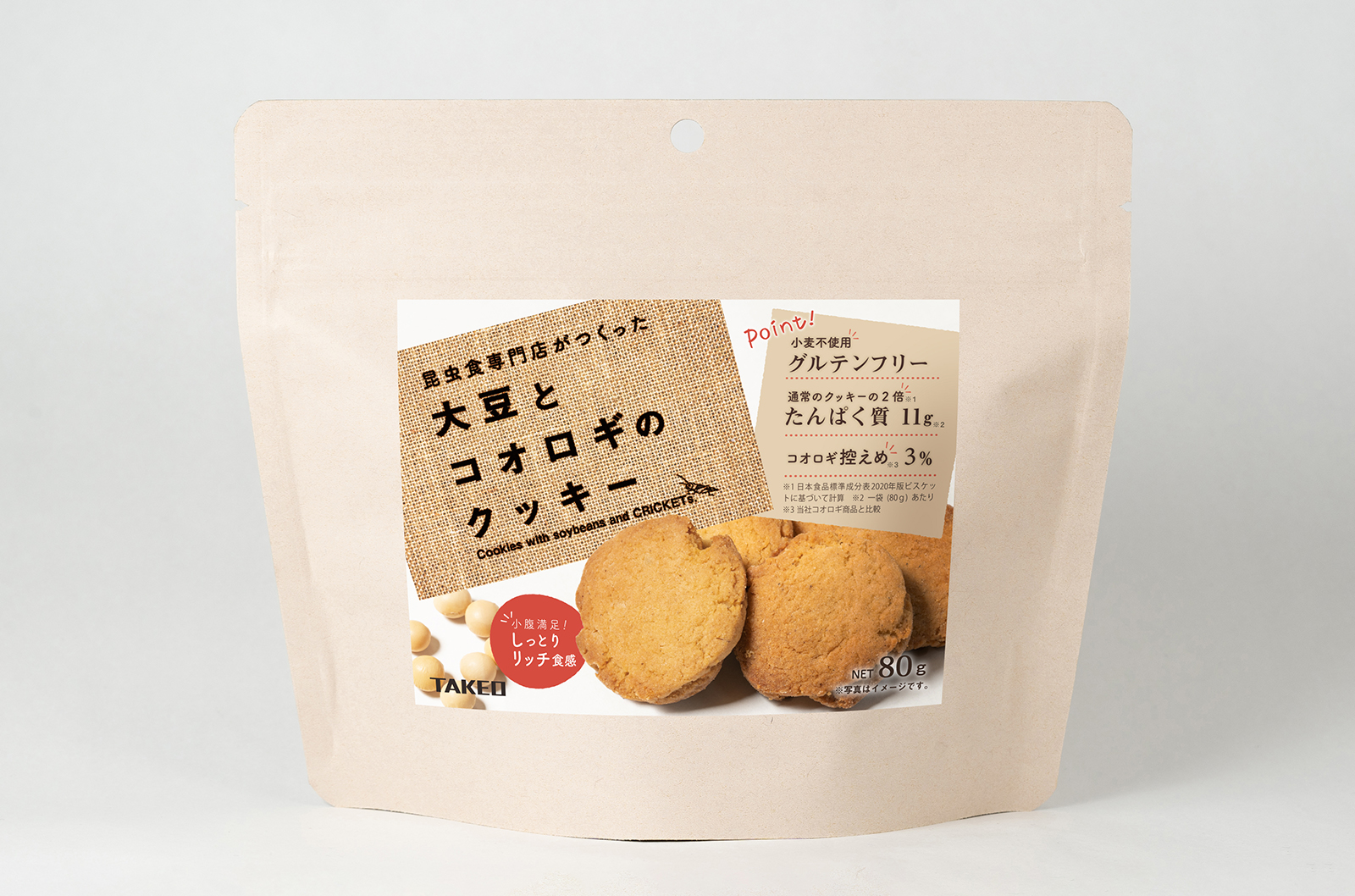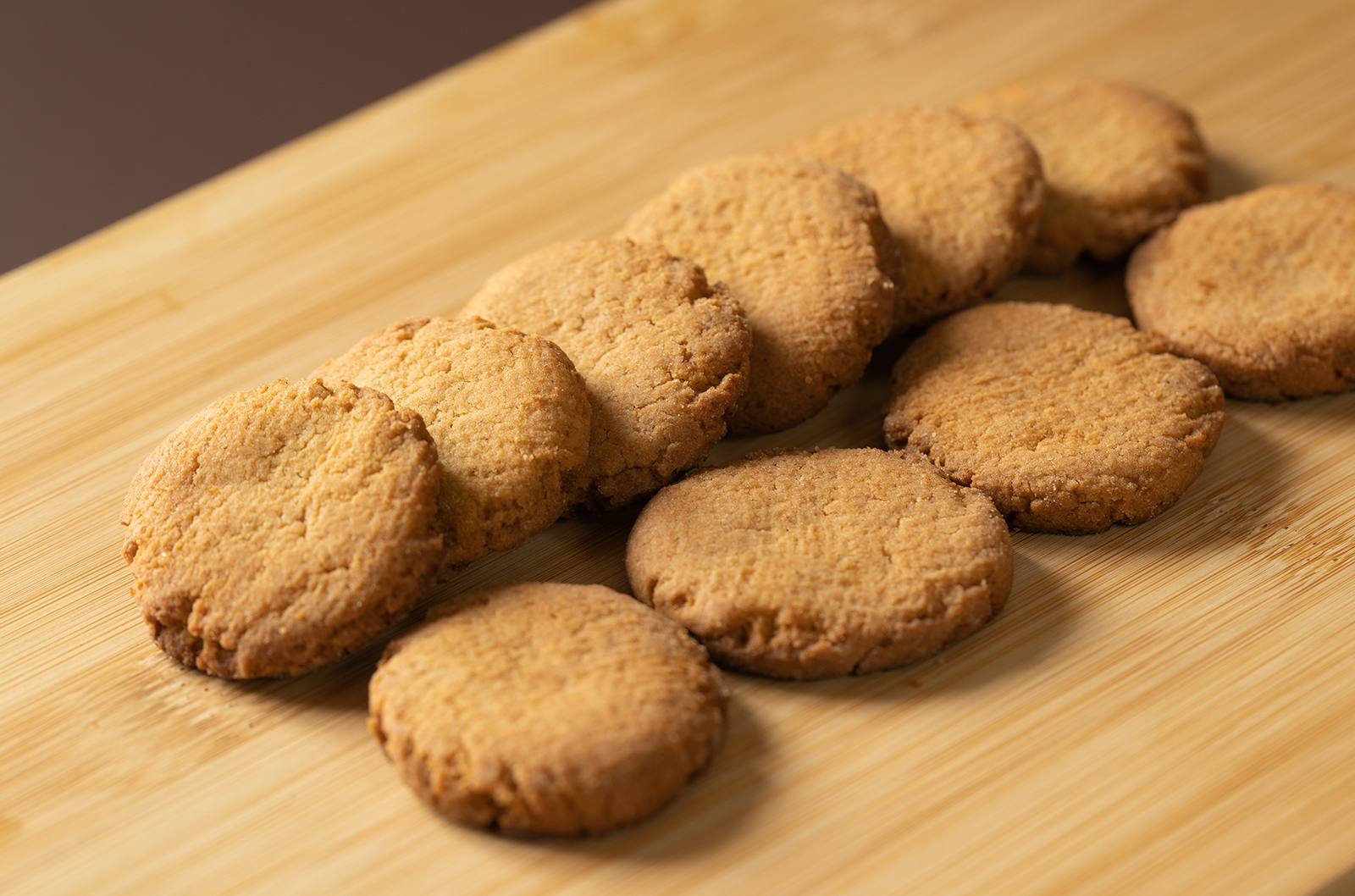 Company Profile
About GK TAKEO TAKEO is a company specializing in insect food. We aim to create a richer dining table where insects decorate the kitchen in the same way as vegetables, fish, and meat. We are developing a wide range of businesses related to insect food, from developing insect farming technology to developing and manufacturing domestic insect series, original products such as tagame cider, online shops, restaurants specializing in insect food and direct sales shops.
■ Tokyo Asakusa TAKEO actual store
We operate a physical store where you can enjoy shopping and light meals while talking with the TAKEO physical store staff.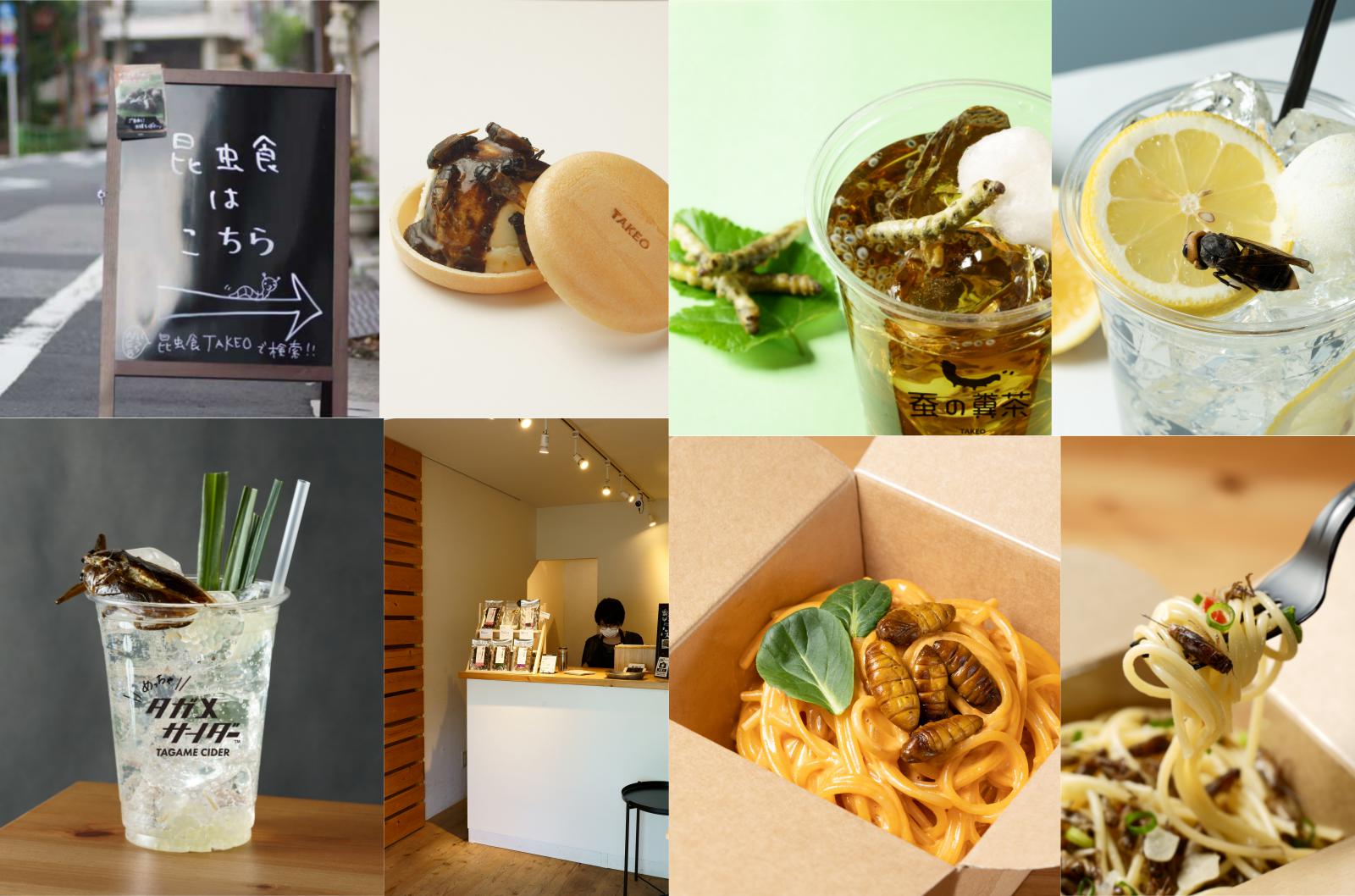 Business Hours: 12:00 – 18:00 Mon / Tue / Thu / Fri / Sun
Regular holidays: Wednesdays and Saturdays ( * Currently closed due to a state of emergency )
Company name: GK TAKEO
Location: 1-6-10 Matsugaya, Taito-ku, Tokyo (same for actual stores)
Representative: Takeo Saito
Established: 2016 (Founded 2014)
Homepage: https://takeo.tokyo/ (Click here to purchase)
Corporate site: https://about-takeo.tokyo/
twitter: https://twitter.com/takeo_tokyo/
Instagram: https://www.instagram.com/takeo.tokyo/