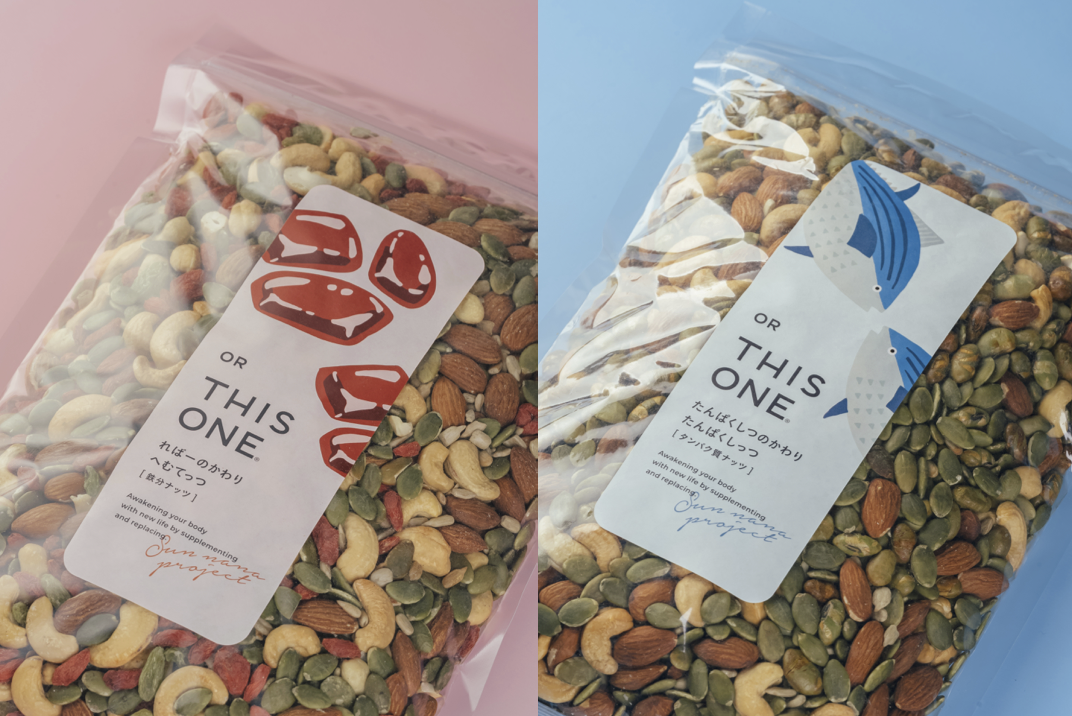 "Hemutetsu (iron nuts)" and "protein nuts (protein nuts)" will be released on May 1, 2021.
MEET SHOP Co., Ltd., a healthcare venture company, has launched the blended nuts "Hemutetsu" and "Proteintsu" (hereinafter referred to as "protein") from OR THIS ONE, Japan's first supplement brand with accident insurance that supports the new coronavirus. , This product) was released on May 1, 2021. This product is a collaboration product with Kojimaya in Ueno, Tokyo, which is also famous for TV media.

* OR THIS ONE is a lifestyle brand for continuous efforts to improve the constitution. We are giving away free new coronavirus-compatible accident insurance * to all purchasers because we want supplement users to work on improving their constitution with peace of mind.

* A supplement product with insurance for hospitalization due to various injuries and new corona infections for the first time in Japan / Compensation for a lump-sum hospitalization fee of 100,000 yen. (URL: http://orthisone.com )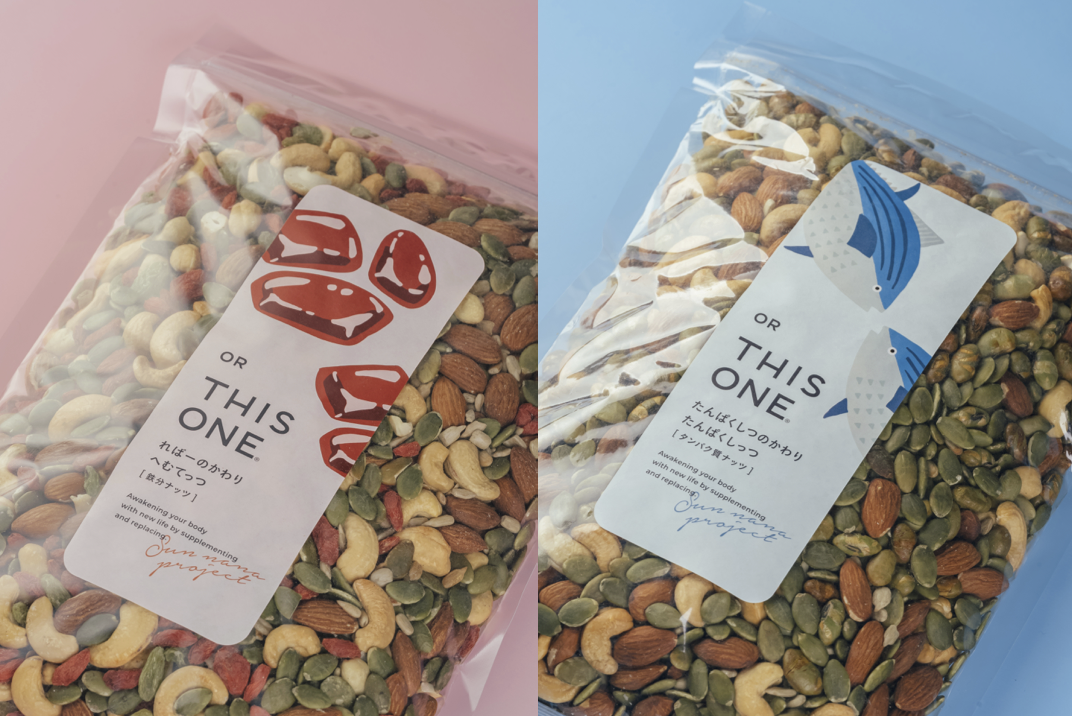 Feel free to work on improving your constitution by "replacement" of snacks and snacks
OR THIS ONE is a brand born from Sannana Salon, a store specializing in constitution improvement from Osaka. Since its opening in 2017, Sannana Salon has maintained a customer repeat rate program of over 90%, and its unique know-how has been adopted by major companies as a health management program.
We have been working to improve the constitution of many customers through physical stores and corporate programs. Many of the customers we contacted said, "I want a product that will continue to improve my constitution." OR THIS ONE was born to respond to such customer feedback.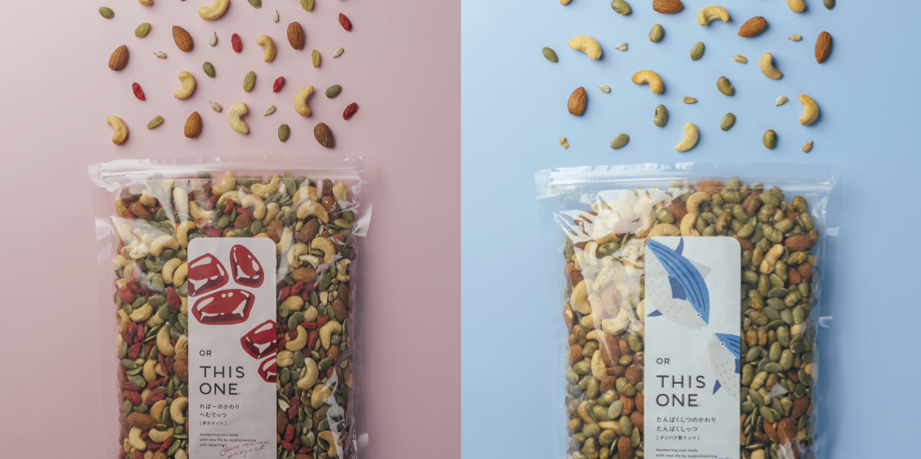 → Official Instagram:https://www.instagram.com/orthisone_official/
→ Official twitter: https://twitter.com/OR_THIS_ONE
---
---
OR THIS ONE advocates not only "supplement (= supplement)" but also "replacement (= replacement)" lifestyle.
"Hemutetsu (iron nuts)" and "protein nuts" were born in response to many requests from customers, "I want a healthy snack to replace snacks." Is .
By eating 100g of each, you can eat about half of the intake recommended by the Ministry of Health, Labor and Welfare.
* Source: "Japanese Dietary Intake Standards" Ministry of Health, Labor and Welfare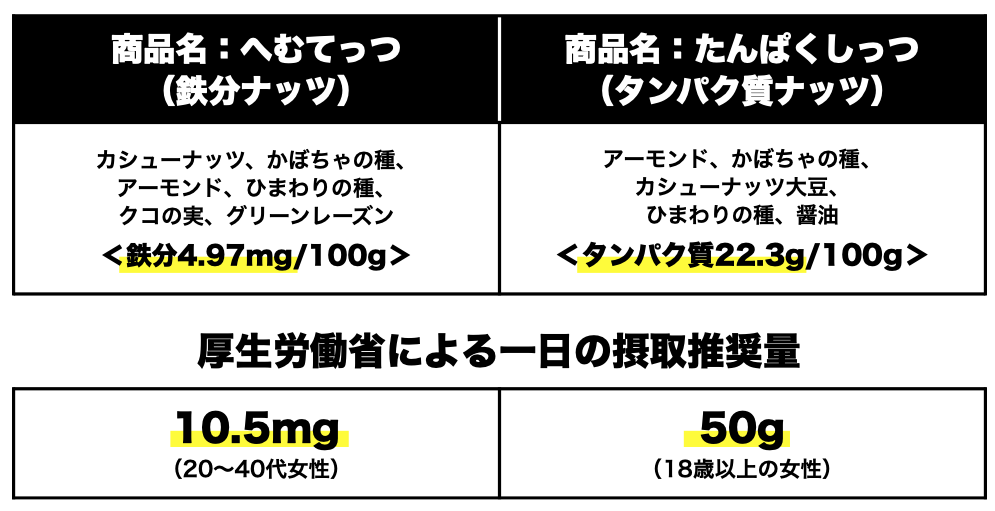 MEET SHOP Co., Ltd. provides various solutions for improving constitution
OR THIS ONE offers various solutions for improving the constitution that are easy for customers to adopt.
The "Eating Fasting Program", a joint project with the popular brand cawaii that started in 2020, will hold a 3rd gen member program in May 2021. Youtube also delivers recipe videos using this product.
We continue to provide "triggers" for our customers to work on improving their lives in order to improve their daily performance.

→ Official Youtube channel: https://youtu.be/HRJTnZh2_TM
Corona-compatible insurance will be given to all purchasers of OR THIS ONE supplements
We have provided many customers with medium- to long-term programs to improve their constitution by providing programs to customers and corporations in our stores. Since the outbreak of the new coronavirus in 2020, the program has been completely online and is being offered to people in remote areas.
What do our customers need to start a new in-house supplement brand? I thought. We thought about making supplements from domestically produced food ingredients as much as possible at a reliable factory in Japan, as well as making our customers feel more secure.
One of the answers was to give our customers peace of mind by providing compensation for hospitalization due to the new coronavirus infection while they are working to improve their constitution. This is Japan's first supplement with accident insurance that can cover hospitalization due to the new corona.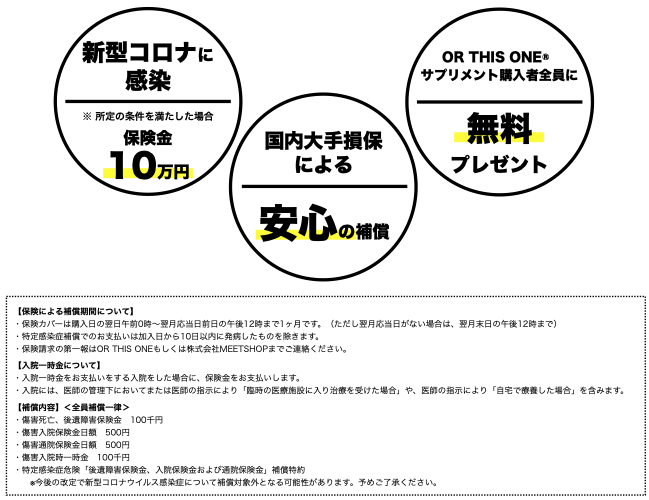 About MEET SHOP Co., Ltd.
With the business vision of "creating a world of 37 degrees," we mainly provide various business solutions in the healthcare field to individual and corporate customers. At our own store, Sannana Salon, we have built a unique constitution improvement program based on immunology and nutrition in order to improve the problem of "coldness". Since opening in 2017, the customer repeat rate has been maintained at 93%. The uniqueness and innovation of our service has been highly evaluated in various fields such as the Healthcare Busicom in Kobe (2019) sponsored by RIKEN and the Osaka City Top Runner Business Certification Project (2019).
→ Sannana Salon Official Website: https://37project.jp
→ MEETSHOP Co., Ltd. Corporate website: https://www.meetshop.co.jp
→ Information site "Anemia.jp": https://hinketsu.jp
[Awards]
・ January 2019: Selected as a finalist of the business plan contest "LED Kansai" sponsored by the Ministry of Economy, Trade and Industry
・ June 2019: Selected for "Healthcare Busicom in Kobe" sponsored by RIKEN
・ October 2019: Osaka City "Top Runner Business" 2019 Certified Project Adopted
== Product information ==
■ Release date: May 1, 2021
■ Product name: Hemutetsu (iron nuts), protein nuts (protein nuts)
■ Contents: 1kg
■ Sales price: 4,104 yen each (tax included and shipping not included)
■ Sales method: Sold at OR THIS ONE official online shop
(URL: https://orthisone.com )