Until Wednesday, December 22 / Matsuzakaya Ueno Store Main Building 6th Floor New Year dishes reception corner
"Osechi" (from 9/22 (Wednesday) on the Internet), which is available at Matsuzakaya Ueno store from 10/6 (Wednesday). Last year, demand increased significantly, up about 19% from the previous year. Due to the tendency to refrain from going out this year as well, it is expected that the year-end and New Year holidays will continue, and the demand for New Year holidays will continue to increase. Comparing the number of sales in one month from the start of orders, it is + 56% compared to the previous year (* Compare the results from September 22, 2021 to October 21, 2021 with the previous year from September 24 to October 23, 2020), last year The time when the number of orders increases is earlier than that, and we can see the high need to surely buy the new year's favorite while there are many choices. Like last year, when demand grew more than expected and many of them were sold out, popular products may not be available soon this year! ?? Therefore, at the Matsuzakaya Ueno store, we are announcing the 5 most popular sales at present! (* Ranking from September 22nd to October 21st, 2021 based on sales amount including WEB, storefront, telephone and fax) We support customers' product selection.
The 5 most popular are all "Daimaru / Matsuzakaya special projects"!
This new year's osechi, which will be the fourth appearance, is packed with a good balance of the most popular dishes from the past three times and Mr. Ohara's own favorites. "I think that small children, grandparents, and aunts will be pleased," says Ohara. Osechi-san's osechi, which continues to evolve, is gorgeous and light, with new additions such as "Jiuqu char siu" and "Red core radish sweet and sour sauce".
<Cooking researcher Chizuru Ohara supervised Kofuku Osechi Tora> Japanese style three-tiered (for 4 people) 27,000 yen
Kin-san aimed for a weight that is easy to eat, easy to get close to, and makes you want to stretch your chopsticks one after another. There is also a bonito "raw bonito" and a favorite "mackerel" that Kochi-born people say, "If you grow up eating this, you have no choice but to drink."
In addition, there is a kind of arrangement for New Year's dishes such as black beans and kuri-kinton!
<Tavern poet Rui Yoshida supervised snacks Tamatebako> Snack-style 1st stage (for 2 people) 16,200 yen
Run east to west on the northern land. Supervised by a famous buyer of the product exhibition, which is also active in various media, the voluminous New Year dishes packed with the excitement of the product exhibition are full of delicious Hokkaido.
<Daimaru / Matsuzakaya's buyer in Sapporo, supervised by Daisuke Honda, Mansai Osechi in the north> Japanese / Western style two-tiered (for 3 people) 29,160 yen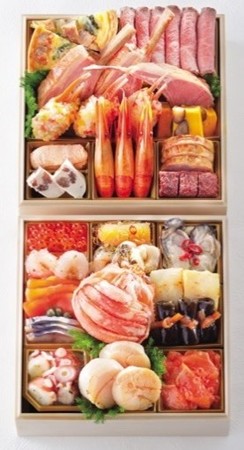 A gorgeous three-tiered dish that shines with the skills and sensibilities of top-class cooks. Akasaka Sichuan Restaurant A variety of authentic Sichuan flavors supervised by Kenichi Chen [Chinese heavy]. <LA Bettola> Enjoy the original taste supervised by Tsutomu Ochiai [Yoju]. Japanese Cuisine You can enjoy the essence of Japanese cuisine supervised by Koumei Nakamura [Waju].
<New Year dishes co-starring Japanese, Western, and Chinese masters> Japanese, Western, and Chinese style three-tiered (for 4 people) 32,400 yen
Tasaki-san's weight, which is based on French cuisine and has sparkling, white, and red wines from the top row, is a full-course meal of 25 squares where you can enjoy wine.
<Sommelier Shinya Tasaki Supervision 25 (Van Thunk) Amuse Gour> Snack-style 1st stage (for 2 people) 16,200 yen
[Available on the Internet! ] -December 22nd (Wednesday) until 10:00 am
Daimaru Matsuzakaya online shopping: Https://Www.Daimaru-matsuzakaya.Jp/osechi/matsuzakaya_ueno/
The popularity ranking of WEB sales is being updated every day!
* All prices include tax and shipping charges are not included.