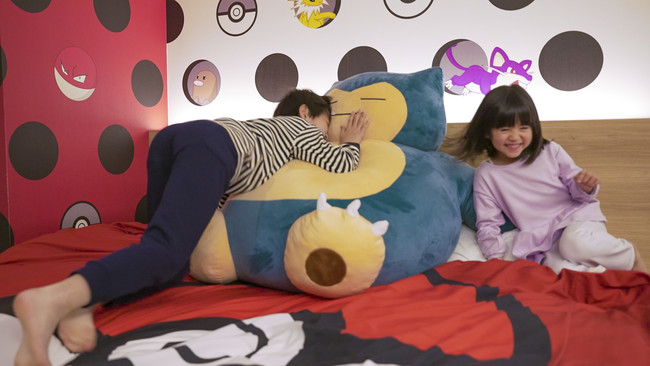 An accommodation voucher gift campaign will be held to commemorate the 2nd anniversary of the Pokemon Room.
APARTMENT HOTEL MIMARU, an apartment hotel operated by Cosmos Hotel Management Co., Ltd., which has large rooms with kitchens and can accommodate families and groups, has been providing "Pokemon Room" since December 2019. The "Pokemon Room" is used by many people to spend a special day with family and friends, or as a gift for children and partners. Thanks to you, we are celebrating our 2nd anniversary.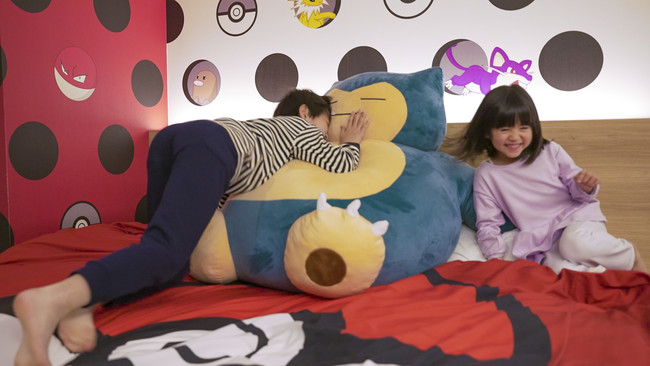 The "Pokemon Room" is a room where you can sleep with a huge snorlax stuffed animal while being surrounded by adorable Pokemon who seem to be playing hide-and-seek, and you can feel as if you are having a staying party with Pokemon. .. Beginning with the huge footprints of Snorlax drawn on the floor, the dining space and bed space are equipped with wallpaper with a monster ball as a design motif, as well as original Pokemon plates and cups.
Since it is a special space where you can fully enjoy the world of Pokemon, we often contact you in advance to use surprises, helping you to produce birthdays and proposals, and spending a special day.
---
---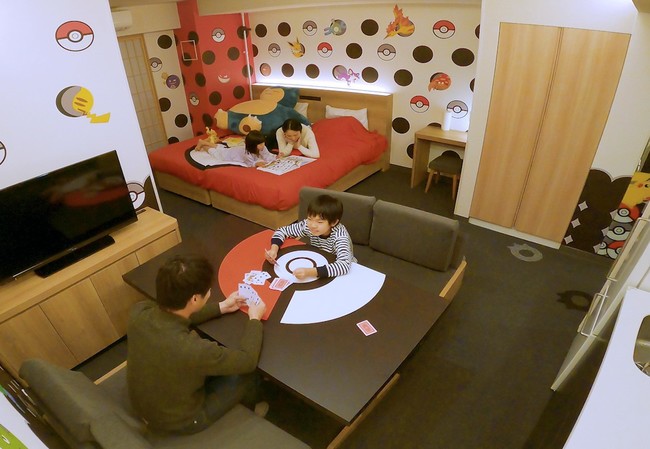 In addition, free rental and sale of "Family Pokemon Card Game" and "Pokemon Room Original Recipe" are available, and you can bring your own game machine and enjoy the game tournament on the indoor TV, so everyone can enjoy the game. You can enjoy the day slowly.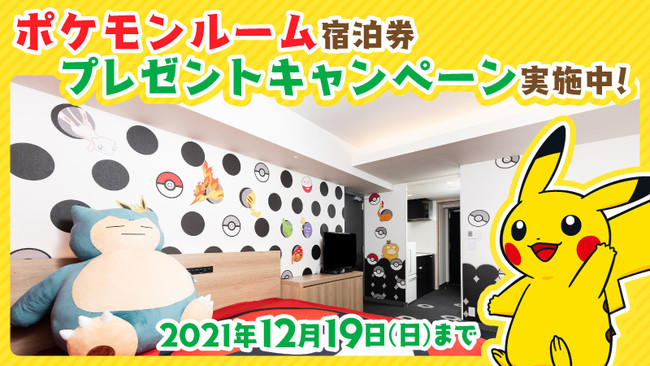 To commemorate the 2nd anniversary of the launch of the "Pokemon Room", we will hold an accommodation voucher gift campaign for the "Pokemon Room". By lottery, 10 groups of 40 people will be presented with accommodation vouchers that can be used until March 31, 2022. Anyone can apply, so please do not hesitate to apply.
"Pokemon Room" Accommodation Voucher Present Campaign Overview
[Target facilities] Pokemon rooms in MIMARU hotels in the Tokyo, Kyoto, and Osaka areas
[Application period] From November 19, 2021 (Friday) to December 19, 2021 (Sunday) 24:00
[Winning prize] "Pokemon room" free accommodation voucher (1 night) 10 groups 40 people
* A group of up to 4 people can stay (1 night).
* The accommodation period is from January 4, 2022 to March 31, 2022, and will not be available the next day or later.
【Application method】
Please apply from the application form on the MIMARU official website information page.
https://mimaruhotels.com/jp/news/pokemon-campaign
[Lottery / Announcement]
Winners will be announced by a careful lottery and a notification email of the accommodation winner.
We will notify the winners by email on December 23, 2021 (Thursday).
【Notes】
・ The prize content does not include transportation expenses to the site and meals.
・ We may not be able to meet your request on the day of your stay depending on the availability of your accommodation. Please check the MIMARU official website for availability of Pokemon rooms. Details on how to make a reservation will be sent to you by email.
・ Accommodation is limited to the winner and accompanying person (identity may be confirmed at the time of accommodation).
・ Customers are responsible for any accommodation tax, etc.
・ You can only apply once per person.
・ Please note that this campaign may be canceled or changed due to unavoidable circumstances.
Overview of "Pokemon Room"
In the "Pokemon Room", wallpaper with a monster ball as a design motif is set up in the dining space and bed space, and a huge stuffed animal of Snorlax is prepared. The kitchen in the room is also equipped with original design plates and mugs, so you can enjoy your stay in the Pokemon room. In addition, original novelty goods are available for Pokemon Room guests.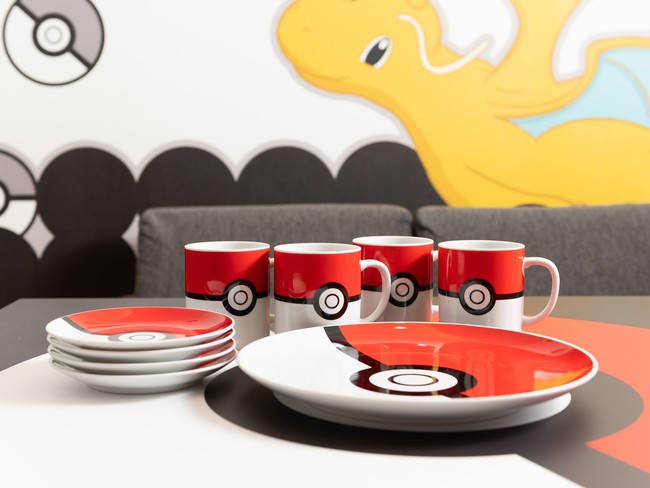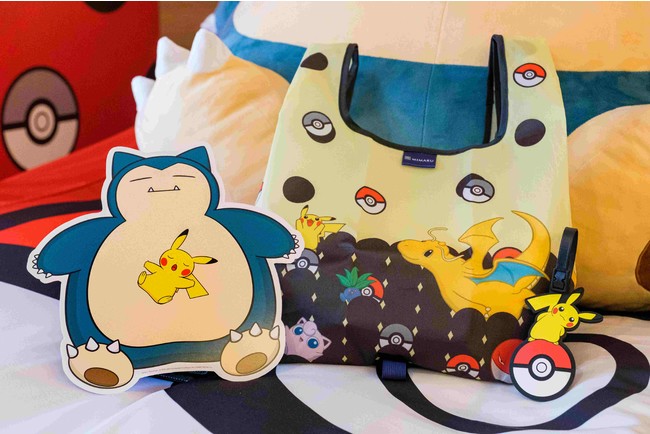 <Facilities provided by "Pokemon Room">
MIMARU Tokyo Ginza EAST Address: 1-4-4 Shintomi, Chuo-ku, Tokyo
MIMARU Tokyo Ueno EAST Address: 4-26-3 Higashiueno, Taito-ku, Tokyo
MIMARU Tokyo Hatchobori Address: 3-8-8 Nihonbashi Kayabacho, Chuo-ku, Tokyo
MIMARU Kyoto STATION Address: 15-1 Higashikujo Higashisannocho, Minami-ku, Kyoto
MIMARU Kyoto Shinmachi Sanjo Address: 105 Machigashira-cho, Shinmachi-dori, Nakagyo-ku, Kyoto
MIMARU Kyoto Saitoin Takatsuji Address: 782 Honryusuicho, Shimogyo-ku, Kyoto
MIMARU Osaka Namba NORTH Address: 1-2-10 Minamihorie, Nishi-ku, Osaka-shi, Osaka
* Of the facilities provided by the "Pokemon Room", "MIMARU Kyoto Kawaramachi Gojo" is closed as of November 2021.
 
© Pokémon. © Nintendo / Creatures Inc. / GAME FREAK inc.
Pokemon, Pokemon, and Pokémon are registered trademarks of Nintendo, Creatures, and Game Freak.
| About Cosmos Hotel Management |
Cosmos Hotel Management is an apartment hotel that caters to the needs of medium- to long-term stays for families and groups, with large guest rooms from approximately 40 m2 equipped with a kitchen and living / dining space. We operate the Mimaru (APARTMENT HOTEL MIMARU). Guests from all over the world spend time with their families and friends, and even when traveling, they can relax as if they were at their own home. During your trip, you will discover new Japan that will change your values by opening the door to discovering things that will enrich your daily life. At MIMARU
With " Unlock Your Japan " as the tagline, staff members from all over the world who love Japan gathered from all over the world.
We will make your trip together.
MIMARU Official HP: https://mimaruhotels.com/