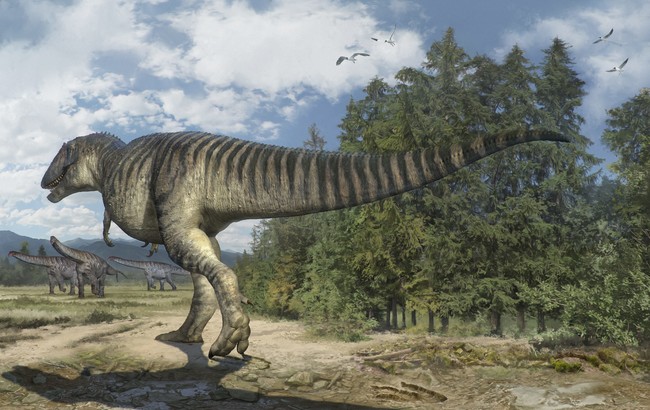 Xing, Lida, an associate professor at China University of Geosciences (Beijing), a fan of the popular Japanese cartoon Doraemon, said of a carnivorous dinosaur discovered in Sichuan, China in July 2021. The name "Nobita" was given to the footprint fossil, and it was named Eubrontes nobitai.
Since the National Museum of Nature and Science has research exchanges with Associate Professor Shin Rita, a replica of one footprint of Eubrontes nobitai will be donated, and this replica will be released to the public about footprint fossils and their research. From November 30th (Tuesday) to December 12th (Sunday), 2021, we will hold a mini exhibition "Eubrontes nobitai-Fossil footprints of dinosaurs that made Nobita's dream come true".
[Detailed URL: https://www.kahaku.go .jp / event / 2021/12 nobitai / 】 strong>
& nbsp;
& nbsp;
Mini Exhibition Overview strong> li>
ul>
Mini exhibition "Eubrontes nobitai-Fossil footprints of dinosaurs that made Nobita's dream come true" strong>
[Meeting place] National Museum of Nature and Science, 1st floor open space (7-20 Ueno Park, Taito-ku, Tokyo)
[Date] November 30th (Tuesday) -December 12th (Sunday), 2021
[Admission fee] General / university student: 630 yen (group 510 yen) tax included, free for high school students and younger and his 65 years old and over
* This exhibition can be viewed only with the admission fee for the permanent exhibition.
[Closed days] Every Monday * The session is subject to change.
[How to enter] We are implementing measures to prevent the spread of new coronavirus infection.
* Advance reservations are required on the museum's website to enter the museum.
* Before entering the building, we will check the temperature and physical condition, and if you have a fever, we will refuse to enter the building.
* For details on how to enter the museum, please see the reservation site on our website.
https://www.kahaku.go. jp / news / 2020 / reservation / index.html
[Web page] https://www.kahaku.go .jp / event / 2021/12 nobitai /
& nbsp;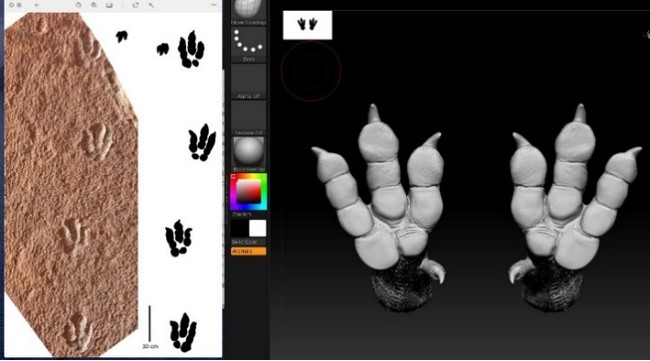 Nobitai's footprint fossil photos and illustrations (© Lida Xing) [/ caption]
---
---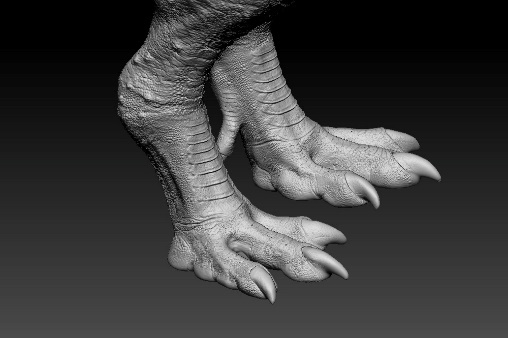 Imagination of the foot (© Cheung Chung Tat) [/ caption]

[History of Nobitai Naming] strong>
Associate Professor Shin has been a fan of "Doraemon" since he was a child, and in the 2020 "Movie Doraemon Nobita's New Dinosaur", there was a scene where Nobita gave his name to a new kind of dinosaur, so Nobita's He wanted to make his dream come true. The scientific name is basically spelled in Latin grammar, and the name "Nobita" is named after "Nobita" with the suffix "i" (i) indicating the person's name.
& nbsp;
[Fossil footprints of Novitai] strong>
Novitai's footprint fossil is a four-step footprint fossil found on a plate-shaped rock after a heavy rain in Sichuan Province in July 2020. It was classified into the genus Eubrontes because of its clear traces of its roots. This fossil has a larger left-right opening of the 2nd and 4th toes than the previously reported species of the genus Eubrontes, and the central finger (middle finger) faces slightly outward. It was named the new species Eubrontes nobitai.
& nbsp;
From the length of the sole (about 30 cm), Novitai is a carnivorous dinosaur with a total length of about 4 meters, and its footprint is about 125 million years ago (early Chengdu), now Jinyuxi, Sichuan Province, China. It was left on the ground (about 310km south of Chengdu). Few fossils of carnivorous dinosaur bones have been found in this stratum, but allosauridaes and carcharodontosauria were among the carnivorous dinosaurs that lived in early Cretaceous China. It is estimated that he was walking at a speed of about 4 kilometers per hour from his stride length.
& nbsp;
Eubrontes is a scientific name originally attached to the footprints of Jurassic carnivorous dinosaurs found in Connecticut, USA, and means Eu (true) + Brontes (earth sound, thunder). When walking on two legs, the three fingertips have sharp claw marks, indicating that they are carnivorous dinosaurs. Eubrontes is the scientific name for the footprints of carnivorous dinosaurs with wide-legged footprints, about 30 centimeters in length. More than a dozen species are known from the Jurassic strata. China's Eubrontes is the fifth species in Novitai, but the Cretaceous (about 145 to 66 million years ago) Eubrontes is the first report in the world.
& nbsp;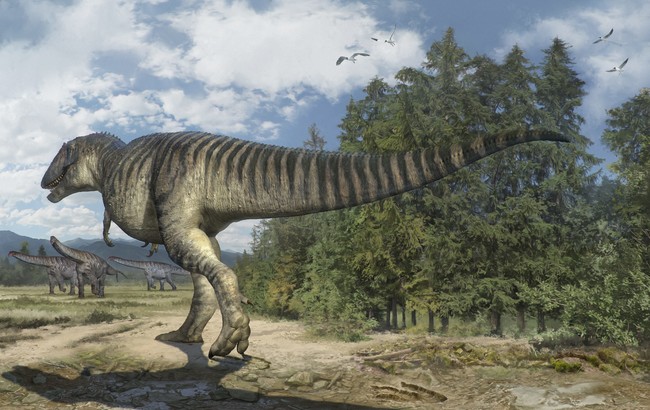 Nobitai Imagination (© ️Cheung Chung Tat) [/ caption]

[Comment by Makoto Manabe (National Museum of Nature and Science, Deputy Director) on the discovery of Eubrontes nobitai] strong>
Mesozoic Japan was part of the Asian continent, so Nobitai may have lived in Japan as well. Nobita is the footprint of a carnivorous dinosaur, so I think Nobita will be happy. Fossil footprints have only the characteristics of the soles of the feet, but it is possible to estimate the speed per hour from the stride length and to infer the group behavior from the aggregated status of the fossil footprints. I hope that you will be able to pay attention to footprint fossils as a result of Nobitai. I hope that researchers of dinosaurs and footprint fossils will grow up as a result of imagining the appearance of Novitai and wanting to search for fossils of the body.
& nbsp;
[Message from Associate Professor Shin]
strong> & nbsp; I was on cloud nine when making this decision. Nobita and Doraemon are one of the sweetest memories of the Millennial generation in China, arousing great curiosity among us with all the fabulous imagination. & Nbsp; Most importantly, for me , Nobita, Draemon and their adventures with dinosaurs are my childhood gems that I still recall fondly every now and then. & Nbsp; I am pleased as punch to have an opportunity to express my intense affection.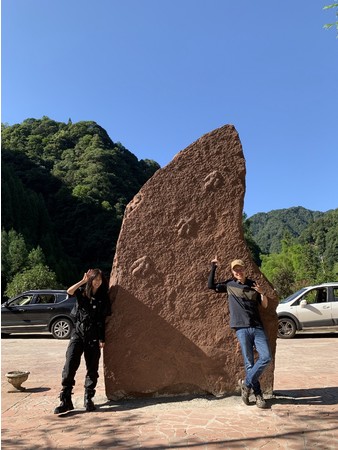 Shin Xing, Lida (Tatsumi) China University of Geosciences (Beijing) Associate Professor (right) and Shin Lab Assistant Professor (left) Image courtesy of Shin Xing, Associate Professor Lida [/ caption]
& nbsp;
[Presentation paper]
Title: "Report on Eubrontes nobitai, a new species of early Cretaceous footprint fossils in Sichuan, China, and fossil footprints of Saurischia dinosaurs"
Author: Xing, Lida, etc.
Publication: "Palaeogeography Magazine Journal of Palaeogeography" (published by Springer Nature)
You can download the pdf of the paper for free from the following site.
https: // link. springer.com/content/pdf/10.1186/s42501-021-00096-y.pdf
& nbsp;
・ National Museum of Nature and Science Homepage: https://www.kahaku.go. jp /
・ Mini exhibition "Eubrontes nobitai-Fossil footprints of dinosaurs that made Nobita's dream come true" Web page:
https://www.kahaku.go.jp/event / 2021/12 nobitai / strong>
& nbsp;
& nbsp;