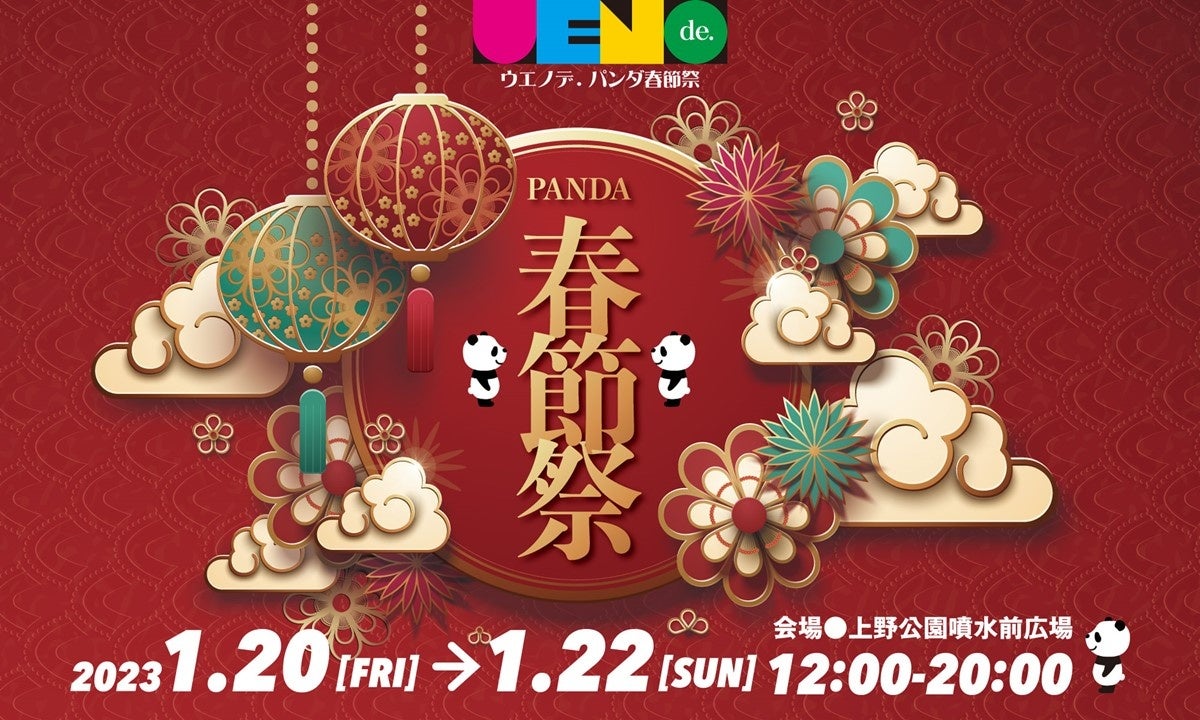 Gachi Chinese 18 stores! Chinese New Year from Ueno, Tokyo, the town of pandas and culture!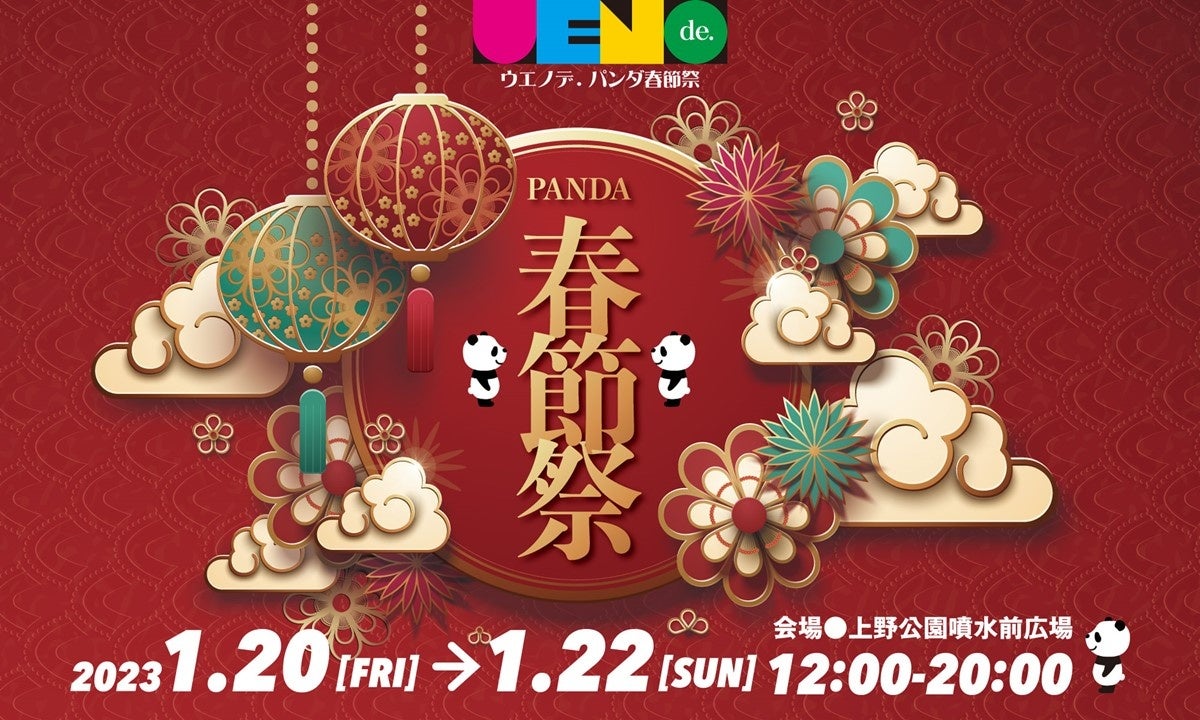 The Ueno de Panda Spring Festival 2023 Executive Committee (Taito-ku, Tokyo) will hold the "Ueno de Panda Spring Festival 2023" for three days from January 20 to January 22 (Sun) at the fountain square in Ueno Park. I will.
Cities like Nagoya and Yokohama have Lunar New Year events, but Tokyo doesn't have anything famous! In order to change the current situation, the venue's local "Ueno Chuodori Shopping Association", media company for China "Chugoku Denshi Co., Ltd." The company matchbox and others have gathered to develop the "Spring Festival" as a new winter specialty event in Tokyo.
On the day of the event, we will prepare various contents such as stage contents that will liven up the festival, a cultural introduction corner, and a Chinese street food festival. More than 30 booths will be developed in total.
■ Great collection of food stalls from Greater China! Recreate the Chinese New Year food stall eating tour in Ueno.
---
---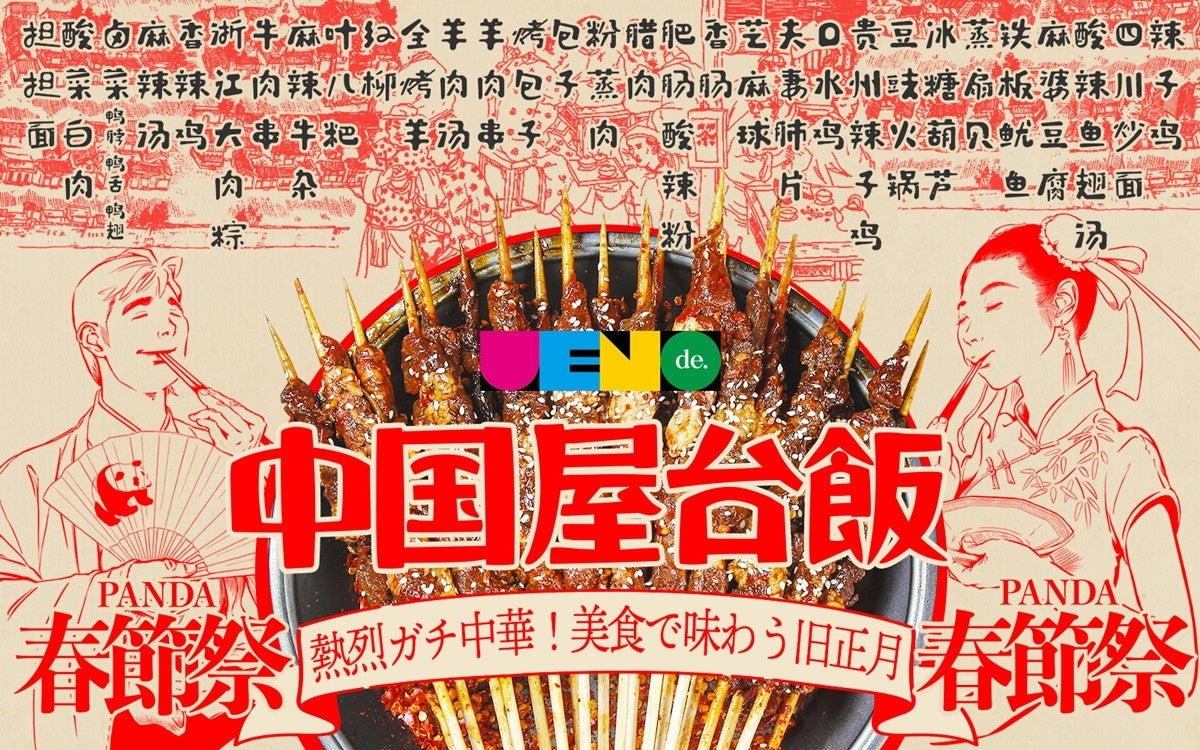 Food stalls are one of the pleasures of the Greater China region, and during the Lunar New Year, temporary stalls are set up in squares in some areas, creating a lively atmosphere. This time, the food stalls of the Lunar New Year are reproduced in Ueno Park Fountain Square. From skewers to grilled steamed noodles to sweets, we have prepared "taste of street food" from all over China. We have 400 seats and alcohol, so please enjoy the Chinese New Year to the fullest!
■ Celebrate the Chinese New Year with 11 regional dishes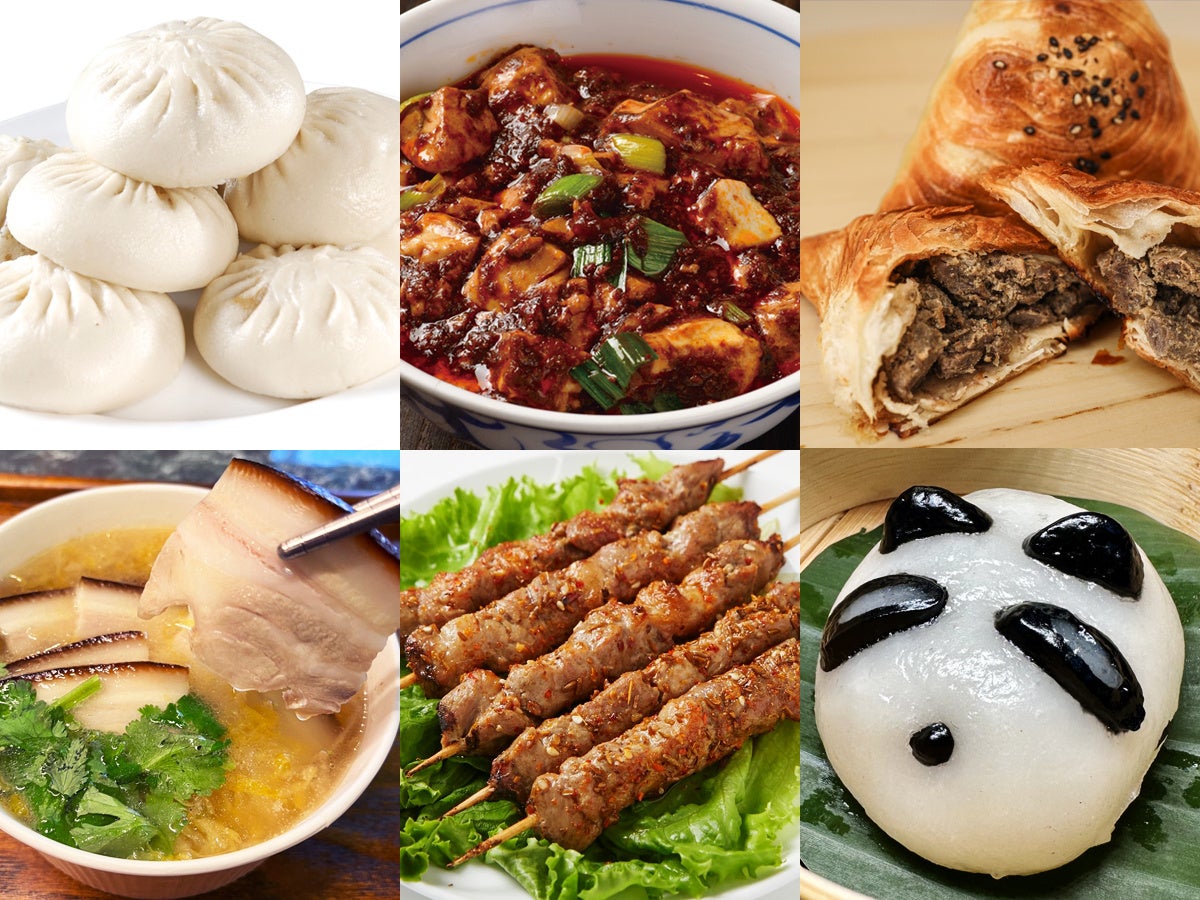 The Spring Festival (Chinese New Year) is the most important holiday in China. In China, South Korea, Singapore, Malaysia, and other parts of Asia, the period before and after this is a long holiday, and billions of people celebrate the arrival of the New Year at festivals throughout the country. We have collected a wide range of Chinese cuisine. Since Sichuan cuisine is abundant in Japan and it is the home of street food stall culture, Sichuan is a little more common, but we have participants from 11 regions.
■ List of stores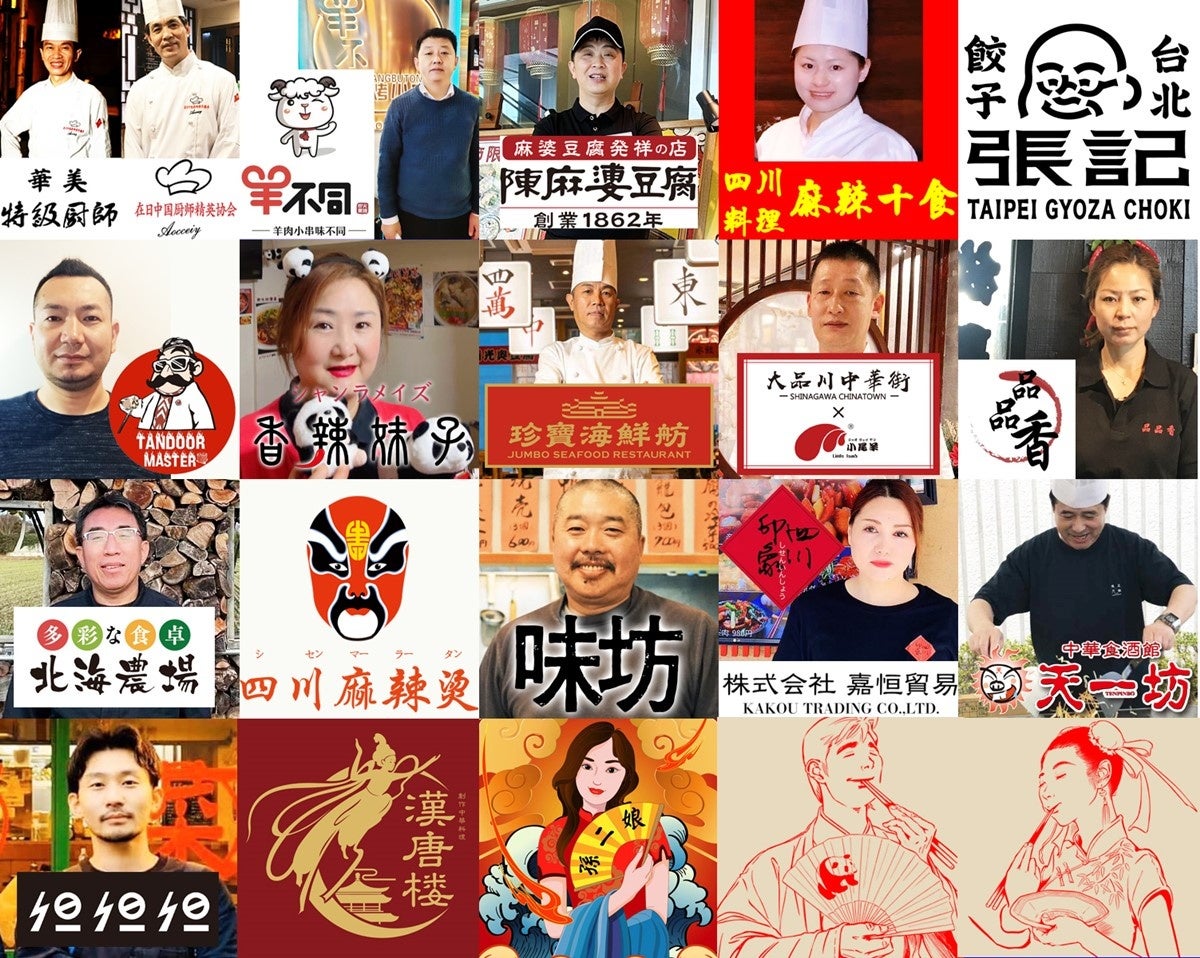 [Guangdong] Ueno Chinpo Kaisenbo: Spicy grilled squid on an iron plate 600 yen (provisional)
[Guangdong/Beijing] Oshinagawa Chinatown x Obi Sheep: Steamed fan shellfish 500 yen, iced sugar reed 500 yen
[Sichuan] The birthplace of mapo tofu Chen mapo tofu: Chen mapo tofu 600 yen, drooling chicken 500 yen, husband and wife lung pieces 500 yen, sesame dumplings 500 yen
[Sichuan] Good incense: Sichuan fried noodles 700 yen, handmade green onion rice cake 700 yen, Pandaman 400 yen, iron plate mutton skewers 1000 yen
[Sichuan] Hanami x Chinese Chef Elite Association in Japan: Stir-fried chicken and mustard 700 yen, Sichuan-style yakisoba 700 yen, shark fin sour soup 500 yen, green maple dofu 500 yen
[Sichuan] Honpo of Szechuan Cuisine Kouraiimoko: Fatty Intestine Spicy Powder ¥900, Drooling Chicken ¥800, Sichuan-style Smoked Meat ¥1200, Powder Steamed Meat ¥780
[Taiwan] Taipei Dumplings Zhang Ji: Sour cabbage white meat-pork belly simmered in fermented Chinese cabbage soup-900 yen, lamb skewer (loin) 1 skewer 900 yen
[Sichuan] Soupless dandan noodles specialty store dandandan: Soupless dandan noodles 1000 yen
[Yanbian] Lamb skewers (2) ¥500, beef skewers (2) ¥500, sausage ¥300
[Sichuan] Sichuan Cuisine Mapa 10 meals: Panda leaf rice cake (rice cake) 500 yen, Mapa beef offal simmered 500 yen
[Uyghur] Central Asian gastronomy Tandoor Master: Samsa 380 yen, Shish kebab 300 yen, Lamb soup 500 yen, Roasted lamb 500g 2500 yen, Beniyanagi kebab 500 yen
[Tianjin] Kanda Kantoro: Steamed meat bun (provisional)
[Nougaku] A variety of dining tables Hokkai Farm
[Sichuan] Jiaheng Trading Co., Ltd. x Sichuan Impression: Zhejiang large meat dumpling 300 yen, spicy chicken 600 yen, husband and wife lung pieces 600 yen, spicy tofu 600 yen, 2 types of intestines 300 yen each
[Sichuan] Sichuan Hot Pot Hot Pot 580 yen, Tapioca Milk Tea 480 yen, Duck Vegetables (Duck Tongue, Duck Tongue, Duck Wing, Chicken Claw) 680 yen
[Shanghai] Tenichibo: Shanghai fried noodles 550 yen, giant chicken skewers 500 yen
[Sichuan] Grandson and daughter kneeling beef: kneeling beef 980 yen, meat bowl 480 yen, small skewers 680 yen, bell soup dumplings 680 yen, beef dumplings 880 yen
[Tohoku] Ajibo: Grilled mutton skewers 500 yen (2 skewers) per person
*Prices and dishes offered are subject to change.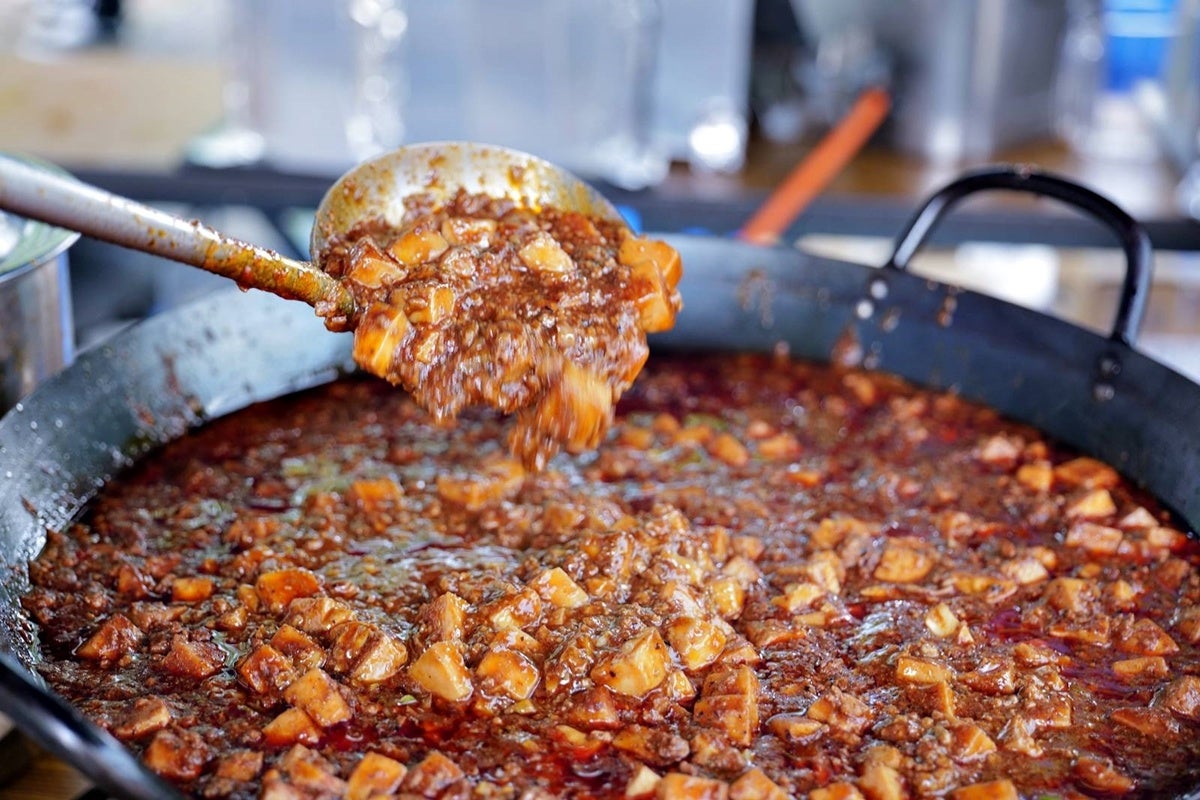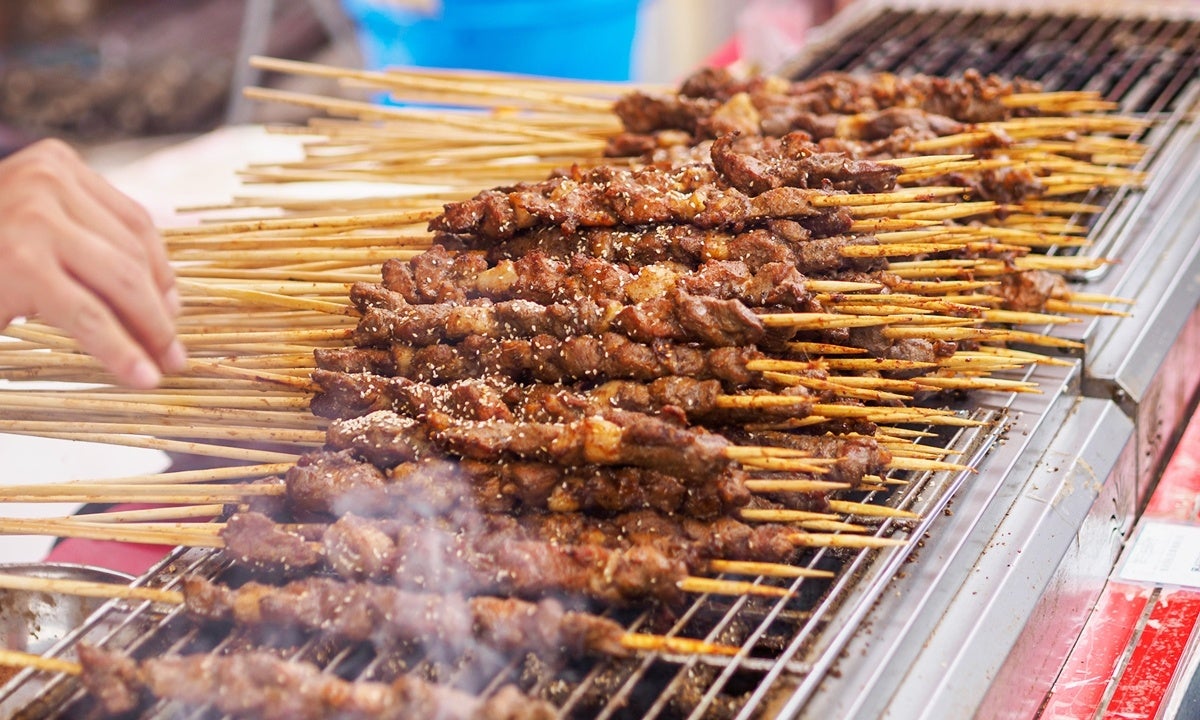 ■ Merchandise/exhibition booth
[Shandong] Tsingtao Beer ¥500
[Taiwan] Taiwan SUNMAI Golden Sandwich: Beer 600 yen / Large Beer 800 yen / Beer Comparison 4 types 1,200 yen, Boiled Gyoza 700 yen, Hawthorn Candy 600 yen, Spicy Peanuts 500 yen
[Chinese Tourist Office in Tokyo] Distribution of pamphlets and maps of various parts of China, lottery for panda goods, etc.
*Please note that the name and other details are subject to change.
*The executive committee does not define the Greater China region. Japanese stores and companies are also participating. We are collecting restaurants that have been requested to "Celebrate the Chinese New Year!" and "Chinese Cuisine".
■ 3-day stage and panda art exhibition
The stage event is called "Idol Expo 2023" and will hold the largest live performance in Ueno.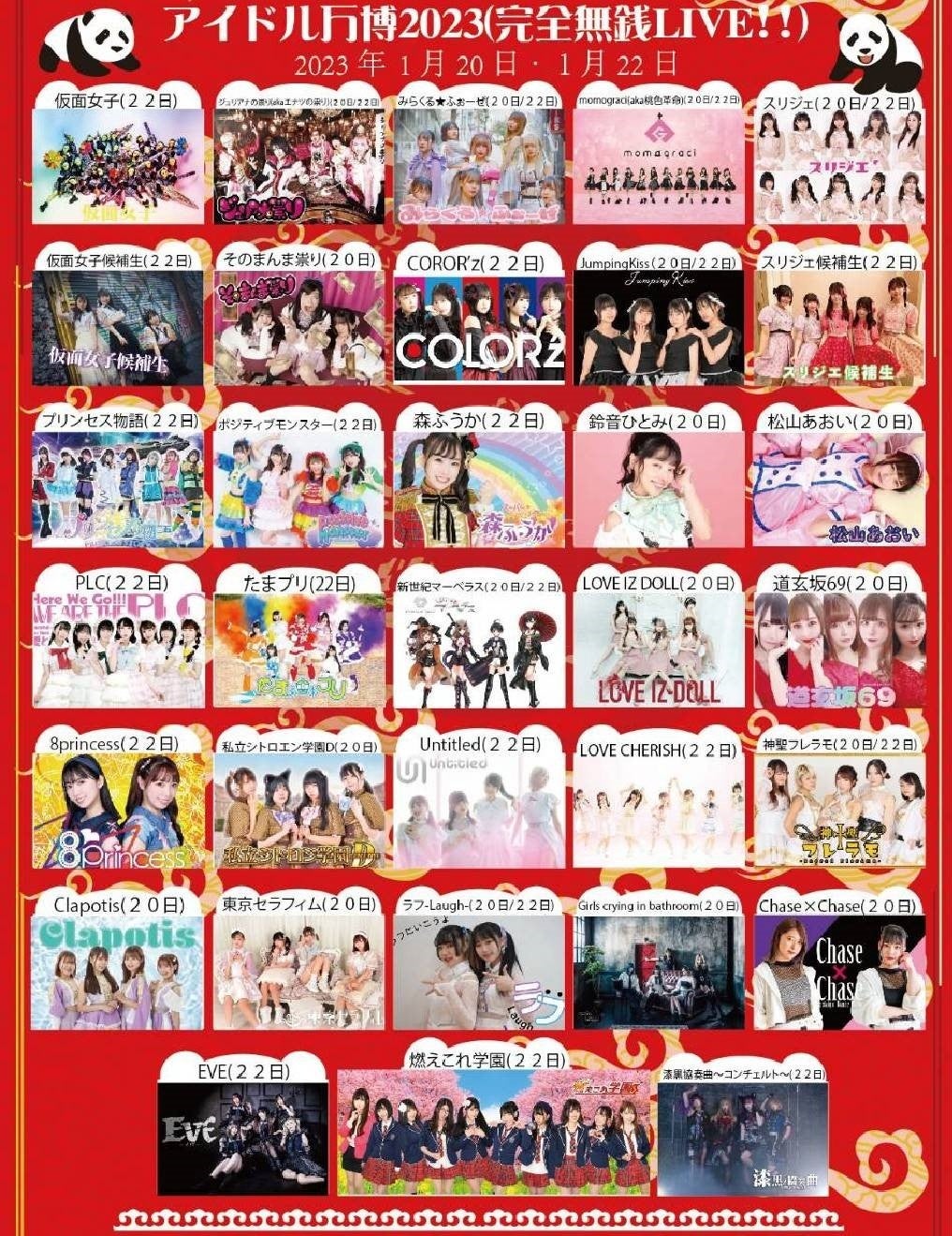 It was announced that the female panda "Xiang Xiang" of Ueno Zoological Gardens will be returned to China on February 21. Pandas are familiar to Ueno, but we will exhibit a "giant panda object" made of bamboo to express our gratitude.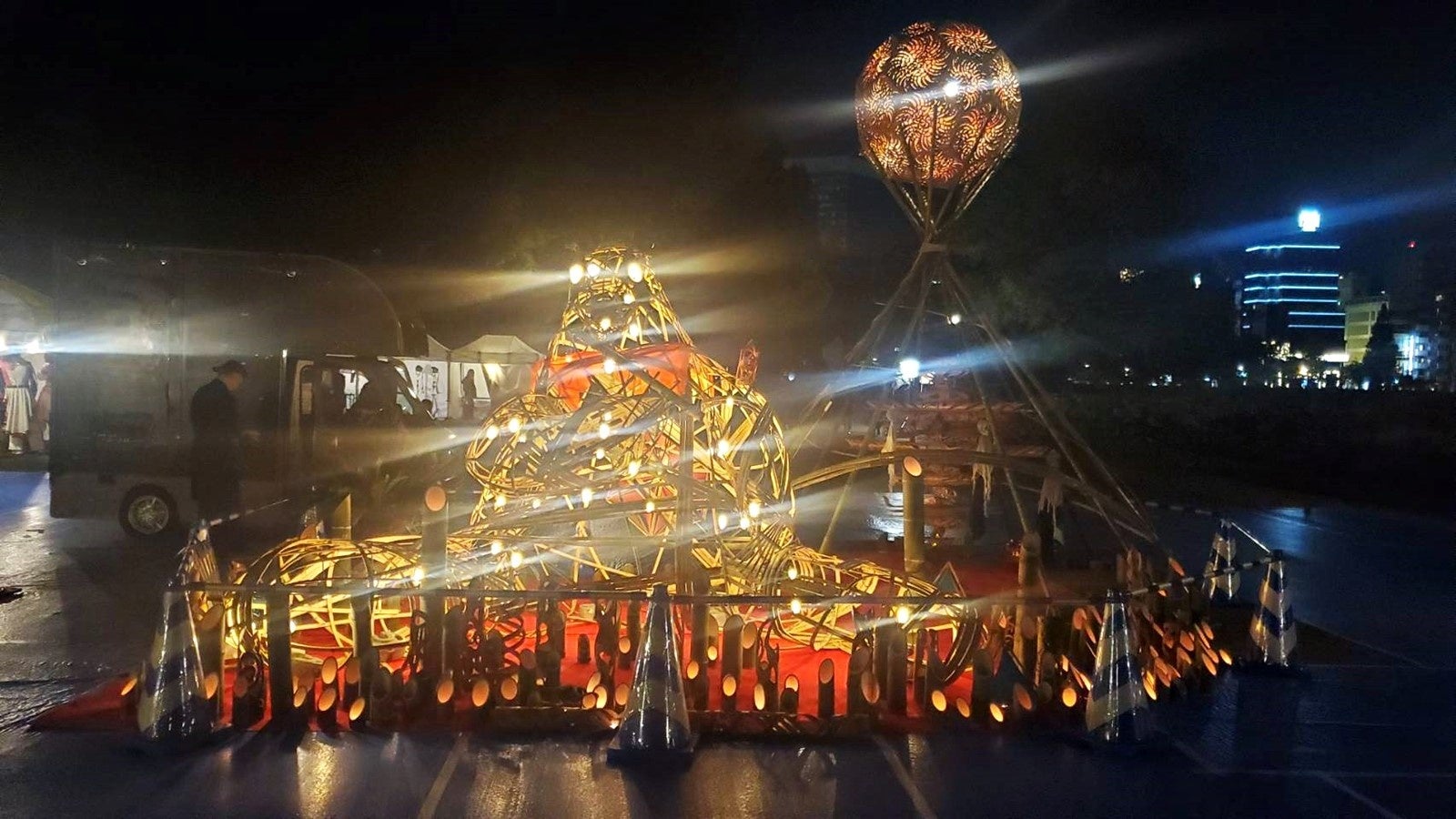 ■ Event overview
Name: Ueno de Panda Spring Festival 2023
Concept: Create a new Lunar New Year event in Tokyo
Contents: Food booths, stages, exhibitions, etc. in various parts of China
Date: Friday, January 20, 2023: 12:00 to 20:00
Saturday, January 21: 12:00 to 20:00
Sunday, January 22: 12:00 to 20:00
Admission fee: Free admission *The event will be held rain or shine.
Sponsored by: Ueno de Panda Spring Festival Executive Committee (Ueno Chuo Dori Shopping Association / Chugoku Television Co., Ltd. / Sichuan Festival Executive Committee / Matchbox Co., Ltd.)
Venue: Ueno Park Takenodai Square (Fountain Square) (5-6 Ueno Park, Taito-ku, Tokyo 110-0007)
Mobilization target: 100,000 people ~
Ueno de Panda Spring Festival 2023 Official website: https://meiweisichuan.jp/ueno2023
[Support] Ueno Tourism Federation / Taito Ward / Chinese Business Association in Japan / All Japan Federation of Overseas Chinese Associations / Ueno Zoo / Japan Panda Conservation Association
[Sponsors] Shatoku Liquor / Hiyori Shoji Co., Ltd. / Ueno Heian Clinic / Tokyo Asahi Global Co., Ltd. / Wataku Sangyo Co., Ltd.
[Cooperation] Touhou Shimpo
[SPECIAL THANKS] Japan Tobacco Inc.