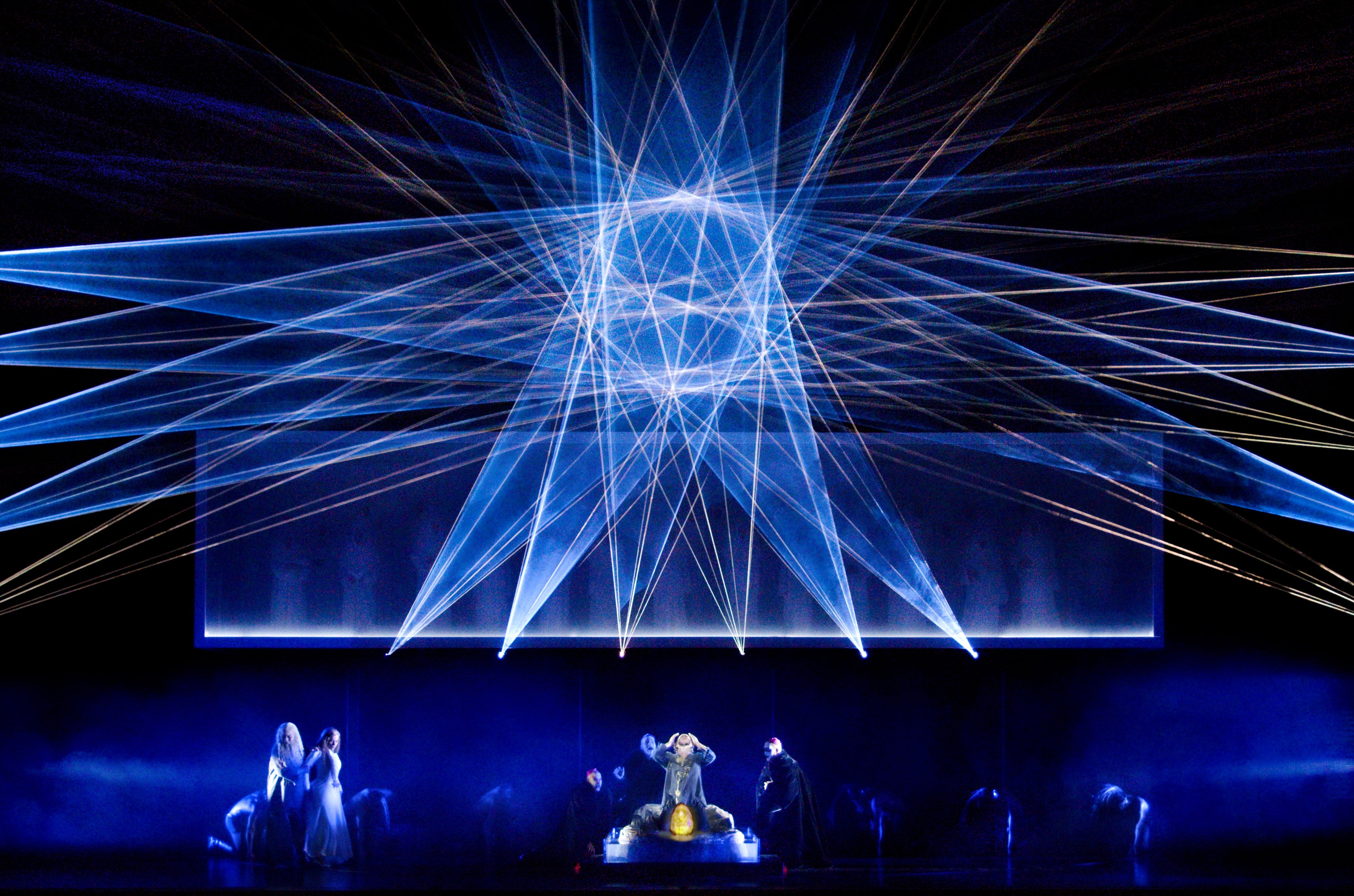 Director Daniel Kramer arrives in Japan, and standing rehearsals begin
The new production of Giacomo Puccini's opera "Turandot", in which the art group teamLab handles the scenography (spatial production), will be held in Tokyo from February 23 (Thursday / holiday) to 26 (Sunday) at the Tokyo Bunka Kaikan University. It will be held at the hall (sponsored by Tokyo Nikikai Opera Theater, Japan Federation of Musicians). This performance will have its world premiere at the Grand Théâtre de Genève in Geneva, Switzerland in June 2022, and will include "a true comprehensive art" (Concert Classic) and a "magnificent visual experience" (Le Courrier). It was evaluated, and the curtain closed in surprise and admiration.
▼ Turandot Announcement Video
---
---
Directed by Daniel Kramer, former manager of the English National Opera. Together with Kramer, teamLab conceived a scenography that fuses his interpretation of Turandot with teamLab's art. Over a period of 5 years, the concept, new interpretations, metaphors, symbols, and how to realize the visual expression of each scene were repeatedly planned and explored. We have created an immersive opera space that transcends the conventional concept of opera.
TeamLab's three-dimensional light sculpture space and digital art sometimes stir up enthusiasm, and at other times depict the delicate subconscious, and the cast immerses themselves in the space and becomes one. The stage and the audience are connected without boundaries, and the audience is immersed in the opera space together with the cast.
▼Daniel Kramer (director), teamLab's Adam Booth (scenography), making-of interview video
https://youtu.be/ygc6kXJrwPk
(From the Grand Theater performance in Geneva)
On January 18th (Wednesday), standing rehearsals at the rehearsal hall in Tokyo will begin with Kramer and other directors who have arrived in Japan. Kramer spoke to the entire cast as follows, and rehearsals for Turandot began, based on Kramer's bold new interpretation.
This opera is huge. It's a thrilling work conceived with teamLab, which manipulates unprecedented technology in the history of opera! Puccini's last and greatest work, the last note left by an artist at the height of his wisdom. It's a great opportunity to bring this art that we've spent our lives working on to life with teamLab on a global scale. Bring your audience to the most incredible Turandot of your life. Opera needs new young fans now more than ever. When they see this stage, they will say, 'I can't believe that opera can do this!
▼Direction details
The stage consists of two rotating sides, one is a futuristic dystopian game show with Turandot at the top. In a world where women hold power, men are destined to either dress up as women's playthings or be confined to them. The men who want to marry Turandot take part in a quiz, lose, and have their "flowers" ripped off. People excited to see it. teamLab will create a three-dimensional sculpture space with light on the stage to fuel the enthusiasm. On the other hand, the sculptural space of light sometimes becomes hazy, becomes delicate and abstract, and envelops the space in silence, creating moments of beauty and horror.
When the stage rotates, another aspect, the subconscious world, appears. The kaleidoscopic diamond-shaped Heart Room is beautiful and enchanting, yet evocative of subtlety and deceit. Here, Calaf navigates a kaleidoscope of strange and confusing worlds while dealing with his own complexes and fears.
The stage design is handled by teamLab Architects. We planned a simple yet powerful geometric stage. The rotating set is made of glass, acrylic, reflective surfaces, and a combination of soft white and stretchy black. The cast unfolds the story in a space that brings about different visual experiences through the reflection and absorption of light.
The Tokyo performance was aided by GC Corporation's sponsorship of teamLab.
Turandot

Opera by Giacomo Puccini
https://www.teamlab.art/jp/e/turandot_tokyo
Thursday, February 23, 2023 – Sunday, February 26, 2023
Tokyo Bunka Kaikan Main Hall (5-45 Ueno Park, Taito-ku, Tokyo)
https://goo.gl/maps/vyQQn1Pjh2qY3HE88
Opera in three acts (Act 3 supplementary version by Luciano Berio)
Composer: Giacomo Puccini
Conductor: Diego Mateus
Directed by: Daniel Kramer
Scenography, Digital & Light Art: teamLab
Stage design: teamLab Architects
Ticket sales: Nikikai Ticket Center (TEL: 03-3796-1831)
http://www.nikikai.net/ticket/
Other play guide companies
Ticket price: S 22,000 yen, A 18,000 yen, B 14,000 yen, C 10,000 yen, D 6,000 yen, E 2,000 yen, students 2,000 yen
*February 24th (Friday) performance is a weekday matinee special price = S – B seats 1,000 yen off
Turandot Movie Collection (From Geneva Grand Theater Performance)
https://youtube.com/playlist?list=PLUWwYK5rOr5QJa9vblRmVrUqfssdRl2Mx
Organizer: Tokyo Nikikai Opera Theater
Co-production: Grand Theater of Geneva, Tokyo Nikikai Opera Theater
sponsored by teamLab: GC Co., Ltd.