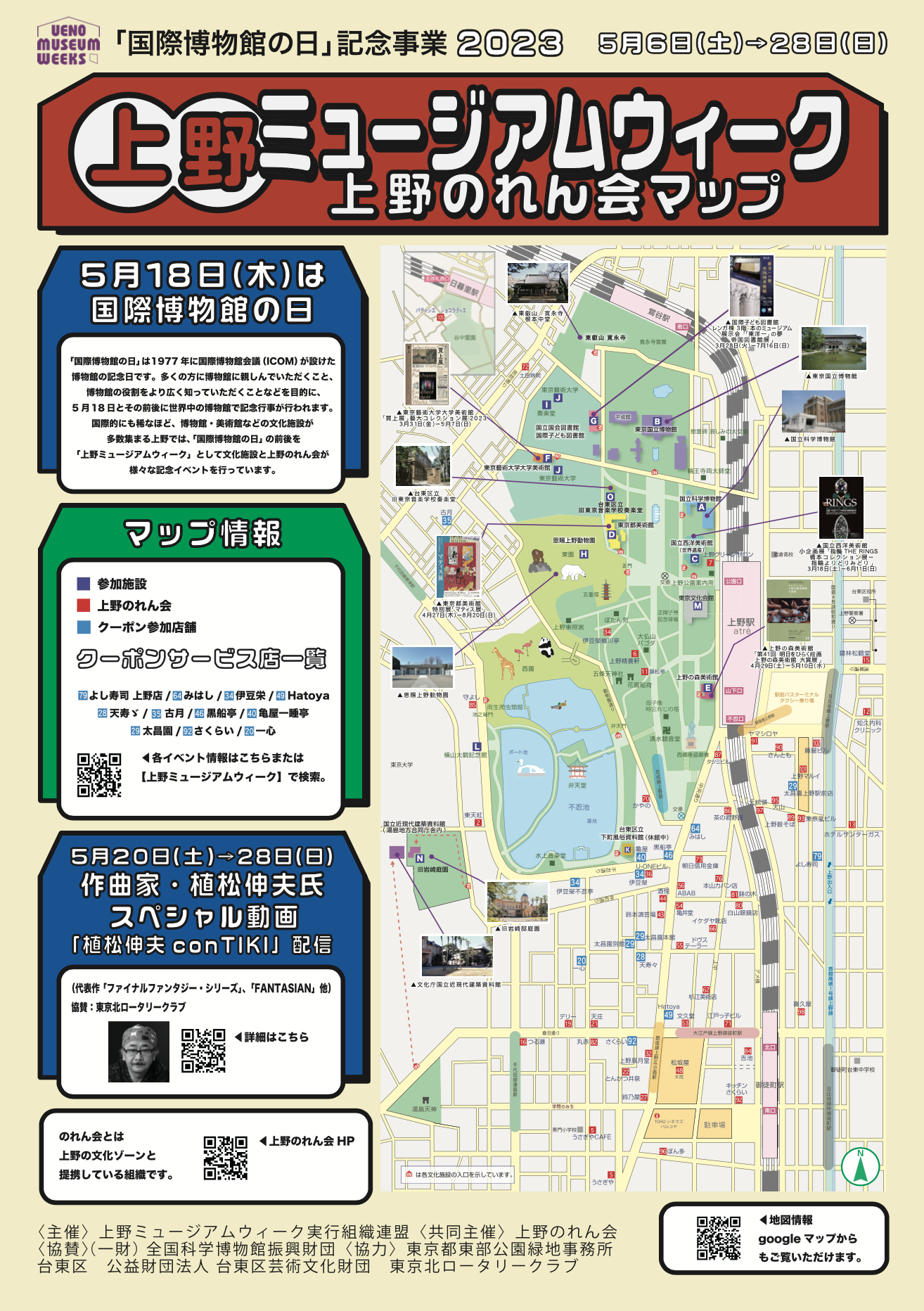 From May 6th (Sat) to May 28th (Sun), it's a great chance to visit popular spots and gourmet food in the Ueno area!
In the Ueno area, 12 facilities such as museums, art galleries, and zoos around Ueno Onshi Park will participate in "Ueno Museum Week" in connection with "International Museum Day" on May 18, as well as participating stores of the Ueno Norenkai. It is done. Various events are held during the period. The most noteworthy is the "free viewing days" that will be held at some facilities on May 16 (Tue) and May 18 (Thu). Enjoy it together with the "City Fun" coupon.
"Ueno Museum Week" is held every year on "International Museum Day (May 18)" and before and after it in the Ueno area where art museums and historical cultural facilities gather. This year, from May 6th (Sat) to May 28th (Sun), 12 facilities such as museums, art galleries, and zoos around Ueno Park will participate, as well as participating stores of the Ueno Norenkai.
During the period, various events will be held, such as a special coupon service and a special video distribution by composer Nobuo Uematsu. On the day of the event, you can view part of the exhibitions at the Tokyo National Museum, the National Museum of Nature and Science, and the National Museum of Western Art for free. In addition, free services such as soft drinks, draft beer, and 500 yen gift certificates will be provided at 11 popular Ueno Norenkai stores. Invite your friends and family to enjoy Ueno's "forest" and "town" in its entirety.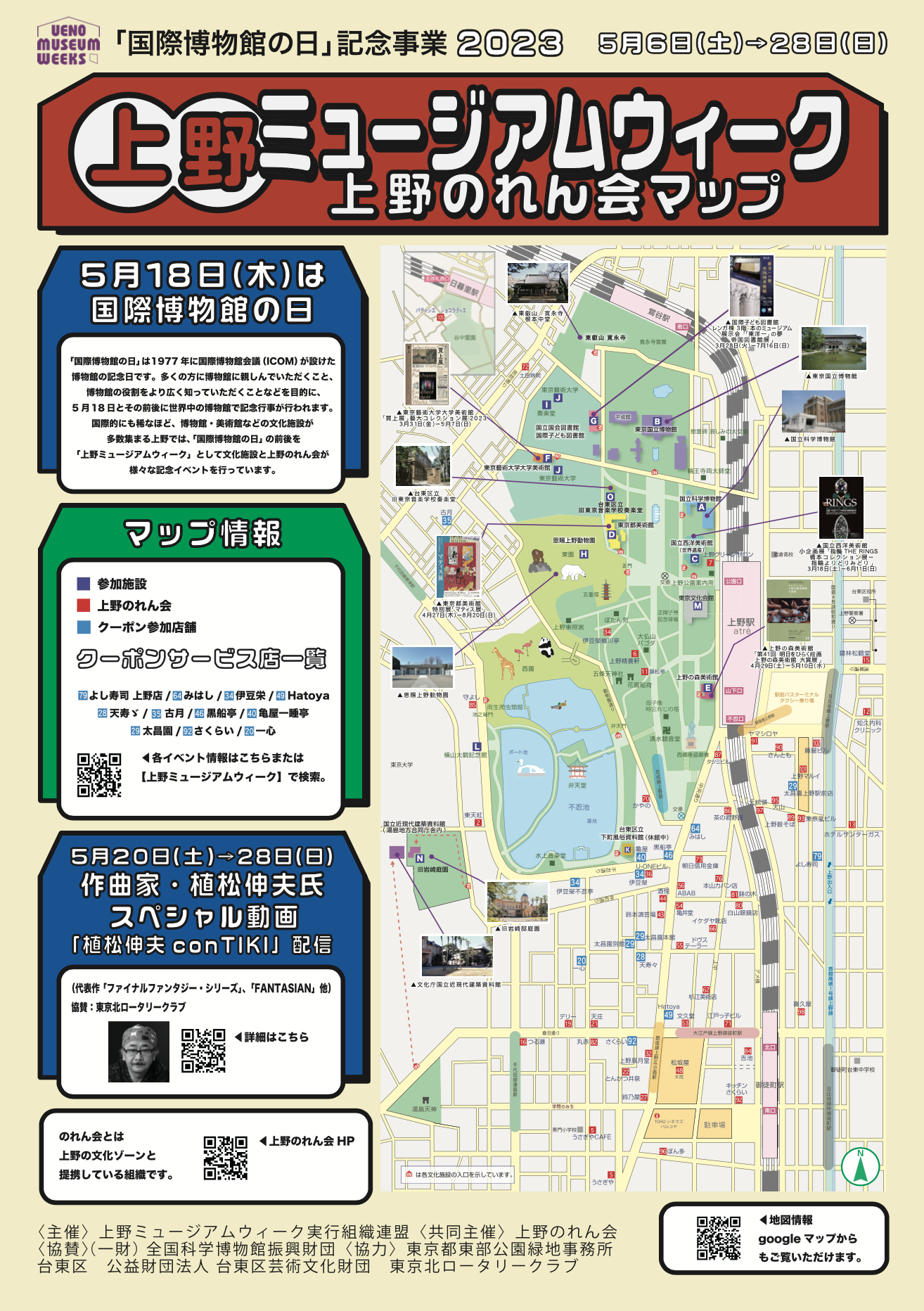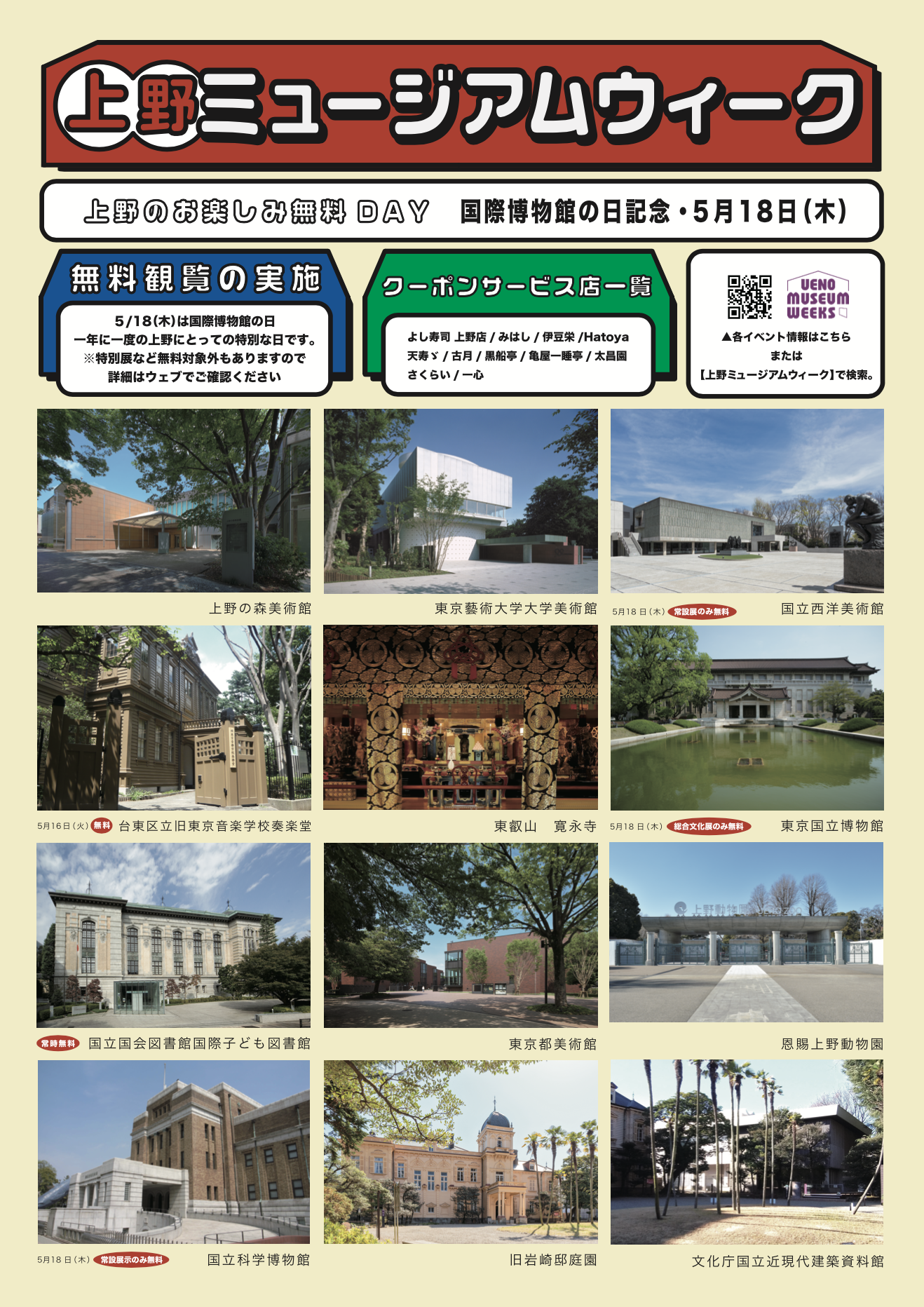 ■Overview■
International Museum Day 2023 Ueno Museum Week
Period: Saturday, May 6, 2023 to Sunday, May 28, 2023
Venues (Participating Facilities/Organizations): Tokyo National Museum/National Museum of Nature and Science/National Museum of Western Art/Tokyo University of the Arts University Art Museum/Tokyo Metropolitan Art Museum/Tokyo Metropolitan Ueno Zoo/The Ueno Royal Museum/Sogakudo of the Former Tokyo Music School/ Former Iwasaki Garden/National Museum of Modern Architecture/International Library of Children's Literature, National Diet Library/Toeizan Kan'eiji Temple (random order)
*Some days closed during exhibition period
Organizer: Ueno Museum Week Executive Organization Federation
Co-organizer: Ueno Norenkai
Sponsored by: Japan Science Museum Promotion Foundation
Cooperation: Eastern Tokyo Parks and Green Spaces Office, Taito City, Taito City Arts Foundation, North Tokyo Rotary Club
Official site: http://www.ueno-mw.com/
---
---
■ Commemorative event ■
From May 20th (Sat) to May 28th (Sun), a special video of composer Nobuo Uematsu, known for works such as "Final Fantasy Series" and "FANTASIAN", will be streamed. For more information, please visit the official website of Ueno Museum Week.
■ Free Coupons for Fun in the City ■
During the period from 4/26 (Wednesday) to 5/19 (Friday), you can receive various services by presenting a screen displaying the coupon page of the official website or a printout of the coupon page at the following stores.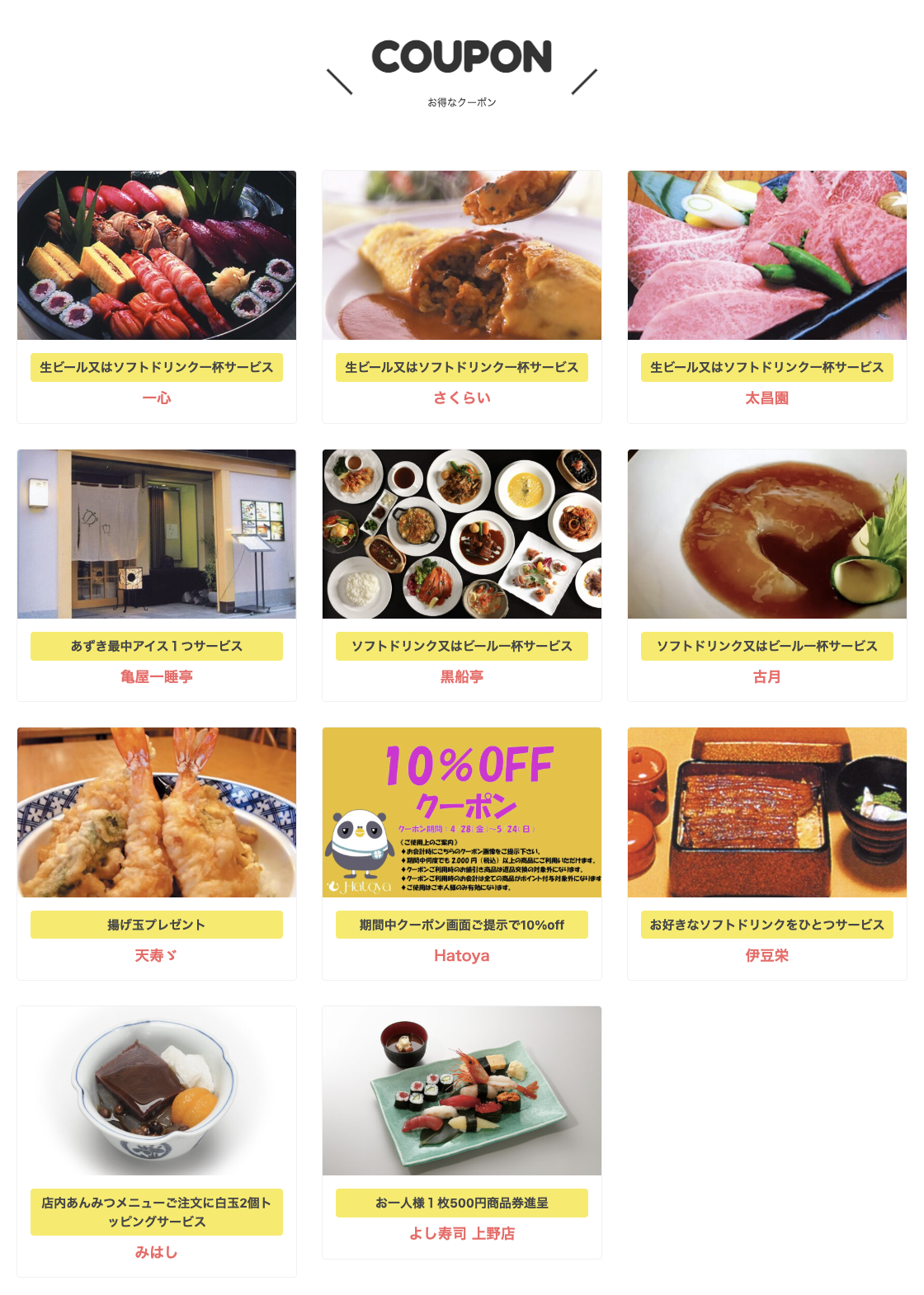 [Participating stores] ​
Yoshizushi Ueno, Mihashi (anmitsu), Izuei (eel cooking), Hatoya (women's clothing), Tenju (tempura), Kaiseki Chinese cuisine Ueno Ikenohata Furutsuki, Western food Kurofunatei, Kameya Issuitei (grilled kabayaki and seasonal vegetables) Cuisine), Yakiniku Taishoen, Carefully Selected Western Cuisine Sakurai, Sushi
【How to Use】
Present the UMW2023 official flyer
Present a printed version of the "Coupon" page on the official website
● Show the screen of the "Coupon" page on the official website on your smartphone, etc.
*1 presentation per person
* Coupon service cannot be used together.
■What is International Museum Day?
International Museum Day is a memorial day for museums established by the International Council of Museums (ICOM) in 1977. Commemorative events will be held at museums around the world on and around May 18, with the aim of making museums more familiar to many people and making the role of museums more widely known. In Ueno, where many cultural facilities such as museums and art galleries are gathered, which is rare in the world, every year before and after "International Museum Day", cultural facilities and Ueno Norenkai hold various commemorative events as "Ueno Museum Week". I'm here.
■Composer Nobuo Uematsu special video "Nobuo Uematsu con TIKI" distribution■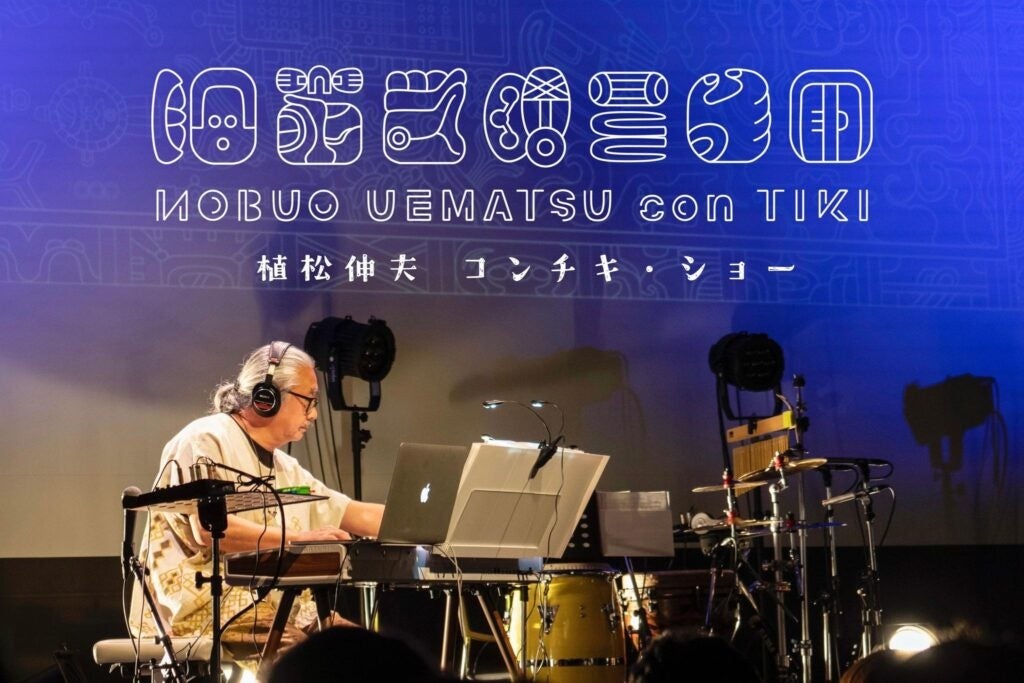 As a commemoration of the special participation, a children's concert will be held at Kuromon Elementary School in Taito Ward, Ueno on May 17 (Wednesday). The video and the original video produced by special editing will be distributed from May 20th to 28th.
■Profile■
Nobuo Uematsu
Composer
Representative of Dogyear Records Co., Ltd.
Representative of Smile Please Co., Ltd.
He has worked on numerous game music, including the role-playing game "Final Fantasy" series, which has sold over 100 million copies worldwide.
His achievements were not limited to game music, and he provided Faye Wong with the theme song "Eyes On Me" for "Final Fantasy VIII", which was the first game music achievement at the 14th Japan Gold Disc Awards in 1999. Awarded "Song of the Year (Western music category)". She also provided a single song "Kiss Me Goodbye" to Angela Aki, who is now extremely popular as a female singer.
In May 2001, he was introduced as one of the "innovators" in music in "Time 100: The Next Wave-Music" of the American "Time" magazine. Selected as one of the "100 Japanese people the world respects" by "Newsweek" magazine. In 2013, the "Final Fantasy" soundtrack won 3rd place in the ranking "Hall of Fame", which is voted by the listeners of the British classic radio station "Classic FM". In 2014, he received a request to compose music for the official movie of Ise Jingu Shrine, and provided the song "Ise no Misuzu no Mori no Miya".
In recent years, he has held orchestra concerts and world tours with his own band "EARTHBOUND PAPAS" in Japan and around the world.In addition to solo and band performances, he has performed live readings of "The Story of Brico", for which he was in charge of the story and music. He held the "Nobuo Uematsu conTIKI SHOW", which included performances in various formats, and his performance activities also attracted attention.
[Representative work]
Soundtrack works:
<Game> "Final Fantasy" series, "FANTASIAN", "Lost Odyssey", "Blue Dragon", "Last Story", "Terra Battle", "Fantasy Life", "Granblue Fantasy", etc.
<Anime> "Guinsaga" and others
CD works:
<Band>『Octave Theory』『DANCING DAD』(EARTHBOUND PAPAS) etc.
<Solo Project> "Nobuo Uematsu's 10 Short Stories" etc.
Music provided by:
NHK Minna no Uta "Thousand Flowers Thousand Sky" WOWOW Omnibus Drama, "Fujiko F. Fujio's Parallel Space Episode 6 Bokura Republic"
Music provided by Ise Grand Shrine "Ise no Misuzu no Mori no Miya"
https://www.youtube.com/watch?v=kqIMaBgqZ2w
others:
Appearance on TV Asahi "Untitled Concert"
■Ueno Norenkai■
Hana-no-kumo and Ueno are representative of Oedo Konokata's entertainment district. Place of origin of Meiji arts and culture. Ueno Norenkai is a coalition of about 100 famous shops in Ueno. Since its founding in 1959 (Showa 34), with the aim of rediscovering the cultural traditions of this area, the town magazine "Ueno" has been published monthly. Volume 705 (as of April 2023).
◎Contact us
Secretariat of the Federation of Organizations for Ueno Museum Week
TEL 03-3833-8016 FAX 03-3839-2765 (Ueno Noren Kai weekdays 10:00-17:00)