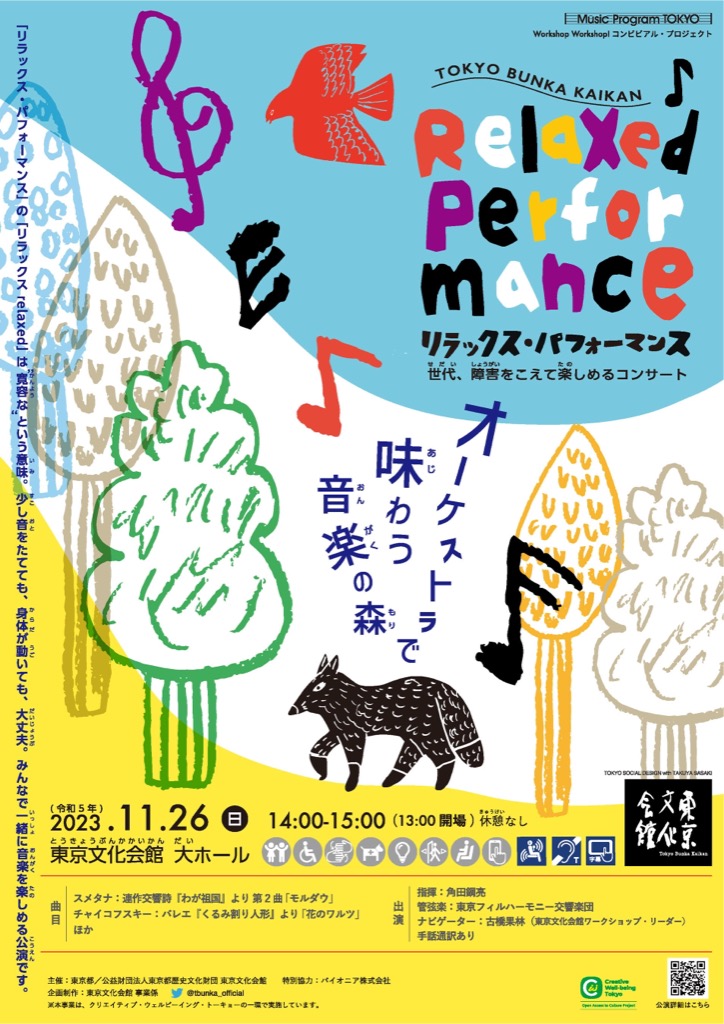 "Relaxed" means "tolerant." Even if you make a little noise or move your body, it's okay. This is a performance where people with developmental disabilities or autism who are worried about listening to music in a hall can enjoy the music together with peace of mind.
In order to deliver art culture and well-being to all people, and to realize a society where everyone can live a lively life in their own way, Tokyo Bunka Kaikan is a place where diverse people, regardless of disability, age, or social background, can participate in music and art activities. We are promoting the "Convivial Project" with the aim of having people participate and have fun together.

As part of this effort, we will hold "Tokyo Bunka Kaikan Relax Performance – A concert that can be enjoyed by people of all ages and disabilities" on Sunday, November 26, 2023.

"Tokyo Bunka Kaikan Relax Performance" started in 2020. This is the first time in three years that the event will be held in a large hall. With the theme of "Taste the Forest of Music with an Orchestra,'' we will deliver pieces related to nature and forest creatures performed by the Tokyo Philharmonic Orchestra, conducted by Kosuke Tsunoda.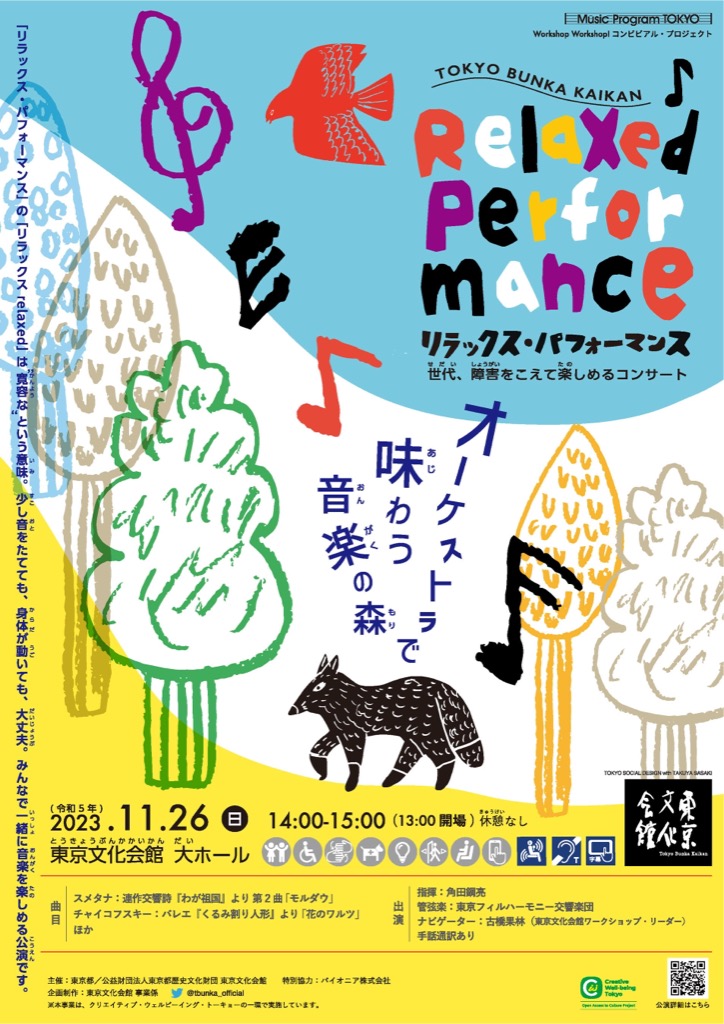 Tokyo Bunka Kaikan Relaxing Performance ~A concert that can be enjoyed by people of all generations and disabilities~
Unlike regular performances, relaxing performances are performances that allow people of all ages to enjoy music with peace of mind, regardless of their disability or generation. The word "relaxed'' in relaxing performance means "tolerant,'' and it is a form of performance that has become established in Europe and America in recent years.
People who are worried about traditional music listening in theaters and music halls due to developmental disorders or autism, people who think that "appreciation etiquette is difficult to attend,'' people who are new to classical music, and people who have hearing concerns. We have prepared various ideas and support so that everyone can enjoy it together.
○Do not completely dim the lighting in the audience seats.
○If you need a break during the performance, you can go outside the audience seats. You can return to your seat mid-way.
○There is a free area where you can sit if you find it difficult to return to your seat or if you would like to change seats temporarily.
○ Approximately three weeks before the performance, the program and guide for families and caregivers will be published on the website.
○This is a performance with easy-to-understand navigation for first-timers.
○For those with hearing loss or hearing loss, we have sensory acoustic seats where you can feel the music through vibrations, hearing loop seats that effectively transmit stage sounds to hearing aids and cochlear implants, and subtitle tablets for rent.
○Sign language interpreters are available (at the reception, inside the venue, and during talks on stage).
○Admission is possible from the age of 4.
---
---
●Flyers and programs are produced in collaboration with TOKYO SOCIAL DESIGN and artist Takuya Sasaki.
[Performance information]
https://www.t-bunka.jp/stage/19195/
Date and time: Sunday, November 26, 2023, 14:00-15:00 (Doors open at 13:00) No break
Venue: Tokyo Bunka Kaikan Large Hall (in front of JR Ueno Station Park Exit)
[Appearance]
Conductor: Kosuke Tsunoda
Orchestra: Tokyo Philharmonic Orchestra
Navigator: Karin Furuhashi (Tokyo Bunka Kaikan Workshop Leader)
Sign language interpreter available

[Track list]
Ronbi: Copenhagen Steam Locomotive Gallop
J. Strauss II: Polka "In the Krapfen Woods"
Smetana: 2nd "Moldau" from the symphonic poem cycle "My Fatherland"
Elgar: From "Children's Magic Wand" Suite No. 2
Song 3 "Moth and Butterfly", Song 5 "Tame Bear", Song 6 "Wild Bears"
Rossini: Storm music from the opera "The Barber of Seville"
Anderson: Sledding
Tchaikovsky: "Waltz of the Flowers" from the ballet "The Nutcracker"
【ticket】
S seat 2,750 yen (1st floor/wheelchair seats, wheelchair transfer seats, viewing support seats available)
A seat 1,650 yen (2nd floor)
Eligibility for viewing support seats: People with hearing impairments, their families, and caregivers (*If there are any support seats remaining on the day of the performance, people with normal hearing can also use them.)
Now on sale at Tokyo Bunka Kaikan Ticket Service and other locations.
*Wheelchair seats and wheelchair transfer seats are available only through Tokyo Bunka Kaikan Ticket Service (telephone/counter).
*Viewing support seats are available only through the Tokyo Bunka Kaikan Ticket Service (telephone, counter, web).
[Information about viewing support seats]
For this performance, we have prepared a system that allows hearing-impaired people, their families, and caregivers to watch together.
●Experiential acoustic seats
Sensory sound system "Body Sonic"
A pouch with a built-in vibration device and a Zabuton cushion. With these systems, vibrations are transmitted through the body, allowing people with hearing impairments (those who use hearing aids or are partially hearing loss) to hear the vibrations along with the sound coming from headphones or hearing loops (magnetic loops). You can enjoy music with your whole body. Deaf people who were born deaf can only enjoy music through vibrations. [Provided by Pioneer Corporation]
●Hearing loop seats
By using a "hearing loop" (also known as a "magnetic induction loop" or "magnetic loop"), audio through a microphone can be transmitted directly to a hearing aid or cochlear implant, allowing you to hear voices and music clearly. can. The loop sound can be heard with a hearing aid or cochlear implant in T mode, or with a dedicated receiver.
Please check in advance whether your hearing aid or cochlear implant is compatible with T-mode and how to switch to T-mode before purchasing your ticket. (Some manufacturers and models do not support T mode.)
*If you would like to rent a dedicated receiver, please purchase a ticket that says "Receiver rental is available." Please note that the number is limited.
●Portable subtitle seat
Using a small tablet device, the contents of the workshop leader's progress (speech) can be transcribed and viewed at hand.
For this performance, each person will be loaned a special tablet* that has been treated to block out light, and the content of the talk, song titles, announcements in the venue, etc. will be distributed in text format.
*"UDCastLIVE'' An application that provides subtitles as the stage progresses during plays and performances.
—————————-
◎"Aiming for a society where all people can interact through music"
At Tokyo Bunka Kaikan, we are working on a variety of initiatives that lead to social inclusion, with the aim of realizing a pluralistic and cohesive society through art.
https://www.t-bunka.jp/about/on_stage.html