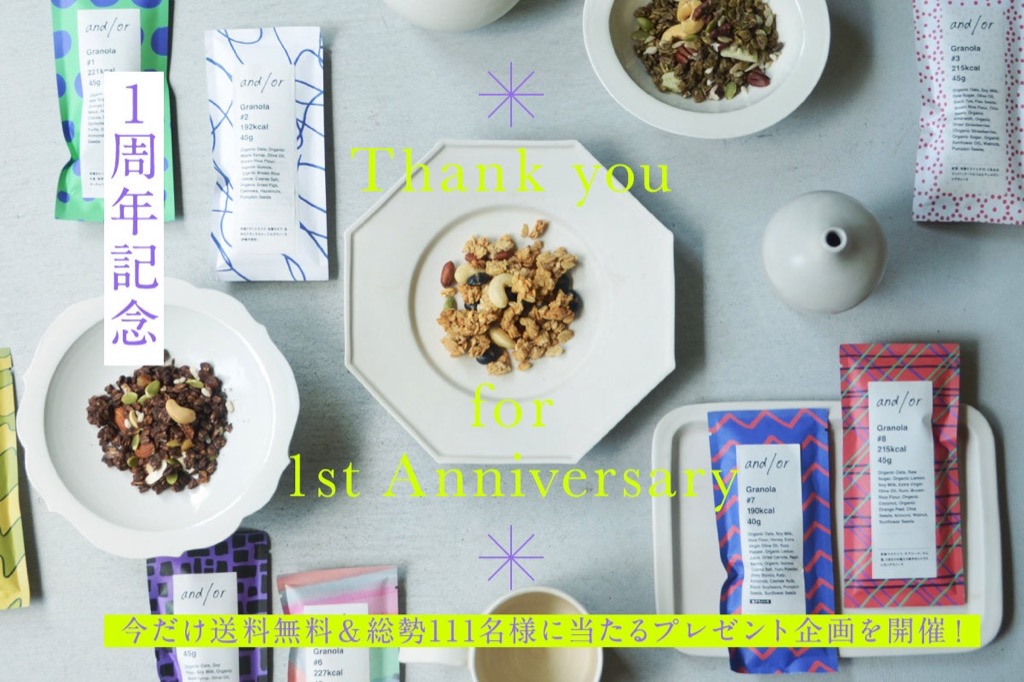 "and/or" will celebrate its 1st anniversary as an online store on September 11, 2023. #01 chocolate ranks first in the annual popular flavor ranking, and #03 black tea ranks second! The most popular salty flavor was #04 Salt and Pepper.
ANDOR Co., Ltd., which operates granola "and/or GRANOLA" that is supervised by a registered dietitian and designed to help you create new eating habits, will carry out three commemorative projects to express gratitude for the first anniversary of the online store. ① Free mail shipping campaign ② Special gift campaign will be held, and ③ Organic dried fruits, which have been requested the most throughout the year, will finally be sold by weight.
And/or GRANOLA, a granola product that designs new eating habits under the supervision of a registered dietitian, will celebrate its first anniversary on September 11th. This time, we will carry out three commemorative projects to express our gratitude for the 1st anniversary.
1st "Free Mail Shipping Campaign"
During this period, you can purchase mail-bin items for free when shopping on the online store. Free shipping for up to 2 boxes. You can send up to 7 pieces of granola and 500g of organic dried figs in one box. If you haven't had a chance to try and/or granola, if you want to try a new flavor, and of course if you are a repeat customer, please take this opportunity to buy it. It is recommended to buy in bulk as it has a shelf life of about 3 months from the date of manufacture.
【Implementation period】
From September 11th (Monday) to September 30th (Saturday)
Part 2: "Gorgeous gift project for a total of 111 people to show our gratitude"
We will be holding a gift campaign to express our gratitude for our 1st anniversary. If you like and follow and/or's Instagram or apply from the website, you will be entered into a lottery to win granola, organic dried figs, and a yumiko iihoshi porcelain wine glass that is perfect for enjoying granola. Please see the 1st anniversary special site for details.
▼1st anniversary special site▼
---
---
https://and-or.tokyo/pages/1anniv
Part 3: "Organic dried fruits sold by weight! Start with organic dried figs"
We will start selling organic dried fruits by weight, which has been the most requested item at physical stores over the past year. This time, we will start selling organic dried figs by weight, which are very popular and are distributed at physical stores. #02 Maple granola also contains figs, which have a soft and rich flavor and contain calcium and dietary fiber, which are good for women. Since these are JAS certified organic dried fruits, you can safely, safely, and deliciously add nutrients that are good for your body to your daily life.
From September 25th, it will be sold in 50g units at online stores and physical stores. You can also purchase a combination of granola and figs. In the future, we plan to increase the variety of organic dried fruits.
and/or Looking back at the 1st anniversary & popular flavor ranking for the year
Since we opened our online store on September 11, 2022, and/or has been able to celebrate its 1st anniversary thanks to the support of various people and customers.
In November, we opened a physical store as a manufacturing and sales space in Ueno Sakuragi, near Ueno Park, Yanaka, and Nezu, and began sales while talking face-to-face with customers for the first time, and have continued to sell at various locations since then. I was allowed to. We will be standing in a dream-like location, holding POPUP events at department stores such as Isetan Shinjuku store and retail miscellaneous goods stores, starting handling at Hoshino Resorts, hotels, wineries, and cafes, and collaborating with brands. I am able to do this.
The variety of flavors expanded from 5 types when it opened to 8 types within a year. The popularity ranking for the past year is
1st place: #01 chocolate, 2nd place: #03 black tea, 3rd place: #02 maple, 4th place: #04 salt and pepper, 5th place: #05 rosemary
This is the result. Among granola, the classic #01 chocolate ranked first for the year, but for the past three months, #03 black tea has been the most popular. and/or plans to continue developing new flavors in the future.
What is important to us at and/or is to provide opportunities for people to enjoy doing things that are good for their health. Healthy habits are difficult to maintain if they aren't fun. Therefore, and/or offers 8 types of granola flavors and a total of 30 types of package designs, designed to add the fun of selecting your favorite flavor and pattern to your eating habits. Additionally, each serving is packaged in one piece, which helps prevent overeating and reduces food waste.
About future initiatives
In the future, and/or will continue to expand its efforts based on the value of "providing people with a one-stop diet that helps them stay healthy.''
– Granola sold by weight
– Expansion of gift sets
– Expansion of products
– Expansion of wholesale sales
We plan to implement the following. In addition, and/or offers a service that uses its unique "Granola Diagnosis'' to provide advice from registered dietitians and recommend granola that has the nutrition you need based on each person's health concerns. In the future, we would like to implement "regular purchase sales tailored to your concerns'' based on the results of "Granola Diagnosis.''
About and/or
[Six features of and/or GRANOLA]
1: A registered dietitian will suggest the best granola and dietary habits to suit your physical condition and lifestyle habits.
2: Each serving is individually packaged, and there are 30 different package designs.
3: Uses highly nutritious ingredients that have been attracting attention in recent years, such as superfoods, cereals, brown rice flour, and soybean flour. No preservatives, colors, flavors, artificial flavors, artificial sweeteners or genetically modified foods.
4: We offer salted granola that can be eaten as is, including salt, pepper, and rosemary.
5: Suitable for those with dietary restrictions such as gluten-free, vegan, sugar-free, and dairy-free.
6: Engage in environmental protection and social contribution activities such as using organic ingredients and additive-free ingredients, reducing food loss, and using eco-friendly materials.
・and/or official website
・and/or Instagram
https://www.instagram.com/and_or.tokyo/
Company Profile
Company name: and/or Co.,Ltd.
Established: June 23, 2022
Address: 1st floor, 1-4-6 Ueno Sakuragi, Taito-ku, Tokyo 110-0002
Representative: Yuka Moritani
Capital: 2 million
Business details: Planning, manufacturing, purchasing, and sales of foodstuffs and other products
URL: [ https://and-or.tokyo](https://and-or.tokyo/)
Contact information: info@and-or.tokyo