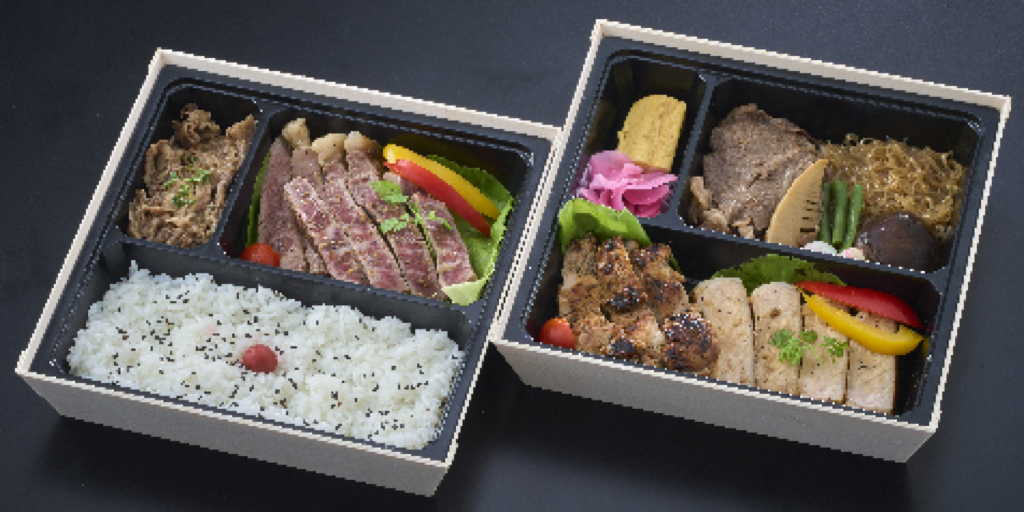 November 8th (Wednesday) – November 28th (Tuesday) / Daimaru Tokyo Store Basement Food Hoppe Town
[Special page] https://www.daimaru.co.jp/tokyo/topics/akinokourakubento.html
2023 is said to be a warm autumn, but the mornings and evenings are getting cooler and autumn is deepening. This autumn, there are no restrictions on movement, so we expect many people to go out during the tourist season. The Daimaru Tokyo store, which is directly connected to Tokyo Station and sells about 1,000 types of bento boxes throughout the year, sells bento boxes that are a little more luxurious and luxurious than usual, perfect for the tourist season, as well as seasonal specials made with autumn ingredients. Approximately 30 types of bento boxes will be on sale for a limited time. Among them, we will introduce 14 recommended tourist bentos this fall.
Luxurious! luxury! The 10,000 yen ultimate bento is now available for the first time!
<Nihonbashi Hiyama> Hiyama "Kiwami" All-Star Bento 10,000 yen
Hiyama is a butcher shop that has continued to build Japanese Wagyu beef culture in Nihonbashi Ningyocho. A luxurious assortment of 6 types of popular meats, including the rare Chateaubriand and Tokyo X pork loin.
*Reservations can be made from November 8th (Wednesday) until the day before the delivery date, and will end as soon as supplies last. Only 5 meals are scheduled each day.
<Tsukiji Suzutomi Sushitomi> Extreme natural tuna 10,000 yen
Show your true potential as a tuna wholesaler! This is a three-tiered jug made with all natural tuna, made possible by a tuna specialty store. You can enjoy tuna to the fullest, from "nigiri'' to "chirashi'' and even fried foods.
*Reservations can be made from November 8th until the day before the delivery date.
*10 meals each day
Which bento would you like to try? ? 10,000 yen ultimate bento showdown with Matsuzaka Ueno store!
Each store will develop and sell one "Kiwami Bento" in each of the two major categories, meat and fish, priced at 10,000 yen including tax. Customers will be asked to vote on which restaurant's "Kiwami Bento'' they would like to try in each meat and fish category.
Match schedule
---
---
11/8 (Wednesday) – 11/19 (Sunday) Bento sales, customer voting period *Product introduction photos will be displayed at both stores.
Results will be announced from November 22nd (Wednesday) to November 28th (Tuesday)!
Voting summary
Daimaru Matsuzakaya card members, Daimaru Matsuzakaya point card members, and Daimaru Matsuzakaya app members who make a purchase of 500 yen or more (tax included) at the prepared food/lunch box section of Daimaru Tokyo store and Matsuzakaya Ueno store (both registered and If you have already registered as a member, we will give you a lottery ticket to try out both the meat and fish categories! Please write down the lunch box you think you would like and drop it in the voting box. From those who vote, 5 people from each store will be randomly selected to receive a 10,000 yen Daimaru Matsuzakaya gift certificate!
In addition, this autumn limited holiday lunch box is now available!
<Aji no Umebachi> Yonezawa beef/Yamagata beef "autumn" bento 3,400 yen
Yonezawa beef has a garlic sauce flavor, Yamagata beef has a truffle salt flavor, and you can compare the two flavors with a steak.Yakiniku is Yonezawa beef finished with soy sauce sauce, so you can enjoy three meat flavors!
*10 scheduled times each day
<Beef tongue Kanezaki> Whole beef tongue luxury bento 5,400 yen
A tourist lunch box full of beef tongue, including thick-sliced beef tongue steak, thinly sliced salty, miso-flavored, and even soft boiled beef tongue!
<Creative Sushi Restaurant Takimoto> Gourmet Pretty Mille-feuille 1,595 yen
A pretty size mille-feuille perfect for vacations. Although the size is pretty, there are plenty of ingredients and it's filling. A treasure box of the sea with the popular salmon roe, snow crab, green onion, sweet shrimp, chestnuts, and grilled Spanish mackerel!
*Scheduled number of tickets each day: 50
<Shiretoko Sushi> Junihitoe 1,800 yen
Chirashizushi with 12 kinds of ingredients: marbled herring, salmon, conger eel, flounder, grilled red sea bream, herring roe, grilled salmon, squid, northern shellfish, crab, and egg.
<Kaneko Hannosuke> Tenmusu – Orizume – 1,080 yen
Enjoy the popular white and black tempura all at once! The salty taste is spicy and spicy, and the sauce tastes like the sweetness and flavor of the rice bowl sauce!
*10 meals scheduled each day
<Ginza Aster> Autumn vacation lunch box 1,300 yen
A bento box with sweet and sour pork, chili shrimp, fried chicken, pork shumai, seasonal chestnuts, ginkgo nuts, and sweet potatoes.
*10 scheduled times each day
<Paul Bocuse Deli> Mushroom Shariapin Sauce Extra Thick Hamburger BENTO 918 yen
A hearty hamburger steak served with the popular Chaliapin sauce and autumnal mushrooms.
*Limited to 20 pieces each day
<Kanda Myojin Shita Miyabi> Autumn Yu bento 1,242 yen
Matsutake mushrooms, mushroom rice, salmon, and eggplant dengaku. This is a seasonal item with plenty of boiled food.
<Merchen> Autumn triple sandwich 734 yen
Autumn triple sandwich with pumpkin salad, salmon, and persimmon!
<Western Ginza> Autumn tourist lunch box 1,944 yen
A limited lunch box only available this time of year that includes "crab pilaf" and "beef fillet cutlet"!
<Nadaman> Two-tiered matsutake mushroom rice and crab rice 2,997 yen
This is a dish where you can enjoy the flavors of autumn, "Matsutake Gozen'' and "Crab Gohan.''
*Until November 23rd (Thursday) 30 copies scheduled each day
<Eashion> Autumn eashion assortment 1,280 yen
A recreational bento box where you can enjoy a variety of side dishes such as fried oysters with the taste of autumn and fried saury Tatsuta! Eashion's popular Salmon Harasu is also available!
*28 meals each day from November 9th (Thursday) to November 18th (Saturday)
*All prices include tax.