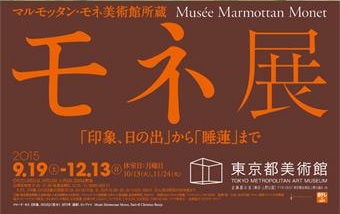 The Marmottan Monet Museum in Paris houses a collection of works compiled and enjoyed by the great Impressionist painter Claude Monet (1840-1926) until his death at the age of 86. This exhibition will present some 90 pieces primarily from this collection, which the artist's son, Michel Monet, bequeathed to the Museum. Through portraits Monet made of his children at various ages, as well as portraits of Monet and his wife by his friend Renoir, landscapes Monet created during his travels, and works he painted in his late years when suffering from cataracts, the exhibition will explore Monet's profoundly rich creative world.
In his late years, Monet devoted himself to capturing the changing effects of light reflected in water. As he painted the gardens at his home in Giverny, he increasingly took the forms of water lilies and a Japanese bridge into abstraction and produced canvases of shimmering colors and light. These paintings rendered in his late years, often with bold brushstrokes, allow us to experience Monet's water garden through the artist's eyes.
---
---
The exhibition will also display for a limited period the painting which gave its name to Impressionism, Impression, Sunrise, originally part of the collection of Dr. Georges de Bellio, one of the first admirers of the Impressionist movement.
【Venue】TOKYO METROPOLITAN ART MUSEUM
【Dates】Sat. September 19 – Sun. December 13, 2015
【Hours】9:30-17:30 (last admission: 30min before closing time)
<Exceptions>
9:30-20:00:Fridays, Oct.31-Nov.2:
9:30-21:00:Fridays & Saturdays between Sept.19 and Oct.18, Sept.20-Sept.22, and Oct.11
【Closed】Mondays, Oct.13, Nov.24
<Exceptions>
Opens on Sept.21, Oct.12, Nov.2, Nov.23
【Admission Fees】
Adult 1,600yen / Student 1,300 yen / HS Student 800 yen / 65y.o. or older 1,000 yen
《Advance Tickets or Group of 20 or more people (per person)》
Adult 1,400yen / Student 1,100 yen / HS Student 600 yen / 65y.o. or older 800 yen
《Free of Charge》
– Junior high school students and younger children
– Physically challenged people and one accompanying person
Please bring identification to prove your status.