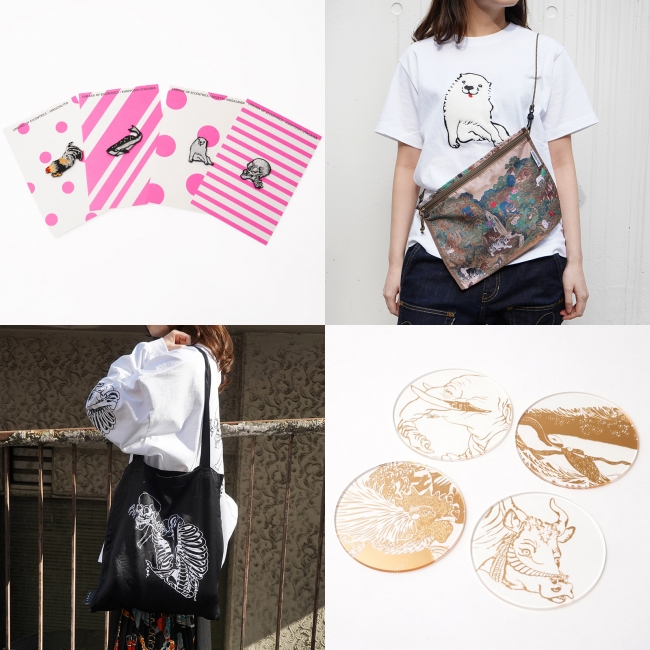 Parco Corporation developed collaboration products with a total of 4 brands "mintdesigns" "STOF" "IKUMI" "toumei" in commemoration of the "Fantasy genealogy Exhibition Edo Painting Miracle World" at the Tokyo Metropolitan Art Museum, "fantasy It is on sale on February 9 (Saturday) at "Michikar store online" operated by the venue and PARCO Corporation.
"Fantasy genealogy exhibition Edo painting Miracle world" Summary held here
"Fantasy Genealogy Exhibition Edo Painting Miracle World" is based on "Familiar Genealogy" published by the art historian and Yoshio Tsuji published in 1970. It is based on "Iwasa Keihoi", Mr. Iwasa Kanako, Kano Kano, Itaku Jakachi, Soga Hako, Nagasawa Ashizu, Utagawa Kuniyoshi This exhibition introduces the charm of Edo painting, which we met together with eight representative works including Shirahaku Hibikura and Shoichi Suzuki.
A T – shirt with a dog drawn on exhibition work Nagasawa Ashuki "White Elephant Black Cow Diamond Blossom" appeared from mintdesigns (mintdesigns) and STOF (stove).
IKUMI (Ikumi) created T – shirts and Skajan embroidered symbolic skeletons of Kotobuki Utagawa 's old inner back'.
Toumei (Toumei) has created a coaster etc. that each motif of Edo painted with a golden foil print.
It is a product that makes full use of the characteristics of Edo painting filled with a fantastic idea. Please enjoy this collaboration with the unique Edo painting on this occasion.
【Mitsukarushoa】
Select shop produced by Parco. Meets local, Meets culture is a SHOP product development project that sells while changing the theme of planning with young designers and popular writers. The product development project is named "Mitsukaru production room", and using the keywords of creators' ideas and cultural themes as the keywords, "original manufacturing" of original products is being disseminated.
Directly managed store
Mitsukar Store A Shibuya store, Mitsukal store online
Sister store
News tare by meetscalstore, acidgallery (Fukuoka PARCO Main building 1F)
Special medley by meetscalstore, acidgallery (Osaka · Lukua Ele 2F)
Fresh Center by meetscalstore, acidgallery (Shizuoka PARCO 1 F)
"Fantasy genealogy exhibition Edo painting Miracle world" Summary held here