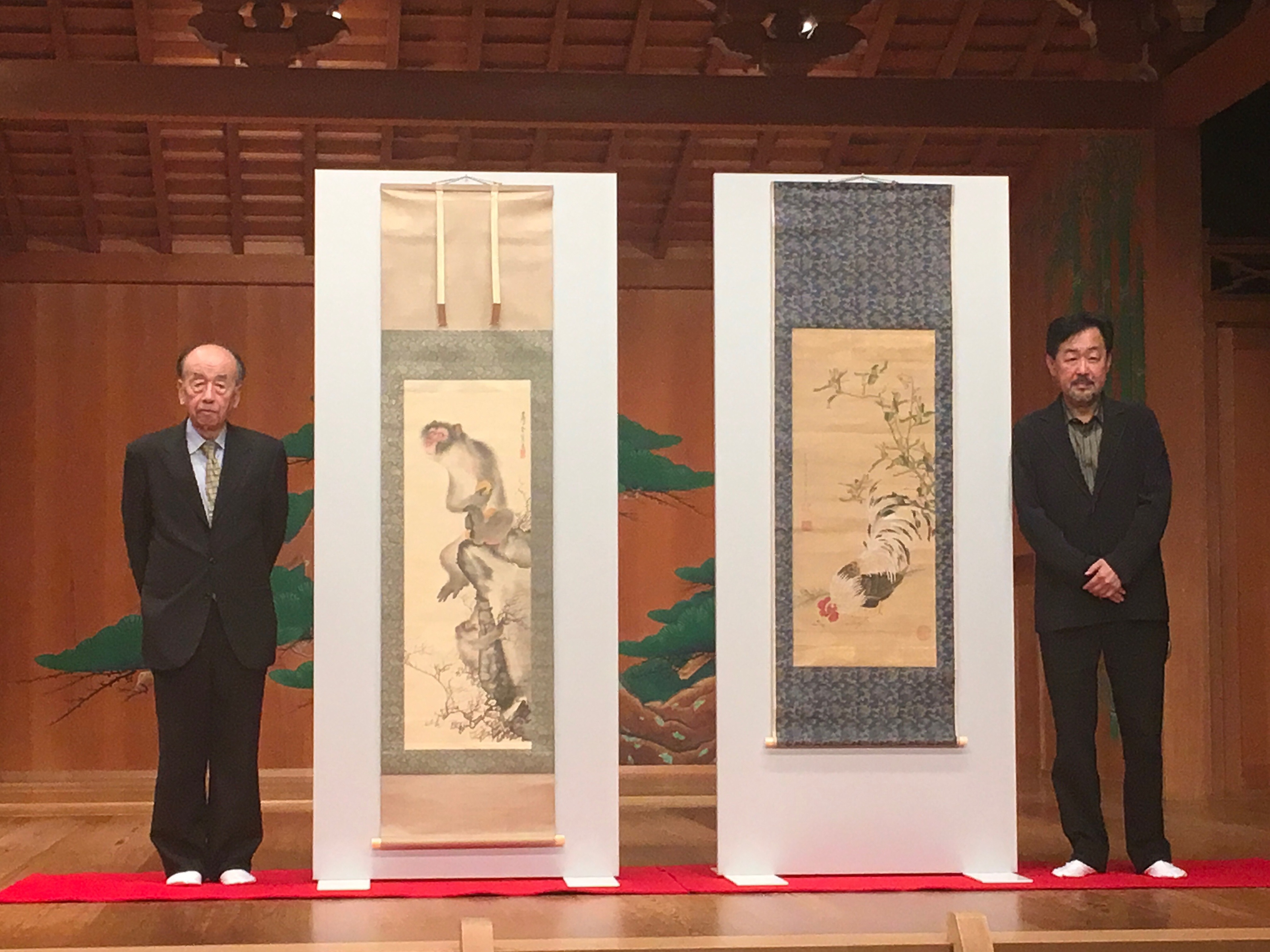 At the Tokyo Metropolitan Art Museum, "Fantasy Genealogy Exhibition Edo Painting Miracle World" will be held from February 9 (Sat) to April 7 (Sun) in 2019.
We recently participated in a press release held at Ginza SIX in the Kanze Noh theater on the third basement floor, so I will tell you how it is.
---
Exhibition gist
Art historian · Yoshio Tsuji's 1970 book "Genealogy of Fantasy". Introduced by this book was a lot of works depicting an unusual world with free and innovative ideas of painters who were considered to be sideways in the history of painting in the Edo era in the past.
---
---
Since then, after standing nearly half a century, these painters are gaining popularity due to the innovation that leads to modern times.
In this exhibition, in addition to six painters (Iwasa Keihoi, Kano Kano, Itaku Jakachi, Soga Jiaku, Nagasawa Ashizu, Utagawa Kuniyoshi) picked up in "Fantasy Genealogy", I will introduce Hakushaku Hikuru and Shoichi Suzuki .
Mr. Tsuji's "Genealogies of Fantasy"
"I felt that revitalization is necessary for the history of painting in the Edo era when a planar introduction was made vertically in the past schools.It is a painting with impact comparable with the spatiality of a foreign painting I found a number of paintings of the Edo era that overturned the concepts of Japanese art so far.It's a strange lineage of these paintings.It was written that I wrote this book At the age of 38. And now, at the age of 86, an exhibition based on his own work will be held, and I am excited about expectations. "
Highlights
It is a work of Jakuchu Ito whose memorable exhibition held in 2016. Jake Jukaku worked at the age of 40 years old. Looking at the part of hydrangea close to you, you can see that the contour line is not used. It is a quality that can withstand the increase of millimeter unit.

A work that triggered Mr. Tsuji to write "Familiar Genealogy". The rightmost person is also considered a self-portrait of Soga Ji-hak.

A work of Hakushaku Hizuru with impact that can not be forgotten once it is seen. It was characterized by bold expression and shocked the paintings of the 18th century Kyoto. Hizusuru exceeded 80 years old, finished this work nearly 2 m in length. The real thing will be impressive as well.

New work announcement
Two works to be released for the first time at this exhibition were exhibited this time. Both are the works found in the survey for this exhibition.
It is Nagasawa Ashizumi 's monkey skill figure drawing attention to monkey' s ridiculous expression, Ito Jakuchu It is believed to be the earliest work of his 30s, "a rooster rooster figure".

Left Nagasawa Ashige "Monkey Konkaki Figure" Silk Coloring Colored One Width 104.0 × 37.7 cm Middle Edo Era (18th Century) Private Collection
Right Ito Jakucho "Chicken rooster figure" Silk coloring coloring width 85.8 × 43.1 cm Edo period middle (18 th century) private collection
---
At this recital held at the Kanzo Noh theater, many interesting works were introduced and the expectations for the exhibition increased.
At last, in February 2019, works of fantasy made by painters called "Edo's avant garde" will gather at the Tokyo Metropolitan Art Museum.
I will tell you the following report in Kokosil Ueno, so do not miss it!
Outline of the exhibition
Exhibition name
"Illusion's Genealogy Exhibition Edo Painting Miracle World"
A session
February 9 (Sat) – April 7 (Sun) in 2019
Venue
Tokyo Metropolitan Art Museum Planning Exhibition Room
Closed day
Monday, February 12 (Tue)
* However, opening on February 11 (Monday · congratulation), April 1 (Monday)
Opening hours
9: 30 ~ 17: 30 (entrance is until 30 minutes before closing)
Night opening room
Friday, Saturday, March 23, Saturday, Saturday, April 6, Saturday, 9: 30-20: 00 (entrance is until 30 minutes before closing)
Admission fee
Advance ticket | general 1,400 yen / college student / vocational school student 1,100 yen / high school student 600 yen / over 65 years old 800 yen
Today's ticket | General 1,600 yen / college student / vocational school student 1,300 yen / high school student 800 yen / over 65 years old 1,000 yen
Group tickets | general 1,400 yen / college student / vocational school student 1,100 yen / high school student 600 yen / over 65 years old 800 yen
※ Group discount targets are 20 or more
※ Free for junior high school students and below
※ Person with handicapped person, notebook of love, care giver notebook, mentally handicapped health welfare notebook, bomb survivor health notebook and those accompanying people (up to 1 person) are free
※ On February 20 (Wednesday) and March 20 (Wednesday), those who are 65 years of age or older are free (proof of necessity) by Silver Day. Therefore, congestion is expected.
※ Please bring anything that can be proved
※ For details of various viewing tickets etc. to the special web site
Special Website
https://kisou2019.jp
contact information
03-5777-8600 (Hello dial)