The dinosaurs that no one has seen yet are coming! !
The biggest discovery in Japanese dinosaur research history
Unprecedented perfection about 80% of the whole body remains!
World's first release of whole body skeletal fossils with a total length of more than 8 m found in Hokkaido
*
※ Displaying the whole body skeleton at the exhibition is the world's first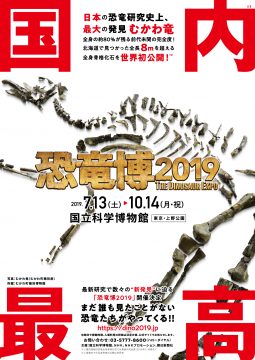 Exhibition name
Dinosaur 2019 The Dinosaur Expo 2019
Session
Saturday, July 13, 2019-October 14 (Mon.)
Venue
National Science Museum (Tokyo, Ueno Park) ※ There is no circuit exhibition
Ueno Park 7-20, Taito-ku, Tokyo 110-8718
access
A 5-minute walk from JR "Ueno Station" (Koenguchi)
10 minutes on foot from Tokyo Metro Ginza Line / Hibiya Line "Ueno Station" (Exit 7)
10 minutes walk from Keisei Line "Keisei Ueno Station" (front entrance)
There is no parking lot and bicycle parking lot on site.
Opening time
9 am to 5 pm (Friday and Saturday until 8 pm)
※ August 11 (Sun)-15 (Thu), 18 (Sun) until 6 pm
※ Admission is 30 minutes before each closing time
closing day
July 16 (Tue), September 2 (Mon), 9 (Mon), 17 (Tue), 24 (Tue), 30 (Mon)
Sponsored
National Science Museum, NHK, NHK promotion, Asahi Shimbun
Supervision
Manabe Makoto (National Science Museum Collection Center, Specimen Resource Center)
Academic cooperation
Kobayashi Kenji (Associate Professor, Hokkaido University Museum of Art)
Sponsorship
Dai Nippon Printing, Toyota Motor Corporation
Contact Us
03-5777-8600 (Hello dial)
Reception hours All day from 8 am to 10 pm
※ We may change about opening hours or closed days depending on future circumstances.
---