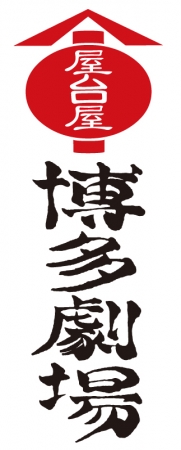 Omotenashi Group, a family restaurant company that handles the restaurant and bridal businesses (Headquarters: Ichikawa City, Chiba Prefecture, President: Taro Takenaga), is a theater-style tavern called "Yataya" "Hakata Theater Okachimachi Store" will open today on Friday, November 8th at 16:00.
<OPEN Commemoration> Customers with OPEN flyers distributed at stores will receive 10% off from the bill !!
---
---
Yatai-ya Hakata Theater is a theater-style tavern created by a brilliant, vibrant and stylish staff, with a realistic atmosphere that recreates the stalls of Nakashu based on the concept of "Kyushu Hakata Yatai Village".
Yatai-ya Hakata Theater Okachimachi store is the fourth store under the elevated store (Otemachi store, Marunouchi store, Shimbashi third store).
Leveraging the know-how of opening stores under the overpass so far, we have realistically reproduced the stalls in Nakasu to create a realistic interior.
In addition, "Genghis Khan Tavern Ram-chan ( https://ramuchan.jp/ )" opened on the same day will be able to use the "Street Store Membership" app as a sister brand, which will increase the recognition through synergistic effects. Ya Hakata Theater will contribute to the creation of a bright city through vibrant and vibrant sales.
< Characteristics of food stall Hakata Theater >
■ Stall shop Hakata theater signboard menu Iron pan dumplings
The dumplings are hand-wrapped every day in the shop, confined with the taste of meat and the sweetness of vegetables, and baked in an iron pan. The outside is crispy and the skin is crisp and the inside is juicy.
It is a signboard menu that is ordered by most customers who come to the store.
■ healthy, vibrant, smile full of stalls tavern
A complete reproduction of Nakasu's street village.
The vortex of hot air created by the clever staff, with the festival lion as background music. Please enjoy the atmosphere.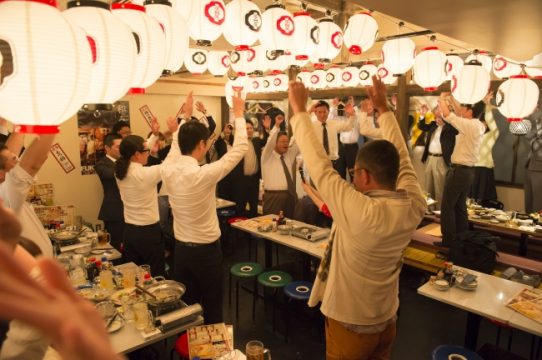 ■ glad benefits and fun store events of "application member like limited"
For app members, we plan events such as "Gyoza gift for the number of ages" and "Take-out plan".
There are many other events unique to the Hakata Theater that can be enjoyed by visitors, such as the challenge of 100 dumplings *.
* Challenge to eat 100 dumplings in 60 minutes. If successful, the dumpling fee will be free and you will be presented with an annual dumpling passport.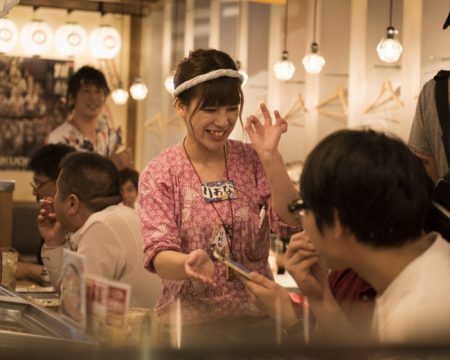 [New store basic information]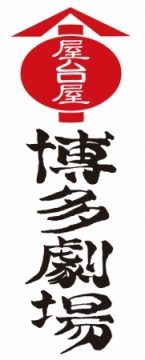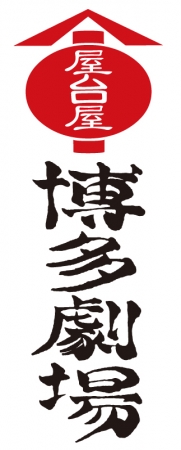 Store name: Yatai Hakata Theater Okachimachi
Opening date: Friday, November 8, 2019
Address: 5-20-15 Ueno, Taito-ku, Tokyo Second Okachimachi Bridge Overpass B
Access: 1 minute walk from JR Okachimachi Station South Exit (under the elevated station)
℡: 03-6803-2723
Business hours: 16: 00-24: 00 (LO 23:30)
Regular holiday : There is an irregular holiday (year-end and New Year holidays)
Number of seats: 71 (14 counter seats, 43 table seats, 14 bench seats)
Area: 27.36 tsubo
Average budget: 2,500 yen (normal average) 3,500 yen (banquet average)
* Smartphone payment PayPay is also available.
URL: https://hakatagekijo.com/
[ Outline of Family Dining Project ]
◇ Company name: Family dining project
◇ Location: Chiba Head Office, Itokawa City, Chiba 2-5-6 Itoshin Building 3F
Tokyo Office 3-5-12 Shiba Park, Minato-ku, Tokyo Hasegawa Green Building 3F
◇ Representative: Taro Takecho
◇ Business description: Multi-industry restaurant management / Bridal business
◇ Number of stores: Tokyo Chiba Saitama 56 directly managed wedding facilities 1 facility (as of the end of March 2019)
◇ Establishment: October 27, 1997
◇ Capital: 36.617 million yen (as of the end of March 2019)
◇ URL: http://www.ikkadining.co.jp/
It is "Japan's No. 1 Hospitality Group" with 20 years of business and sales of 7 billion yen (FY2019) annually in the restaurant and bridal businesses. Operates restaurants such as "Yataya Hakata Theater" and "Kokoro Mon Family" with over 300,000 app members. In 2012, we entered the bridal business with the "heart of hospitality" cultivated in the restaurant business as a weapon, and operate the wedding place "The Place of Tokyo" in front of Tokyo Tower. Established a popular ceremonial hall that won first place (as of March 1, 2019) in the " Tokyo Wedding Hall Comprehensive Point Ranking '' of " Wedding Park '', Japan's largest marriage preparation review information site in 7 years since its establishment It was. Going forward, we will aim to become a "leading company of hospitality" with a view to developing various businesses related to hospitality.