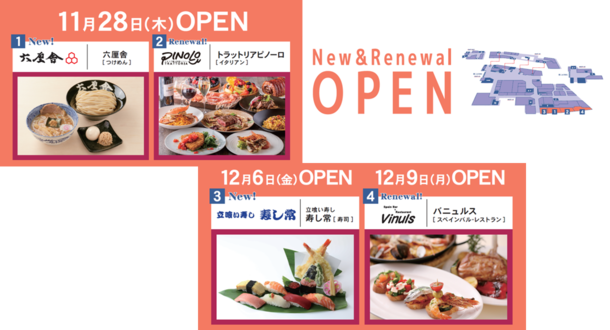 Atre Ueno (Location: Taito-ku, Tokyo), operated by Atre Co., Ltd. (headquarters: Shibuya-ku, Tokyo, President: Toshiro Ichinose), has moved the Ueno Park side restaurant zone to Thursday, November 28, 2019 Will be reopened one after another.
https://www.atre.co.jp/store/ueno/news/120096
■ Renewal overview
"Gathering Place-A space to gather in Ueno and connect Ueno-"
People visiting Ueno have a variety of purposes, such as mothers chatting at the cafe while dipping into the museum, couples going back on a date in Ueno Park, quick lunches for weekday office workers and squeezing after drinking, There are various scenes where restaurants are used.
Atre Ueno Park side restaurant zone has evolved into a space where people call people, with the concept of "Gathering Place-a space where people gather in Ueno and connect Ueno-" with a high affinity with the city. Renewal was done.
Aiming to be the best eating and drinking zone in the area that will become a symbol of "Ueno", a "restaurant city" together with neighboring zones.
[Ueno Park side restaurant zone shop information]
■ Rokutosha <Tsukemen>
---
---
11/28 (Thu) Open [Ueno area first store]
A very popular store of tsukemen that created a twilight style of tsukemen nationwide.
It features a thick soup that has been cooked for a long time.
Thick noodles that are not defeated by the thick soup are tightly entangled with the soup.
The style of serving fish meal on the paste is also Rokussha style.
Soup broiled with coconut powder is refreshing.
Once you eat it, everyone will be captivated.
■ Trattoria Pinolo <Italian>
11/28 (Thu) Open [New business format]
Arrange traditional dishes rooted in the Italian land in a contemporary style.
We will provide you with the Campari Nizmo that has been handed down on the plate.
Please enjoy the lively excitement with your friends along with carefully selected wines.
■ Tachi-eishi Sushi Sushi Sushi
12/6 (Friday) Open
Kotobuki always has the motto of "Keep delicious stomachs full", fresh live fish and fresh fish not only from Toyosu Market, but also from the fishing grounds in Japan, including Ajiro Fishing Port in Shizuoka Prefecture and Nagai Fishing Port in Kanagawa Prefecture. We offer to customers with sushi and tempura while stocking and fresh.
■ Banulus <Spanish Bar Restaurant>
12/9 (Monday) Reopened
A full-fledged Spanish Bar restaurant where you can enjoy the authentic Spanish atmosphere all day.
At lunchtime, you can enjoy a delicious lunch from a glass of wine with a variety of tapas that you can enjoy at home, as well as a paella lunch that is famous for Banyulus!
During dinner time, you can enjoy a wide selection of tapas, fish dishes, meat dishes, paella, reasonable quality wines and various drinks.
【Equipment outline】
■ "Atre Ueno" Facility Overview
Facility name: Atre Ueno
Location: 7-1-1 Ueno, Taito-ku, Tokyo
Opening hours: Shopping / 10: 00-21: 00 Restaurant / 11: 00-22: 30
* Some shops have different opening hours.
Number of floors: 2 floors above ground, some underground 1st floor
Store area: Approximately 6,500m2
Number of stores: 59 stores (as of November 21, 2019)
■ SC operating company overview
Name: Atre Co., Ltd.
Location: Ebisu Neonate 6F, 4-18-1 Ebisu, Shibuya-ku, Tokyo
Company established: April 2, 1990
Capital: 1,630 million yen
Representative: Toshiro Ichinose
Business description: Station building management and operation, etc.
Management facilities: Atre Ebisu, Atre Kawasaki, Atre Kichijoji, Atre Ueno, etc.