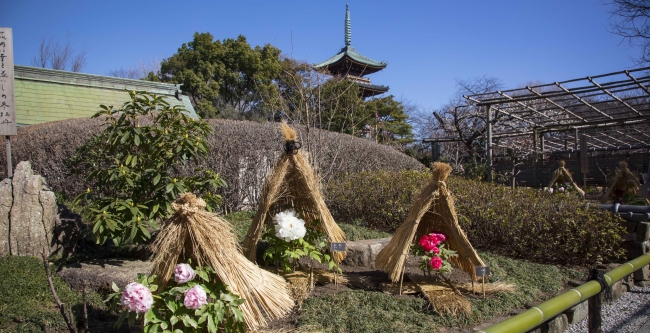 At Ueno Toshogu Shrine, located in Ueno Park and enshrining Ieyasu Tokugawa, between January 1, 2020 (Wednesday / holiday) and February 24 (Monday), approximately 200 winter botanical plants, shrines and five-storied pagoda, etc. "Ueno Toshogu Fuyu Botan" has been opened to add color to authentic Edo architecture.
"Warabotchi (straw fence)" has been applied, and 40 kinds of winter botanicals, 200 strains, are in full bloom.
Please come by all means.
■ One of the largest in the Kanto area "200 winter strains of about 40 species at all times"
During the opening period, you can enjoy more than 200 kinds of winter varieties, including popular varieties such as "Yachiyo camellia", "Shimanishiki" and "Yokan", and overseas varieties from China, the United States and France.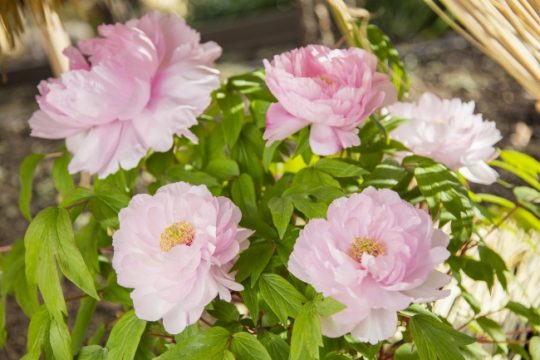 ---
---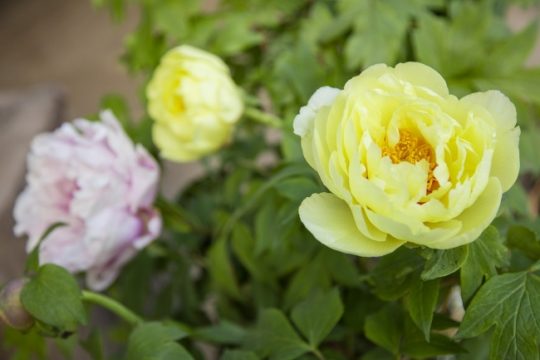 ■ We surpass cold by being wrapped in "warabotchi"
To protect from the harsh winter environment, the winter botanical garden during the opening of the park is wrapped in "warabocchi".
"Warabotchi" has various shapes and knots depending on the area, but since the time of the opening of the park, we have enjoyed the eyes of the viewer with a male knot using arashi or a decorative knot that imitates flowers such as plums.
■ Enjoy with authentic Edo architecture such as "Kan-Eiji Five-storied Pagoda"
From the inside of the garden, you can see the stone lanterns lined with the former Kanei-ji Five-storied Pagoda and the approach to Toshogu Shrine, and you can see the peony in an Edo atmosphere that cannot be tasted elsewhere.
In addition, when snow falls, it has a special taste, and the appearance of a botan standing steadily in the snow that falls steadily attracts the eyes of the viewer.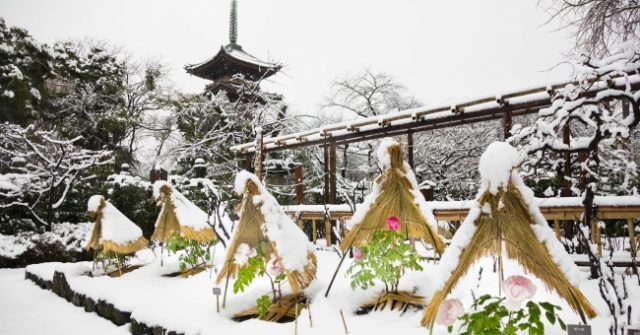 ■ Enjoy with the newly renovated Japanese garden
In the Japanese garden of Karesansui, which was newly established five years ago, fine white stones simulating the flow of water are laid, and rectangular cubic stones and stone bridges that resemble waterfalls also color the scene.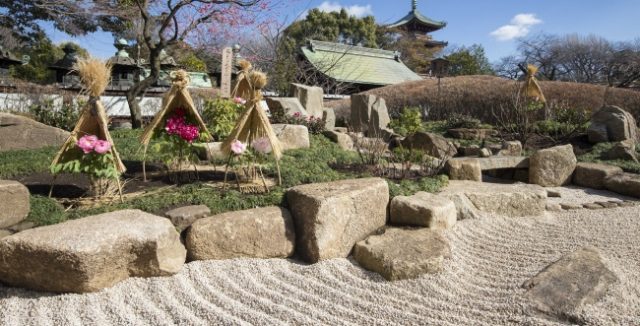 ■ The best time to see rowby, plum, and fukujusou
Various flowers and trees in the park, such as rowby and early blooming ume, from late January, and from mid-February, such as fukujuso and witch hazel, are at their best and add gorgeousness.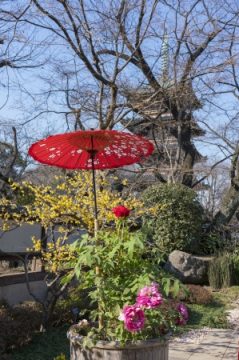 ■ "Winter button" and "Kan button"
There are two-stage varieties of peony that bloom in early spring and early winter, and among them, the one that blooms at a low temperature in winter is called "Kanbotan".
Due to the great impact of the climate, the flowering rate is low at less than 20%, making it extremely difficult to bloom.
On the other hand, what is bloomed using a special cultivation technique of controlling flowering in cold regions in spring and summer and adjusting the temperature in autumn to flower in winter is called "winter botan".
In winter when there are few flowers, "Winter Botan" is cultivated after spending a full two years cultivating the new year as a lucky flower.
The lovely appearance that blooms neatly under the straw enchantes the viewer.
[Overview of Ueno Toshogu Winter Botan]
Name: 38th Ueno Toshogu Winter Botan
Opening period: January 1, 2020 (Wednesday / holiday)-February 24 (Monday) * Open all day
Opening hours: 9: 30-16: 30 (Irien deadline)
Entrance fee: 700 yen for adults (junior high school students and over), 600 yen for groups (20 people or more), free for elementary school students and under, admission ticket common to Toshogu Shrine 1,100 yen
Address: 9-88 Ueno Park, Taito-ku, Tokyo 110-0007
TEL: 03-3822-3575 (Botan-en)
Access: 5 minutes on foot from JR Ueno Station Park Exit
5 minute walk from Keisei Ueno Station Ikenohata Exit
10 minutes on foot from Tokyo Metro Nezu Station Exit 2
URL: http://www.uenotoshogu.com/botan/