Food Kagoshima Fair Logo
Kagoshima City will collaborate with restaurants in Tokyo for one month from January 11 (Sat.) to February 8 (Sat.) 2020 to produce "Kurobuta", "Sakurajima radish" and "Kurosatsuma chicken". We will hold the "Food Capital Kagoshima" fair that offers creative Satsuma cuisine using ingredients grown in the magnificent and rich nature of Kagoshima.
This is the 4th time, and this time, 6 stores in the popular spot of sumo wrestling, Ryogoku-"Ryogoku-Edo NOREN", 4 popular stores in the Ueno / Okachimachi area where the Takamori Saigo statue stands, and "Satsuma specialty store" And 11 (SEGODON) stores participate.
In addition, Kagoshima City and Tsuruoka City, Yamagata Prefecture, which has celebrated the 50th anniversary of the Brotherhood of Brotherhood, will participate only for two weeks!
We offer menu using ingredients from Tsuruoka (Yamagata).
In addition, the long-established department store Matsuzakaya Ueno will also hold the Kagoshima Fresh Products Satsuma Shochu Fair to commemorate the event!
It will be a lot of events that you can enjoy twice or three times at once.
[Summary]
1.Event period
January 11 (Sat)-February 8 (Sat) 2020
* The Tsuruoka Fair will be held from January 18 (Sat) to February 2 (Sun) only in Ryogoku Edo NOREN.
2.Locations (to be held at three locations in Tokyo)
---
---
(1) -Ryogoku- Edo NOREN (6 stores)
Tsukishima Monja Moheji / Kabuki Tuna / Chanko Kirishima / Japan Bashi Yabu Hisa /
Monzen-chaya Naruguchi / Ryogokubashi Chabo
1-3-20 Yokoami Sumida-ku JR Sobu Line " Ryogoku Station '' adjacent to the west exit
(2) Ueno / Okachimachi area restaurants (4 stores)
Carefully selected western foods 3-40-7 Yushima, Bunkyo-ku 03-3836-9357
About the kitchen 6-floor, 3-27-3 Ueno, Taito-ku 03-6240-1648
Kyushu Riki 3-19-1 Ueno, Taito-ku 050-3461-4674
Japanese Bar Sashisuse Soso 2-10-7 Ueno, Taito-ku Kakikukeko Building 03-3836-1901
(3) Satsuma cuisine specialty " Satsuya (SEGODON) ''
2-13-20 Nakane, Meguro-ku Uchida Building 03-5726-9272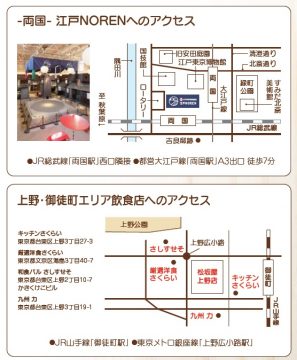 ◆ Introduction of fair menu (part)
(1) -Ryogoku- Edo NOREN (6 stores)
Eleven Japanese restaurants are gathered at Ryogoku Station based on the concept of "Enjoying the taste of Edo's food culture."
In the old station building of the historical Ryogoku station, a nostalgic, open-air space with an awareness of Edo townhouses spreads out.
A new attraction in Tokyo where you can experience the food culture and traditions of Edo by experiencing the appeal of Japanese cuisine.
(2) Ueno / Okachimachi area restaurants (4 stores)
Popular shops from Ueno / Okachimachi, one of Tokyo's leading downtowns, participate in the fair for the first time.
You can enjoy authentic Western food in a stylish restaurant.
"Kyushu Riki" where you can taste seasonal ingredients from Kyushu as well as Kagoshima in a calm restaurant.
A Japanese restaurant that is loved by downtown people who have a good tongue, "Washoku Bar Sashisuse Soso"。
Please enjoy the taste of the famous shop that the downtown is proud of.
(3) Satsuma cuisine specialty store "Satsumaya (SEGODON)"
Authentic Satsuma restaurant with 4 stores in Tokyo。
Among them, a retreat-like store "SEGODON" participates.
Exquisite Satsuma cuisine in a relaxed atmosphere.
・ Black Satsuma chicken sashimi assortment 1,210 yen
・ Kibinago pickled in black vinegar / Chiran tea pickled 800 yen / 700 yen
◆ Commemorative event
Held at a well-established department store! Kagoshima Perishables Satsuma Shochu Fair
A long-established department store with over 250 years of history and a landmark in Ueno also participates in the fair.
At the food basement on the first basement floor, we will sell perishables from Kagoshima (black pork, kanpachi, radish Sakurajima, Anno potato) and Satsuma shochu (about 10 brands).
After enjoying the fair menu, enjoy Satsuma cuisine at home!
January 15 (Wed)-28 (Tue)
Matsuzakaya Ueno store (ground floor 1st floor food section)
https://www.matsuzakaya.co.jp/ueno/
◆ For a limited time, UNESCO Food Culture Creation City "Tsuruoka Fair" is held!
Kagoshima City has a historical connection with the Meiji Restoration since the Meiji Restoration, and Tsuruoka City, Yamagata Prefecture, which celebrated the 50th anniversary of the Brotherhood this year, will participate in the fair for a limited time. Fair menu using Yamagata's proud brand rice "Tsukihime", buckwheat flour "Diwakaori" created by improving native varieties of Yamagata, and now seasonal ingredients "Karadara" and "Hatahata" -Ryogoku- Edo NOREN is available only at 4 stores. Please enjoy it together with Kagoshima Fair.
January 18 (Sat)-February 2 (Sun)
Ryogoku Edo NOREN 4 stores (Nihonbashi Yabuhisa / Kabuki Tuna / Monzen Chaya Naruguchi / Ryogokubashi Chabo)
◆ Other events
(1) "Satsu Marche" January 24 (Fri)-26 (Sun) in Edo NOREN
"Satsu Marche", a specialty product sales and sightseeing promotion in Kagoshima, jointly held with Tsuruoka City! Special products of Kagoshima and Tsuruoka gather in both countries. In addition, this time, we will exhibit and sell processed products of the seasonal ingredients of Kagoshima "Sakurajima radish" as "World's best! Sakurajima radish fair". Please take this opportunity to experience the weight and size of Sakurajima radish, which has been certified by Guinness as the "heavy radish in the world".
(2) Holding a stamp rally to win luxurious prizes such as travel tickets
If you visit the fair participating stores and spots related to Kagoshima in Tokyo and collect stamps, you will win lottery prizes such as Kagoshima travel tickets and assorted special products. After eating a delicious fair menu, let's go looking for a small Kagoshima!
* To participate, you need to download the Kagoshima smartphone app "Kagopuri".
Kagoshima
https://www.city.kagoshima.lg.jp/
Kagoshima City Sightseeing Site