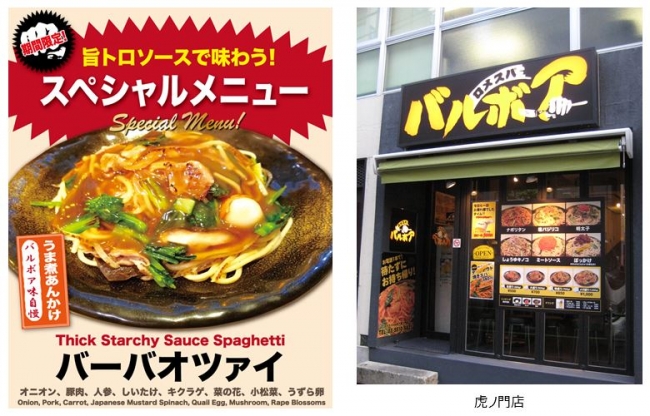 "Rome Spa Balboa" has 5 stores in Tokyo as a specialty grilled spaghetti store with a punchy taste.
At "Rome Spa Balboa", a special menu "Babao Tsai" will be offered for a limited time from Wednesday, February 12.
"Babao Tsai" is one of the Chinese dishes called "Hachiho-na", also known as "Five-boiled umani". It is a dish made by mixing various ingredients such as vegetables, meats, and seafood.
We arranged this as "baked spaghetti".
In addition to the standard ingredients of Happo-na, such as pork, onions, jellyfish, and quail eggs, simmered in spring with rape blossoms, roasted and fried, and thickened toro sauce. It is a gem that can be enjoyed.
However, please enjoy the spaghetti, which has a great impact on both volume and taste, created by simply pursuing a delicious dish and challenging without being bound by established concepts.
■ "Rome Spa Balboa" Special Menu "Babao Tsai": Sales Overview
---
---
・ Cooking: Ba Bao Tsai
・ Period: Wednesday, February 12, 2020 to late April (planned)
・ Price: Normal (350g) 750 yen / Large (500g) 900 yen / Special (700g) 1,200 yen
* All tax included, 20 yen discount at each size at Okachimachi store.
・ Stores: Toranomon / Nihonbashi Muromachi / Kasumigaseki Iino Building / Kanda Ogawamachi / Okachimachi Ameyoko
■ "Rome Spa Balboa": List of stores
・Kasumigaseki Iino Building
Iino Building B1, 2-1-1 Uchisaiwaicho, Chiyoda-ku, Tokyo TEL. 03-5521-5312
・Toranomon store
1-16-2 Toranomon, Minato-ku, Tokyo Iwao Building 1F TEL.03-5510-6821
・Nihonbashi Muromachi Store
DK Taiyo Building 1F, 4-3-12 Nihonbashi Muromachi, Chuo-ku, Tokyo TEL. 03-3273-3088
・Kanda Ogawamachi store
Koike Building B1, 2-6 Kanda Ogawacho, Chiyoda-ku, Tokyo TEL. 03-3518-6166
・ Okachimachi Ameyoko store
4-2-1 Ueno, Taito-ku, Tokyo Edokko Building B1 TEL.03-5816-8221
■ Official homepage
http://romespa-balboa.com/
■ Official Facebook
https://www.facebook.com/RomeSpa.Balboa
■ "Rome Spa Balboa": Regular menu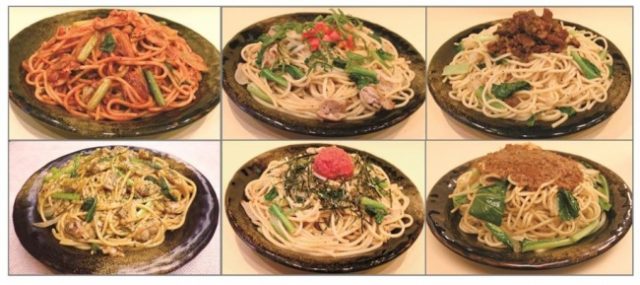 ·Neapolitan
"Rome Spa Balboa" signboard menu. The decisive factor is the nostalgic homemade Neapolitan sauce with reduced sweetness.
・ Blue perilla tomato
The salty taste of the tomato and the refreshing scent of the green tea match the simple salt-based seasoning, giving it a refreshing taste.
・ Bokke (beef stew and konjac stew)
A specialty menu that is popular with regular customers, topped with beef streaks and konjac boiled spicy "bokkake" originated in Kobe.
・ Soy sauce clam
The golden combination of soy sauce and clams. The fragrance of soy sauce mixes with the flavor of clams to stimulate the appetite.
・ Mentaiko
The most popular menu for women. The moderate pungency of Mentaiko goes well with the savory fried thick noodles.
・ Meat curry
Topped with curry sauce that uses plenty of minced meat. Thick noodles are perfect with curry sauce with spices.
* Kanda Ogawamachi store and Okachimachi Ameyoko store provide special meat sauce.