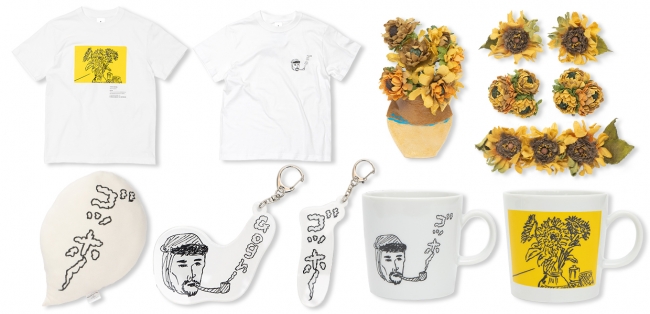 PARCO Co., Ltd. will sell collaboration items at the Ueno National Museum of Western Art in commemoration of the "London National Gallery Exhibition" starting from March 3 (Tue).
The collaboration item is a gag manga artist Rada Wada's motif based on Van Gogh's "Sunflower" motif. "Sunflower" and <Self-portrait of Van Gogh.
These items will be on sale from March 3 (Tuesday) at the "London National Gallery Exhibition" venue, "Mitsukar Store Online" operated by PARCO, Shibuya PARCO 4F "Nichiichi Culture" and others. 。
London National Gallery, one of the world's finest Halls of Beauty 美
Its greatest feature is its wide and high-quality collection, also known as "Western painting textbooks."
The highlight is Van Gogh's "Sunflower", who will be visiting Japan for the first time from London.
For Van Gogh, yellow is the color of happiness, and sunflowers are also thought to have symbolized loyalty to a communal life, a dream.
In commemoration of this event, gag manga artist Rad Wada drew a story about Van Gogh in the Netherlands in a series on the website "Almost Daily Itoi Shimbun".
T-shirts, mugs, cushions, acrylic key chains, etc. were created with the motif of 自 Van Gogh's self-portrait≫.
In addition, in collaboration with Atelier Dyed Flower, we produce accessories that reproduce the color of "sunflower" by exquisite dyeing.
Please enjoy this opportunity.
Wada La ヂ ヲ × Nearly Sun × Parco
* Tote bags are available online at stores almost every day.
Wada Ra ヂ ヲ
<Profile>
Gag cartoonist
Born in Matsuyama, Ehime Prefecture in 1964.
Debuted in Weekly Young Jump (Shueisha) in 1991.
Active in various fields such as manga magazines, web and advertising.
From 2017 FM Ehime "Ninginia Network Wada Rada's Listening Radio 2" (Every Saturday from 21:00 to on air)
This product was made into a product that was inspired by Van Gogh and traveled around the land related to Van Gogh.
Atelier dyed flower x PARCO
Atelier Dyed Flowers (Atelier Senka)
Kobo, a costume accessory brand established in 1981.
Atelier dyed flower decorations created by the sensibilities of the Japanese people, which transforms the 10 primary color dyes into infinite colors by exquisite blending, dyes white cloth, and makes them three-dimensional by hand. Supported by designers.
Exhibition information
"London National Gallery Exhibition"
Dates: March 3, 2020 (Tuesday)-June 14, 2020 (Sunday) Opening hours: 9: 30-17: 30
* Admission until 30 minutes before closing * Friday and Saturday until 20:00
Venue: The National Museum of Western Art 7-7 Ueno Park, Taito-ku, Tokyo 110-0007, Japan
Closed: Monday * Open on March 30 and May 4
Viewing fee: Please check the official website for details.
Sponsors: The National Museum of Western Art, The London National Gallery, The Yomiuri Shimbun, Nippon Television Network