LS Co., Ltd. (Location: Chuo-ku, Tokyo / Representative Director: Miki Ryo) is a hostel, "Q Stay and lounge Ueno" ( https://www.q-stay.jp/ ), when buyers like Advance sale vouchers that can use facilities at are sold at special prices.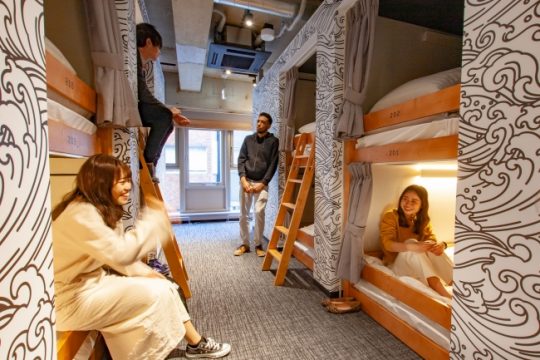 The tourism and lodging industry has been hit hard by the spread of the new coronavirus infection.
We at Q Stay and lounge are no exception, and after the opening of January 20 this year, the direct hit of the corona at the "future" timing and the decision to postpone the Olympics, we have canceled many reservations and postponed the schedule of group reservation customers Such effects have come out.
The occupancy rate has fallen below 10% due to the fact that guest rooms are mainly dormitories.
However, in order to make it available to as many people as possible, a cross-cultural exchange event will be held at the cafe bar "Q Cafe" on the 1st floor, with many guests participating, and two types of rooms available during the daytime. We have made various attempts such as developing a short stay plan and gaining a lot of feedback.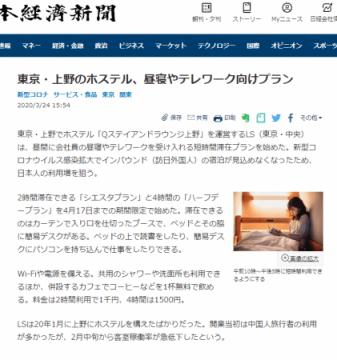 ---
---
Also featured in the Nihon Keizai Shimbun, electronic version
However, requests to refrain from going out after March 25 made it difficult to invite guests to the hostel itself.
Despite measures such as washing hands of staff, wearing masks, and thoroughly cleaning, disinfecting, and ventilating the inside of the building, it is not possible to say "I want you to come" now, given the safety of visitors first. is.
So we wanted you to come to stay a little bit ahead, not now.
Affordable advance accommodation voucher that can be used at any time during 2020
What we sell this time is a pre-sale accommodation voucher that you can use when you like until the end of December 2020 when you purchase it.
Even if you can't go out to travel and play freely now, if the threat of coronavirus is gone, please come and stay.
With such thoughts, it will be offered at a special price and breakfast.
The following four types of accommodation tickets are available.
[Detailed advance ticket details]
1. Dormitory accommodation ticket / 1 night ¥ 3,500 (normally ¥ 5,000 per person / 1 night)
2. Single room accommodation ticket / 1 night ¥ 11,000 (normally 1 room ¥ 18,000 ~ / 1 night)
3. Dormitory coupon / 3 nights ¥ 9,000 + 1 night free
4. Private room coupon / 3 nights ¥ 29,000 + 1 night free
* Breakfast included
○ Sales period: April 3-May 6, 2020
○ Expiration date: Until check-in on December 31, 2020
[How to purchase and use]
You can purchase from the following special site.
https://q-stay.stores.jp/
・ Show the issued electronic ticket to the staff at check-in.
・ Please make a reservation from Q Stay official website.
・ One dormitory per person, maximum 2 persons in private room, can be used only in the target room.
・ About coupons, it is possible to share with other people and use it by multiple people at the same time.
-Cancellation policy will be applied 7 days before the stay date. The credit card registered at the time of reservation will be charged.
at the end
Every time I see that the space and facilities that were supposed to welcome many guests are quiet and clean, my chest is tightened.
Q Cafe, which was full of smiles and laughter at the time of the event, has been forced to shorten hours of business, mainly for takeout.

The cherry blossom trees at Ueno Onshi Park, which is near Q Stay, are in a restricted time and you can't go to see them right now.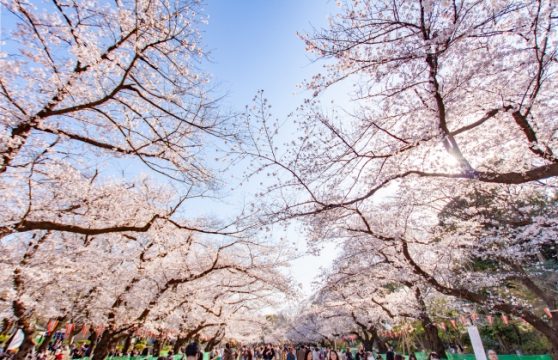 I think that not only us, but also other accommodation, tourism related people, or those who are involved in all types of industries are worried.
Not only businesses but everyone may be the same.
Many people feel frustrated because they want to go on a trip but cannot get out of their house.
Now that we have a little more to do, and once the peaceful daily life returns, we want many of you to come and visit Q Stay.
And I want you to recover
I hope so strongly.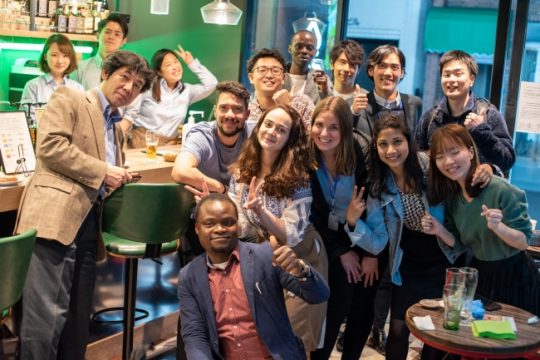 ■ Facility overview
Name: Q Stay and lounge Ueno
Location: 2-13-2 Higashi Ueno, Taito-ku, Tokyo
Access: 3 minutes on foot from Ueno Station on the Tokyo Metro Hibiya Line and Ginza Line
4 minute walk from Naka-Okachimachi Station on the Tokyo Metro Hibiya Line
8 minutes on foot from JR Ueno Station and Okachimachi Station
8 minutes on foot from Keisei Main Line Keisei Ueno Station
Management: LS Corporation ( https://www.ckc-ls.com/ )
Web site: Https://Www.Q-stay.Jp
Facebook: https://www.facebook.com/qstayjapan/
Instagram: https://www.instagram.com/qstayjapan/
Twitter: https://twitter.com/qstayjapan
More about the Short Stay Plan:
https://prtimes.jp/main/html/rd/p/000000006.000051885.html