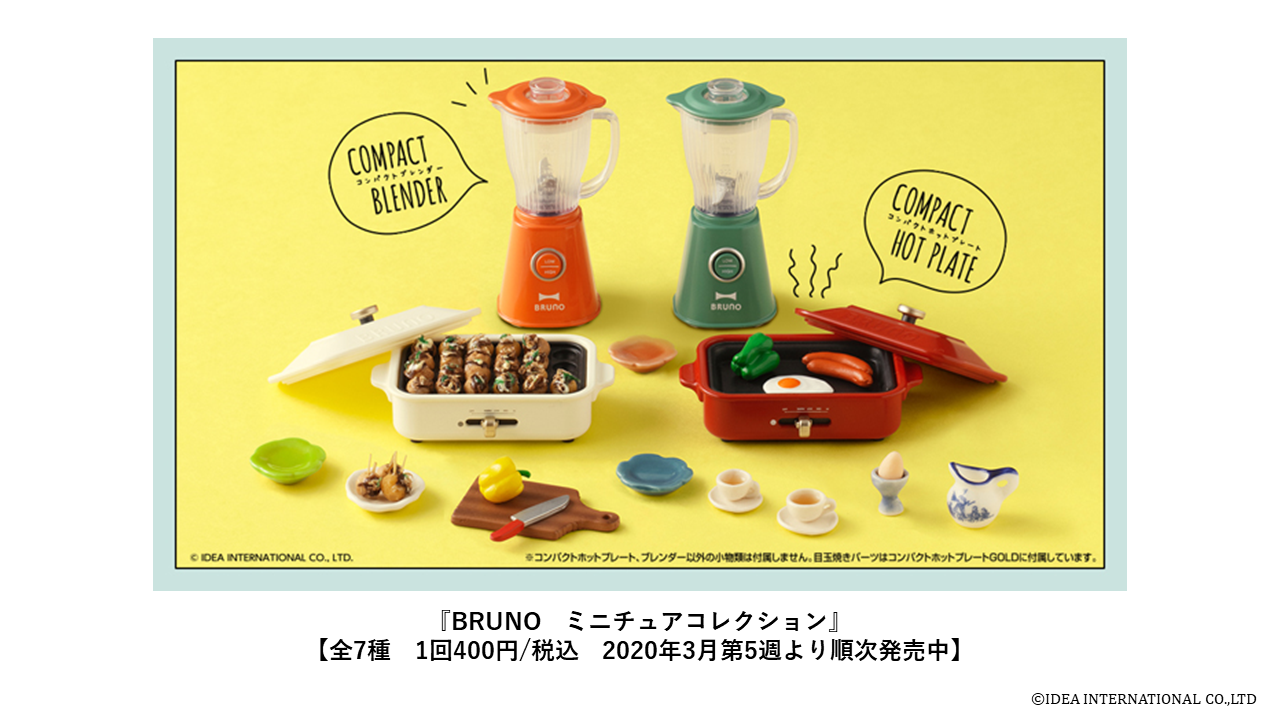 Bandai Co., Ltd. Bender Division (President: Masaru Kawaguchi, Head Office: Taito-ku, Tokyo) is a lifestyle brand "BRUNO" developed by Idea International Co., Ltd. (President: Masato Mori, Head Office: Minato-ku, Tokyo). "BRUNO Miniature Collection" (400 yen per time, including tax, 7 types in total), a miniature toy that focuses on the reproducibility of the product of "," as a capsule vending machine-only product (Gashapon), etc. It is on sale at the capsule vending machine installed in.
■ Product specifications
This product is a miniature toy that reproduces the popular "BRUNO" compact hot plate and compact blender. In addition to the appearance reproducibility, the hot plate has a lid opening / closing and temperature setting lever operation, and the blender has a gimmick for removing the lid and a switch button.
In addition, the compact hot plate includes BRUNO BLUE of the 5th anniversary color in 4 color variations. And GASHAPON limited GOLD also contains rare items with special fried egg parts.
The compact blender is a big size with a total height of about 6.7 cm when assembled and comes in three color variations.
It can also be used as a small case by opening the lid.
Even if you are colorful and not a BRUNO fan, you will definitely want to collect them.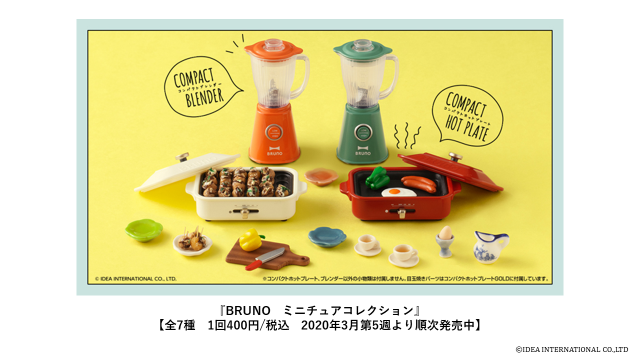 ◆ Product details
Product name
BRUNO Miniature Collection
Release date
On sale from the 5th week of March 2020
Selling price
400 yen / tax 10% once (manufacturer's suggested retail price)
Target age
15 years or older
Material
Body: ABS / blender cup, lid: MABS
Line up
All 7 types
① COMPACT HOTPLATE RED
② COMPACT HOTPLATE WHITE
③ COMPACT HOTPLATE BRUNO BLUE
④ COMPACT HOTPLATE GOLD
⑤ COMPACT BLENDER IVORY
⑥ COMPACT BLENDER ORANGE
⑦ COMPACT BLENDER GREEN
Main sales routes
Capsule vending machines installed at toy departments, mass retailers, consumer electronics stores, etc. nationwide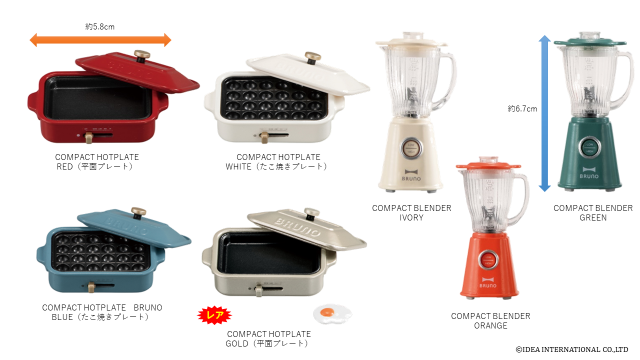 ---
---
What is "BRUNO"
This is a lifestyle brand developed by Idea International Co., Ltd. (President: Masato Mori, Head Office: Minato-ku, Tokyo). Launched the original interior product brand "BRUNO" in 2012, and the compact hot plates have become a popular item with a cumulative total of approximately 1.73 million units shipped *.
* As of December 31, 2019
In addition, this product will be sold at the 26 Idea International stores below from April 8 onwards.
* Please note that the store locations may change without notice.
Store name
Street address
IDEA SEVENTH SENSE Yurakucho Marui
Yurakucho Marui 1F 2-7-1 Yurakucho, Chiyoda-ku, Tokyo
IDEA SEVENTH SENSE Shin Marunouchi Building
1-5-1 Marunouchi, Chiyoda-ku, Tokyo Shin-Marunouchi Building 4F
IDEA SEVENTH SENSE
BRUNO / MILESTO / Terracuore Takashimaya
Takashimaya Gate Tower Mall, 4th floor, 1-1-3 Naka Station, Nakamura-ku, Aichi Prefecture
IDEA SEVENTH SENSE LaLaport Expo City
2-1 Senri Expo Park Suita City, Osaka Prefecture LaLaport Expo City 1F
IDEA SEVENTH SENSE Atre Urawa
1-16-12 Takasago, Urawa-ku, Saitama-shi, Saitama Atre Urawa West Area 2F
BRUNO / TRAVEL SHOP MILESTO PARCOYA Ueno
3-24-6 Ueno, Taito-ku, Tokyo Parcoya Ueno 4F
IDEA SEVENTH SENSE / TRAVEL SHOP MILESTO Yaesu underground shopping area
2-1 Yaesu, Chuo-ku, Tokyo Yaesu underground shopping area north 1
IDEA SEVENTH SENSE / MILESTO Terrace Mall Shonan
1-3-1 Tsujido Kandai, Fujisawa-shi, Kanagawa Terrace Mall Shonan 1F
GOOD GIFT GO LaLaport Nagoya Minato Aquls
2-3-2 Minatoaki, Minato-ku, Aichi Prefecture LaLaport Nagoya Minato Aquls 1F
| | |
| --- | --- |
| GOOD GIFT GO AEON MALL Zama | 2-10-4 Hironodai, Zama City, Kanagawa Prefecture AEON MALL Zama 1F |
| GOOD GIFT GO Prime Tree Akaike | Ainoike, Aichi, Aichi Prefecture Minohite No. 1 Prime Tree Akaike 2F |
| BRUNO Kyoto station square underground shopping mall Porta | Kyoto Prefecture Shimogyo-ku Karasuma Dori Shiojikojiru No. 115 Section 902 Higashishiokojicho 902 |
| BRUNO Grand Tree Musashikosugi | 1-13F, Grand Tree Musashikosugi, 3-1135-1 Shinmaruko Higashi, Nakahara-ku, Kawasaki, Kanagawa Prefecture |
| BRUNO Hankyu Nishinomiya Gardens | 14-2 Takamatsucho, Nishinomiya-shi, Hyogo Hankyu Nishinomiya Gardens 1F |
| BRUNO LUMINE Shinjuku | Lumine 2-5F Lumine Shinjuku 3-38-2 Shinjuku Shinjuku-ku, Tokyo |
| BRUNO Atre Kichijoji | 1-1-24 Kichijoji Minamimachi, Musashino City, Tokyo Atre Kichijoji 2F |
| BRUNO LUMINE Ikebukuro | 1-11-1 Nishi-Ikebukuro, Toshima-ku, Tokyo LUMINE Ikebukuro 7F |
| BRUNO Ecute Akabane | 1-1-1 Akabane, Kita-ku, Tokyo Ecute Akabane |
| BRUNO / TRAVEL SHOP MILESTO Shibuya Hikarie | 2-21-1 Shibuya, Shibuya, Tokyo Shibuya Hikarie ShinQs 4F |
| | |
| --- | --- |
| BRUNO / TRAVEL SHOP MILESTO Ariake | 2F, Ariake Garden, 2-1-8 Ariake, Koto-ku, Tokyo |
| BRUNO / TRAVEL SHOP MILESTO LaLaport TOKYO-BAY | 2-1-1 Hamacho, Funabashi, Chiba Prefecture LaLaport TOKYO-BAY South Building 2F |
| BRUNO / TRAVEL SHOP MILESTO Matsuzakaya Nagoya store | 3-16-1, Sakae, Naka-ku, Nagoya City, Aichi Prefecture Matsuzakaya Nagoya Store South Building 2nd floor KiKiYOCOCHO |
| BRUNO / TRAVEL SHOP MILESTO Daimaru Sapporo | KiKiYOCOCHO 3rd floor, Daimaru Sapporo 4-7 Kita Gojo West, Chuo-ku, Sapporo-shi, Hokkaido |
| BRUNO / TRAVEL SHOP MILESTO Koshigaya Lake Town | Saitama Prefecture Koshigaya City Lake Town 4-2-2 Aeon Lake Town Kaze 2F |
| maisonnette luxe AEON MALL Hinode | 237-3 Sakuragi, Miyoshino, Hinode, Hinode-cho, Nishitama-gun, Tokyo AEON MALL Hinode 1F |
| maisonnette luxe AEON MALL Nagakute | Central land readjustment project in Nagakute City, Aichi 5/10/11 Block Aeon Mall Nagakute 2F |
[Inquiries from general customers]
BANDAI Customer Support Center Navi Dial: 0570-041-101 (10 am to 5 pm, except national holidays, summer and winter holidays)
* If the navigation dial cannot be connected, or if you are using a PHS or IP phone, please call 04-7146-0371.
Gashapon official website "Gashapon World" http://gashapon.jp/
* The information in this document is as of April 6, 2020.
* "Gashapon" is a registered trademark of Bandai.
© IDEA INTERNATIONAL CO., LTD