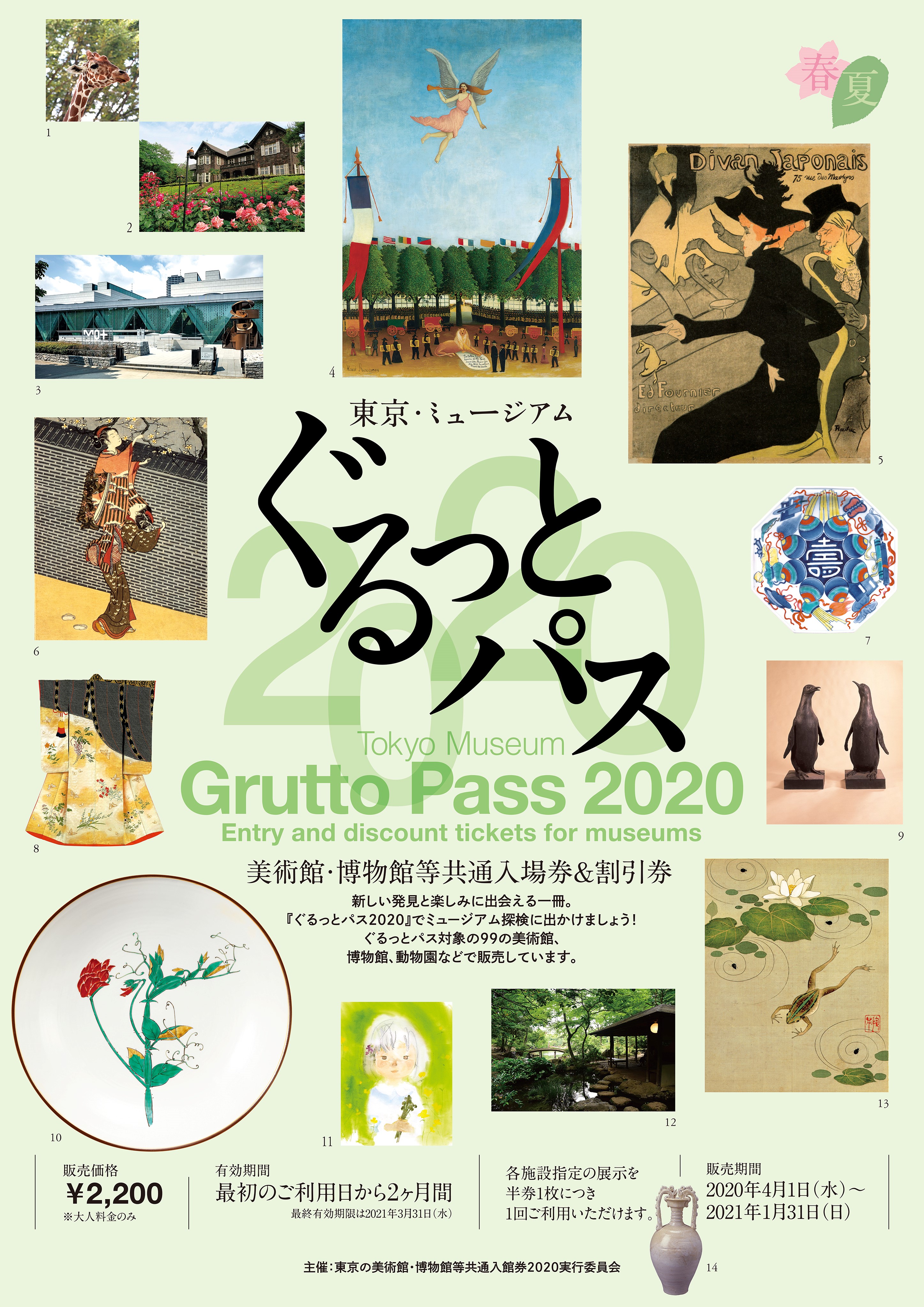 Pass ticket sample
"Tokyo Museum Gurutto Pass 2020" is a good-value ticket book of 2,200 yen per book, which is a set of admission tickets and discount tickets for 99 museums in Tokyo and other areas. https://www.rekibun.or.jp/grutto/
It was initially scheduled to be released on April 1, 2020 (Wednesday), but it was postponed for a while to prevent the spread of the new coronavirus infection. We are pleased to inform you that the museum will be released on Thursday, June 18, 2020, following the reopening of the museum.
This year, seven new Tokyo cultural heritage gardens (Mukojima Hyakubanaen, Koishikawa Korakuen, Former Shiba Rikyu Garden, Former Furukawa Garden, Rikugien Garden, Kiyosumi Garden, Tonogayado Garden) have been added to the exhibition. You can use your pass even more, such as going out while taking a walk in the garden!
---
---
[Target facilities]
99 museums, museums, zoos, aquariums, botanical gardens and gardens
* 99 facilities that can use "Gurutto Pass 2020" → https://prtimes.jp/a/?f=d38211-20200611-4320.pdf
*Can be used only once for exhibitions designated by each facility.
*There are "exhibitions that can be entered" and "exhibitions that can be used as discount tickets".
【Selling price】
2,200 yen (*Adult only)
【Sales period】
From June 18, 2020 (Thursday) to January 31, 2021 (Sunday)
[Valid period]
2 months from the date of first use
(However, the final expiration date is Wednesday, March 31, 2021)
[Sales location]
You can purchase at any of the 99 facilities that can use "Gurutto Pass 2020" .
*Cannot be purchased at facilities that are closed.
●Other sales counters
Tokyo Tourist Information Center (1st floor of Tokyo Metropolitan Government Building 1) / Libro Shiodome Siosite Store / Parco Book Center Chofu Store / Asakusa Culture Tourist Information Center (Asakusa Kaminarimon) / Ueno Park Information Center / TIC TOKYO (JR Tokyo Station Nihonbashi Exit) / Tokyo City Eye (KITTE)/Chuo-ku Tourist Information Center (Kyobashi Edglan)/Chubu Information Plaza in Keio Shinjuku/T-CAT Foreign Tourist Information Center (Tokyo City Air Terminal), etc.
● Voucher sales
(Please redeem for the pass at the Gurutto Pass 2020 facilities)
Lawson Ticket/Seven Eleven/Family Mart/Ministop/Kinki Nippon Tourist Branches, etc.
* Refund is not possible. Please confirm the contents in advance on the "Gourmet Pass 2020" homepage https://www.rekibun.or.jp/grutto/ etc.
*To prevent the spread of new corona infectious diseases, it may be closed without notice. When you go out, be sure to contact each facility for the latest information or check the official website of each facility.
【Contact Us】
Tokyo Museum Grotto Pass Office
Telephone 03-5610-0051 (Weekdays 10am-5pm except weekends and holidays)
1-4-1 Yokoami, Sumida-ku, Tokyo 130-0015 Tokyo Metropolitan Foundation for History and Culture