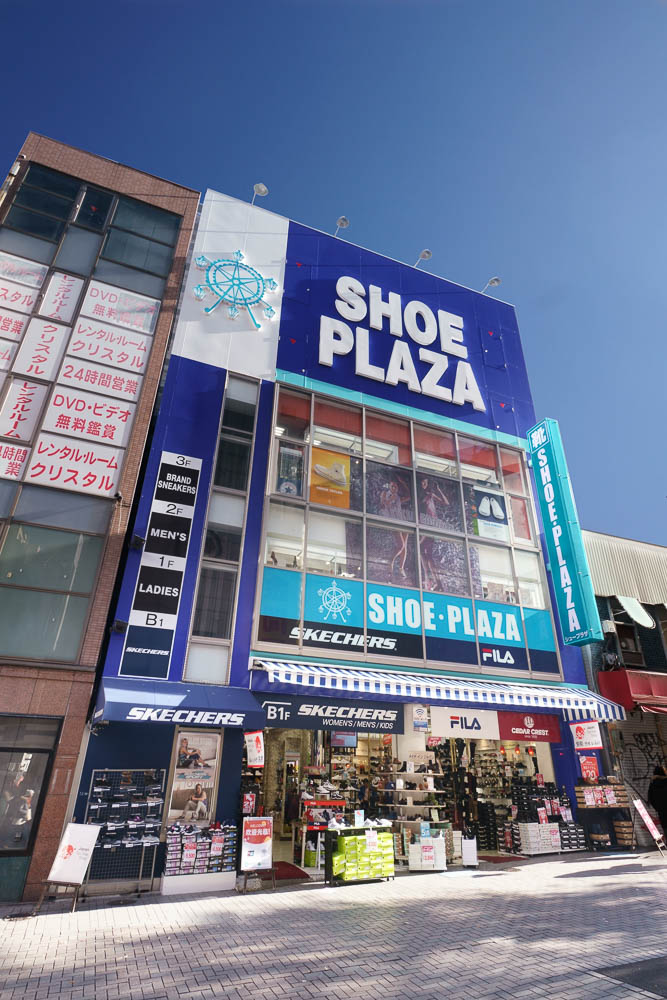 Chiyoda Co., Ltd. is a shoe and fashion mail order site LOCONDO.jp
We will open a limited-time store in collaboration with LOCONDO Co., Ltd., which operates Shoe Plaza Shinjuku East Exit Ekimae Store, and Shoe Plaza Ueno Store.
We opened the "Shoe Plaza Locondo Store" ( https://www.locondo.jp ) in April 2015 and have expanded the product lineup of real stores on the EC site. , Express the world view of the EC shop LOCONDO.jp in the real store "SHOE PLAZA", which will lead to the development of a new customer base.
At this collaboration store, in addition to the popular YouTuber Hikaru's brand "ReZARD", which boasts 4.18 million subscribers, the talent Susanne's brand "Serene ce cool", and Mai Tsujimoto, who also appeared on Locondo's TVCM as a model. We mainly sell 3 brands of "ginde8734", a brand that Mr.
In addition, to commemorate the opening, we will accept advance reservations for 1,000 pairs of "ReZARD" bespoke color shoes at the Shinjuku store and 500 pairs at the Ueno store, for a total of 1,500 pairs. At the open event, a life-sized panel of Hikaru will be prepared at the store, and at the time of opening, a commercial featuring Hikaru will be broadcast at Shinjuku ALTA Vision, which is right next to "Shoe Plaza Shinjuku East Exit Ekimae Store".
---
---
■ First-time development brand "ReZARD"
A luxury brand developed by the popular YouTuber Hikaru, which has more than 4 million subscribers, based on the concept of "pursuing comfort and making high-quality fabrics with particular attention into a simple and luxurious design."
"Serene ce cool"
A shoe brand launched by Sae Yamamoto, a talent who boasts 370,000 followers on Instagram. We propose a style that allows adult women to shine in their own way without stretching their shoulders. Part of the sales is donated to the reconstruction activities of Kumamoto Castle.
"Ginde 8734"
A shoe brand whose creative director is Mai Tsujimoto, who is popular as a model for popular magazines such as "VERY" and "LEE". The brand name is a coined word that takes the letters "God is in the details" from the saying "God is in the details" in English, and is particular about the details, and puts the possibility of spreading, connections, and bonds into the meaning of the name. ..

■ What is SHOE PLAZA? A large shoe store that offers a wide range of items from national brands to essential items for daily life. Taking advantage of the large store space, it is a shoe specialty store that mainly sells hot items such as men's shoes, women's shoes, sports shoes, and children's shoes for juniors and kids. We are developing shoes that reflect various voices at the sales floor closest to our customers and pursue the functions and comfort required in daily life such as waterproofing, anti-slip, ventilation, and impact resistance.
■ What is LOCONDO?
LOCONDO.jp is a shoe and fashion mail order site that officially handles about 2,500 brands that you can "try on at home and return easily". With a selectable delivery service that can be shipped on the same day and a free size exchange / return service (* excluding sale items), you can enjoy trying on slowly at home, and we have a wide range of shoes, bags, apparel products, sports equipment and furniture. I will. https://www.locondo.jp/
《Chiyoda Company Profile》
■ Company name Chiyoda Co., Ltd. (TSE First Section Securities Code: 8185)
■ Headquarters 4-30-16 Ogikubo, Suginami-ku, Tokyo 5th floor, Fujisawa Building ■ Representative Tadao Sugiyama, President & CEO ■ Established 1948 (1936)
■ Fiscal year end February ■ Number of employees 1,774 (consolidated)
■ Capital 6,893.21 million yen ■ Sales 113.5 billion yen (consolidated)
■ Subsidiaries Mac House Co., Ltd., Chiyoda Bussan Co., Ltd. ■ Number of stores 1,400 (consolidated)
Chiyoda Corporate Site
https://www.chiyodagrp.co.jp