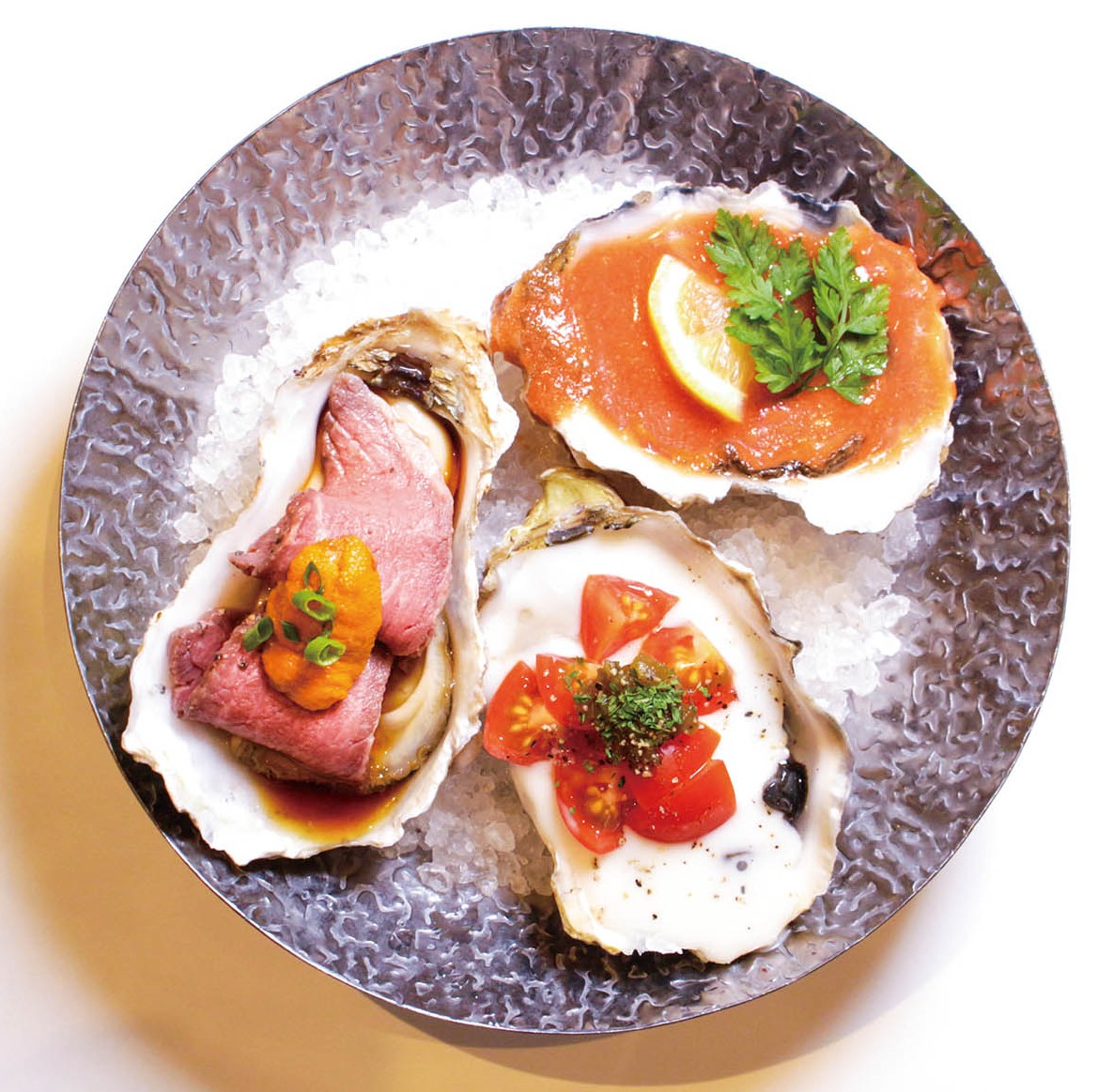 1 / 11-1 / 25 held all day
General Oyster Co., Ltd., Japan's largest * 1 oyster bar chain, is limited to 24 stores for 15 days from January 11th (Monday) to January 25th (Monday), and is entitled "POWER OYSTER Fair". We offer oysters and oyster cocktails at a special price. * 1 From Fuji Keizai "Food Service Industry Marketing Handbook 2016"
< Example of planned production area >
Hokkaido Lake Saroma production, Iwate Prefecture Yonezaki production, Iwate Prefecture Akasaki production, Miyagi Prefecture Shizugawa production, Mie Prefecture Momotori production, Hyogo Prefecture Iwami production, Hyogo Murotsu production, Hyogo Prefecture Aioi production, Hyogo Prefecture Sakoshi production, Okayama Prefecture Mushiake production, Hiroshima Prefecture Akishima, Hiroshima Prefecture Akizu, Kagawa Prefecture Shirakata, Fukuoka Prefecture Iwate, Nagasaki Prefecture Goshima Islands, Saga Prefecture Karatsu, etc.
* The production area provided varies depending on the arrival status and the store. It may be sold out.

---
---
■ Dates:
20
2
1
January
1,
1
(Monday)
1
5-day all-day held
to
January
2
5
(Monday)
■ Price:
Raw oysters (true oysters)
6 pieces Special price 1,490
yen
(excluding tax)
Raw oysters (true oysters)
8
pieces
Special price
1,940
yen (excluding tax)
3 types of oyster cocktails
(sea urchin and roast beef / French dressing and jalapeno / gazpacho and herbs)
Special price 1,000 yen (excluding tax)
* It may end without notice depending on the arrival status and the weather of the production area. The handling area varies depending on the store. The business hours of the store have been partially shortened. Please see the homepage for details.
[Oysters are sea superfoods]
Oysters are rich in glycogen, essential amino acids, nutrients such as vitamins B1, B2, B12 and minerals, and functional ingredients such as taurine. In particular, the zinc content is said to be the highest in foods. Zinc has the function of promoting cell division and metabolism, so if taken in an appropriate amount, immune cells will be activated, which can be expected to improve immunity and health.
<Glycogen and iron>
Glycogen enhances liver function, activates muscles and brain, and leads to recovery from fatigue.
It also contains a lot of iron, which helps prevent anemia and prevent cold.
<Abundant taurine>
It is also rich in taurine, which enhances stamina and relieves fatigue.
<Oysters have the highest zinc content in foods>
In particular, the zinc content is the highest in foods. Zinc promotes cell metabolism and helps to create new cells. It helps in the synthesis of collagen and keeps the skin and hair healthy from UV damage. Supervision: General Incorporated Association NS Labo
[ Holding stores ] Limited to 24 General Oyster Group stores
<Tokyo>
Emit Fishbar GINZA SIX
Gambo & Oyster Bar Shinjuku LUMINE EST
Gambo & Oyster Bar Ikebukuro East Exit
Oyster Table Ginza Corridor Store
Oyster Table Ueno Sakura Terrace
Oyster Table Hamamatsucho
Curve de Oyster Tokyo Station Yaesu Underground Shopping Mall
Fish & Oyster Bar Seibu Shibuya
Shrimp & Oyster House Seibu Ikebukuro
Kinkawooka Odakyu Shinjuku store
<Kanagawa Prefecture>
Oyster Plate Lazona Kawasaki Store
Gumbo & Oyster Bar Yokohama Sogo
Shrimp & Oyster Bar Yokohama More's
Kinkauuka Yokohama Bay Quarter
<Chiba>
Gumbo & Oyster Bar Chiba Sogo
<Ibaraki Prefecture>
Gumbo & Oyster Bar Mito Keisei
<Miyagi Prefecture>
Sendai Station Oyster Bar Espal Sendai Store
<Aichi Prefecture>
Oyster Room Nagoya LACHIC
<Osaka>
Gumbo & Oyster Bar Umeda NU Chayamachi
Gumbo & Oyster Bar Namba Parks
Umeda Station Oyster Bar Hankyu Grand Building
Oyster Room Umeda Herbisent
<Hyogo Prefecture>
Gambo & Oyster Vermint Kobe store
<Fukuoka Prefecture>
Fish & Oyster Bar Canal Grand Plaza
[Efforts to prevent the spread of new coronavirus infection in stores]
・ The staff will always check your health, wear a mask, and guide you, serve customers, and cook.
・ We will thoroughly wash the hands of the staff in the store and disinfect with slightly acidic electrolyzed water (*).
・ When you come to our store, we ask you to cooperate in disinfecting your hands and fingers with slightly acidic electrolyzed water (*) before meals.
・ We will thoroughly wipe the equipment inside the store with slightly acidic electrolyzed water (*).
・ In order to avoid "denseness" in the store, admission may be restricted during times of congestion.
* Slightly acidic electrolyzed water has a higher bactericidal power than alcohol and is recognized to have a bactericidal effect on general bacteria and viruses. In addition, it is designated as a food additive and is safe for people and foodstuffs.
[All raw oysters are purified by patented technology , reliable quality 5 stars]
The raw oysters offered by General Oyster are the ultimate safe quality raw oysters that we have reached in the 17th year since our founding, which has expanded the oyster bar culture in Japan.
In November 2017, we obtained a patent for the unique method of purifying oysters with deep sea water, which started in the summer of 2014 in Nyuzen Town, Toyama Prefecture. (Patent No. 6240037)
1) careful selection of water area
Considering the risks of water bodies nationwide, we will carefully select the production areas and carefully examine the arrival time.
2) Careful selection of production areas (primary inspection of production areas)
Only oysters that meet the standards for raw oysters set by the Ministry of Health, Labor and Welfare will be in stock.
3) Purification with deep sea water
Purifying oysters for about 2 days or more in a clean deep sea water aquarium that is free of bacteria and viruses that are harmful to the human body will make the oysters safer.
4) Adhering to strict company standards
We only ship raw oysters that meet our own standards, which are far stricter than the standards set by the Ministry of Health, Labor and Welfare. We have also established our own standard that "norovirus is not detected".
5) Thorough store hygiene management
We manage and support the physical condition of employees, including their families, and maintain and improve hygiene through in-house hygiene checks and regular hygiene surveys by external hygiene research organizations.
[Why General Oyster is pursuing safety]
<Because the 20- year history of General Oyster is also the history of fighting norovirus>
General Oyster is celebrating its 20th anniversary this year. Since opening the first store in 2001, we have continued to open stores to create an "oyster bar" market in Japan. Listed on the TSE Mothers market in March 2015, we are developing not only the restaurant business but also the aquaculture and processing businesses, and are working to promote the sixth industrialization of the oyster business. In addition, General Oyster launched "Safety Quality Five Stars" in February 2017 in order to pursue endless oyster safety and provide greater peace of mind to our customers.
<November 2017 Obtained a patent for deep sea water purification method>
The method of purifying oysters with deep sea water, which had been applied for a patent since the summer of 2014, has now obtained a patent (Patent No. 6240037). It has been found that it is possible to provide high-quality oysters that are safer, more nutritious and retain their freshness than general oyster purification methods (ultraviolet sterilization).
The General Oyster Group will continue to work together so that you can enjoy safe oysters with peace of mind.
[About General Oyster]
General Oyster Co., Ltd. was founded as Human Web Co., Ltd. in 2000 and was listed on the TSE Mothers market on March 19, 2015. From April 1, 2016, the company name was changed to the current company name and the company changed to a holding company structure.
Company name: General Oyster Co., Ltd.
Representative: Hidenori Yoshida, President and CEO / Yusuke Tanno, CEO
Location: 2-13-13 Nihonbashi Kayabacho, Chuo-ku, Tokyo Joint Building 7th Floor
Established: April 3, 2000
URL: https://www.oysterbar.co.jp/