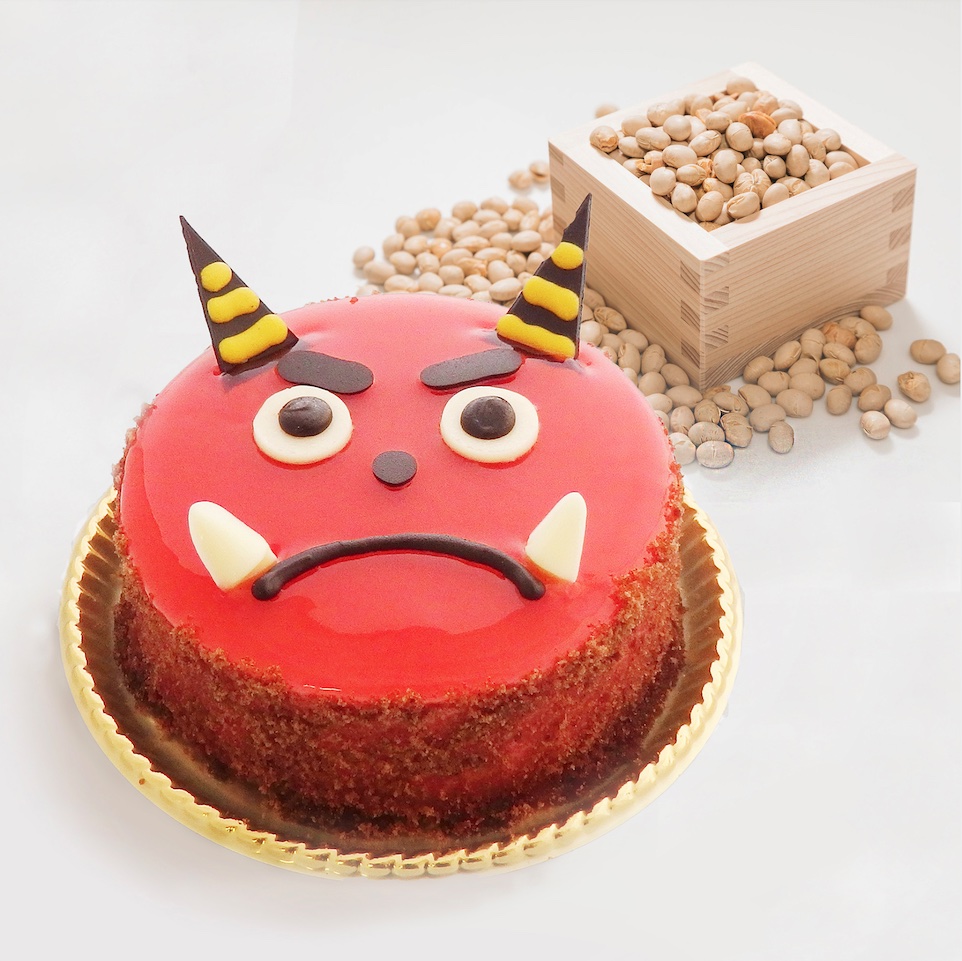 Juchheim Co., Ltd.

"Oni no Cake" will be on sale nationwide from January 29th (Friday).
The bright red angry "Oni" is a combination of sweet and sour berry mousse and chocolate mousse.
Among the berry mousse made with strawberries and framboise, chocolate mousse and cocoa dough that go well with berries.
The red face of the oni was expressed by a glasage made from Franboise puree.
Since it is handmade, there are various facial expressions.
* Please note that the sales period and price will differ from Shizuoka.
【Product Details】
Name: Oni Cake (East Army)
Price: 1,620 yen (tax included)
Sale period: January 29th (Friday) -February 2nd (Tuesday)

Name: Oni Cake (Western Army)
Price: 1,404 yen (tax included)
Sale period: February 1st (Monday) -February 2nd (Tuesday)
["Oni no Cake (East Army)" store]
<Juchheim>
Tokyo: Daimaru Tokyo store / Ecute Ueno / Atre Kamedo / Tobu department store Ikebukuro store / Ginza Mitsukoshi store / Matsuya Asakusa store / Lumine Kitasenju store / Atre Meguro / Keio department store Shinjuku store / Takashimaya Tokyo store / Atre Kichijoji store / Tokyu Kichijoji store / Takashimaya Tamagawa store Sereo Hachioji / Lumine Ogikubo store / Keio department store Seiseki Sakuragaoka store / Lumine Tachikawa store
Kanagawa: Atre Kawasaki Store / Kamata Tokyu Store / Keikyu Department Store Kamiooka Store / Fujisawa Odakyu Store / Sogo Yokohama Store / Lumine Ofuna Store / Tokyu Department Store Hiyoshi Store
Chiba: Tobu Department Store Funabashi Store / Perie Inage Store / Perie Kaihin Makuhari / Bonberta Narita Store
Saitama: Sogo Omiya store
Ibaraki: Keisei Mito
Tochigi: FKD Utsunomiya Inter Park Store / Fukudaya Department Store Utsunomiya Store / Fukudaya Department Store Kanuma Store
Nagano: Nagano Tokyu (raw cake)
Miyagi: S-PAL
<Juchheim Dee Meister>
Tokyo: Isetan Shinjuku / Seibu Ikebukuro Store / Maruhiro Kawagoe Store / Odakyu Main Building / Shibuya Hikarie Thinks Store / Odakyu Machida Store / Tamaplaza Tokyu / Takashimaya Tachikawa Store / Takashimaya Kashiwa Store / Takashimaya Yokohama Store / Mitsukoshi Sendai Store
<Meisterstück Juchheim>
Ecute Omiya store / Tokyo store / Perrier Chiba store
<Bobby Juchheim>
Akabane store / Shinagawa store
["Oni no Cake (Western Army)" store]
<Juchheim>
Shizuoka: Matsuzakaya Shizuoka Store / Entetsu Department Store
Aichi: Nagoya Sakae Mitsukoshi / Hoshigaoka Mitsukoshi / Matsuzakaya Toyota Store / Meitetsu Department Store Ichinomiya Store
Kyoto: Kyoto Takashimaya / Kyoto Isetan / Rakusai Takashimaya
Osaka: Senboku Takashimaya / Sakai Takashimaya / Kawanishi Hankyu / Hanshin Umeda / Takatsuki Matsuzakaya / Abeno Kintetsu / Uehonmachi Kintetsu / Osaka Hankyu / Keihan Moriguchi / Third Avenue / Keihan Hirakata / Keihan Keibashi / Keihan Kuzuha / Keihan Sumido
Hyogo: Main store / Kobe Daimaru / Hanshin Nishinomiya / Suma Daimaru / Sanyo Department Store / Piole Akashi
Wakayama: Wakayama Kintetsu
Okayama: Takashimaya Okayama store / Tenmaya Okayama store / Tenmaya Kurashiki store
Ehime: Takashimaya Iyotetsu store
Kagawa: Matsuyama Mitsukoshi
Hiroshima: Tenmaya Fukuyama store / Hiroshima Mitsukoshi
Yamaguchi: Shimonoseki Daimaru
Fukuoka: Ogura Izutsuya / Hakata Hankyu / Fukuoka Iwataya / Hakata Daimaru / Fukuoka store / Leiria Ohashi / Kurume Iwataya
Kumamoto: Kumamoto Tsuruya
Oita: Tokiha Oita
Kagoshima: Kagoshima Yamakataya
<Juchheim Dee Meister>
Aichi: Meitetsu Department Store Main Store
Hiroshima: Hiroshima store