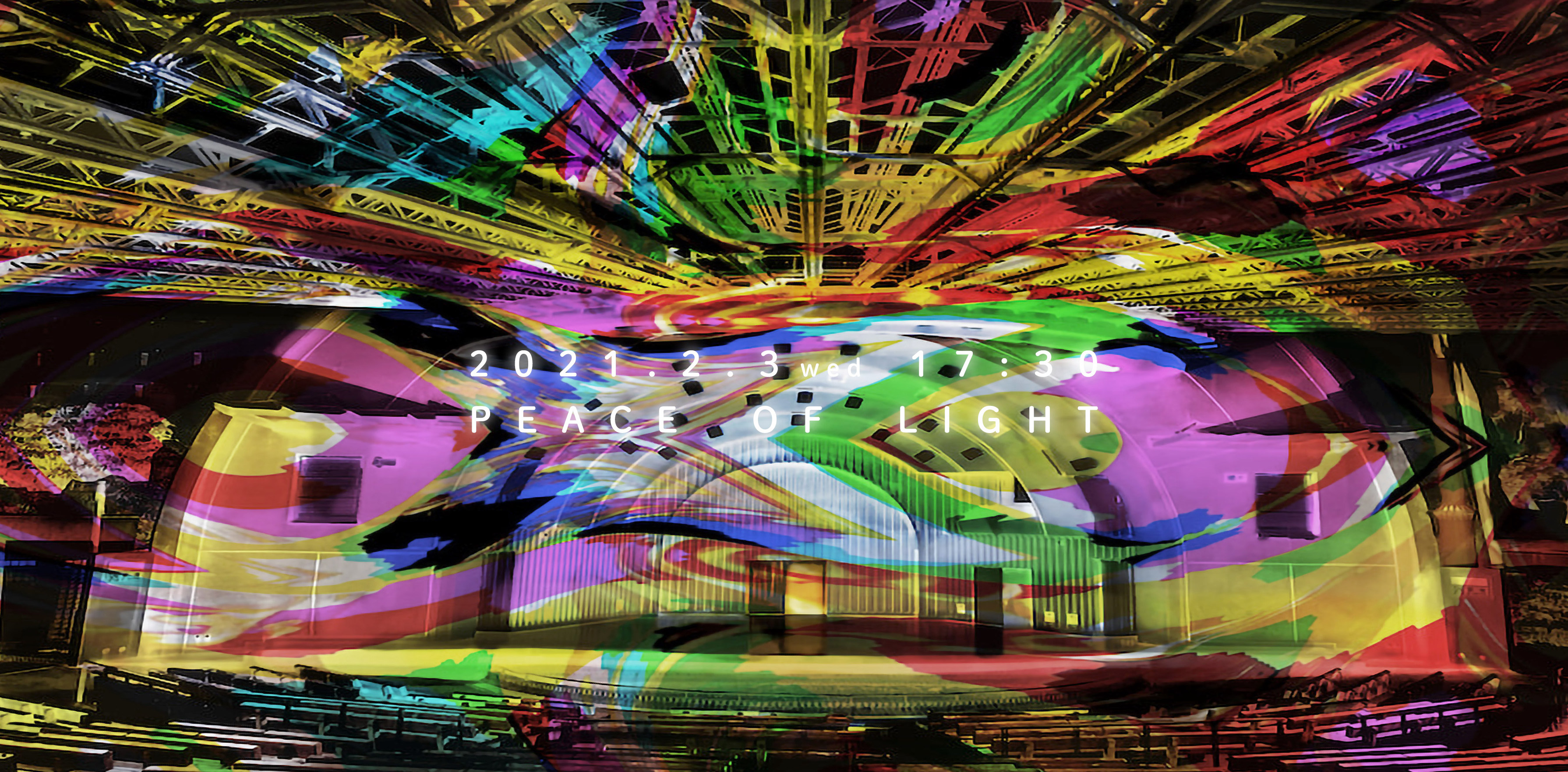 Mizukami Ongakudo "PEACE OF LIGHT" 8K video live distribution 2021/2/3 17: 30-19: 00
On February 3, 2021, the event "PEACE OF LIGHT" will be held at the Mizukami Ongakudo in Shinobazu Pond, Ueno, Tokyo, centered on the screening of "Digital Hanging Scrolls" by world-famous digital artist Akira Hasegawa. A shopkeeper in Ueno, trying to express and disseminate various thoughts such as support for medical professionals, reconstruction of the town, and requiem in the corona disaster from Shinobazu Pond, which is a comfort space with one of the most natural environments in the city center. Are planning in collaboration with each other. The event will be held unattended and will be streamed online to the world in 8K video.
Akira Hasegawa's "Digital Hanging Scroll" is a digital art that has been screened in the United States, Bulgaria, China, etc., including the Parthenon, and has received international acclaim. "PEACE OF LIGHT" is the first in a park in Tokyo. It will be shown. Invented with inspiration from the hanging scroll between the floors, it is said to be the art of "Ichi-go-ichi-kai", where there is no same image and no same color. At this event, the entire interior of the Mizukami Ongakudo, which is a symbol connecting Shinobazu Pond and the town of Ueno, will be wrapped in overwhelming light.
In this "PEACE OF LIGHT", three performances will be collaborated and performed so as to weave in the light of the digital hanging scroll. First of all, a performance where a local shop owner brings a candle to a prayer animal object standing in the light created by the artists. Then, a beautiful piano and soprano performance that is guided by the light and snuggles up. Finally, a shakuhachi performance will be performed that fuses the concept of the "one-tone Buddhahood" of the classical shakuhachi with a digital hanging scroll. A total of about 90 minutes is scheduled to be delivered.
Hiromi Maekawa, Vice Chairman of Ueno 2-chome Nakamachi-dori Shotenkai, who mainly produces the project, said, "When I conveyed my enthusiasm to Mr. Hasegawa and other artists, everyone felt enthusiastic. And Shinobazu Pond.・ I fell in love with the Mizukami Ongakudo. Of course, I had a desire to do it with the audience, but on the contrary, I also feel the significance of holding it because it is this time of year. I want to deliver a moment of healing for my soul. "
Scheduled delivery time is 2021/2/3 (Wednesday) 17: 30-19: 00. It will be distributed on Youtube, and you can enjoy beautiful 8K video. This project is a project of "Let's play Shinobazu! Pond and Town", which is being promoted in collaboration with Ueno 2-chome Nakamachi Dori Shotenkai, Ikenohata Nakamachi Shotenkai, and various groups cooperating with local community development. Delivered as featured content. Details including the delivery URL can be confirmed on the homepage of "Let's play Shinobazu! Pond and Town".

Schedule
---
---
2021/2/3 (Wednesday) 17: 30-19: 00
17: 30 / Digital hanging scroll "Mizukami Ongakudo Peace of Light" distribution started
17: 40 / Special Program ① Prayer Animal Object + Candle Performance
18: 20 / Special program ② Collaboration performance "Prayer"
18: 40 / Special Program ③ Shakuhachi Classic Main Song "Void"
19: 00 / End of delivery
Detail page URL
https://www.shinobazu-asobo.com/project01
Venue
Water Music Hall (in Ueno Onshi Park)
Please enjoy this project online. Please refrain from visiting the venue.
Main participating artists
Akira Hasegawa (Digital Artist)
Born in Ishikawa prefecture in 1947. Received numerous awards such as the ACC Award, including the highest award in the TVCM category of the National Association of Commercial Broadcasters of Japan. Produced thousands of TV dramas, news and sports titles, China Central Television (CCTV) logos, and TV commercials. In 1995, he invented the DK (digital hanging scroll) from the unchanging spirit of Asians and received high praise all over the world.
Ryosuke Shiomi (animal object production)
Born in Osaka in 1989. With the theme of vanity, he creates armor works using traditional Japanese metalworking techniques (forging and engraving).
Isana Yamada (animal object production)
Born in Kanagawa prefecture in 1988. Completed the Department of Design, Graduate School of Fine Arts, Tokyo University of the Arts in 2016. Produces three-dimensional works mainly on the theme of animism.
Shuri Tsuruta (animal object production)
Born in Tokyo in 1996. Belongs to the Interior Design Laboratory, Department of Industrial Design, Musashino Art University. Produce artwork regardless of media.
Yuki Kimura (soprano)
Graduated from Tokyo University of the Arts. Soprano singer. Studied under Tomoko Yamaguchi, Tomoko Shimasaki, and Chieko Shimohara. Associate member of the Japanese Vocal Academy.
Nao Arioka (piano)
Completed the master's course accompaniment course at Kunitachi College of Music. Currently working as an ensemble pianist and piano instructor.
Suzutaka Kuroda Reison Kuroda (Shakuhachi)
First year of Reiwa, Japan Cultural Envoy of the Agency for Cultural Affairs. Studied under Reiou Aoki, the second living national treasure, and Reiou Aoki, the third generation. Winner of the International Shakuhachi Competition 2018 in London. Tone Eiho Memorial Japanese Music Competition Grand Prize. Pursuing the infinite possibilities of the shakuhachi now and in the future through annual solo performances around the world, numerous new commissioned works, collaborations with orchestras, and units that cross genres. Many sound sources are provided for CDs, TV, and new Kabuki performances.
* Prayer animal object production team production Town club that nurtures bushes
Produced by: Ryosuke Shiomi + Yuu Yamada + Turtashuri
Curation: Kenta Ichinose
* Collaboration performance "Prayer" production Camerata Project
Soprano: Yuki Kimura
Piano: Naho Arioka
Composer: Hidekazu Nagai
Lyrics: Naoyuki Kado
Planning / Composition: Yoshiharu Hoshino
Let's play Shinobazu! Pond and town
What I felt again after becoming a corona wreck was the gratitude of Shinobazu Pond. The only natural pond in the center of Tokyo. Local shop owners wanted to be with Shinobazu Pond in the town of Ueno. I want to express it from Nakamachi Dori, which is the closest store to Shinobazu Pond. With such a concept, the project "Let's play Shinobazu!" Is a collaboration between two shops facing Nakamachi Dori. Pond and Town "has begun.
Pray and heal at Shinobazu Pond, and see, know, and eat at Nakamachi Dori. We will develop a number of programs with Shinobazu Pond and Nakamachi Dori as one stage. There are many long-established stores rooted in the region, such as "Peace of Light" by world-famous artist Akira Hasegawa at the Mizukami Ongakudo, "Shitamachi Art Gallery" where the works of artists active in the area decorate the storefront. We will continue to launch projects that can be enjoyed by a wide range of people, from children to the elderly, from real to online, such as "Shinobazu Wa Tour". The theme is the convergence of the corona wreck and the wish for the reconstruction of the town. Your wish will change the future. Wishing for a recovery from Corona together, why don't you support your city in our area? As a first step towards a new life, looking back at the local area.
Project URL:
https://www.shinobazu-asobo.com/

Organizer / cooperation / sponsorship, etc.
Organizer:
Ueno 2-chome Nakamachi Dori Shotenkai / Ikenohata Nakamachi Shotenkai
Cooperation:
Arts and Snacks Movement, Tokyo Cultural Heritage Alliance Sports Cultural Resources PT, Town Club for Growing Grass, Joint Company Command A, Digital Artist Akira Hasegawa, CamerataProject, Shibataya Hotel, Shinobazu no Ikehotendo, Suzutaka Kuroda, Snow Company
Sponsor:
Ueno Tourism Federation