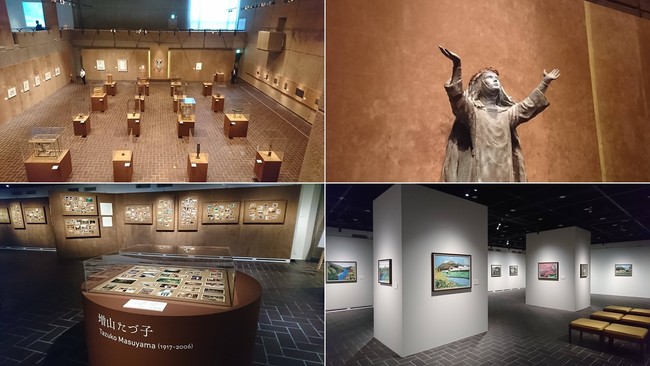 We have released an online gallery talk of the special exhibition "Walls & Bridges, Touching the World, Living the World" (until Saturday, October 9, 2021), which we would like you to see because of the corona.
The exhibition "Walls & Bridges: Touching the World, Living the World" (until Saturday, October 9), which is being held at the Tokyo Metropolitan Art Museum, offers a perspective on the "barriers" that surround oneself with an insatiable passion for expression. Five creators who could transform into a "bridge" that enables This is an exhibition that introduces (paintings) and Jonas Mechas (photos / videos).
---
---
From the viewers, "I felt the power," "I was nailed to my eyes," "I was happy," "I was encouraged," "Healed," "I was deeply struck," and "My heart was purified." We have received many impressions, such as "I would like to express my heartfelt gratitude for having such a rich time."
I would like you to take a look at this exhibition because it is a corona disaster, but now that people are calling for refraining from moving across prefectural borders, many people have said that they cannot go to Tokyo even if they want to. So, since has released a gallery talk by online by the responsible curator, please take a look.
Walls & Bridges Exhibition Gallery Talk (about 15 minutes)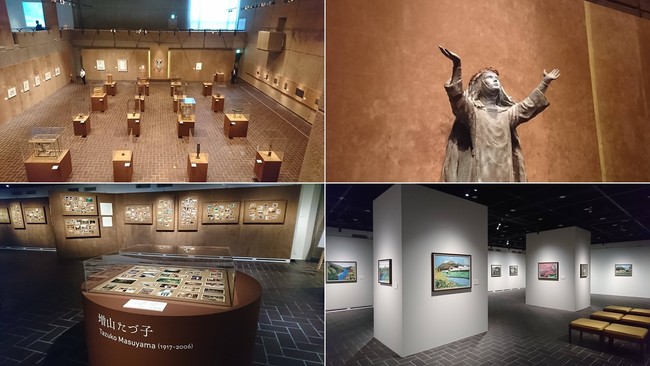 ◆ Introduction of catalogs (mail order available) ◆
The exhibiting artists, Katsuyoshi Higashi, Tazuko Masuyama, Sylvia Minio-Paruerlo Yasuda, Zubinek Sekar, and Jonas Mekas, are all creators who have difficulty obtaining a complete collection of works. This catalog, which is also a self-confident work of designer Koichi Matsumoto, is popular for its charming appearance and commitment to changing the paper for each creator. Please enjoy the charm of the work packed in a small book.
(B5 variant, hardcover, 271 pages in total) [Sales price 2,000 yen (tax included)]
* Mail order is also available (additional shipping fee will be charged).
If you wish, please send the catalog price (2,000 yen per book) by registered mail to the following address with the address and name of the destination. (Catalog application address: Tokyo Metropolitan Art Museum Walls & Bridges Exhibition Catalog 03-3823-6921, 8-36 Ueno Park, Taito-ku, Tokyo 110-0007)

◆ Overview ◆ * Advance reservations are not required, but admission may be restricted during times of congestion.
Exhibition name: Walls & Bridges Touch the world, live the world
Date: July 22nd (Thursday / holiday) -October 9th (Saturday), 2021
Opening hours: 9: 30-17: 30 (Enter until 30 minutes before closing)
Closed days: Monday (open on Monday, September 20th), Tuesday, September 21st
Venue: Tokyo Metropolitan Art Museum Gallery A, B, C
Admission fee: General 800 yen / 65 years old and over 500 yen
・ Free for students and younger
・ Free for those over 80 years old, named after Katsuyoshi Higashi, who has been holding a paintbrush since the age of 83.
・ Free for foreign nationals
・ Persons with a physical disability certificate, love certificate, nursing certificate, mental disability certificate, health certificate for atomic bomb survivors, and their attendants (up to 1 person) are free of charge.
* Please bring something that can be proved
・ October 1st (Friday) is "Tokyo Citizen's Day" and is free for everyone.
・ 300 yen discount from the general price by presenting tickets (stubs accepted) for the special exhibition "Isamu Noguchi: The Road to Discovery" and "Van Gogh Exhibition: Resonating Souls Helene and Fincent"
・ There are various other discounts
Organizer: Tokyo Metropolitan Foundation for History and Culture Tokyo Metropolitan Art Museum
Inquiries: Tokyo Metropolitan Art Museum 03-3823-6921
Special website: https://www.tobikan.jp/wallsbridges