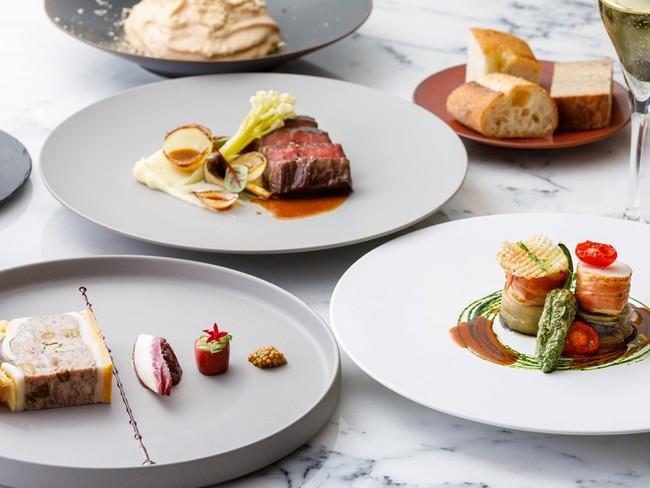 NOHGA HOTEL UENO TOKYO (Noga Hotel Ueno Tokyo, operated by Nomura Real Estate Hotels Co., Ltd., President: Hidetomo Aoki) will celebrate its 3rd anniversary on November 1, 2021. In commemoration of the 3rd anniversary, we will introduce the first project with gratitude to all the customers who have visited and used the museum, those who have always patronized, those who will visit in the future, and all customers. I will do it.
■ Nde pleasure the collaboration events / Kaburaki coffee & chocolate & B istro NOHGA ~ 3 one of the marriage of a popular coffee shop "Kaburaki" –
Bistro NOHGA offers an original blend that can only be tasted here in collaboration with the coffee shop "Kabuki" in Misuji, Taito-ku, with different roasting and bean mixes in the morning, day and night. To commemorate the 3rd anniversary of the hotel's opening, we have a special to have you taste 3 kinds of Bistro NOHGA homemade small sweets using chocolate selected by Kabuki and 3 kinds of coffee specially roasted according to the small sweets by Mr. Kabuki himself. We will hold an event. A one-day mariage of coffee and dessert that harmonizes with the scent and characteristics of each. Please enjoy the difference between each of the three types in the Bistro NOHGA space where you can experience the manufacturing of Taito Ward such as wine glasses, coffee cups, cutlery rests, and menu boards.
● Date: Saturday, November 20, 2021 10: 00-12: 00
● Participation fee: 4,500 yen per person (tax included) * Limited to 15 people. Recruitment will be closed as soon as the capacity is reached.
>> For inquiries and reservations … TEL: 03-5816-0211
■ [3rd Anniversary of Opening] – Chilling out at NOHGA – Limited to 10 rooms a day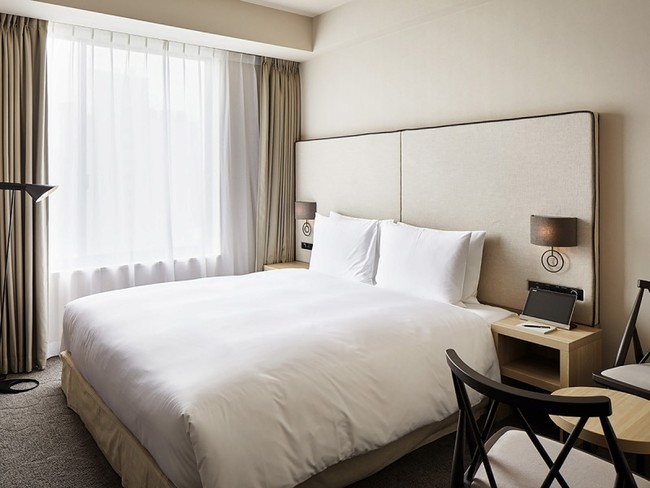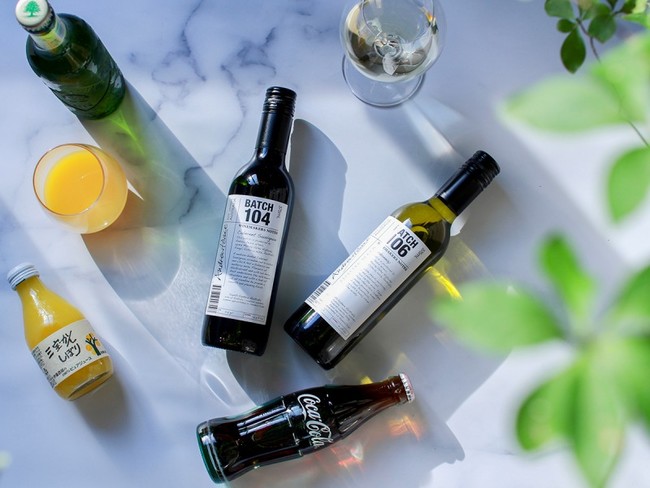 ---
---
To commemorate the 3rd anniversary of the hotel's opening, we have prepared a plan for you to fully enjoy your hotel stay. Red and white wine, beer, and soft drinks selected by the hotel restaurant sommelier are set in the room, so please feel free to relax while drinking as much as you like at your favorite time during your stay. We also have a late check-out until 12:00 so that you can relax the next morning. We will inform you until the end of November, limited to 10 rooms a day, at a special rate with gratitude.
● Period: October 15th (Friday) -November 30th (Tuesday), 2021
● Drinks / Half bottles of wine Red and white 1 bottle each, Heartland beer, bottled cola, 100% fruit juice Ito Farm's orange juice
* Meals are not included.
● Price: Deluxe Double / Twin / 10,000 yen per room (including consumption tax and service charge)
>> For inquiries and reservations, please see the official hotel website (https://go-nomura-hotels.reservation.jp/ja/hotels/nohga-ueno/plans/10039414).
■ Providing delicious autumn tastes in a course style / [3rd anniversary of opening] Course meals full of autumn tastes (lunch & dinner)
At Hotel 1F "Bistro Noga", we will prepare recommended course meals for the 3rd anniversary using seasonal ingredients for both lunch and dinner.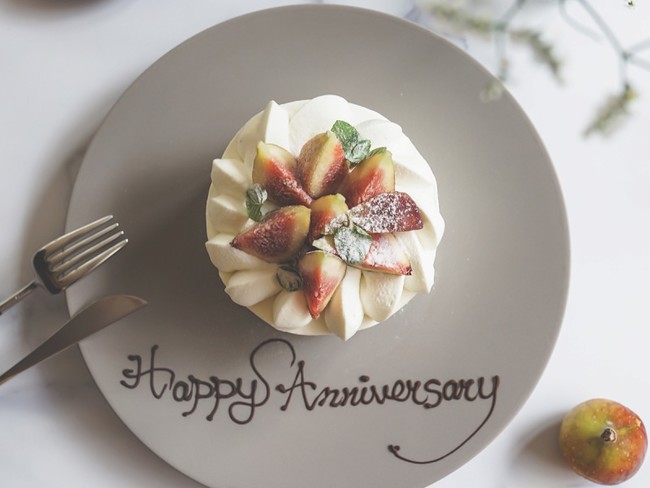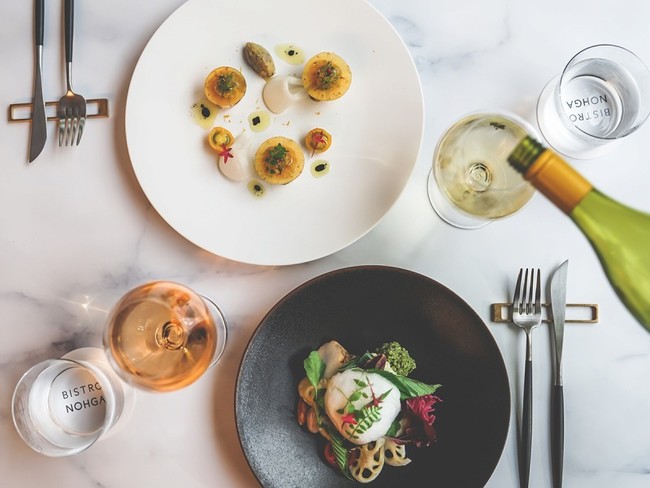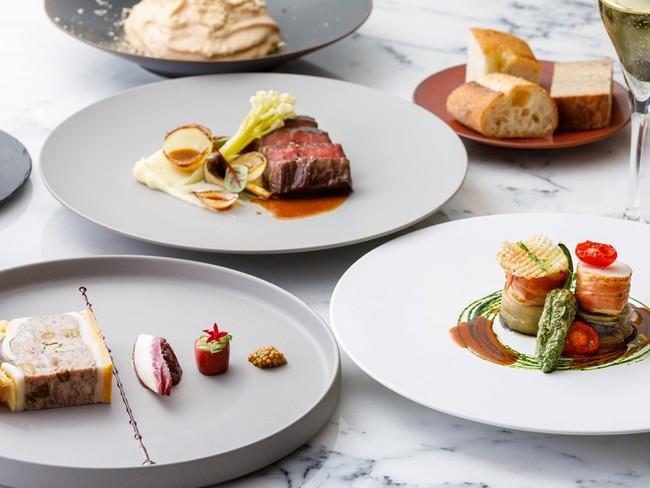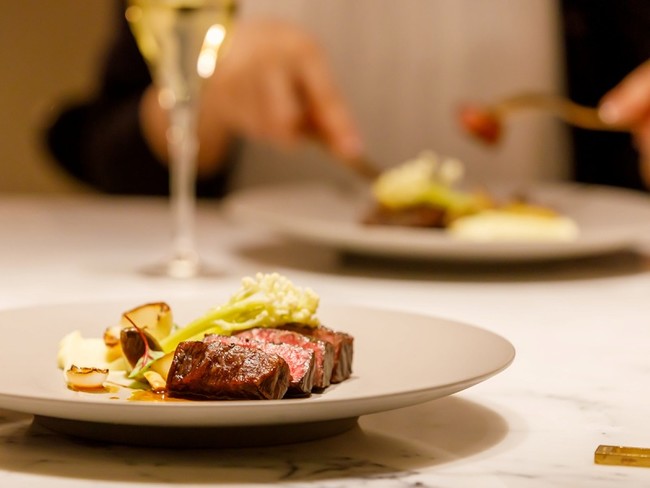 The aroma of greasy meat and fish, sweetened vegetables, fruits, and nuts. Autumn is where you can enjoy plenty of delicious ingredients in the four seasons. For example, "Marinated cutlass fish with scent of persimmon and condimon of persimmon" "Steamed sardine wrapped in pancetta with caviar and basil sauce" "Espuma of chestnut and ice cream of meringue" A lineup that makes the most of the minute and enjoys the appearance. Please take this opportunity to enjoy the French menu of Bistro NOHGA, where you can enjoy the taste of autumn with all five senses.
● Period: October 30th (Sat) -November 30th (Tue), 2021
● Price: [3rd Anniversary] Lunch course + one drink 6,050 yen (tax included)
[3rd Anniversary] Dinner course 8,250 yen (tax included)
>> For inquiries and reservations … Bistro NOHGA TEL: 03-6284-2417
■ 3 anniversary SNS post campaign / [3rd Anniversary event] Instagram Photo Contest
To commemorate the 3rd anniversary, a photo contest will be held on Instagram of NOHGA HOTEL UENO TOKYO and Bistro NOHGA.
I will do it.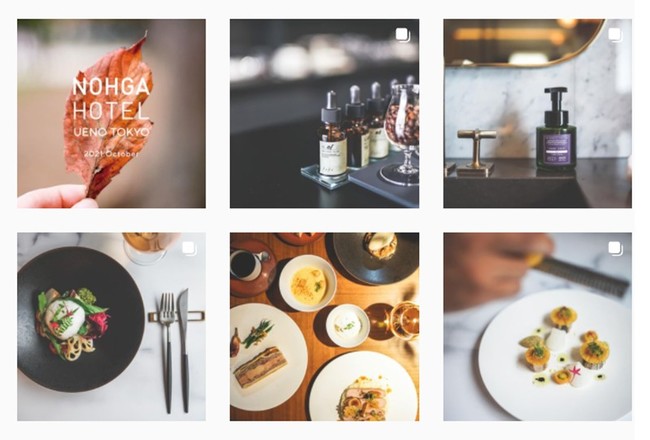 ● Theme: "My favorite NOHGA"
● Application period: From 0:00 on Monday, November 1, 2021 to 23:59 on Tuesday, November 30, 2021
● How to apply:
1. 1. Follow NOHGA HOTEL UENO TOKYO official account "@ nohgahotel.ueno" or Bistro NOHGA official account "@bistro_nohga" on Instagram
2. Please post the original photos taken according to the theme in NOHGA HOTEL UENO TOKYO, Bistro NOHGA, Taito Ward with "# nohgaueno3rd".
● Examination:
・ After the application deadline, the winners will be decided after strict examination.
・ Winners will be notified via Instagram direct message.
* If you do not contact us within 7 days, the prize will be invalidated.
<Prize>
・ Pair accommodation invitation ticket (1 group for 2 people)
・ Bistro NOHGA meal ticket (2 groups 4 people) * Dinner 1 group 2 people, Lunch 1 group 2 people
・ Original aroma spray (3 people)
● Announcement: Mid-December 2021
>> For an overview of the Instagram Photo Contest, please see the official hotel website (https://nohgahotel.com/ueno/news/detail/001130.html).
< About infection prevention measures in the hotel >
NOHGA HOTEL is a new model because it is necessary to comply with not only domestic standards such as guidelines established by each industry group but also international standards so that customers can use it with peace of mind as a hotel that welcomes domestic and foreign customers widely. Safety and hygiene measures for the new normal era after the spread of coronavirus infection are evaluated, and it is common throughout the world to facilities that meet the international standards set by Bureau Veritas, the world's largest testing, inspection and certification organization. We were the first hotel in Japan to acquire the "SAFEGUARD label" issued by. (Expiration date: January 9, 2022)
The hotel carries out regular disinfection and thorough hygiene management in the hotel, and customers are required to disinfect their hands and fingers when visiting the hotel, check the temperature and physical condition, wear a mask, avoid three-cs, and follow the guidelines. We ask for your cooperation.
In addition, employees carry out temperature measurement before going to work, and gargle, wash their hands, and disinfect their hands.
[NOHGA HOTEL UENO TOKYO (Nogahoteru Tokyo Ueno) Overview]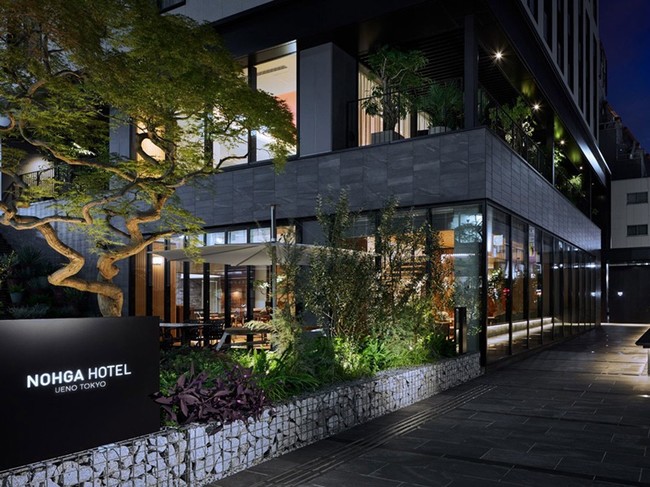 Ueno is a city where the culture that continues from Edo is still alive. Conveniently located as a base for popular tourist destinations such as Ueno Park, the National Museum of Western Art, Ueno Zoo, and Ameya Yoko, with easy access to Narita Airport.
Sophisticated guest rooms that deliver a "comfortable awakening", restaurants that are particular about the active use of local ingredients and natural manufacturing methods, a relaxing terrace, library lounge, gallery, and fitness facilities.
We value "being deeply connected to the community. The wonderful experience that comes from it." A lifestyle hotel that will satisfy your curiosity, regardless of your travel style.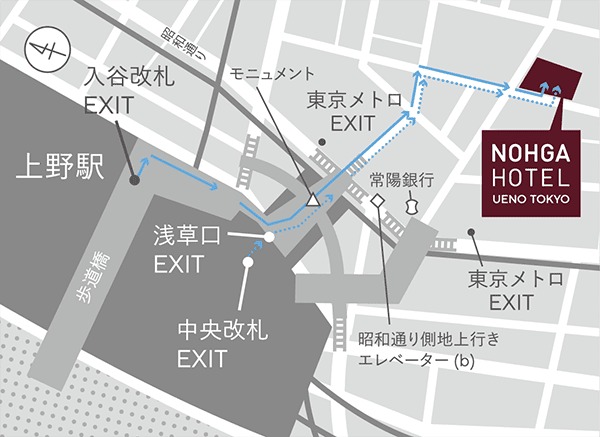 Address: 2-21-10 Higashiueno, Taito-ku, Tokyo
Representative TEL: 03-5816-0211
Check-in: 15:00, Check-out: 11:00
Total number of guest rooms: 130
Official site: https://nohgahotel.com/ueno/
[access]
5 minutes walk from Asakusa exit of JR Ueno station
3 minutes walk from Exit 3 of Tokyo Metro Ueno Station
10 minutes walk from Keisei Ueno Station
[ Reservations and inquiries from customers regarding this project ]
Noga Hotel Ueno Tokyo TEL: 03-5816-0211
E-Mail: ueno.reservation@nohgahotel.com
For details, please see the official website of Nohga Hotel Ueno Tokyo ( https://nohgahotel.com/ueno/).