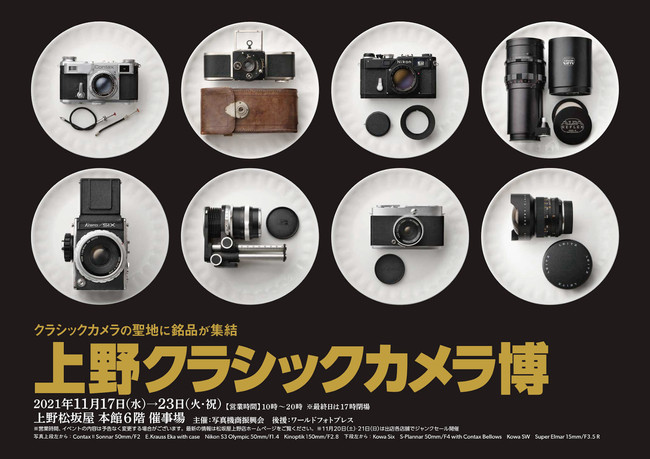 Matsuzakaya Ueno Store Main Building 6F: From Wednesday, November 17, 2021 to Tuesday, November 23, 2021
"Ueno Classic Camera Expo" will be held at the 6th floor of the Matsuzakaya Ueno store main building.

Date and time: November 17th (Wednesday) to 23rd (Tuesday / holiday), 2021
---
---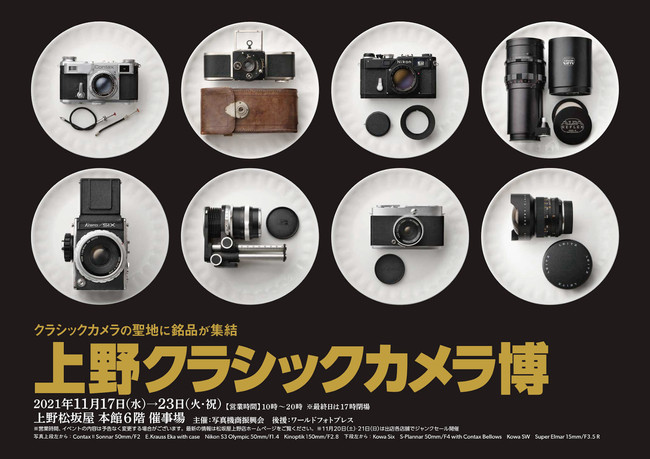 The used camera sales event "Ueno Classic Camera Expo" will be held at the 6th floor of the Matsuzakaya Ueno store main building.
[Ueno Classic Camera Expo]
Date and time: November 17th (Wednesday) -November 23rd (Tuesday / holiday), 2021
Holding time: 10:00 to 20:00 (closed at 17:00 on the last day) *
Location: Matsuzakaya Ueno Store Main Building 6th Floor Exhibition Hall https://www.matsuzakaya.co.jp/ueno/
Organizer: Photographic Machinery Promotion Association
Sponsored by: World Photo Press
Contact: Camera Business Promotion Association http://www.camera.jp
* Business hours are subject to change.
Focus Studio will also exhibit special products. We look forward to welcoming you.
[Focus studio: Featured products]
Carl Zeiss G Planar 35mm f / 2 T * "M mount modification"
LIGHT LENS LAB 35mm f / 2 "Titanium Limited Edition S"
Focus Studio Co., Ltd.
"I want you to feel the joy and joy of cameras and photography more closely."
Focus Studio imports and sells camera accessories such as popular overseas mount adapters, camera lenses, and accessories. We continue to sell products based on "easy to buy good products" and have been highly evaluated. We are also cooperating in the development of new mount adapters and would like to contribute to the Japanese camera culture.
———————————–
Focus Studio Online Store:
http://www.stkb.jp/
———————————–
Focus Studio Home Page:
http://www.stkb.co.jp/
———————————–
Focus Studio facebook:
https://business.facebook.com/SHOTENKOBO/