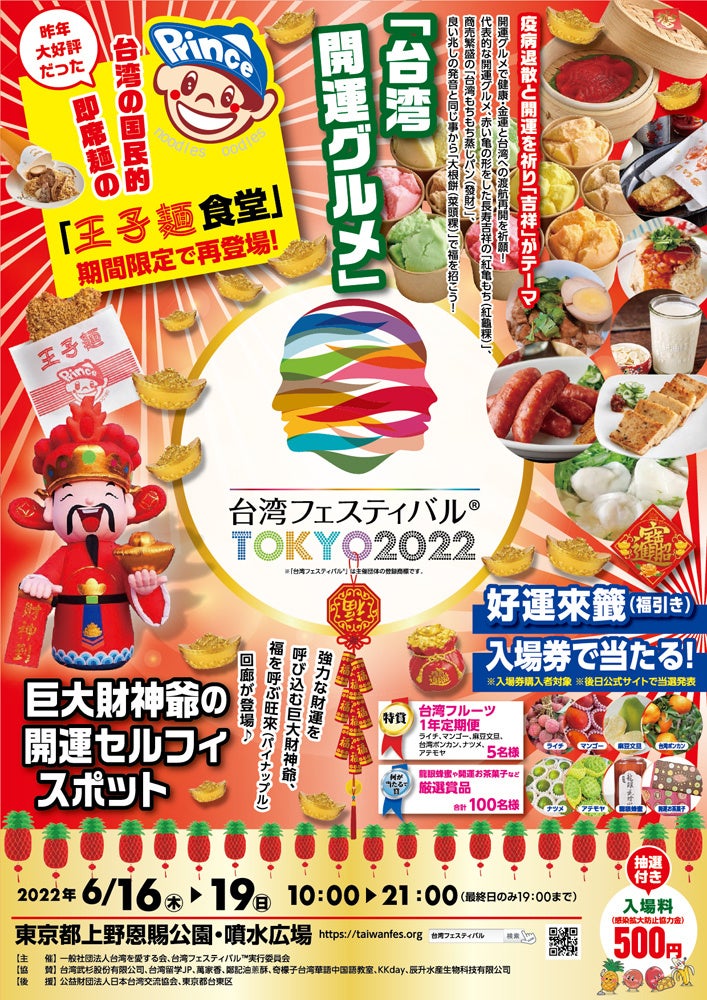 Pray for good luck and good luck in Taiwan and resume travel!
This year's 8th Taiwan Festival ™ holds a Japan-Taiwan exchange to think about Japanese food culture through Taiwanese food culture at Ueno Onshi Park in Tokyo every June. The purpose is to increase the number of Taiwanese lovers who are interested in Taiwan.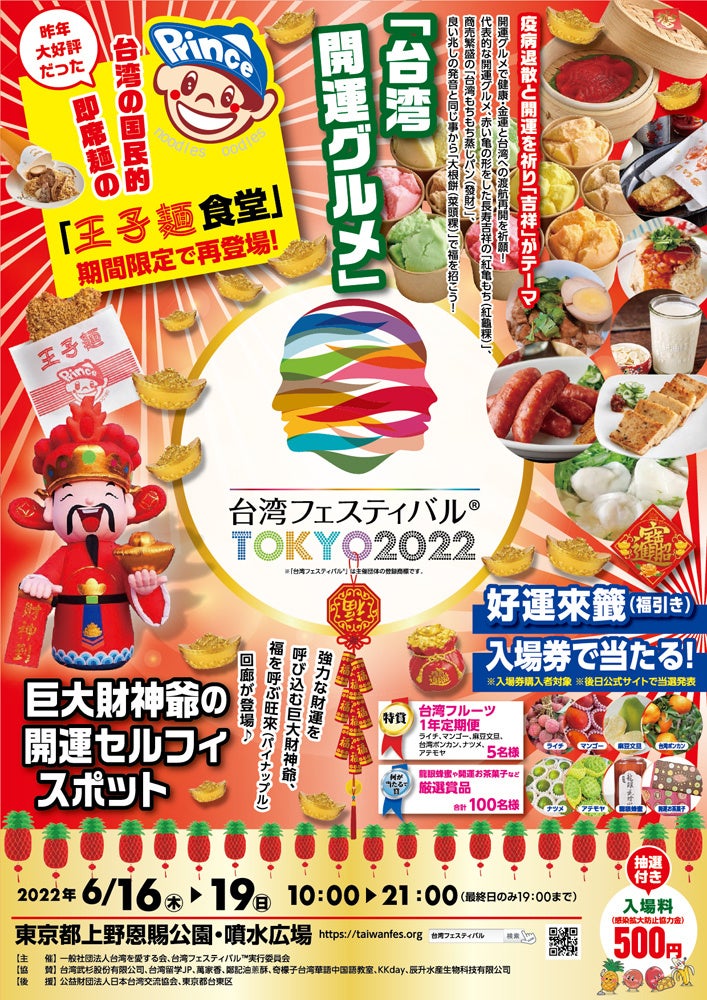 ---
---
The Taiwan Lovers Association will deepen the relationship between Japan and Taiwan through food culture from June 16th (Thursday) to 19th (Sunday) at the 8th "Taiwan Festival" at Ueno Onshi Park Fountain Square in Tokyo. ™ TOKYO 2022 "will be held.
[Event details]
A Taiwanese beer garden will appear in Ueno for a limited time!
In addition to being able to eat and buy Taiwanese mangoes the earliest in Japan, "Taiwan Fruit Fair" such as lychee
【The Special Event】
"Auspicious" is the theme to pray for the extinction of the plague and good luck
"Pineapple Cake Fair" Pineapple, which is said to be auspicious in Taiwan! A set where you can eat and compare several popular pineapple cakes
Pray for good luck and good luck in Taiwan and resume travel to Taiwan!
A selfish spot of a giant Caishen who brings strong fortune to the pineapple corridor that calls fortune
Taiwan's national instant noodle "Ojimen Shokudo", which was very popular last year, is back for a limited time!
Let's eat Taiwan's "Kissho Kaiun" breakfast! (June 19th morning, limited to 150 meals) Others
[Overview]
■ Date: June 16th (Thursday) to 19th (Sunday), 2022 10: 00-21: 00 (until 19:00 on the last day)
■ Venue: Ueno Onshi Park, Tokyo Fountain Square
■ Nearest station: 5 minutes walk from "Ueno" on the JR / Subway Ginza Line / Hibiya Line
8 minutes walk from "Ueno Okachimachi" on the Oedo line, 3 minutes walk from "Keisei Ueno" on the Keisei line
■ Infection spread prevention cooperation fee (admission fee): 500 yen * With lottery
Official site: https://taiwanfes.org/
The Taiwan Festival ™, which started in 2014, has 40,000 visitors in 2015, 50,000 in 2016, the number has exceeded 210,000 since 2017, and finally reached 250,000 in 2019. , It is an event that has been well received year by year.
The number of exhibitors such as food and drink and product sales is increasing year by year, and application inquiries are flooded even before the open call for participants. A new store will be added this year, and 30 stores will open.
[Organizer] Taiwan Festival ™ Executive Committee, Taiwan Lovers Association
[Support] Japan-Taiwan Exchange Association, Taito-ku, Tokyo
[Sponsor] Taiwan Takesugi Co., Ltd., Taiwan Study Abroad JP, Manjika, Chung Ki Oil Green Onion, Kiyoko Taiwanese Mandarin Chinese Class, KKday, Tatsumi Water Products Technology Co., Ltd.
[Contact for inquiries regarding this matter]
Taiwan Festival ™ TOKYO 2022 Executive Committee
TEL: 050-3580-6694
e-mail: pr@taiwanfes.org
Contact form:
https://taiwanfes.org/ask
facebook:
https://facebook.com/taiwanfes
twitter:
https://twitter.com/taiwanfes
instagram:
https://www.instagram.com/taiwanfes
LINE:
https://line.me/R/ti/%40taiwanfes
YouTube:
https://youtube.com/taiwanfes/
* Taiwan Festival ™ is a registered trademark of the Society. Please be aware of similar name events.