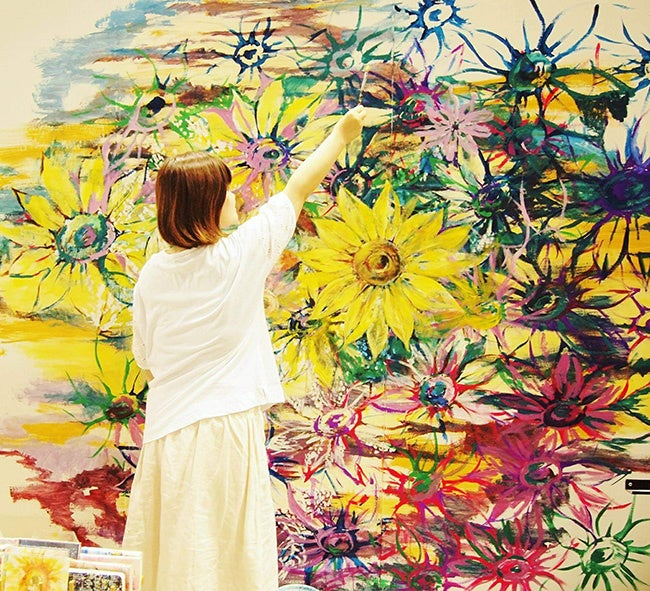 Local support and young artist support activities in Ueno, a city of art and culture
NOHGA HOTEL UENO TOKYO, operated by Nomura Real Estate Hotels Co., Ltd. (Shinjuku-ku, Tokyo / President: Hidetomo Aoki), embodies the hotel concept "a wonderful experience born from a deep connection with the community." As an event, we are pleased to announce that live painting by artist "Muraisaki" will be held.
Ueno has developed as a city of culture and art centered on Ueno Park from ancient times, and many cultural and art facilities such as art museums, museums, and Tokyo University of the Arts are still concentrated today. Against the background of these characteristics of the city, Noga Hotel Ueno Tokyo has been focusing on supporting art activities since its opening, and was born in 2010 by renovating the former Chiyoda Ward Training Junior High School as an "art center open to the local community". Under the curation (exhibition planning, exhibition proposal) by "3331 Arts Chiyoda", the exhibition and sale of contemporary art works by artists with various backgrounds, including those from the local Tokyo University of the Arts, will be exhibited and sold 3 to 4 times a year. It is held at the 1st floor lobby gallery at the pace of the times.
This time, we will hold the first art event at Noga Hotel Ueno Tokyo on June 25th (Saturday) with the thought of supporting the local community and supporting young artists. Live painting by artist "Muraisaki" who has made numerous exhibition presentations based in Tokyo and has been energetically expanding the range of activities such as live painting in collaboration with songs and painting on gas tanks in recent years. It will be held at the library lounge on the 2nd floor of the hotel.
■ Outline of the event
We will deliver a one-day live painting by Mr. Muraisaki.
Please feel free to drop by if you are staying, dining, watching art, or just want to see what live painting is like.
<Special benefits for hotel guests>
If you are staying at Noga Hotel Ueno Tokyo and participated in the live painting, we will give you a coaster specially drawn by Mr. Muraisaki.
Please enjoy the harmony between the modern and sophisticated space of Noga Hotel Ueno Tokyo and Mr. Muraisaki's work.
● Date and time: Saturday, June 25, 2022 13: 00-15: 00
● Venue: NOHGA HOTEL UENO TOKYO 2F Library Lounge
(2-21-10 Higashiueno, Taito-ku, Tokyo)
● Participation target: Anyone who is interested can participate.
● Participation fee: Free
● Participation requirements: Anyone can participate freely, but we recommend that you apply in advance (name, contact information, number of participants) as the number of people who can enter the venue will be limited to 20 people as a guide. increase.
-Application acceptance deadline / until 18:00 on June 24, 2022 (Friday)
* Registration will be closed as soon as the planned number of people is reached.
* If there is a vacancy in the venue, you can participate even on the day of the event, but it will be on a first-come, first-served basis.
In addition, those who participate on the day will be asked to enter their name and contact information at the reception desk on the 2nd floor.
-Application: TEL: 03-5816-0211
E-Mail: ueno.reservation@nohgahotel.com
Peatix: https://peatix.com/event/3264003/view
<Simultaneous holding> Muraisaki solo exhibition / Hotel 1F lobby gallery
Currently, the gallery space on the 1st floor of the hotel is holding a solo exhibition "Spring" by Muraisaki until July 30, 2022 (Saturday).
Mr. Muraisaki's works with flowers, nature, and the sea as motifs softly color the space. The works are lively and fresh, and seem to relive the world seen by the artist. The works, which are sometimes dynamically drawn like singing, are warm, full of light, and are an exhibition that heals many people. Please enjoy it together with live painting.
● Session: Now being held-Saturday, July 30, 2022
● Fee: Free
● Venue: NOHGA HOTEL UENO TOKYO 1F Lobby Gallery
■ Muraisaki Profile
Born in Osaka in 1986
2009 Graduated from Kyoto Seika University Faculty of Arts
Currently, based in Tokyo, he is energetically producing and presenting.
Mural painting at KIANAKA BRICK & WHITE in 2020, Kanagawa
2020 Marunouchi coworking space point 0 Marunouchi mural painting, Tokyo
2020 Muraisaki Solo Exhibition Setagaya Museum, Tokyo
2021 Created a mural on the gas tank of Nihonkai Gas Kizuna Holdings, Toyama
2021 Group Exhibition, Shibuya SACS, Tokyo
2022 Muraisaki solo exhibition "Spring" The Artcomplex Center of Tokyo, Tokyo
[Lobby gallery exhibition results]
2018.11.05-2019.01.20 Daisuke Ida
2019.01.20-2019.05.09 Naoki Sato and Akio Suzuki
2019.05.10-2019.07.31 Norihiko Terayama
2019.08.01-2019.10.31 Masanobu Tomita
2019.11.01-2019.11.30 1st Anniversary Special Exhibition "UENO: 111 Perspectives"
2019.12.03-2020.03.01 Yasuaki Kuroda –texere–
2020.03.13-2020.07.09 Goro Murayama "Learning Drift" Drawing
2020.07.14-2020.10.21 Yuki Horiuchi – Parallel world –
2020.10.30-2020.11.30 2nd Anniversary Special Exhibition –ex.flower shop & laboratory –
2020.12.01-2021.04.19 Rie Iwatake
2021.04.21-2021.08.30 Houxo Que
2021.09.02-2021.12.13 Erika Kusumi –Segment–
2021.12.16-2022.03.31 LILY NIGHT –Enter the Void–
■ NOHGA HO T EL UENO TOKYO ( Opened on November 1 , 2008 ) _ _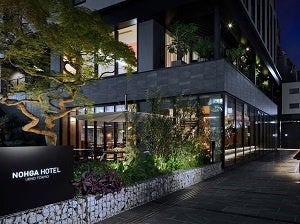 Ueno is a city where the culture that continues from Edo is still alive. Conveniently located as a base for popular tourist destinations such as Ueno Park, the National Museum of Western Art, Ueno Zoo, and Ameyoko, with easy access to Narita Airport.
Sophisticated guest rooms that deliver "comfortable awakening", restaurants that are particular about the active use of local ingredients and natural manufacturing methods, a relaxing terrace, library lounge, gallery, and fitness are also available.
We value "being deeply connected to the community. The wonderful experience that comes from it." A lifestyle hotel that will satisfy your curiosity, regardless of your travel style.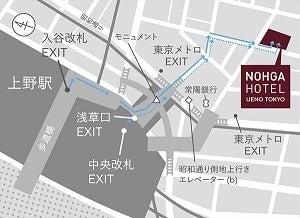 Address: 2-21-10 Higashiueno, Taito-ku, Tokyo
Representative TEL: 03-5816-0211
Check-in: 15:00, Check-out: 11:00
Total number of guest rooms: 130
Official site: https://nohgahotel.com/ueno/
[access]
5 minutes walk from Asakusa exit of JR Ueno station
3 minutes walk from Exit 3 of Tokyo Metro Ueno Station
10 minutes walk from Keisei Ueno Station
========
[ Customer reservations and inquiries regarding this project ]
NOHGA HOTEL UENO TOKYO TEL: 03-5816-0211
E-Mail: ueno.reservation@nohgahotel.com
For details, please see the official website.
========
[Contact for inquiries about writers]
Arts Chiyoda 3331/3331 Arts Chiyoda In charge / Hikone / Sato
6-11-14 Sotokanda, Chiyoda-ku, Tokyo 101-0021
TEL: 03-6803-2441 (Representative)
========